Brutal Socialist-era Yugoslavian Monuments – the Spomenik
In the friendly, disputatious, sometimes fatalist, Adidas-tracksuit-wearing nations that make up the former Yugoslavia, "spomenik" simply means "monument". Futuristic, modernist, and concrete, this page is an explanation and guide to the most brutal set of memorials anywhere on the planet – "The Spomenik".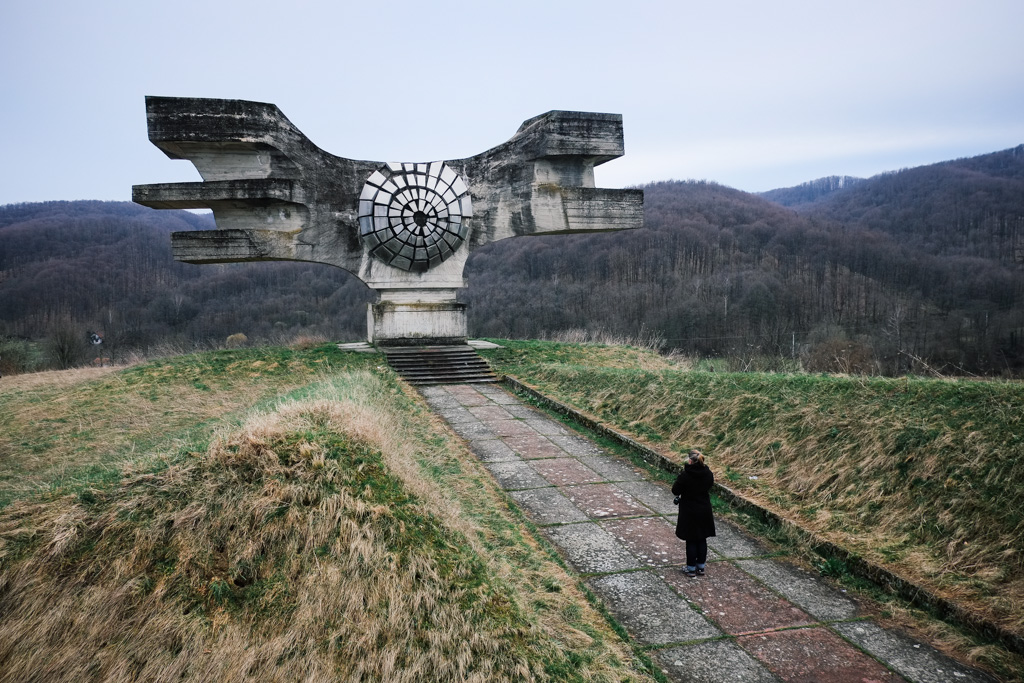 Articles about the land formerly known as Yugoslavia often stray towards themes of war, economic struggle, decaying infrastructure, and brutal grey "communist architecture". It seems almost too easy, slipping into these hackneyed motifs, when writing about modern day Serbia, Croatia, Macedonia, Bosnia & Herzegovina, Kosovo, Montenegro, or Slovenia. Of course, any contemporary allegory of the former Yugoslavia wouldn't be complete without contrasting mentions of splendid natural beauty, and tales of the charming locals.
However, these are the Spomenik. They are indeed Yugoslavian monuments and memorials to war, tragedy, hope, unity, and resistance. They actually are located in a formerly Socialist land, built under the rule of a man rudimentarily referred to as "the benevolent dictator of a Communist nation", and, well, they're mostly grey, concrete, and in a state of beautiful crumbling decay. And often, they do exist in spectacular surroundings, and you'll usually find a charming local on hand to guide you there. So, really it's impossible to talk about these Spomenik, without tip-toeing very closely to some of the more well-trodden Yugoslavian tropes.
Within my personal long-term travel journey, now encompassing over sixty countries during the course of four years, it's been difficult to escape the former Yugoslavia – these days referred to as "the Balkans". I've got to know this place. And, after intermittently visiting these monuments within this over-arcing journey, I've learned they're far more than just an incredible collection of futuristic architectural brutalism.
These Spomenik (literally, monuments) represent the ironic contradictions of the former Yugoslavia. They're reminders of an unspeakably painful past, and an uncertain future. Physically, they're bold, concrete, and heavy. Conceptually, they're even heavier. Built at locations of immense tragedy, representing death, victory, unity, and peace, they're often edifices that recall deep pain and the absolute worst of humanity.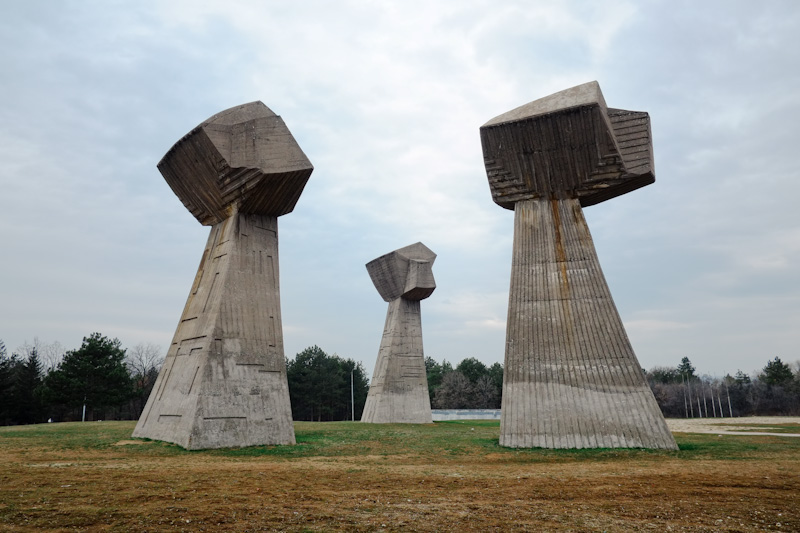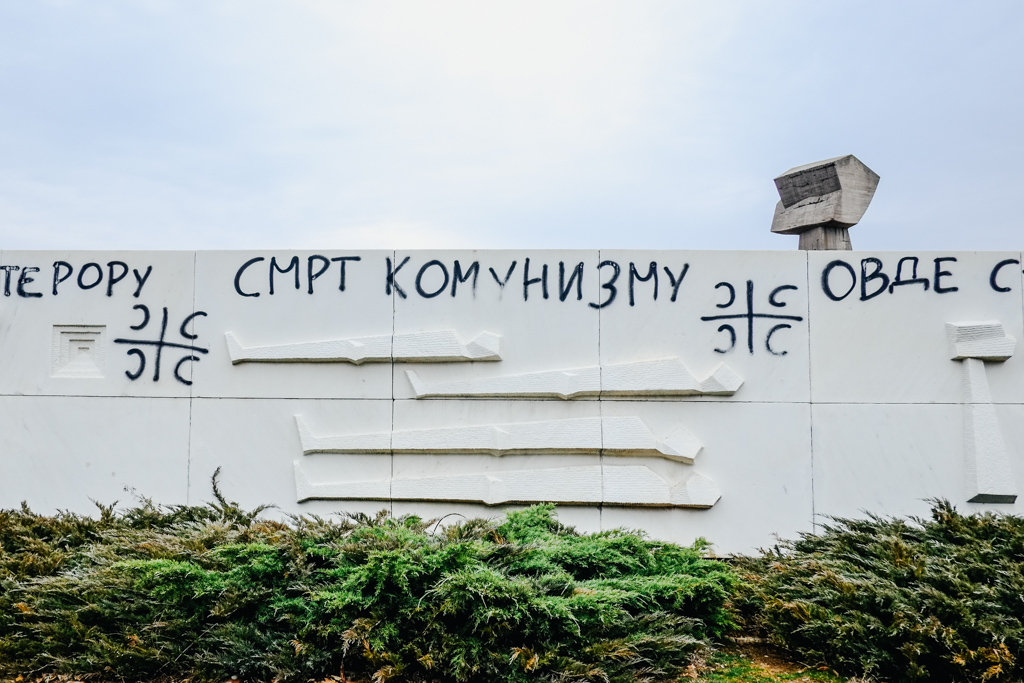 Located all over the former Yugoslavia, the series of monuments are reminders of a past that for some people is best forgotten, and for others, cherished and yearned-for. In some ways they're outdated, in others, perpetually relevant. They're rough, but sculptured and beautiful. Sad faces, at a happy wedding. Adidas tracksuits, at cocktail parties. Over-achieving high-schoolers, slathering ketchup on a slice of pizza, folding it in half, smoking a cigarette, and washing it all down with their uncle's home-made Rakija. To understand the historical intention of these monuments, the events they recall, and their lack of firm place in the modern-day psyche of the region – is to understand the lands, and the people, that they exist among. The monuments, are unapologetically Yugoslavian.
No, they're not all abandoned, despite what every – article – ever – written – on – this – subject – may – say. The Ilinden (Makedonium) Monument in Kruševo, Macedonia, contains a small museum inside, and is currently being renovated and re-painted on the outside. The Jasenovac Flower Monument in Croatia rests in fairly landscaped and well-kept surroundings, and also has a nearby museum. Perhaps the "abandoned" angle fits a well-worn media-narrative of this region, but it doesn't always reflect the truth.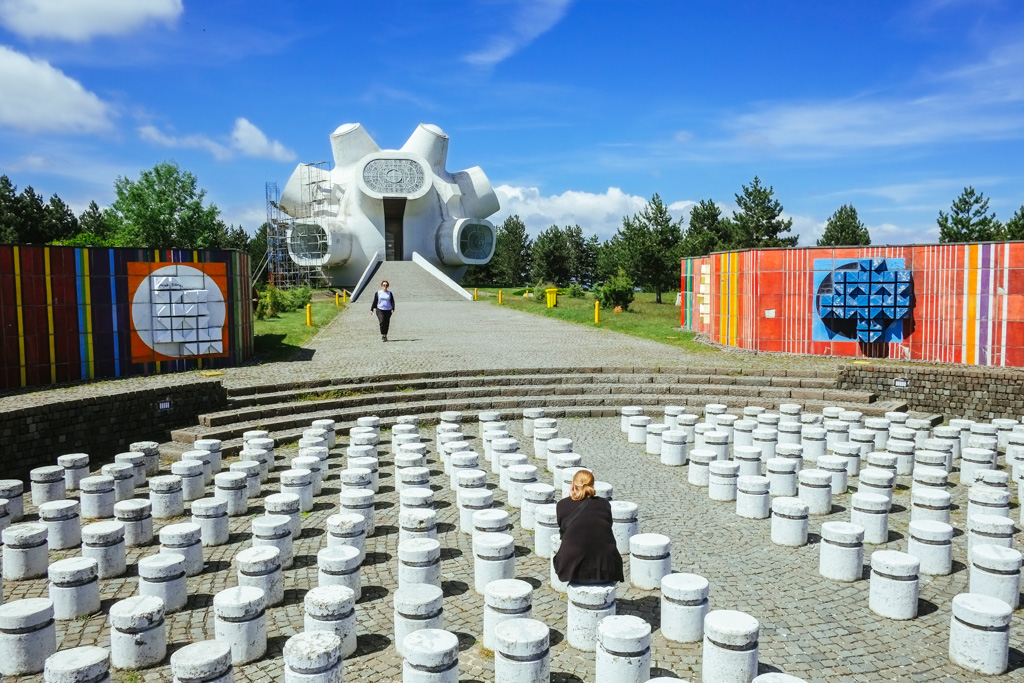 It's true, these Spomenik are somewhat forgotten. And sure, the usual throwaway media descriptions like "alien" and "appearing to be from the future", are indeed accurate. Even the more melodramatic characterisations including "melancholy" and "haunting" would be acceptable. The monuments are reasonably well known, due to the large number of articles that continue to re-circulate through the internet. But, the photos are usually stolen, the paragraphs are regurgitated, the authors have rarely visited these sites, and despite all the mentions of Yugoslavia, nobody really knows where they all are.
So, here's a map of the socialist-era Yugoslavian monuments (spomenik).
Zoom out, and you can see exactly where the monuments are located. This isn't every Yugoslavian-era monument, it's a curated map showing the precise location of monuments that fit the brutalist/modernist aesthetic. Each marker contains links to more information.
Yugoslavia during this time was led by Josip Broz Tito, a revolutionary who dominated the nation for the decades leading to his death in 1980. Predominantly initiated at a federal level, but often financed by local communities, the memorials were built to remember the tragedy and valor of war, frequently, with relevance to the "The Partisans" – Europe's most effective anti-Axis resistance group that Tito led throughout World War II. During the 1960's and 1970's, Spomenik were built all over the country – cities, villages, mountain-tops – usually, at the actual location where the events being remembered took place.
Internationally acclaimed architects and sculptors were employed to conceptualise the monuments, designed to forge a purpose of national unity. Yugoslavia was created from disparate cultural groups – and although it's common for people who lived through Tito's Yugoslavia to look back with nostalgic fondness – a young nation comprised of ethnic diversity with differing strata and purpose, will always have more than a few teething problems.
It would be a mistake to characterise this endeavour as being typical of a totalitarian, communist, or socialist government. Although fairly seen as propaganda-ish, the concept of memorialising events of war, or promoting nationalism, was not unique to the East, the West, to Socialism, Capitalism, or Communism. Yugoslavia did precisely what every other country around the world did – local communities built memorials and monuments to certain chosen events of war, sacrifice, and peace, and fans of brutalist architecture rejoiced.
Uniquely, Yugoslavia employed a futurist architectural aesthetic – the beautiful abstract designs and concrete construction were an antithesis to the more typical figurative bronze statues used throughout history. In real life, they're simply breath-taking.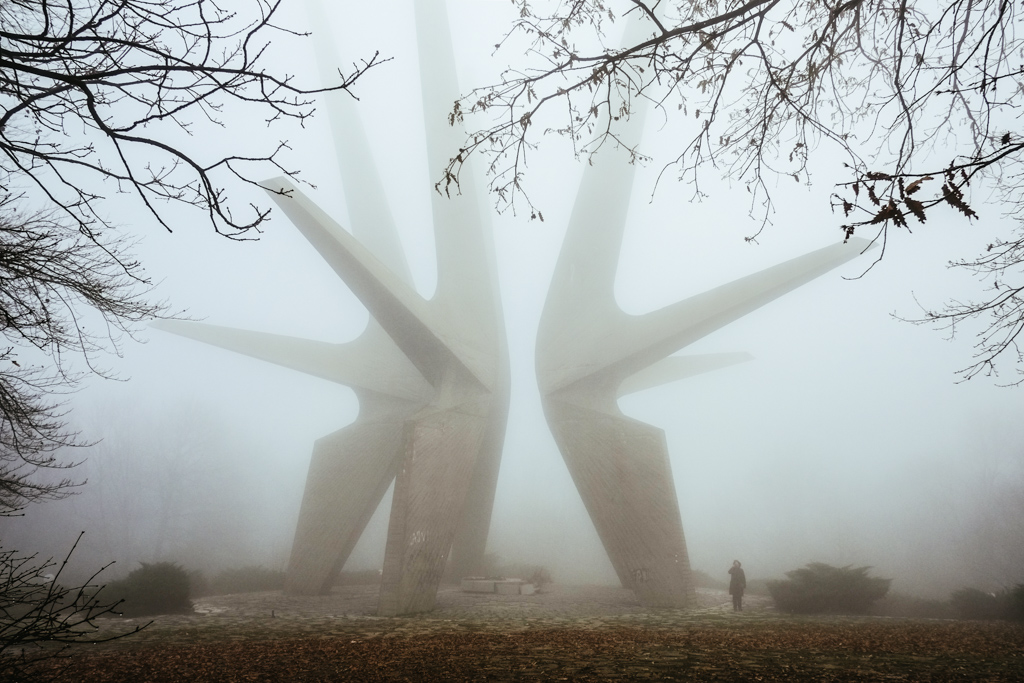 It's taken me several years to visit just a small number of these Yugoslavian monuments. As you can tell, this isn't a serious commitment. They're just a thing to see as I'm travelling through the former Yugoslavia. During my time in the Balkans, I've become attached to larger cities like Belgrade, Serbia, and smaller places like Ohrid, Macedonia and Kotor, Montenegro. In Sarajevo, I've listened to the stories of an expert on the 1990's Balkan Wars – describing his personal life living inside the city during the longest modern-day city-siege on the planet. Surrounded by death and destruction, bullets and bombs incessantly raining down from the surrounding hills, he had the ironic revelation that life wasn't so bad. Similar tales were told to me by people who lived through the NATO bombing in Belgrade.
However, a homeless man, a veteran of war, showed me his war-injuries in Mostar, Bosnia and Herzegovina, inside an abandoned Bank Tower – used during times of war as a sniper-den. Several times, he mentioned to me that he wasn't suicidal, but that he really just wants to die, seeing death as the only option to relieve the pain caused by his memories.
These stories, and there are many more, helped me to slowly piece together an understanding of a complicated, and often quarrelsome (to put it mildly) region. I've learned the historical events behind the Spomenik – wars, battles, concentration camps, resistance, hope, mass-murder – and the contemporary reasons that explain why some Spomenik are vandalised, left to decay, or even destroyed, whilst others are actively maintained and preserved.
In each case, I came for the concrete, and I walked away with another lesson of the region. Importantly, these are lessons that can be applied universally – the architecture of the monuments may be unique, but tumultuous history is common with every region of the planet. Suffice to say, the complexities of the stories behind each Spomenik are well beyond the scope of a simple blog post.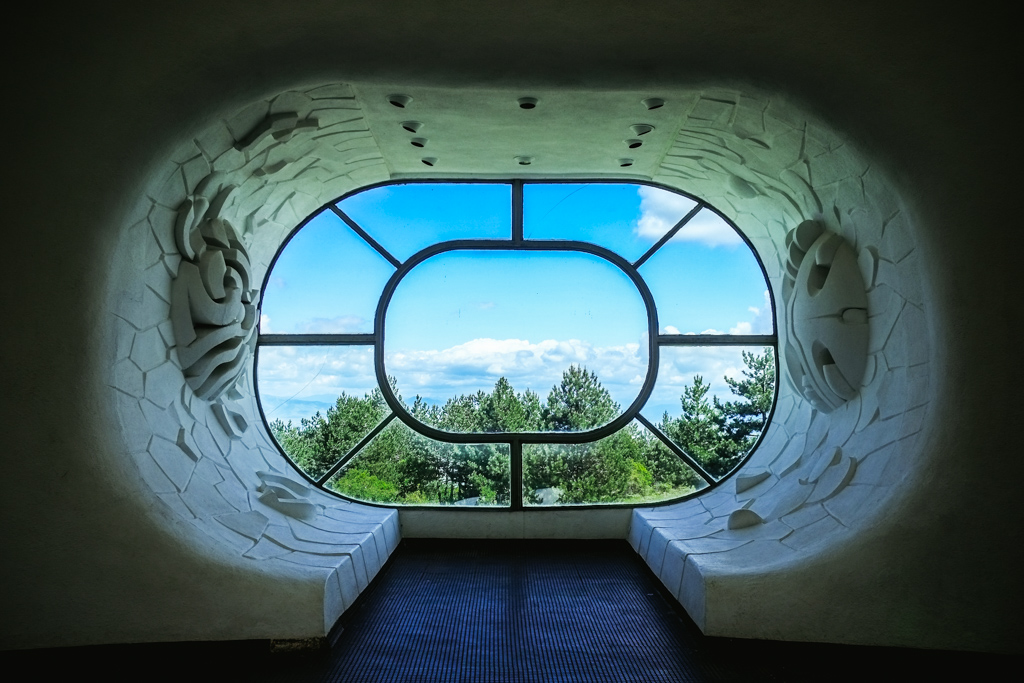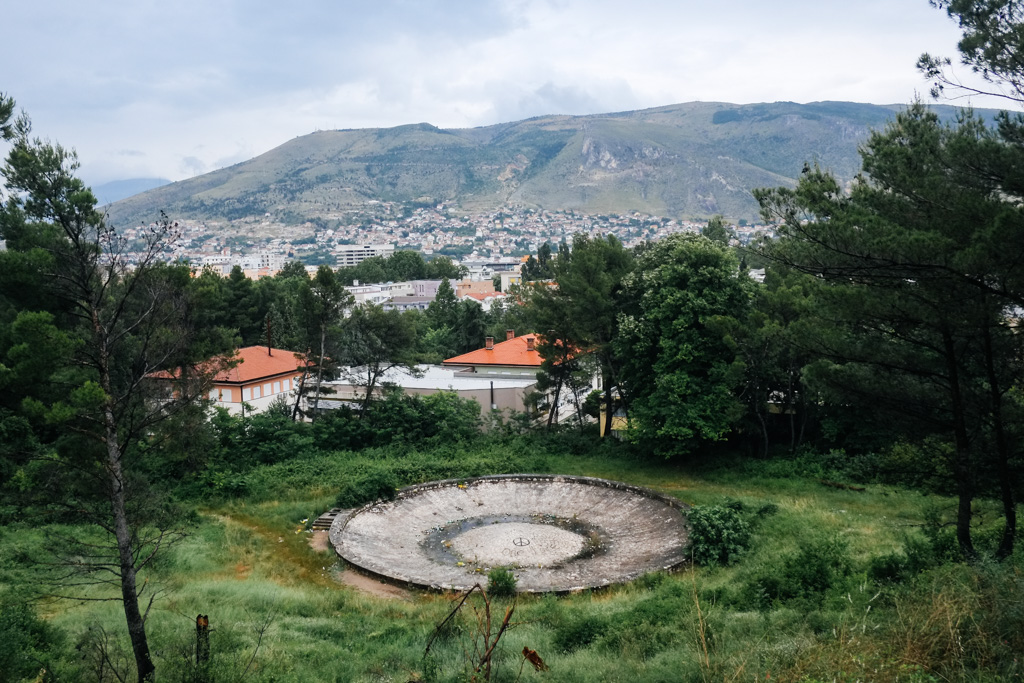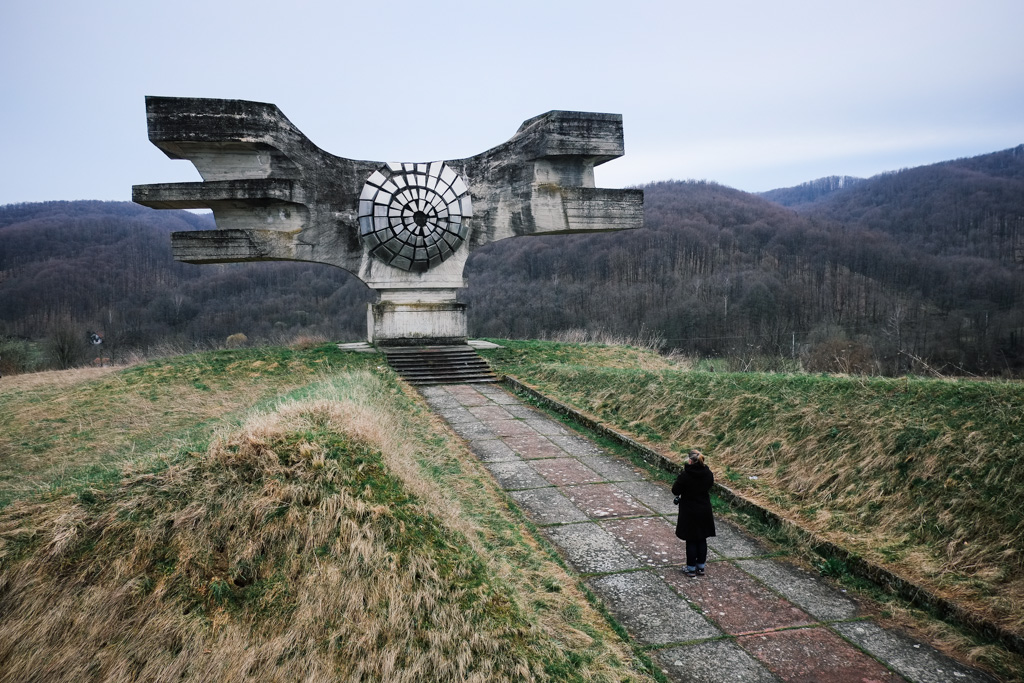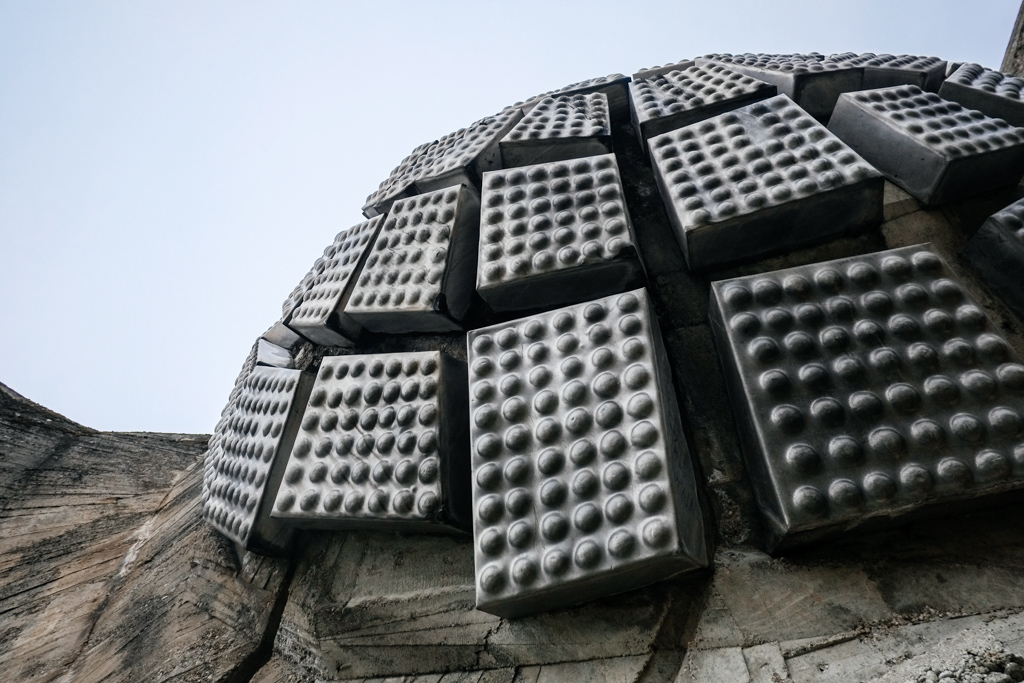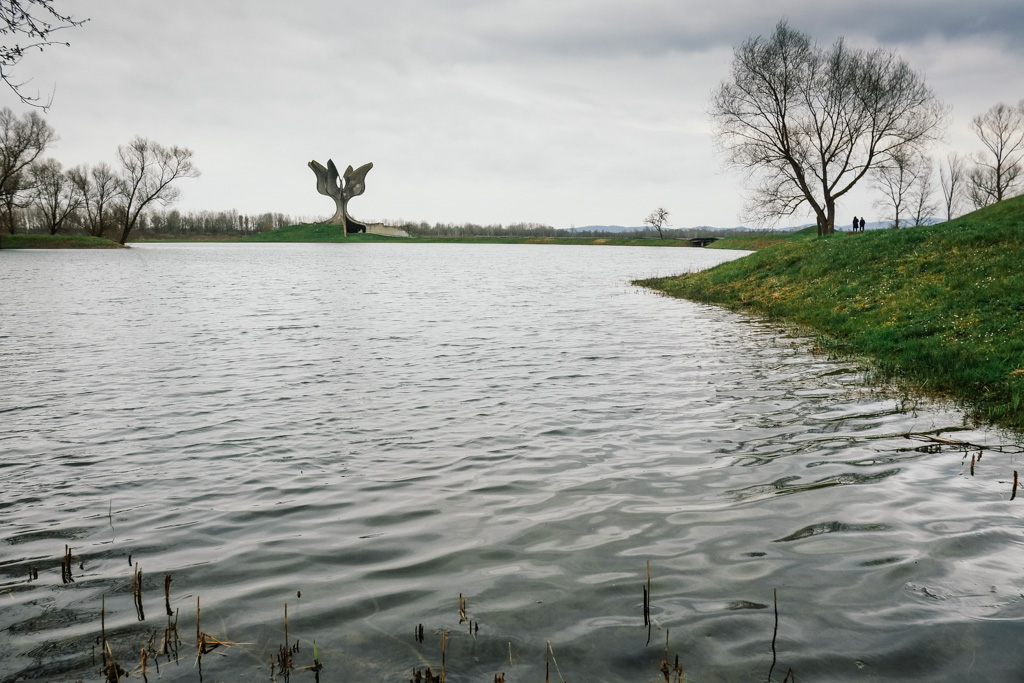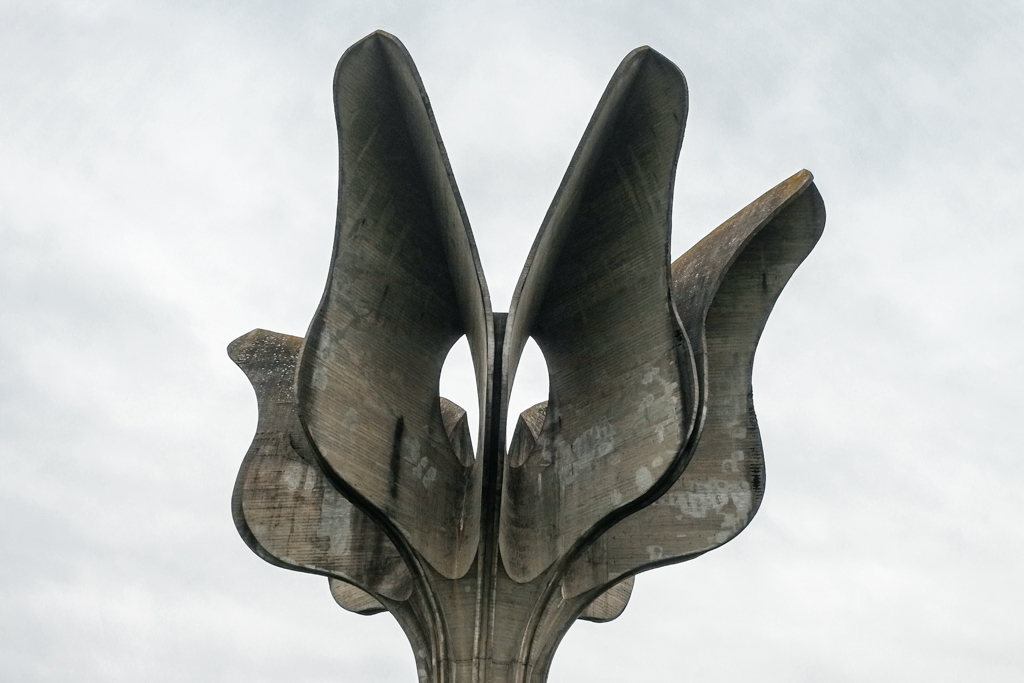 As a long-time fan of brutalism, the architecture is what initially attracted me to these monuments – and I dare say the few tourists that visit are also there for the concrete, not the history lesson. Sure, around the world the popularity of the brutalist architectural style continues to bubble, as it has for several decades now, with an adherent set of fans. However, most of the Spomenik remain unpopular, with international tourists and locals alike. The fascinating mid-century Yugoslavian monuments are usually deserted.
Remote locations, cities, spectacular natural settings, winding mountain roads – these monuments make a great set of pin-points for an incredible road-trip. It's unlikely that you will ever see them all, indeed only the most time-rich and completest lovers of brutalist architecture or Yugoslavian history ever would. So, in the spirit of free-style travel, the map above is accurate for each Spomenik location, and the pop-up info includes notes and links to other sources. No suggested routes are offered, roll your own adventure.
Like all good things, the Yugoslavian monuments are not going to last forever.
Nate.
PS, It's been over three years since I visited my first Spomenik, in Nis, Serbia, and my most recent visit was just a couple of weeks ago in Macedonia. New readers to Yomadic – I'm currently on a long-term journey that began in July 2012 – travelling and living from a 35 litre backpack, using a single camera with one non-zoom lens, and visiting over sixty countries so far.
During this time, I've discovered two parts of the world that remain my favourite – Eastern and South Eastern Europe, and Iran. In both of these areas, I've provided small-gang "untours" to bring these regions to people from all over the planet. You can read about any upcoming tours by clicking this link, I hope you can join me.
Yomadic remains ad-free, independent, personal, and non-sponsored. If you enjoyed his page, sharing is the best way you can help me. I prefer word-of-mouth over a drink or two, but social media is also great…/em>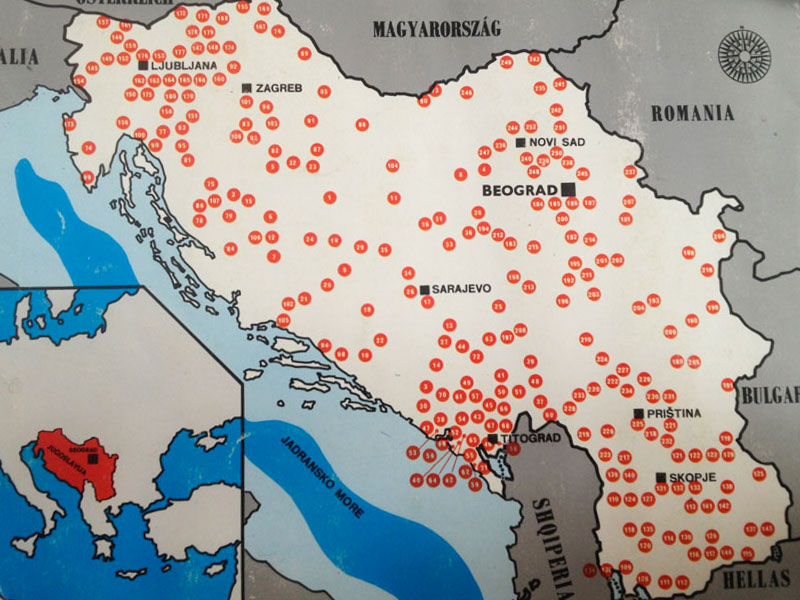 BTW, I would love to send you the next dispatch, posted from some-where random around this planet (and you'll soon find out why YOMADIC email followers are my favourite followers):