Iran Tours
tehran / shiraz / isfahan / yazd / persepolis / qom / kashan / abyaneh / kharanaq / caravanserai over-nighter and more
small group size – seats are purposefully limited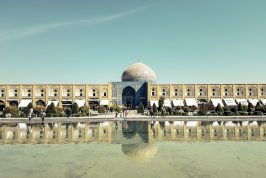 Yomadic Iran tours are for people who love the spirit of independent travel, and the camaraderie of a small group of travelling friends, but really wouldn't enjoy a typical "corporate" group tour. Since 2014, our Iran tours have combined the best aspects of freestyle travel, wrapped inside a curated (but flexible) itinerary.
These are the best available small-gang Iran tours, and we personally invite you to join us.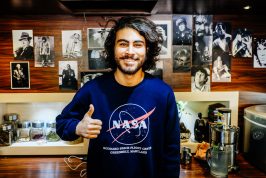 From Tehran to Shiraz we'll be sure to visit the big UNESCO heritage sights. Our local connections will get you experiencing the real Iran – exploring hidden café's deep inside atmospheric bazaars, meeting the locals, and checking out fascinating lesser-known places that don't appear on other itineraries.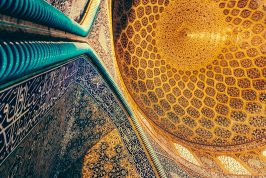 We always have comfortable private transport, but enjoy the little adventures of catching a city-subway or shared-taxi. Our accommodation is perfectly located and handpicked – we're chasing an experience plus a good night's rest, with great breakfasts and interesting neighbourhoods to explore day or night.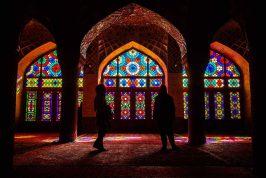 Our guides are exclusive – either local Iranian or experienced Western guides – relaxed and friendly – with up-to-date local insight and historical expertise. We'll ensure you see the best of Iran, with the freedom to explore and let Iran come to you. You'll make the most of your time, but you won't feel rushed…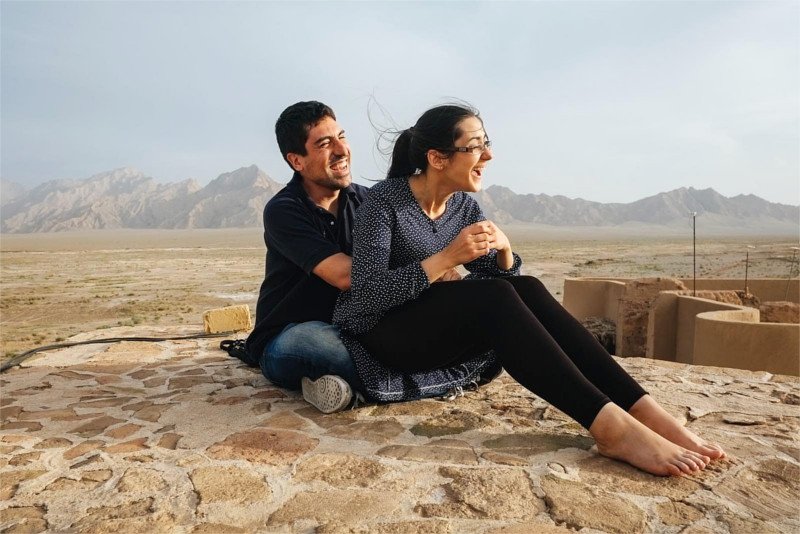 Our Reviews
Modern cities, ancient citadels, wonderful architecture, delicious food, the most welcoming people on Earth – Iran is safe, friendly, incredible, and now is the time to visit. Here's what previous trippers said about their Yomadic Iran "Untour" experience:
"BEST TRAVEL EXPERIENCE OF MY LIFE." – Hanif C., Canada

"There are many unbelievable moments in that trip that never would have happened had we gone by ourselves… one of the best things I've ever done." – Kate M., Australia

"Trip of a lifetime… I'd do it again." – Melissa B., USA

"…would do it all over again right now." – John G., USA

"…single best travel experience of my life!" – Rachel W., Australia

"…one of the best, if not the best trip I've ever made" – Serge B, Luxembourg

"I was so glad that I came along as I was never really into guided tours. This was definitely the most interesting and fun vacation I've ever had." – Bryan G, Australia

"Yeah, it really was that amazing." – Lara K., USA
2022 Iran Tours – Dates/Booking
* FINAL 2022 TOURS SELLING FAST!

▹ small gang ▹ private transport ▹ great accommodation ▹ delicious meals ▹ we'll take advantage of special events and hot local tips ▹ friendly and knowledgeable Western and Iranian guides ▹ no-tourist-traps ▹ classic UNESCO plus unique lesser-known destinations ▹
FULL details of all Yomadic 2022 Iran tours, below…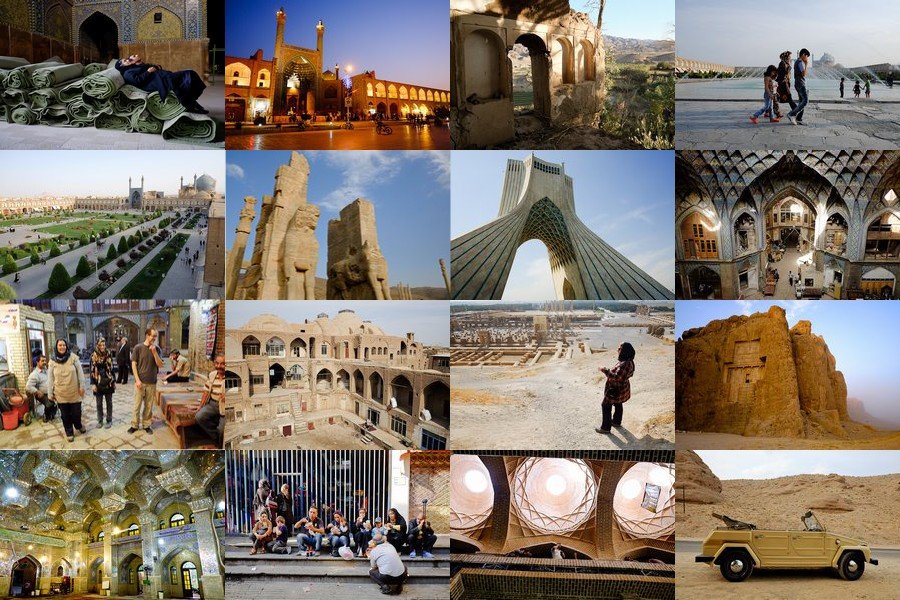 Yomadic Iran Tour Itinerary
BONUS: We minimise driving time, avoid airports, and stay in centrally located accommodation. Each Yomadic Iran tour is unique – we'll take advantage of any special events that may be happening when you visit. You'll see far more than this itinerary.
---
TEHRAN, IRAN – two nights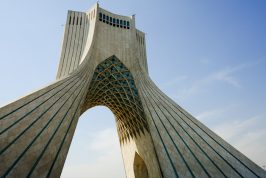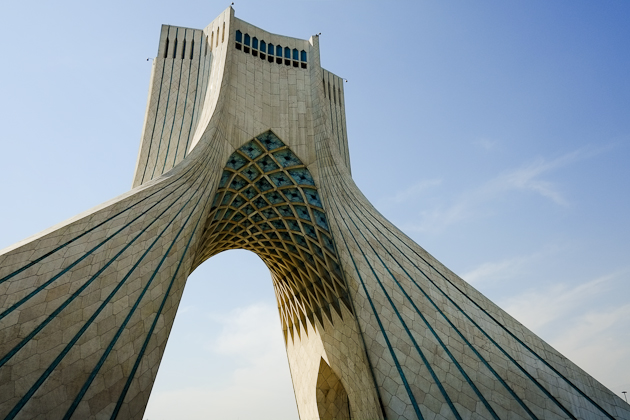 Bustling, stylish, ancient, and modern – your Persian journey commences here in Iran's most important city. We'll get you lost in the enormous Tehran Grand Bazaar, admiring the modernist architecture of Azadi Tower, exploring UNESCO listed Golestan Palace, and dining in the cool foothills of North Tehran. Other highlights include being inside the former USA Embassy ("The Nest of Spies"), eating the best local-lunches in the city, and strolling through some intriguing local neighbourhoods. Enormous Tehran is constantly evolving – but we'll have enough time to show you some of the best secrets this captivating city holds.
On day three of your Iran tour, we'll leave Tehran and travel to "Kashan" – stopping in the city of Qom en route.
---
QOM, KASHAN, ABYANEH, IRAN – one night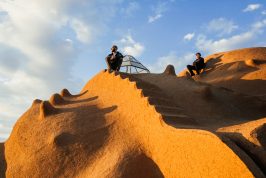 Kashan is our favourite small city in Iran. Famous for Persian architecture – picturesque bath-houses, magnificent historical mansions, the oldest Persian garden, and the most spectacular Bazaar in Iran – and we'll see them all. Before we even arrive in Kashan, we'll stop for a private guided tour around the city of Qom – considered the birthplace of the Iranian revolution. And after Kashan, we'll head high into the mountains to wander through Abyaneh – one of the oldest and most visually scenic villages you will ever see – famous for segregated door knockers. Uh huh.
In Kashan, our serene centrally located accommodation is a beautifully restored classical Persian building (with a great chef!). The owner will donate all profits to local orphanages. Win/win. On the morning of day four, we'll continue our journey heading south to the city of Isfahan.
---
ESFAHAN, IRAN – two nights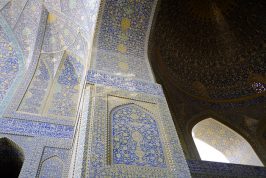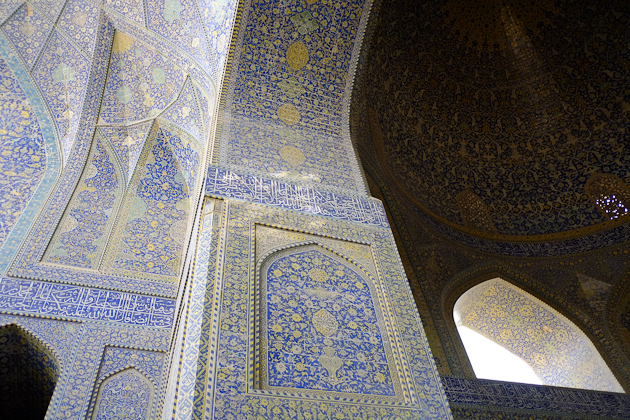 Third largest city in Iran, home of "Gaz" (Persian nougat, oh yes) and the magnificent Naqsh-e Jahan Square – Esfahan is known as "half the world". A favourite city of Iranian and foreign visitors, we'll visit the architecturally perfect Shah Mosque and Ali Qapu Palace, and listen to classical Persian songs underneath the ancient Khaju bridge. We know a few secrets throughout the varied neighbourhoods (from hidden Chai-houses to "Pigeon Towers"), and it's around this time of the Iran tour we begin to access places even the locals don't ever get to see…
In Esfahan, we will occupy the majority of a well-maintained apartment building. You'll have your own Persian apartment, a short walk to the main square (breakfast will be delivered at the time of your choice). The morning of day six sees us leave Esfahan behind, and we'll make our way to the desert city of Yazd.
---
YAZD, KHARANAQ, IRAN – two nights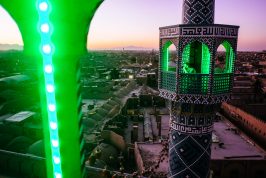 Heading further towards the South of Iran, we'll arrive in mesmerizing Yazd. Exploring the twisting lane-ways of your own UNESCO listed neighbourhood will be a daily highlight. We'll visit the incredible Zoroastrian Towers of Silence, check out performances of ancient martial arts set to funky drum beats, learn about the ancient water engineering that allows this desert-city to thrive, and take a day trip to explore the ancient town of Kharanaq. Yazd has it all – and the food here is really good (we'll take you to the best restaurants – from rooftop dining to local street-food).
In Yazd, your accommodation will be in an authentically restored classical Persian building. After two nights here, we'll drive to our Caravanserai – located in a small historical town on the edge of the desert (I don't want to say the name, as it's a bit of a tourist secret… for now).

---
CARAVANSERAI, MIDDLE-OF-NOWHERE, IRAN – one night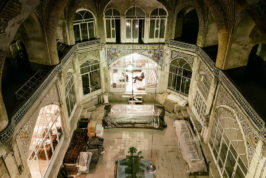 Wifi – not available, night skies – woah. Stargazers, romantics, and just those who need a tasty meal and a great rest, you're going to love it. An ancient Silk Road inn or "Caravanserai", is a truly amazing experience straight out of the long-gone days of old Persia. We now have two different Caravanserai's to choose from, and we'll make our choice based on the time of year, and what's on the home-cooked menu for dinner.
On day nine, we will make our way to Persepolis and Shiraz.
---
SHIRAZ, PERSEPOLIS, IRAN – three nights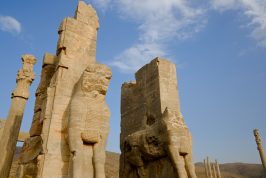 Shiraz – the cultural center of Iran, and our base until the end of your Iran tour. First up – the ancient city of Persepolis and the tombs of the Persian Kings at Naqsh-e Rostam. After an expert overview, you can explore Persepolis at your leisure. Eventually, you'll be kicked out (after closing time), but your comfortable hotel with great shady outdoor areas is a short walk away – perfect to enjoy the sunset view of Persepolis with a cool drink.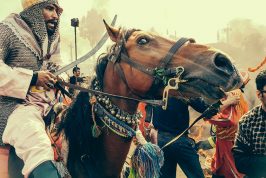 Refreshed and relaxed, the next morning we'll head into Shiraz, and spend two more nights in the gem of Iran. We'll take you to the best historic and modern sites around downtown (day and night), wake up early for the photo opportunity of a lifetime, and on our last night together enjoy an incredible Persian feast at our favourite restaurant in all of Iran.
In Shiraz, we will stay at a fantastic four-star, centrally located hotel – nearby to attractions, restaurants, cafes, chai-houses, and the Vakil Bazaar (great for last-minute souvenirs).
---
DAY 12 – SHIRAZ, DEPARTURE
After one last Persian breakfast, the final day is all yours. Whether you decide to stick around Shiraz some more, or would like us to organise transportation to the airport, we'll be there for you. Tears, optional.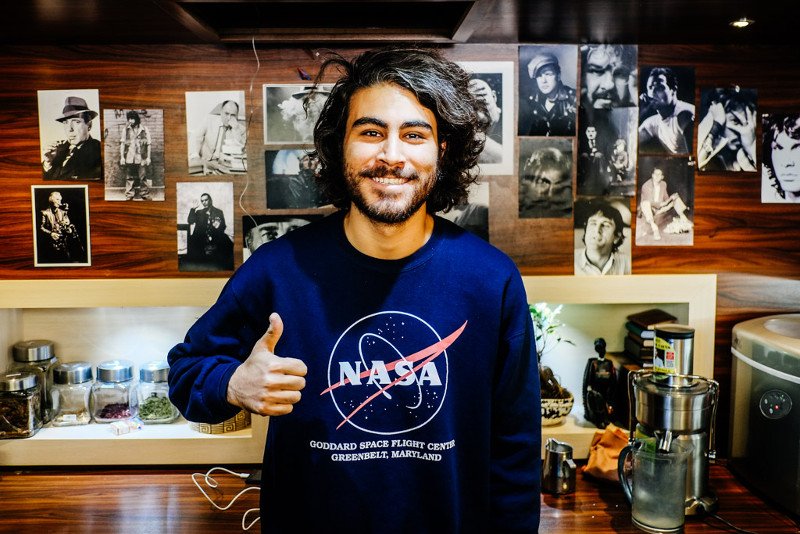 IRAN MAY 2014 SOLD OUT IRAN MAY 2015 SOLD OUT IRAN OCTOBER 2015 SOLD OUT IRAN NOVEMBER 2015 SOLD OUT IRAN APRIL 2016 SOLD OUT IRAN OCTOBER 3rd 2016 SOLD OUT IRAN OCTOBER 17th 2016-SOLD OUT IRAN OCTOBER 31st 2016 -SOLD OUT IRAN OCTOBER 9th 2017 SOLD OUT IRAN MARCH 30th 2017 SOLD OUT IRAN APRIL 15th 2017 SOLD OUT IRAN OCTOBER 25th 2017 SOLD OUT IRAN- NOVEMBER 21st 2017 SOLD OUT IRAN APRIL 2nd 2018 SOLD OUT IRAN APRIL 16th 2018 SOLD OUT IRAN SEPTEMBER 29th 2018 SOLD OUT – SORRY, ALL TOURS ARE SOLD OUT FOR 2018 – SOLD OUT FOR 2019 2022 IRAN TOUR DATES – NOW AVAILABLE!
Why the Yomadic Iran "UnTour"?
Travelling independently to Iran can be amazing – if you have, time, patience, and a big helping of local knowledge. If not, you'll miss some of the best secrets. How do you find the great restaurants or those cool places that don't appear on the "tourist trail"? How do you get around? Wouldn't you like your transport to stop just to take a photo, check out a market, or take in the scenery?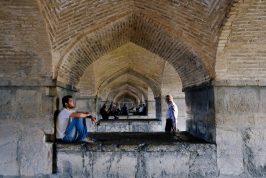 Our Untour concept is simple – a small gang of like-minded travelers seeing the sights, cities, villages, deserts, and mountains worth seeing – and avoiding the tourist traps. We make time to stop and just take it all in, and you'll enjoy the freedom to enjoy things your own way.
There are many unmissable sites in Iran, and we'll visit them. But, we'll also check out the lesser-known but totally memorable places that don't appear on other itineraries. Places you simply won't find without local knowledge.

Iran is incredibly alluring – but there's a good reason so few tourists are around (for now). Despite the appeal, Iran seems just too hard. Unknown. Mysterious. Visa issues. And is it dangerous? For many people, Iran remains forever a dream.
We have the solution – we take the best aspects of independent travel, and subtly wrap it inside a curated, but flexible, Iranian itinerary. This is the Yomadic "Untour", it's unique, and the best possible way to get to know Iran.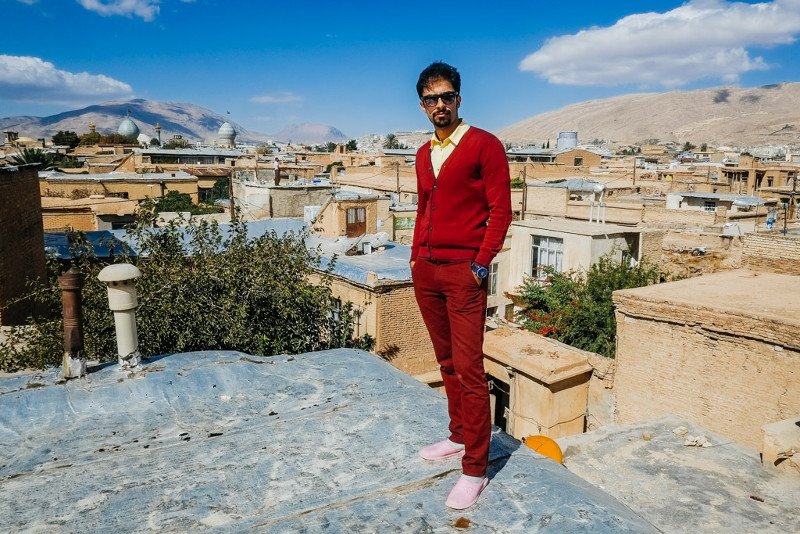 Inclusions – Yomadic Iran Tours
We include more – we've researched our "competition", and we'll gladly help you compare. The choices below are made with one goal: Iran is a once-in-lifetime destination, and we want you to have the best, most authentic, Iran experience.
TRANSPORTATION
Private transport, with the same driver, and the same bus, available 100% of the time. Modern, spacious, comfortable, air-conditioned. Our hand-picked local drivers are safe, experienced, and friendly.
Yes, public transport in Iran is an experience – so maybe we'll take the Tehran subway, catch a bus in Shiraz, and you'll need at least one Iranian taxi ride. But, reliable private transportation is the key to seeing Iran – it's a must – along with a calm and professional driver.
ACCOMMODATION
Stunning traditional Persian accommodation in Kashan, stylish hotels in Tehran, your own apartment for a few nights in Esfahan, our hotel in Yazd is known as a living museum, a remarkable, ancient, silk-road, caravanserai – you'll enjoy the variety. We personally hand-select every hotel, and we've played an advisory role in improving the standards at many Iranian hotels. Shared rooms have a maximum of two guests in total. All accommodation is perfectly located, comfortable, quiet, with helpful staff, good breakfast, and the fastest WiFi possible. We're looking for a "five-star" experience, every night.

MEALS – EVERY BREAKFAST, EVERY LUNCH, MANY DINNERS
We absolutely love Persian food and great restaurants. All Yomadic tours include breakfast and lunch every single day. Order whatever you like, it's all included. Usually, we'll be sitting down at a restaurant (we know the best local joints in each city), but we don't mind the occasional picnic or tasty street-food snacks. Hearty, local, fresh, plenty of variety, and we'll take care of your dietary requirements.
Note: we include tea, coffee, desserts (and deserts), juices, water, ice-cream, and more – but sorry, no alcohol on our Iran tours (thems the local rules buddy).

Most nights you'll have a decision to make – you're always welcome to join us, or go it alone. We could be dining at the finest in the city, the local hole-in-the-wall, or hitting the streets for some Iranian fast-food. If you need advice and want a recommendation, we'll point you in the direction of a great meal.
Also, we'd feel awkward if we didn't pay for dinner at least a few times.
New for 2022 – UNLIMITED FALAFEL INCLUDED
Just a small gesture from us – if you're hungry and there's a falafel shop nearby, we'll always pay. Falafel sandwiches are the most popular fast-food item in Iran, you have to try at least one. Iran is a generous place – so nobody is missing out on lunch (locals included) when we're around.
VISA ASSISTANCE
We'll use our experienced team to assist you with obtaining your Iran tourist visa – for citizens from the USA, Canada, England, Australia, the EU, New Zealand, and more. We do not charge any extra fee for visa assistance, and will always do our best to make the visa process as fast and efficient as possible.
AND MORE INCLUSIONS…
Entrance fees to all attractions we visit. Our bus is connected to the Internet whenever you need it (where available). Coffee and cake. Snacks and drinks. We'll help you out with customs, cultures, and currency exchange. Whatever we can think of to provide the best possible Iran experience – introductions to our local friends, photography tips, fireworks. We won't skimp on inclusions, there really are no "added extras" or "optional activities" on our Iran tours – for sure, we're the best value tour in Iran.
SOLO TRAVELLER? GREAT!
Unless you want to guarantee your own room each night, you won't need to pay a "single supplement". BTW, we always have a great mix of male, female, singles, couples, friends – you'll be surrounded by a gang of like-minded souls, and have time to yourself when you need it. It takes a certain type of person to travel to Iran and we'll take care of you like family.
WHY TRUST YOMADIC?
Sounds amazing, but you're still unsure about putting your trust with Yomadic?
We can provide you with contact details of a whole bunch of extremely happy people who experienced previous Yomadic Iran tours (and went on to book other Yomadic trips). People from Canada, the USA, Australia, Hong Kong, Sweden, Malaysia, the UK, Luxembourg, Germany, and more, would love to personally tell you all about their Yomadic Iran tour experience.
We're proven, competent, tour operators. We've been running Iran tours since 2014, and spending time on-the-ground in Iran since 2012. We only employ qualified, professional, friendly, local guides, drivers, and assistants with a verifiable history of providing the best service available in Iran.
You can always talk to us – contact us, leave your details, and we'll give you a call.
Yomadic trip payments are possible via all major credit cards – so all the usual protections from your bank or credit card provider apply (the Yomadic website is 100% secure).
Yomadic.com has been live since January, 2012. During that time, the Washington Post, USA Today, the Sunday Times (in Australia and England), the Huffington Post, and Lonely Planet have featured the long history of travel knowledge found right here.
We have genuine on-the-ground knowledge, experience, and local contacts, throughout Iran. Every year, we spend around six months in Iran – running tours and furthering our relationships with our guides, contacts, and partners. Our Iran expertise has been utilised by many other tour companies, and we've advised Iranian hotels and local government on how to improve the tourist experience and infrastructure.
Yomadic Iran tours only utilise the services of well-established and trustworthy local partners. We have solid backup plans – spare transportation, a team of drivers and guides, a network of colleagues who will do anything necessary to assist. Sure, we have a lot of fun – but we remain professional, safety and security conscious, and reliable, 24 hours a day.
Our promise is to look after you – always.
REFUNDS – IF YOU CANCEL
We know – sometimes your best-made travel plans need to be put on hold or cancelled.  Please understand, we incur very real and substantial costs from the moment you book. However, we don't want to act all big and corporate, so we promise to stick to a very generous refund policy.
if you cancel before 100 days of the tour start date, 500 Euro of each ticket may be non-refundable (read on)
if you cancel between 75 and 100 days before the tour start date you may lose up to 50% of your ticket price
if you cancel within 75 days of the tour start date, you may lose up to 100% of your ticket price (this is due to the difficulties in finding a replacement for you at such short notice)
WE WILL ALWAYS DO THE RIGHT THING – if we fill your seat after you cancel, we will refund a minimum of 90% of your full ticket price
in the unlikely event that the tour is cancelled by us, you will receive a full 100% refund (unless the trip cancellation is due to a "force majeure" event – something beyond our control such as a natural disaster). However – even in a force majeure situation – we will always strive to provide you a full refund to protect our reputation, and your satisfaction
we have always remained fair and generous with the flexibility of our refund policy, and aim for your complete satisfaction – because our honor and reputation is extremely important to us. (one example: everyone who booked and then needed to cancel due to the pandemic received either a 100% refund, or a replacement tour – their choice).
all of our "terms and conditions" can be accessed at this link. They're simple and straightforward. Yomadic will always remain open, honest, fair, contactable, and responsive to you. You remaining satisfied before, during, and after your tour, is the key to our reputation.
SOUNDS GOOD, RIGHT?
Our Iran tours sell out fast – the biggest reason for that is a high number of repeat-trippers and personal recommendations. For most people, Iran is a once-in-a-lifetime travel opportunity, and we'll make sure you are doing Iran "right". We wish the list of upcoming tours could be longer (but then it wouldn't be quite so special), we hope you can join us soon, and can't wait to show you Iran.
Nate Robert, YOMADIC