How Venice Beach Gang Bangers Taught Me Everything I Know About Travel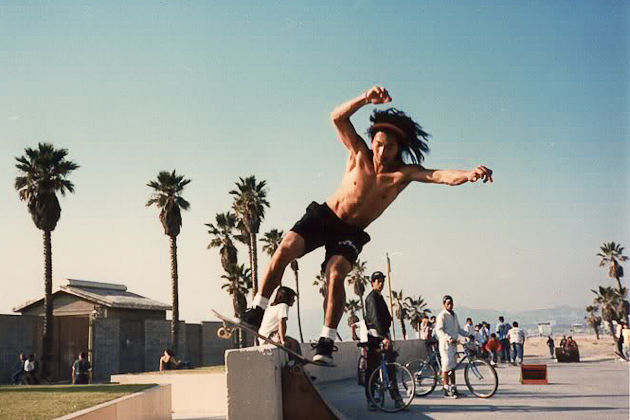 In late 1988, I arrived at Los Angeles international airport. Alone. No plans, no contacts, just a small amount of cash, and not quite yet an adult. After travelling solo across the world, for the first time in my life, I thought all I needed was a public phone, a Yellow Pages, a list of hotels, and a bus stop. This was the era of suit-cased-sized cell-phones, and they were strictly stockbroker accessories. The Internet didn't really exist.
After a couple of confusing public-phone calls late on that typically sunny LA afternoon, searching for a cheap bed for the night, I headed out from LAX and followed the palm trees to the corner of Winward and Pacific – the heart of Venice Beach. I didn't know it, but the next 48 hours in Venice  – affectionately known as "Dogtown" – would have an enormous impact on the rest of my life.
During the last few minutes of daylight, I gleaned the Venice Beach I recognised from the movies. Skateboarders. California girls on roller-skates. Decaying faux-Italian architecture. On the surreal runway of the Venice Beach board-walk, the mix is tourists, stylish locals, and scruffy homeless drinking from brown paper bags. Everyone was engaged the typical daily routine of Venice – people watching, hanging out, and watching buskers ply their trade. I wandered up and down alone, and took everything in. Venice Beach was officially the most amazing place I had ever seen.
Soon after, when darkness descended on 1988 Venice Beach, the mood changed very, very, fast. People vanished. The side streets away from the boardwalk come to life for just a short while, the scurrying few heading away from Venice Beach, destination: anywhere else. Along the boardwalk, the turnaround from light to dark is breathtakingly quick – it didn't take long before the popular crowded day-time-only area was completely empty, apart from the brown-paper-baggers.
Almost every shop and restaurant closed up for the night. Drapes were pulled. The whole daily Venice Beach metamorphosis from colourful hive of human activity, to an inky, quiet, and gritty corner of LA, felt strangely like stop motion. It was all new to me, but I had a feeling that Venice Beach in the Winter of 1988 at night seemed like a good time to return to my room.
It was a cheap apartment room, just a block back from the board-walk. Still somewhat jet-lagged, but, being propped up by elation and curiosity, my itchy feet quickly got the better of me. This was my first night in LA, I had to do something. And so, an evening stroll to further familiarise myself was irresistible.
I re-entered the darkness, and returned to the Venice board-walk.
It didn't take long before I heard a lone voice.
"Yo."
"Yo."
"YO!"
I looked to my left.
He was standing alone, near the Sidewalk Cafe on Ocean Front Walk, under a dim street-lamp. Bandanna. Baggy Chino's. Over-sized white tee. Slicked-back hair. Rocking a Cali style and swagger that kids the world over would imitate for the next several decades,  I knew, he was a gangster.
Chin up high, sizing me up, he starting walking towards me.
Only hours ago, I was strolling through the bustling circus that is the Venice board-walk. Now the sunlight had disappeared. At an incredibly rapid pace, my world was becoming lonely, dark, and a little scary.
Within moments, he was right in front of my face, and my heart rate was increasing.
"YO!"
"You wanna buy some CRACK?".
The first line I ever heard, on my first night in Los Angeles, was an offer to buy some crack. I nervously replied.
"No, I'm cool….thanks.."
"YO, you wanna buy some COKE?".
The conversation was moving along, but not really changing direction.
"Nah… I'm good".
I've always been a glass-half-full kind of guy, but I knew this situation didn't have a lot of upside from here. At this point, the only thing I was certain of, was that I hadn't met my first American friend.
Shuffling. Looking wary. He looked around, then focused back on me.
"YO, you wanna buy some WEEEEED… holmes?"
Things were getting a little more reasonable now. Despite his scatter-gun approach to drug selling, in hind-sight, he was beginning to identify the target demographic a little more accurately.
"No, I'm OK thanks, no".
The next few moments seemed to last a long time.
A very, long, time.
These are moments that are now burnt into my mind.
"WELL, WHAT THE FUCK DO YOU GET HIGH ON, MAN!?!?".
His face changed, dramatically. My heart rate increased. The shadows seemed more sinister, his face, darker. There was genuine anger. I had visions of gats popping a cap in my ass. Or something like that. I think I could hear the soundtrack to Colors. Or maybe it was just MC Hammer. It was 1988 after-all.
Although it was hard to look away, after a few sneaky glances I knew I was really was all alone out here in Venice Beach. Apart from a group of four or five other guys, standing a little way over, keeping an eye on the proceedings. Dress, swagger, bandanna. Definitely the associates of my new "friend". Heavy.
Like a drug addict getting a first hit, my brain, my heart, my body, was getting its first dose of genuine danger. I was getting worried. It was really dark out here, and the world, which over the last few days had shrunk substantially, just got a lot smaller.
"I'm just here on holiday, man. I'm from Australia."
Still just him, and me.
"HOLIDAY? HOLIDAY? WHAT?"
What was a young Australian dude doing on the other side of the planet, in his 'hood, at night? I don't think he could quite believe it. I tried to explain.
" A holiday. From Australia. A holiday…umm…a vacation."
Again, his face changed.
"YO…you're on a VACATION, from AUSTRALIA? …well what the FUCK are you doing walking around HERE at NIGHT?"
That wasn't a question, that was advice.
The situation had calmed down, as fast as it had escalated.
He motioned to his associates, I could tell it was an indication for them to leave me alone. I was OK. I took his indirect advice, and returned to the apartment room, fast. And, made sure I locked the door. But, it wouldn't be the last time crack was on the menu, or danger was imminent, at Venice Beach.
Travel-wise, I now realised I had thrown myself in at the deep end. Heading to the other side of the planet with no plans at all, maybe, just maybe, could actually lead me to danger. I wasn't even legally an adult in the USA, and whilst this wasn't South Central LA – Venice Beach over the last few decades had been through a tough period that eventuated in a particularly mean-streak, every night.
Yet, within another 24 hours, it had all fallen in to place. I was rapidly learning lessons in travel that would stick forever. Always make friends with the locals. Your location is everything. Don't be controlled by fear. Absence really does make the heart grow fonder. Never forget where you're from. Famous people are normal, even MC Hammer. Most importantly, don't smoke crack.
Nate.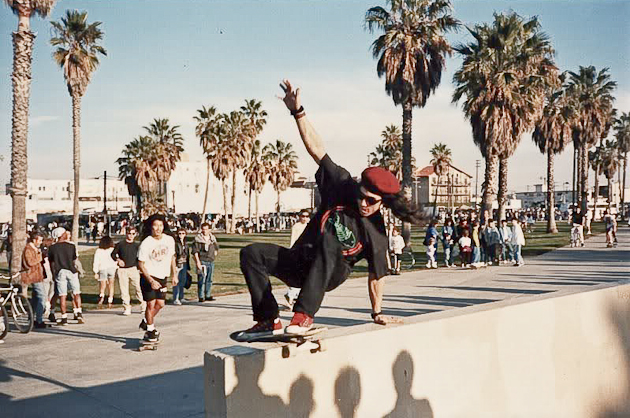 This is a photo of Christian Hosoi, Venice Beach, 1988. The Skateboarder in the background is Jef Hartsel. Both were professional skateboarders at the time, and Jef was my skate-buddy for a month or two in Venice. I met him on the first morning I was in Venice, at a restaurant called "Greek Out". We connected, as Jef had recently travelled to Australia, and believed that girls from New Zealand were the hottest girls on Earth. I agree.
As for Christian Hosoi. Where to start. Christian is regarded as one of the most important and successful people in the history of Skateboarding, with an in inimitable style. Since this photo was taken, Christian went on to have a life of ups and downs, to put it mildly. He has been the subject of a documentary, and appeared in a vast array of magazines, and online articles. Christian, if you ever read this, you are one stylish skater and I hope life is going well for you.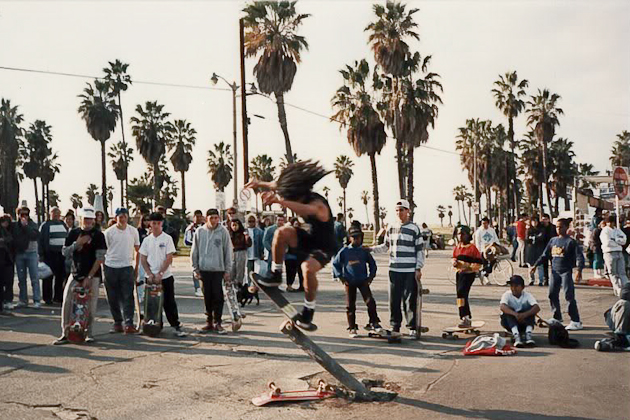 BTW, I would love to send you the next dispatch, posted from some-where random around this planet (and you'll soon find out why YOMADIC email followers are my favourite followers):