Thieves Market Georgetown Penang – UNESCO Listed Stolen Goods?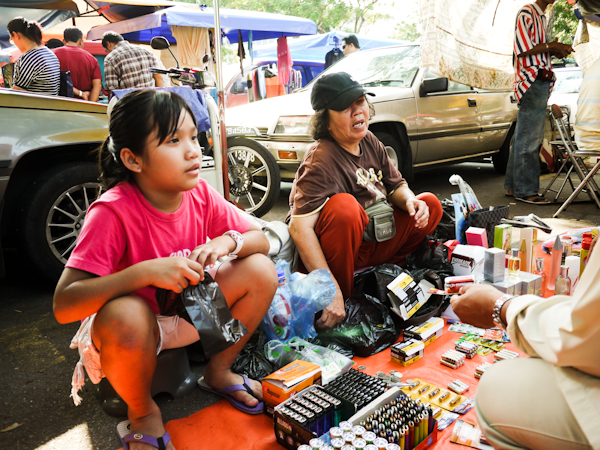 Georgetown, Penang, is a remarkable Malaysian city with a UNESCO world heritage center. Just wandering through Georgetown's historical colonial-era streets, buildings, and houses, is an outing in itself. Slightly off the well-trodden path of Georgetown's beautiful city-core, the "Thieves" flea market is one of those Penang institutions that few tourists visit. Cookie-cutter, franchise filled, glitzy new shopping malls are dotted throughout the island of Penang. But, for a truly local experience, wake up early, and head on down to this bustling flea market located at Lorung Kulit. Note, the flea market is not UNESCO listed, but maybe it should be.
"It won't be much further". It was my idea to walk to the market. After being on Pulau Penang for a week or so, it was a hot and sweaty Saturday night that finally convinced me to get into the rhythm of island life. We had already been walking for twenty minutes, but it seemed longer. Today, Sunday morning started early for me. Locals are always out and about early –  before the heat and humidity destroys you.
Georgetown, Penang, is not exactly set up for walking. Sure the architecture is gritty and authentic, there's interesting vistas at every turn, but the cracked and undulating sidewalk combined with intense tropical climate can turn a "short" walk into the exercise equivalent of a marathon. About forty-five minutes, and three litres of water later, we made it to the Thieves Market. I was now on the hunt for stolen goods, at bargain prices.
The history of Penang's Georgetown flea market at Lorung Kulit is sordid and shady, with a well-earned reputation for stolen goods.
In reality, the market is a rag-tag collection of antiques (some genuine, some fake), house hold items, fruit, vegetables, clothing, and a large variety of  new, but mostly used, goods. Watches, sunglasses, shoes, coins, jewellery, electronics, records, books, the list is endless. The popular story goes, if your shoes have been stolen, head down to the flea market at Lorung Kulit, you'll find them there.
Non-asian readers should note, due to the custom of leaving your shoes outside your house, shoes do get stolen. Don't get me wrong, it's not an epidemic of shoe thefts, but it does happen. I was told about the lady who spotted her recently stolen red-stilettos, and after some heated words were exchanged, the sheepish merchant handed back the heels to the rightful owner.
Penang markets give you a genuine chance to rub shoulders with the locals.
Penang's markets are an authentic slice of local life. We walked the isles of the open air market, took photos, and chatted to the regulars. We picked up a few essentials (batteries for my camera), and a few non-essentials, such as an amazing collection of "found" black and white photos, showing the performance of a Penang Rock and Roll band in the 70's, replete with sequin-outfitted dancing-girls.
I also needed a pair of sunglasses, after the unfortunate melting of my previous favourites. Eighties-era, like new, Christian Dior, gold, aviators? Sold! Just flashy enough for this guy. "You look like a movie star", if only someone would say that to me, I'm tiring of saying it to myself whenever I look in the mirror with my new-found favourite shades. However, a quick scan of the 'bay showed me that these glasses have recently sold for upwards of 3 and 4 hundred dollars. I paid much, much less. That's the appeal of a flea market. Looking for the diamond in the rough.  Some may say, the Georgetown flea market has plenty of diamonds, and a whole lot of rough. That's the appeal!
Heading to the Lorung Kulit market in Georgetown? Get there early.
The tip is, go on Sunday, and get there early. If you're catching a taxi, every driver in town will know where to take you. "Lorung Kulit! STAT!" Tip: Don't actually say STAT. Say, please. If you want to walk, just keep in mind that walking in the tropics can really take it out of you. There are regular buses that pass the market, when leaving we jumped on the first bus that passed by, as all buses in Penang seem to lead to the heart of Georgetown. After an eventful morning, a great, and very inexpensive lunch with the market locals, a few fresh juices, and then a bus ride back, we were ready to head indoors by noon. That's the way to do it in Penang. Beat the heat. Stay out of the sun. One more look in the mirror, and then I'll have an afternoon nap.
Nate.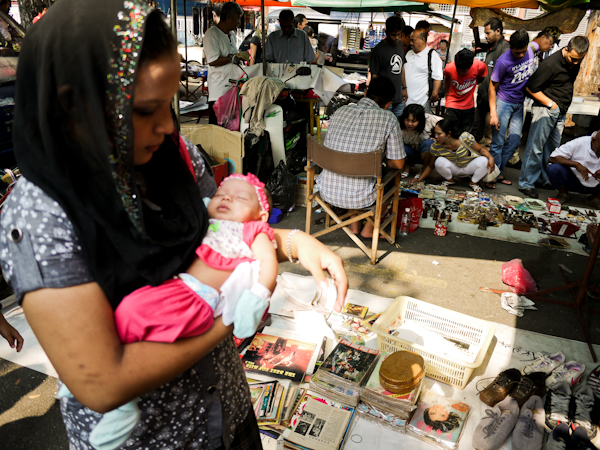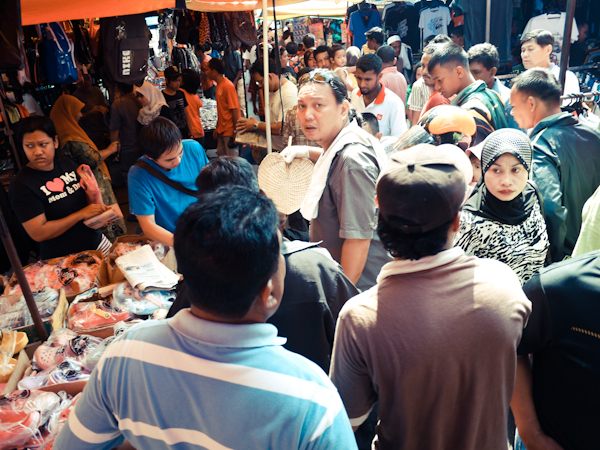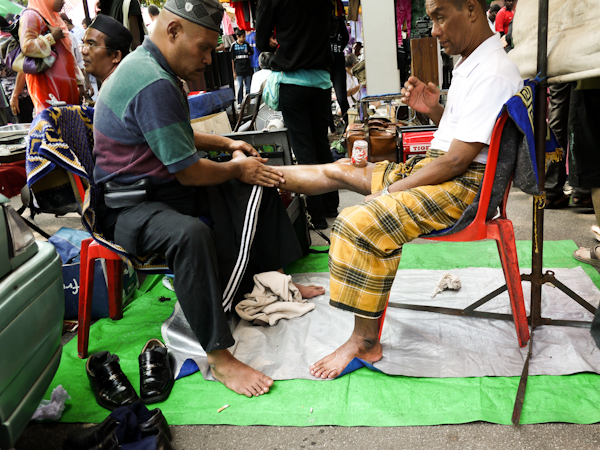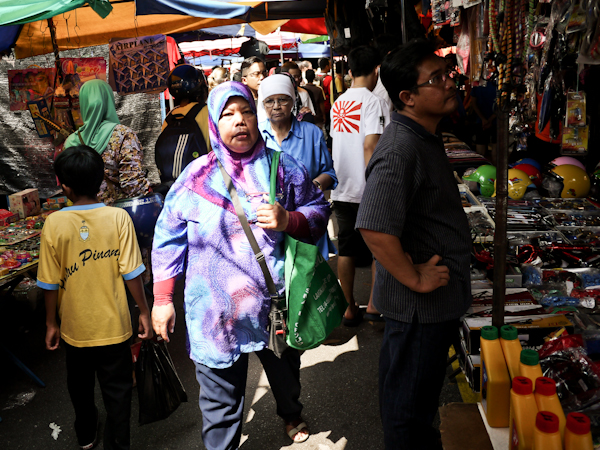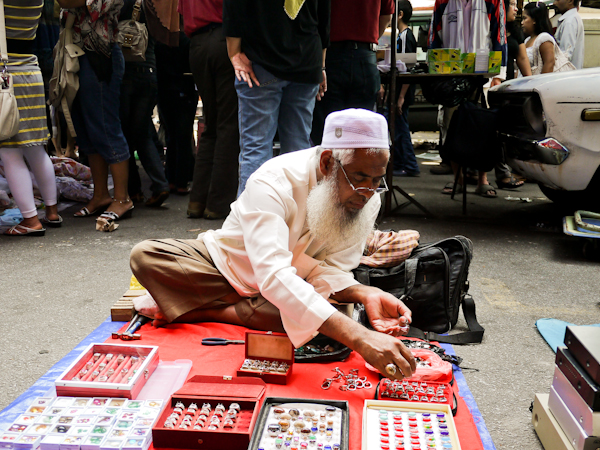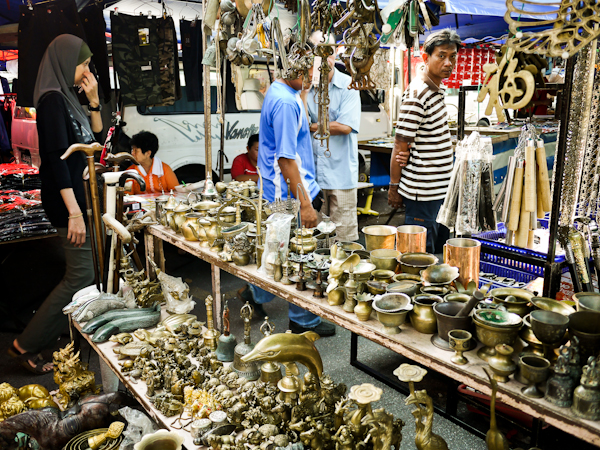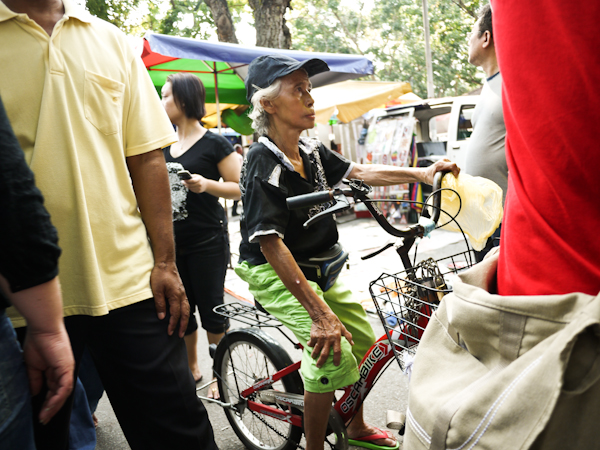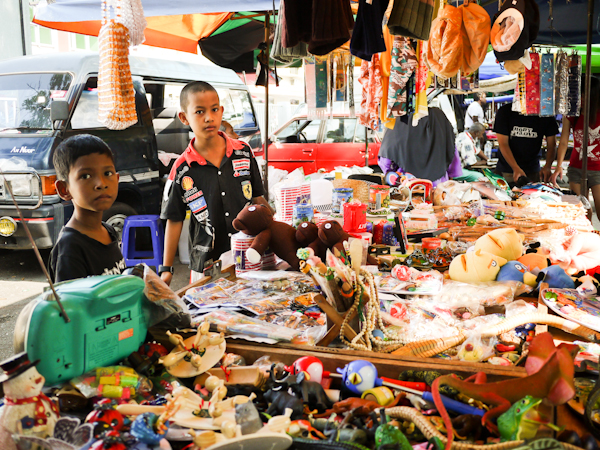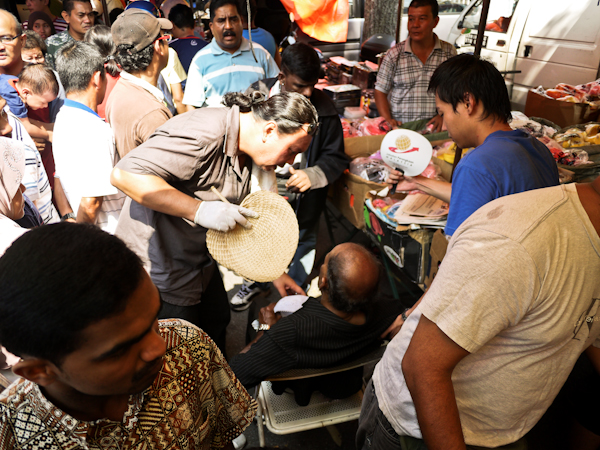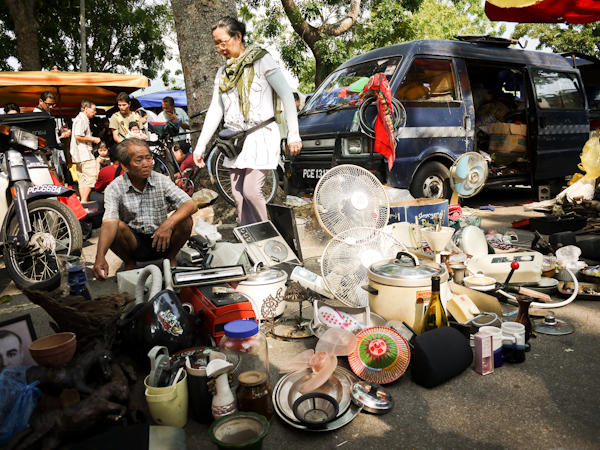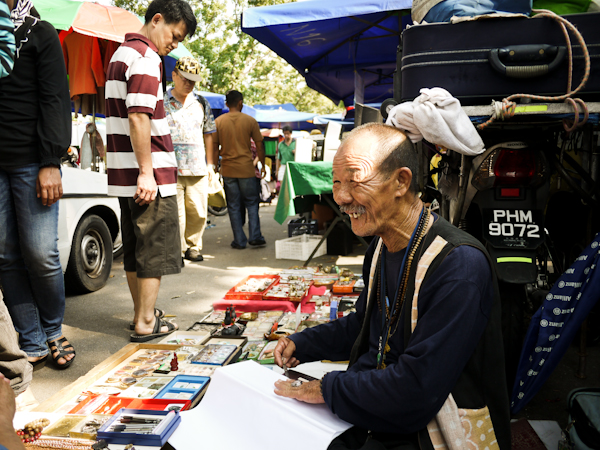 BTW, I would love to send you the next dispatch, posted from some-where random around this planet (and you'll soon find out why YOMADIC email followers are my favourite followers):