Myanmar Visa? 5 Essential Travel Tips, Before You Get to the Airport.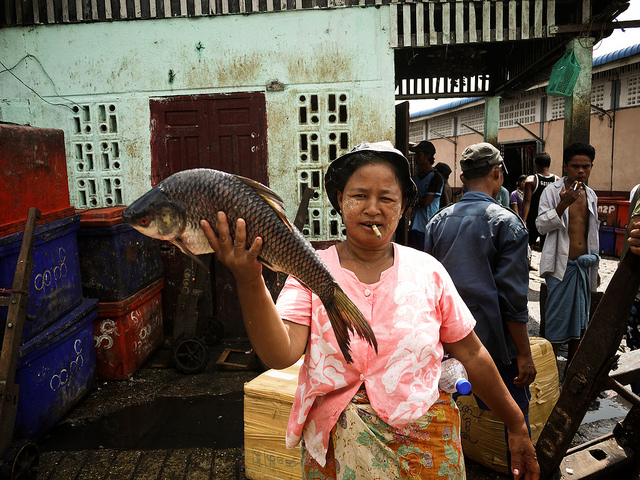 Myanmar (Burma) is shaping up as one of the hot travel destinations for 2012. Getting a Myanmar Visa is important, but a visa is not the only consideration before you travel to this exotic land. Soon after exiting the airport, you will quickly realise you're not in Karachi any more. No, really, you're not even in Kansas, Dorothy. This isn't like travelling to Thailand, Bali, or one of the more beaten South East Asian tourist trails. Myanmar is….different.
Until recently, Myanmar effectively had a closed-door policy to tourism. No visa for you!  Even today, economic sanctions and domestic problems continue to strongly affect daily life.  Yet, an optimist would say that Myanmar is showing the first signs of being re-born, or at least, moving into a new era. Myanmar is a spectacular country to visit, with an authenticity unlike any other. But, before you jump on the plane, there are some essential tips you need to know before heading to the exotic destination, of Myanmar.
1. You will Need a Visa for Myanmar. This is How to Get One. PS, They Look Amazing.
The good news- if you're in Bangkok, you're in luck. The most common way to fly into Yangon (Rangoon), the capital city of Myanmar, is via Bangkok. The Myanmar embassy in Bangkok is easy to find. Most taxi drivers will know where it is. You can also catch the sky-train, but maybe save that for the return journey, just incase you get lost (time is of the essence here!). The application process for a Myanmar tourist visa is straight-forward, if you keep these tips in mind:
The Myanmar embassy in Bangkok opens at 9am. If you show up past 10am, you risk being refused for that day. Be there at 8am, and have a chat with other travellers in-line.
The application for a Myanmar tourist visa,  at the Bangkok embassy, is a same-day service.
The juicy tip:   The entrance to the Myanmar embassy is on the small side street. Take a short walk down this  street, walking away from the main street.  Now, look for a sign on the right that says "photos, copies, visas". Down a small lane-way, on your right, is a small shop that will do everything for you, so that  you get your Myanmar tourist visa smoothly. They have visa application forms. They will take your photos.  They go through this everyday, and will assist you.  The cost is minimal, and is 100% worth it. I have personally used this service, and strongly recommend it.
After you have visited the shop, head back to the embassy, line up, wait for opening, line up again inside (not for long!) hand in the completed forms, your passport, and the visa fee (in Thai Baht, it was about $40 US).
Your passport, complete with the best looking Visa you will ever see, will be ready for collection later that day. They will tell you what time, probably about 3.30pm
If you're not in Bangkok, my suggestion is, get to Bangkok. It's a spectacular city. If you can't make it to Bangkok, contact your closest Myanmar embassy. The process is much less painful than it was in the past, and unless you list your occupation as "investigative journalist", "liberator of peoples", or "democratic warrior", the whole process will be a relatively painless proposition.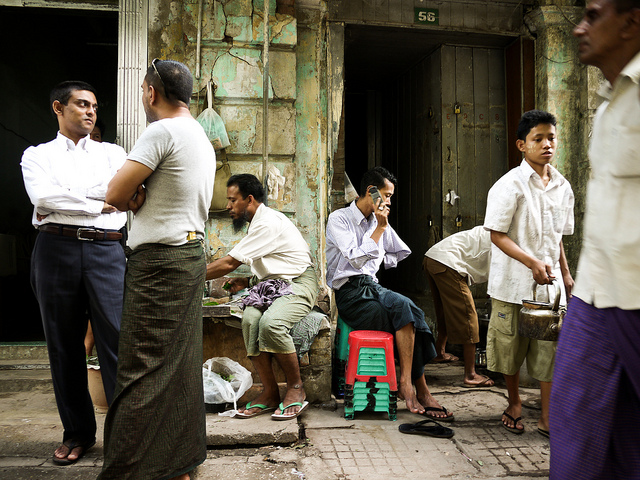 2. In Myanmar, Cash is King.
There are no ATM's in Myanmar. Zero. Credit Cards are not accepted, almost anywhere. From Yangon (Rangoon) to Mandalay, your plastic card has no place here.  You really do need to take cash with you. However, that's not as simple as it sounds…
US dollars are the only currency that matters in Myanmar. Try to calculate how many US dollars as you think you will need, and take them with you to Myanmar.
Crucially, those US dollars:  must be new, must not be folded, must not be dirty, must not have any writing or other markings on them, and preferably, will be large bills (hundreds). If your cash shows signs of wear, money changers may not accept them in Myanmar. You need local currency, as almost everywhere you go, US dollars are not accepted. Exceptions include some hotels, and entry fees to temples.
Don't change money at the Yangon International Airport (*update, 1 Feb 2012 – see comments for new info).  In Myanmar, they take "rip off exchange rate" to a whole 'nother level. You will be able to pay for an airport taxi with US dollars, and then change some money at your Hotel or in the city.
Hotels, and large supermarkets, are great places to change money. You might not get the absolute best rate, but it will be reasonable. Shop around for rates! This will give you a reasonable idea of what the best exchange rate is. It never hurts to ask!
Additionally, take a range of small US dollar bills. A whole stack of small bills. 10's, 5's, and 1's. This will help in paying temple entry fees, and paying people who are happy to accept US dollars, such as some taxi drivers.
The local currency, the "Kyat", is  pronounced "chat". Easy.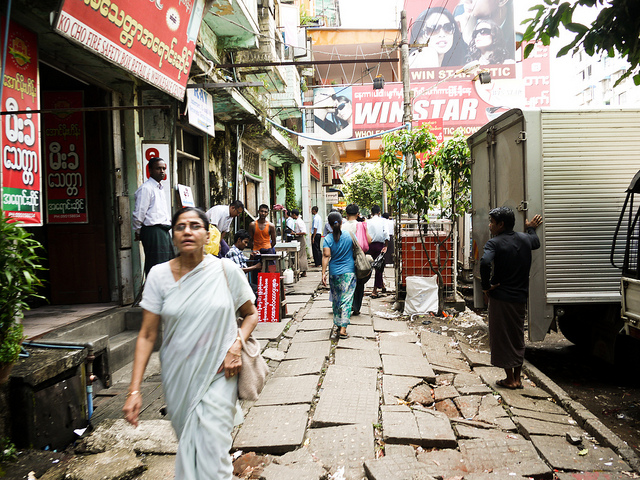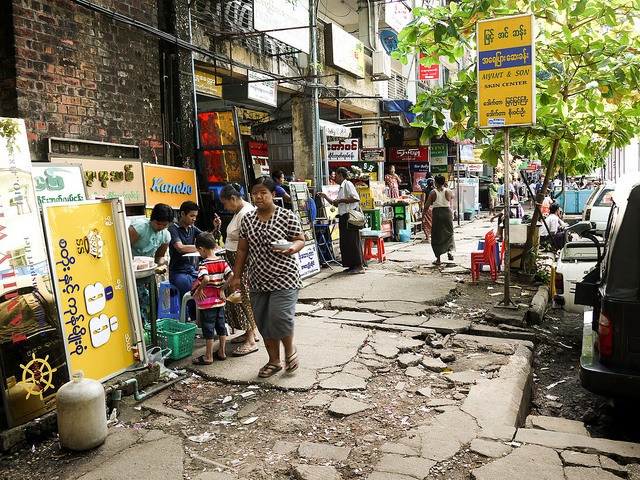 3. Take a Flashlight or Torch to Myanmar.
You will be carrying around huge wads of local Kyat's, and possibly huge wad's of US dollars, late at night, in the city, in the dark. This is very dangerous, but not for the reason you are thinking. It's the sidewalks (footpaths) – they're the worst sidewalks of any major city on the entire planet. It looks like an earthquake or two had run through town, and nobody bothered to clean up.
There are deep holes and large cracks everywhere. The sidewalks, are the most dangerous aspect of Myanmar's crumbling (and yet beautifully decayed) colonial-era cities. Add to that the severe lack of  street lighting, and falling into these cavernous ruins could ruin your vacation.
The solution is simple. Take a torch. Take it everywhere you go. I should point out, "petty" street crime, such as muggings, is practically non-existent in Myanmar's cities. I saw many people carrying large wads of local cash, you'll be fine.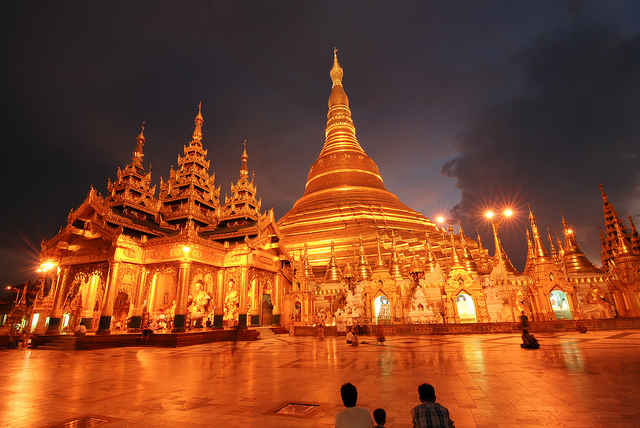 4. Print Out Every Myanmar Reservation or Booking You Have Made, Including Your Airline Ticket. Print, as in, on Paper.
I had an in-depth discussion with the AirAsia duty manager, as I was leaving Yangon International Airport. There is a small fee that you will need to pay, if you don't have your booking printed. I was enquiring about the purpose of the fee, as it didn't seem standard AirAsia practice. Cut a long story short, if you don't have your flight booking printed, the staff may find it incredibly difficult to check you in. You're in for a long wait. The Internet in Myanmar varies between slow and non-existent, so there is often no simple way for the staff to confirm you actually have a ticket!  This could lead to an hour or more of delay.
The same goes for Hotel bookings, for the same reason. We have all become used to service providers being able to verify bookings by quickly checking online. Not necessarily so, in Myanmar. Frequently, the Internet is down for the entire country, for days at a time.  Which possibly means, no way to verify your booking. If  you made the online booking recently before your arrival, details may not have yet reached the Hotel.  So take it back old school. Print everything. Print everything twice.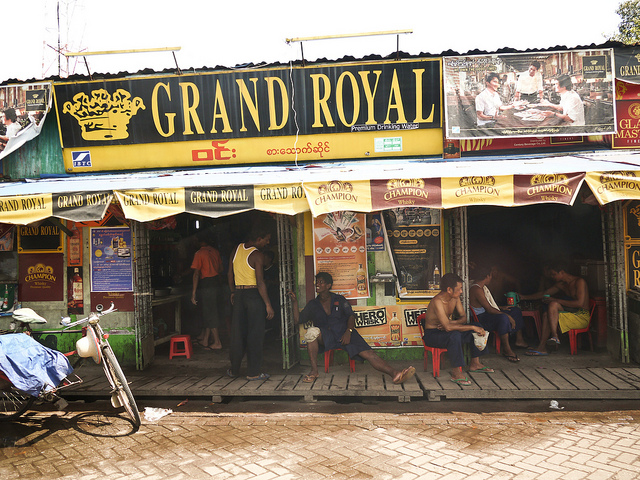 That's the skinny. Myanmar  is truly an amazing country.
And one day soon, it will be over-run with tourists, that's a promise.
Nate.
*Finally – Myanmar, Burma, Rangon/Yangoon? This remains a contested issue.  My choice of using "Myanmar" represents no opinions on any domestic matters. The name, to me, doesn't matter. What does matter is human rights. Several locals said to me " we don't care what name you use, just tell more people to come here". I agree.
Further Information
Embassy of the Republic of the Union of Myanmar in Bangkok
Address : 132, SATHORN NUA ROAD, BANGKOK 10500
Tel : (662) 233-2237, 234-4698, 233-7250, 234 4789,237 7744
Fax : (233) 236-6898 myanmarembassybkk@gmail.com
BTW, I would love to send you the next dispatch, posted from some-where random around this planet (and you'll soon find out why YOMADIC email followers are my favourite followers):