Street Photography in Hong Kong – Photo Friday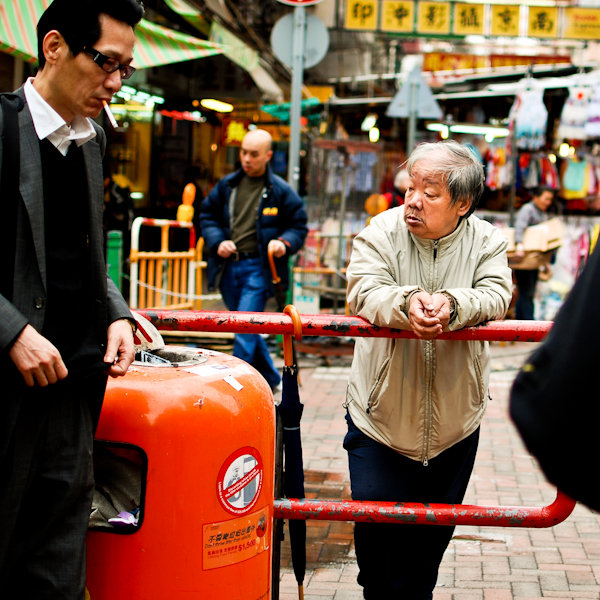 Street photography is at once the easiest type of photography to perform, but perhaps the hardest to master. Street photography is capturing a decisive, poignant, or ironic moment, often candidly, of public subjects. It is by far, my favourite type of photography. What is missing from most collections of travel photos, are photos of people.
I have been in Hong Kong this week, and as well as capturing the sites, the views, and the meals, I've made a concerted effort at capturing the people of Hong Kong. Humans are naturally voyeuristic, we connect with other people. So, as far as travel photography is concerned, why is there such a lack of local people in photos?
There are many reasons for the lack of candid photos of people from around the world. Street photography can be seen as intrusive, difficult, and even a little dangerous, depending on who your subjects are. Even, sneaky.
Photo Friday today is a typical street photo, taken in Sham Shui Po, a run-down area of Kowloon, Hong Kong. Sham Shui Po has a huge amount of character, it is one of my favourite areas in Hong Kong. I chose this photo for two reasons. Firstly, the subject stands out as being totally serene, in a sea of activity. It's very crowded and busy here in Hong Kong.
Secondly, since this photo was taken, I had the pleasure of spending some time with Eric Kim, a Los Angeles based street photographer. Amongst other things, Eric has shown me that I really need to get closer when photographing subjects on the street (great advice for photography in general – get closer).
Now, I have been getting very close to my subjects, and as a result, have had more conversations with local people of Hong Kong than I would have thought possible. The photo above was taken before I had spent time with Eric "on the street". Tune in next week to see the "after Eric Kim" photos.
Street photography can be somewhat controversial. However, there is no denying that it can produce powerful images, and is an amazing way of connecting with locals when you are travelling to new places.
Nate.
BTW, I would love to send you the next dispatch, posted from some-where random around this planet (and you'll soon find out why YOMADIC email followers are my favourite followers):