Bangkok Dangerous – My Recollection of A Peoples Uprising – Part Two
During 2010, Bangkok Thailand was a city under-seige.  A people's uprising – insurrection, rebellion, and revolution, all rolled into one. I witnessed it first-hand, entering the captured city zones on a daily basis. This is part two of my story of  the Bangkok "Red Shirt" protests of 2010 – a lengthy protest that claimed many lives, both Thai, and foreigner.
For Part 1 of this article, please click here.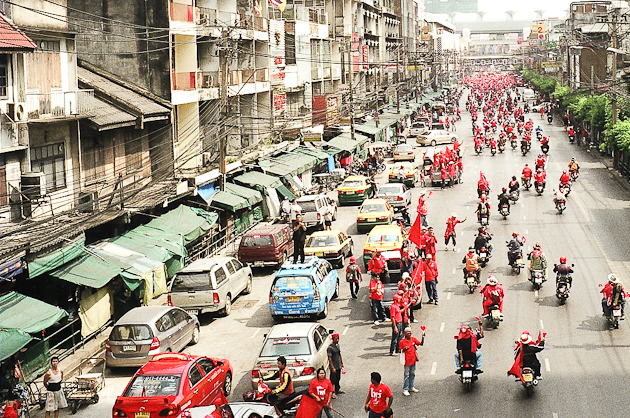 By early April of 2010, the mega-city of Bangkok was well and truly being controlled by the Red Shirt protesters. Numbering in the tens of thousands, and camped in the central area of the city for weeks, the Thai government had so far  been reluctant to put a stop to the protest. The glitzy Ratchaprasong area, a corner pinned by designer label shopping malls, was now completely overtaken. More and more Red Shirts gathered by the day.
I was allowed exclusive access to above the stage area, where daily rallying of the protesters took place.  The photo below is looking out above "ground zero". Beneath the carpet of red is a normally busy Bangkok multi-lane highway.  Clearly, all traffic had been shut down, and all shops, malls,  and hotels in this area had been closed.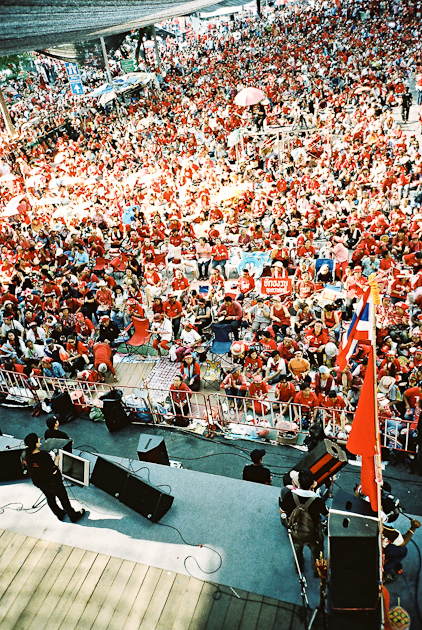 On the 8th April 2010 the government declared a "state of emergency". As a tourist who doesn't speak Thai, it was difficult to understand exactly what was happening from one day to the next. Media coverage in  English was very scant. At best, the reported events were out of date, at worst, inaccurate and misleading.
The main method I used to gather my news on what was happening was to wake up each day, and walk down Ratchaprarop road to the centre of the Red Shirts encampment – what I was now referring to as "ground zero" – the heart of the Red Shirt protesters.
Normally buzzing with all manner of vehicles , on April 9th 2010 Ratchaprarop Road was more deserted than normal. That morning, when I reached the sharpened bamboo and tyre barricade that represented the entrance to the Red Shirt controlled area, I was greeted by a countless number of motorbikes, scooters, trucks, and cars, all prominently displaying the colour red. Flags, shirts, bandanna's, paraphernalia.
The people's army was about to take the protest all-city.
As the enormous group of vehicles grew,  I knew that this was the time to get some photos. People were posing for me, displaying solidarity with steely looks of determination.  It really was like they were waiting for me to take a few more photos, before they headed off, to drive around the city.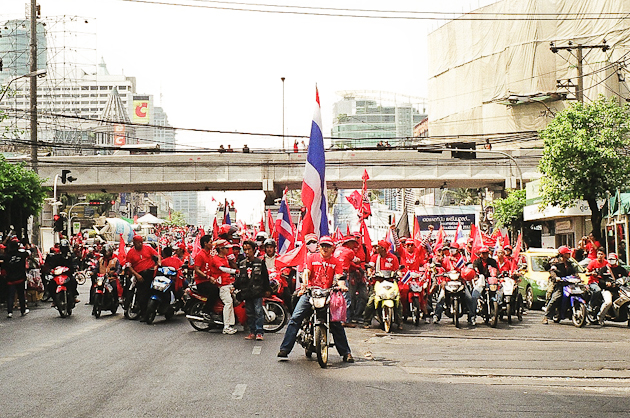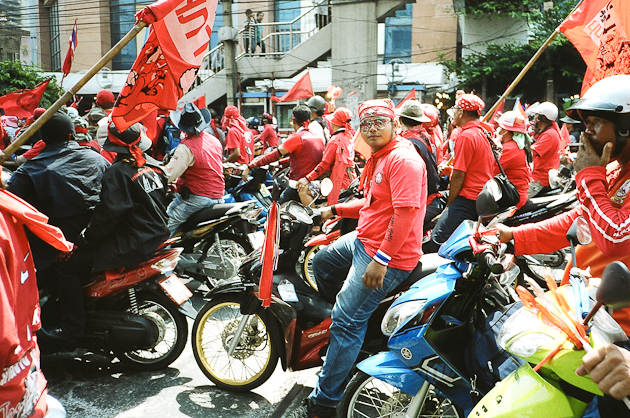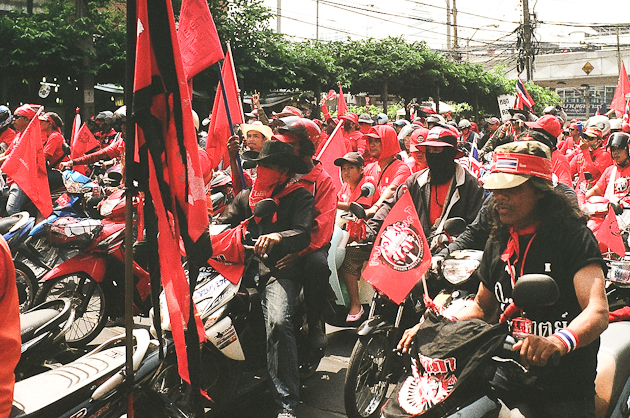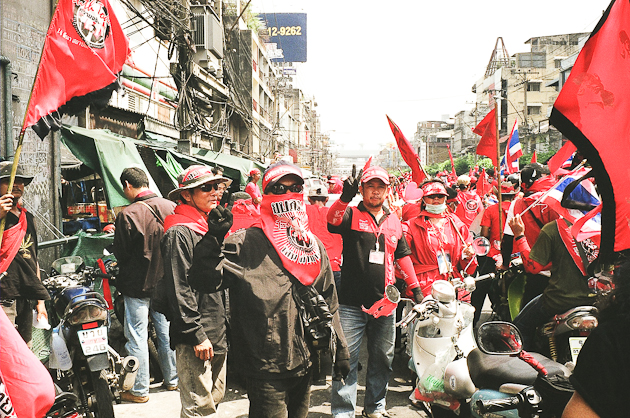 I snapped a few photos in and among the protesters, then made my way to a footbridge on Ratchaprarop Road, outside a collection of three 40 story abandoned skyscrapers. Looking out on one side of the bridge, the throng awaited. Engines were revved. Stereos cranked.  The crowd was growing.
Spectators were outnumbered 100 to 1 by the Red Shirts army. Below me, to my right, I had my eye on Phillipa. She was standing on the side of the road, with a few friendly and smiling locals, awaiting what was to come. I could see she was in safe hands.
Then, they moved out. There was a sense of absolute chaos. Road rules no longer applied. A maelstrom of red was flowing down Ratchaprarop Road. My mind raced. I had never before witnessed a protest of this audacity, of this size, and of this commitment. I got run down by a fast moving motorbike but didn't sustain any serious injuries.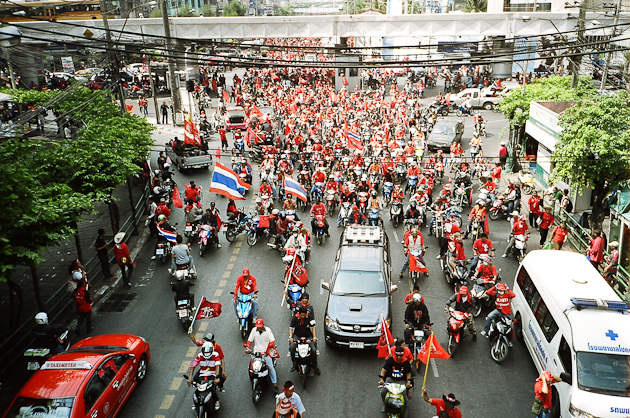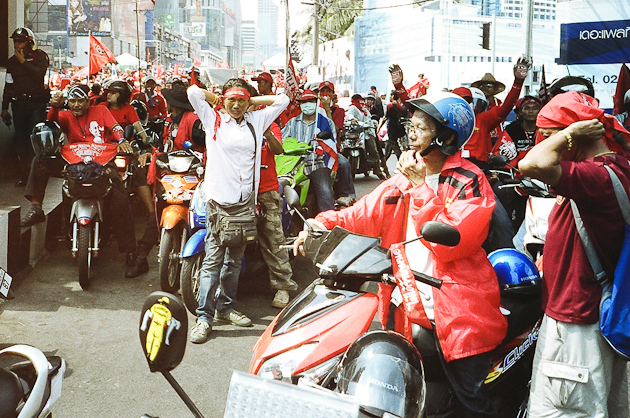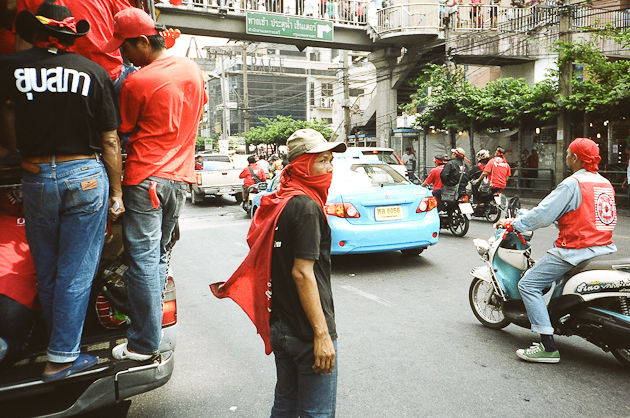 The Red Shirts had taken over prime real-estate in the heart of Bangkok, and now they were spreading their wings. I was astounded. There was an adrenaline rush as they all passed just a few feet beneath me, waving, and posing for the camera.  There was underlying anger, but people were staunchly happy.
Throughout the day, I heard reports of all sorts of events, as the massive convoy made its way through the city. I heard of violent clashes. Of TV stations under siege. Tear gas grenades. But, no reports of death.
But, I knew, I was certain, that this day would mark a turning point.
Even though my knowledge of Thai is basic, my feel for the human condition is not. Embarrassment. That's the word that continually came to my mind. Losing  "face" is woven through the customs of Thai society.
It was clear the Thai government wouldn't take much more of this, and would react harshly.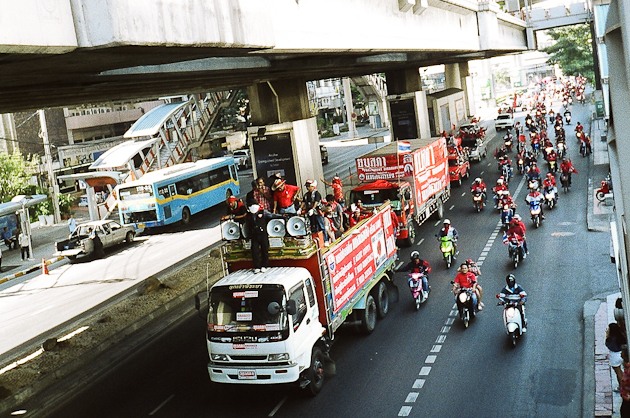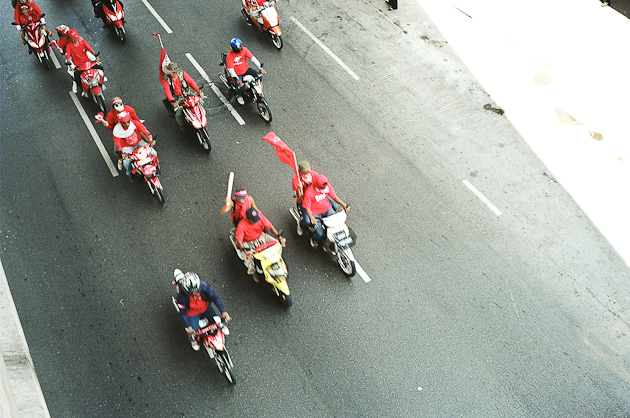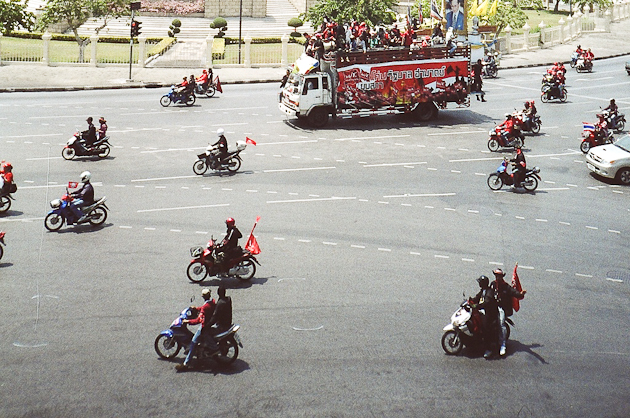 The night after these photos were taken, on April 10th, in another part of town, near the famous Khao San Road backpacker haunt, violent clashes resulted in 25 deaths. Including the death of a Japanese camera-man. There were armored vehicles, live ammunition, automatic assault rifles, snipers. Over 800 people were injured on this night.
My thought was, if something like was to occur at Ratchaprasong, it would be a tragedy of epic proportions.
Strategically, Phillipa and I were now living in a potential war zone.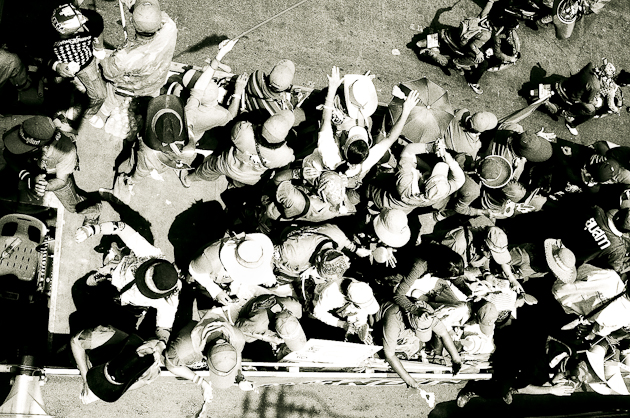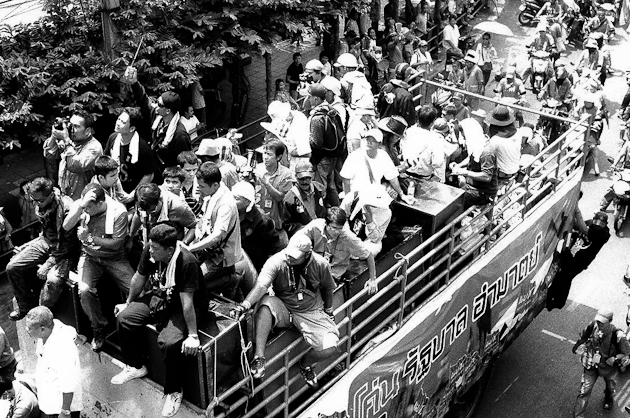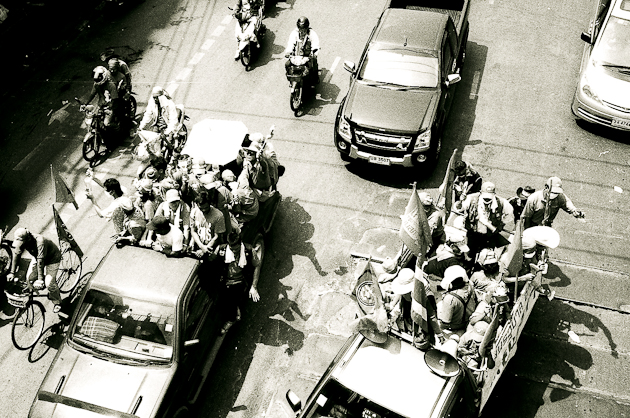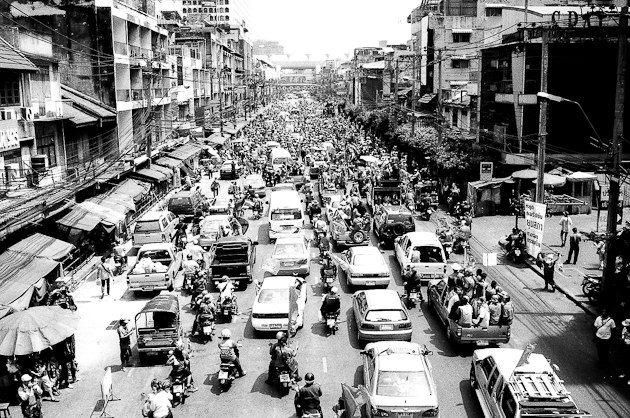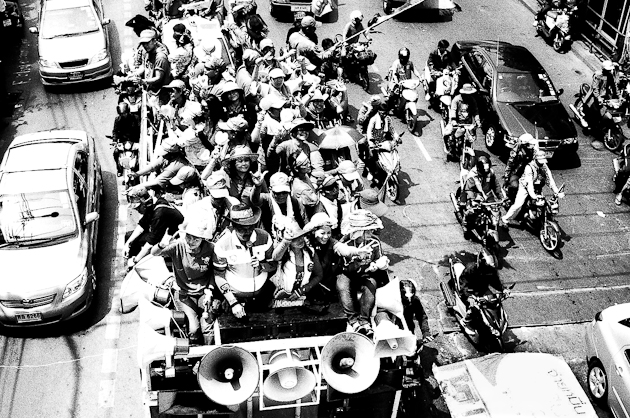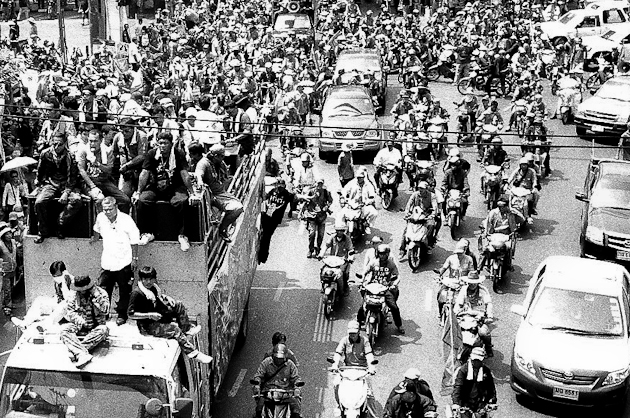 Reports of deaths became more frequent.In Bangkok, things were going down-hill, fast. Other people's armies were formed, and began clashing with the Red Shirts. There were the Red Shirts, the Yellow Shirts, and the "people of no particular colour shirts". I'm not making this up.
Every embassy on earth was advising not to travel to Bangkok. Bangkok was descending, not into total chaos, but evolving into a semi-anarchic state the likes of which my mind couldn't fathom. It was beginning to feel like "anything goes".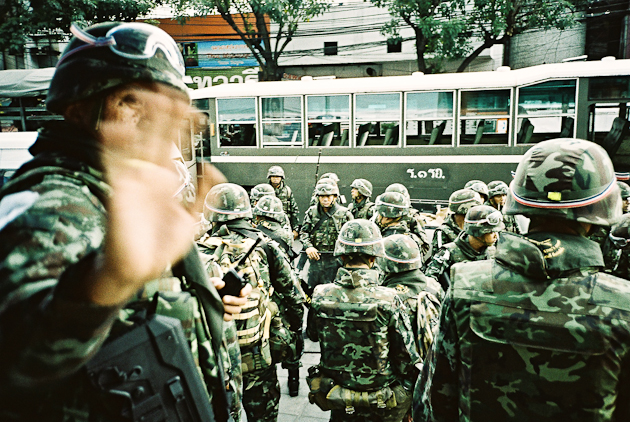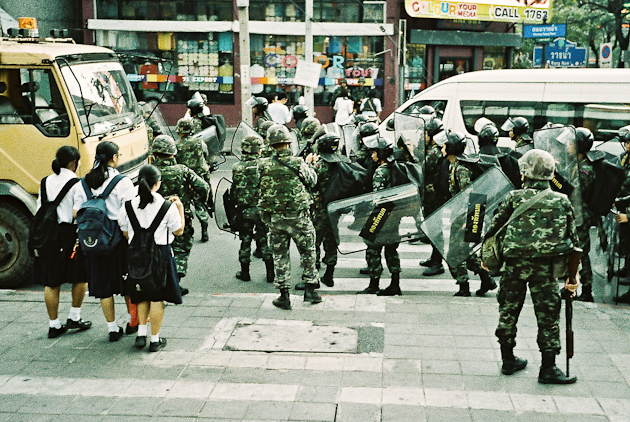 My personal turning point happened a few hundred metres off Ratchaprarop Road, and the closest train station to where we were staying. One typical Bangkok afternoon, we were at an area called "Victory Monument". From the Skytrain at Victory Monument, we could walk back to our hotel on Ratchaprarop. Sitting outside the mall, enjoying a 12 pack of donuts created to resemble Sushi, hundreds of heavily armed vehicles and soldiers began arriving.
The soldiers exited their vehicles, just metres in front of us, and began to arrange into battle formation. This was the very first moment in the now several weeks old protest that I decided to hastily get Phillipa back to the hotel.
We made a bee-line to the hotel, walking back down a street we had dubbed "Rat Alley" – due equally to our inability to read Thai street signs, as well as the number of rats we had seen on this street over the last few weeks. A strange thing happened. As the soldiers grouped into brigades on the very same street, a handful of scouts began tailing us down Rat Alley.
Armed Scouts were strategically leading the way – checking ahead for danger, and then calling for the rest of the soldiers to continue down Rat Street. As we walked back to the Hotel, we were being followed by hundreds of armed soldiers. However, to the soldiers, we were invisible. They were clearly on a Red-Shirt mission.
I dropped Phillipa back at the hotel, and headed out to take a few more photos.
It was all getting a bit much , however, the soldiers decided not to infiltrate the Red Shirt zone that day. In any case, we were about to, finally, leave Bangkok. I have often put myself (and Phillipa) in some dangerous situations in my travels, but this was now over the top.
We left Bangkok, and immediately after, the descent into chaos began.
In the final part to this story, Part Three, I will share with you photos of Rachaprarop Road, and the incredible destruction that occurred in and around the locations from the story so far.
Lets just say, it was a good idea to leave the area when we did.
Nate
BTW, I would love to send you the next dispatch, posted from some-where random around this planet (and you'll soon find out why YOMADIC email followers are my favourite followers):