Bangkok Dangerous – My Recollection of A Peoples Uprising – Part One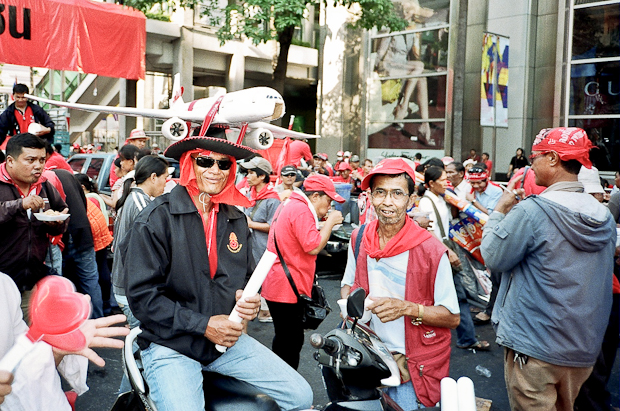 Bangkok, Thailand. Truly, one of the greatest cities on Earth. An incredibly activated, gritty, and layered street level combined with an imposing array of modern skyscrapers (some are abandoned), unbelievably good street food, friendly folks (the Land of Smiles no less), and, semi-regular peoples uprisings. Bangkok is pretty much as good as it gets, IMHO.
During March and April in 2010, Bangkok rapidly climbed my personal city ranking system. I arrived in Bangkok at the beginning of a bonafide peoples uprising. The center of the city had been completely taken over by Thai citizens, closing down mega-shopping malls, five-star hotels, embassies, and mass-transit train stations.
Bangkok city remained in this state for almost three months. Soon after my arrival, I decided there was only one thing for me to do. I looked at Phillipa, and said, "we're not leaving Bangkok until this thing plays out".
It didn't take long before the protests escalated into violent, armed, confrontations. When all was said and done, almost ninety people had been killed, and more than two thousand injured.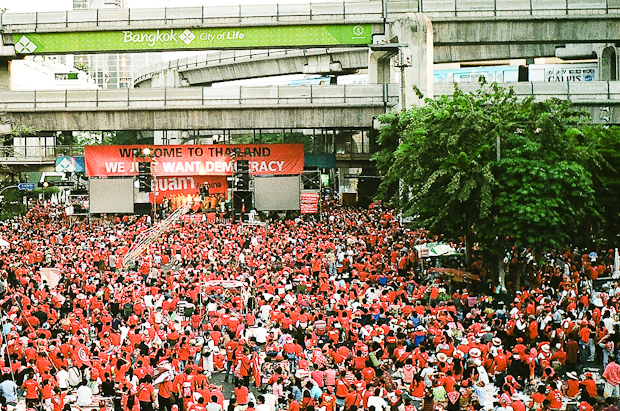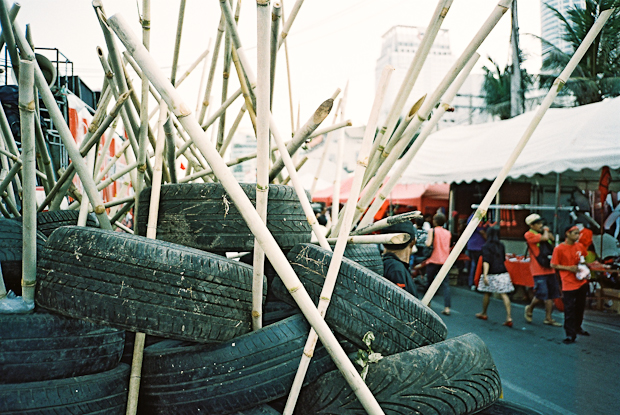 click to see an interactive map showing the location of this article
This story, and most of the photos attached, have not been told or seen previously. I visited the Red Shirts controlled area in Bangkok every day for over a month, and was given access to areas that few others were. Not the press, not the military, not the police. Wikipedia has been using some of my photos to document the events of 2010. There are far more photos, as yet unpublished. My personal story about the events, the people, and day-to-day life during this incredibly turbulent period in Thai history, remains untold.
I have no affiliation with any side in this political protest. Simply, I respect the right of all free people to protest.
In fact, I will say I am proud of people who take a stand for something they believe in. This goes for both sides. Death is clearly a terrible consequence of protesting – particularly civilian deaths, of which the overwhelming majority were. Certainly, I'm not condoning murder, but I do believe in the right to protest.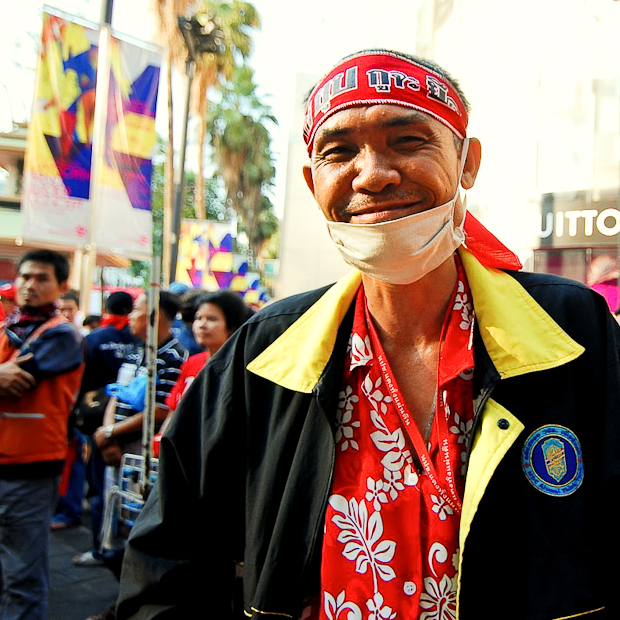 Ratchaprarop Road in Bangkok is a busy thoroughfare in the heart of Bangkok. Typical of the Bangkok contrast, it is lined with old and decayed shop fronts, street-side vendors, as well as Bangkok's tallest skyscraper. I've returned to Bangkok several times, and find myself drawn to this part of the city.
In March 2010, a few minutes walk from the Hotel I was staying at on Ratchaprarop Road, UDD "National United Front of Democracy Against Dictatorship" protestors known as "Red Shirts" began erecting sharpened bamboo and car tyre barriers, effectively controlling entry to one of the most glamorous sections of Bangkok. Police, Military, and certain other citizens and tourists, were denied entry to this part of the city.
Strategically, the Red Shirts methods were perfect – erect barriers at just a few key points, using the bridges that cross the rivers, as well as a few main roads, and a section of the city is cut off. This is what occurred – the Red Shirts blockaded a section of Bangkok that is often referred to as the "center" of this sprawling city.
The intersection known as "Ratchaprasong" became home to thousands of Red Shirt protesters. On this intersection, there is the famous Erewan temple, the five-star Sheraton Hotel, a Louis Vuitton and other designer retailers, and a typically enormous Bangkok shopping mall.
Overhead, multiple concrete Skytrain tracks loomed – access to the elevated Skytrain platforms was also shut down. It was a well-chosen intersection, making a clear statement as to who was perceived to be in control of Bangkok – a city of over ten million people.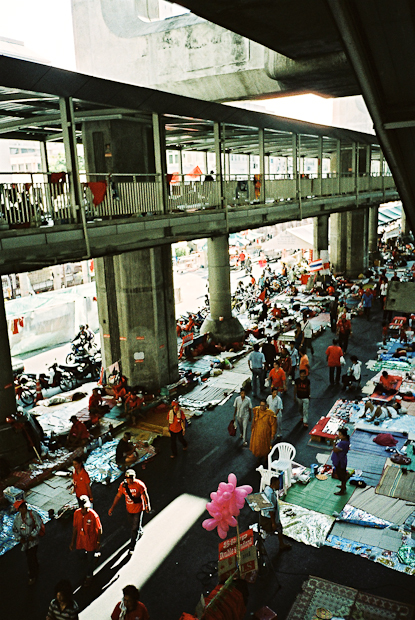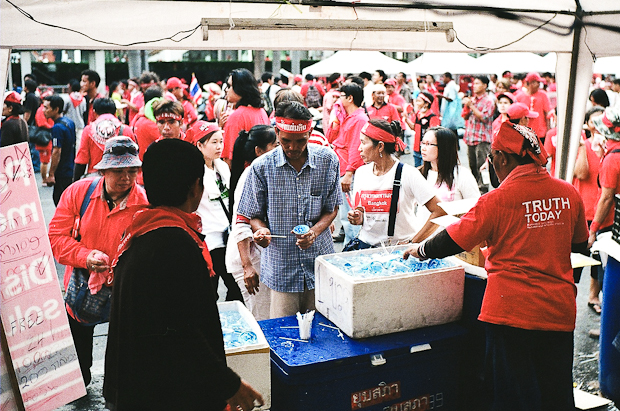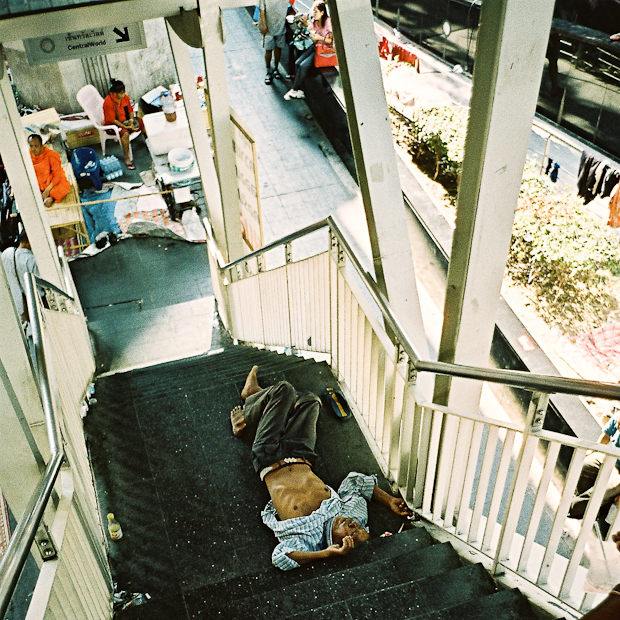 Is Anarchy an appropriate word to describe what was happening in Bangkok?
Within the Red Shirt controlled area around Ratchaprasong, a new way of life developed. People were clearly setting in for the long haul. With military-like procession, trucks arrived with ablution facilites onboard. For the large population that moved in, meals were provided, as were bottles of water. Not to mention Red T-Shirts, flags, and other paraphernalia.
A large stage was constructed in the middle of this show-case intersection to deliver political addresses and rally cries. I have read various estimates of how many Red Shirts moved in to the Ratchaprasong area – the smallest estimates are in the tens of thousands, some estimate up to 100,000 people attending rallies.
Although I am no expert, I can safely say I saw thousands of people who were living in the area. In an underground carpark, I saw hundreds, if not thousands, of people "urban-camping". Where once there were shoppers cars parked , tents were erected, and mattresses laid out.
Power leads were snaking across the shiny concrete of the multi-story basement car-park. Every bit of spare undercover space was transformed into temporary accommodation. At night, people were sleeping everywhere.
This was an incredibly surreal experience. I have never before witnessed, nor imagined, such a large part of a modern capital city captured by one group of citizens.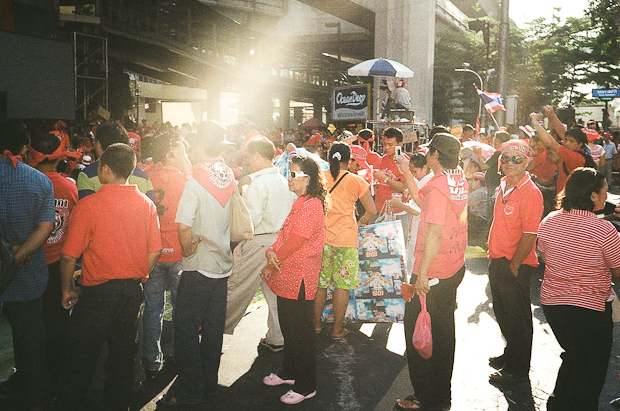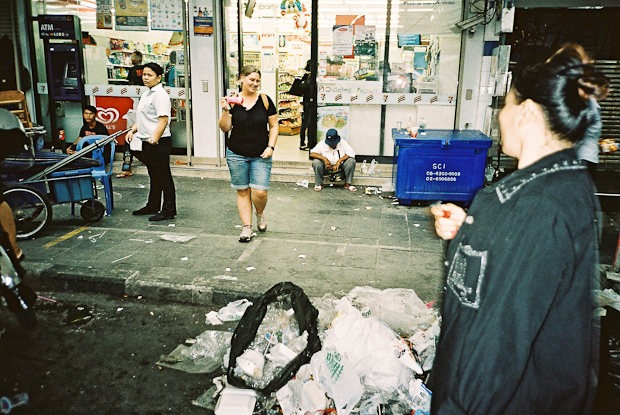 At first, I entered the tightly held area with Phillipa. At this stage, it was almost a carnival-like atmosphere. Despite the smiling faces, I could tell that people were angry. But, at this early stage of the protest, I could feel a sense of optimism. There were a handful of tourists among the thousands of Red Shirts, but as time went on, as the tensions built, and the tourists became fewer. Eventually,  there were practically no other "outsiders" within the area.
In the Red Shirt controlled area, I was wary – but felt safe. Food and bottled water were always offered to me, however, I would head to the one and only shop remaining open in this busy part of Bangkok. After all other shops had closed down, a lone 7-11 within the borders of the Red Shirt controlled area remained open, somewhat oblivious to what was building on their doorstep outside.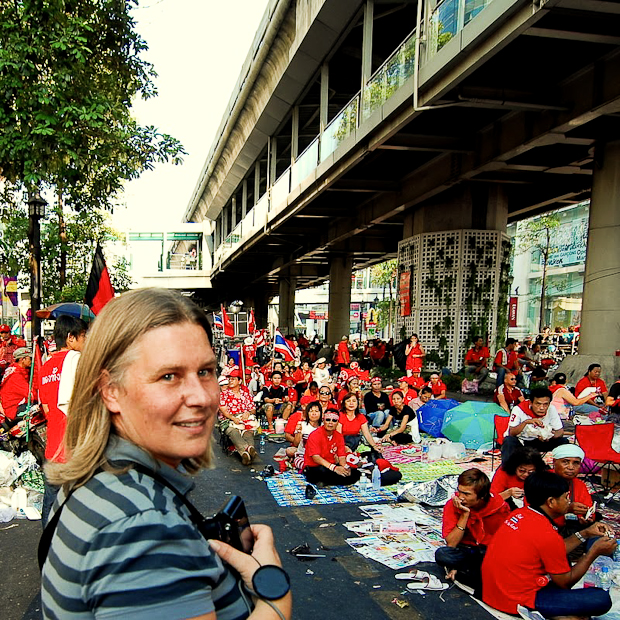 Tourists Began to Leave Bangkok
As the days passed, I checked in regularly to see what was happening. From staunch happiness, a feeling of impending disaster began to grow. A growing number of protesters were bringing a large and contained part of Bangkok to standstill. For several weeks, commerce in the heart of Bangkok was severely effected.
Tourist numbers had plummeted, more hotels and embassies closed, and almost every country on Earth issued an advisory not to travel to Bangkok. The city as a whole was beginning to feel the detrimental effects, and the Thai Government was now publicly outed as being ineffectual in dealing with a people's takeover in Bangkok – one of the largest cities on Earth.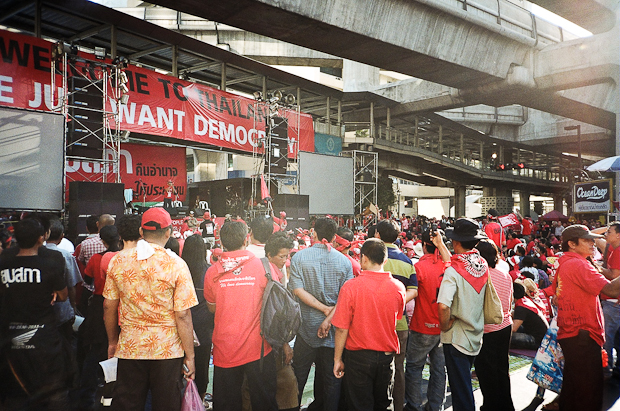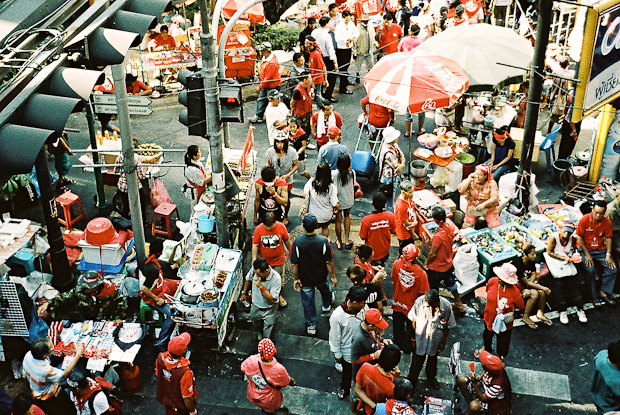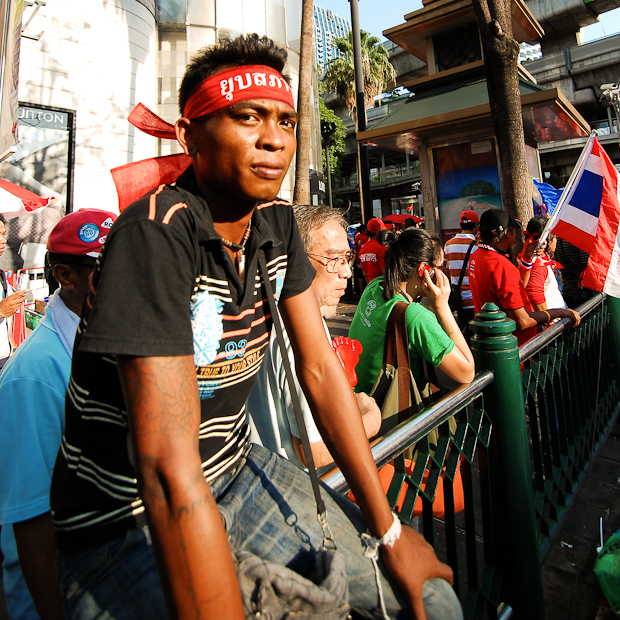 It's All Downhill From Here – Bangkok Dangerous
On the 9th April, 2010, an amazing spectacle occurred. The Red Shirt organisers had decided to take the protest around the city of Bangkok – to leave the controlled Ratchaprasong area en-masse.
Thousands of motorcycles and scooters, trucks filled with mega-phone touting protesters and leaders, and pickup trucks blasting Thai music and messages of protest. Many of the main arterial roads of Bangkok came to a stand still, as the lengthy convoy snaked its way through the city.
I said to Phillipa that this day would mark a terrible turning point in the protest. The Thai government would not stand for this. It was clearly embarrassing. Things would take a grim path for the worst, and soon. I explained that up until this point, I felt that she was safe visiting the Red Shirts "compound" with me.
Not anymore.
Things were about to get a whole lot worse.
Next : Part Two: the most incredible photos from the entire protest – the Red Shirts leave Ratchaprasong en-masse, taking the protest to the streets of Bangkok.
Nate
PS, this story is part of my "catch-up" here on Yomadic, to document some of the incredible things I saw on my last 6 month journey. In just a short amount of time, I am off to explore the world, on my longest journey yet.
BTW, I would love to send you the next dispatch, posted from some-where random around this planet (and you'll soon find out why YOMADIC email followers are my favourite followers):