The Ancient City of Persepolis, Iran – It's No Disneyland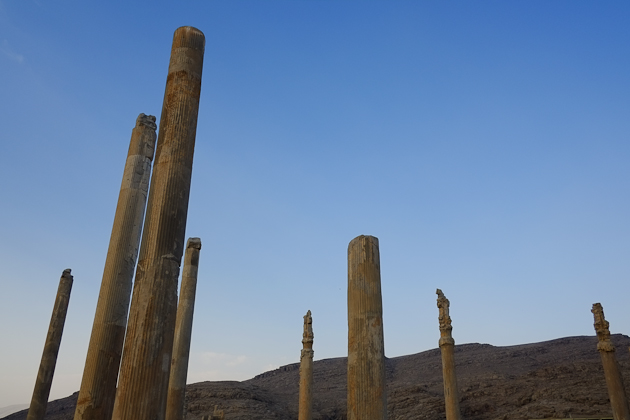 This city was once the richest on Earth. The ancient city of Persepolis – Iran – was founded more than two and a half thousand years ago.  Ceremonial capital of the Archaemenid empire, thriving for a couple of hundred years or so, Persepolis was subsequently burned to the ground. Two thousand three hundred years after Persepolis was almost completely destroyed by Alexander the Great (what an ass-hole) UNESCO heritage listed the evocative ruins of the city. These days, Persepolis costs the ludicrous amount of 14 US cents to enter. Check your backpack at the door, don't mention the sanctions. Iran, you continue to amaze me, daily.
When I arrived at Persepolis in the middle of the day, using a chartered taxi from the cultural city of Shiraz where I am currently based (circa 7000 years old), the car park was almost empty. The surrealistic site of an empty car park in the middle of central Iran took me back to my youthful days – visiting Los Angeles. I once slept overnight in a car in Orange County, to ensure that I was first in-line for Disneyland.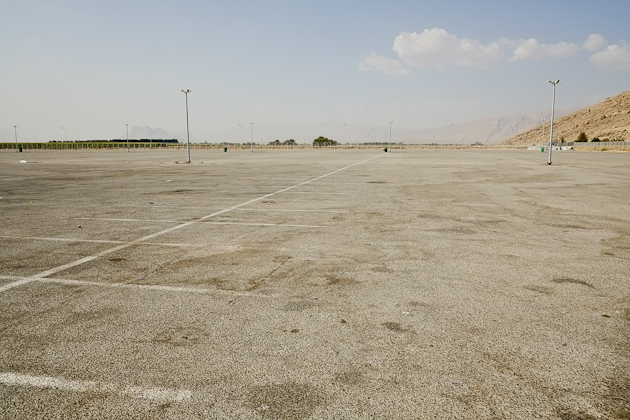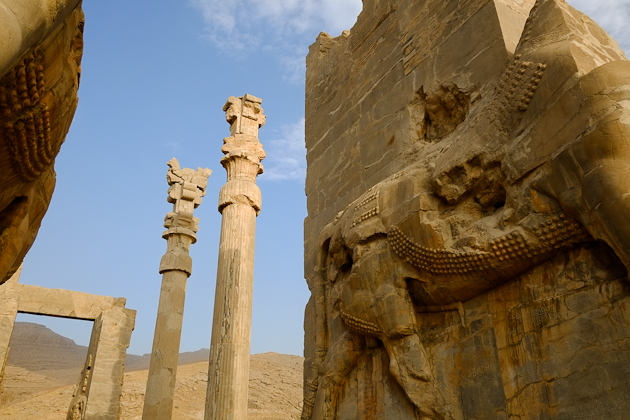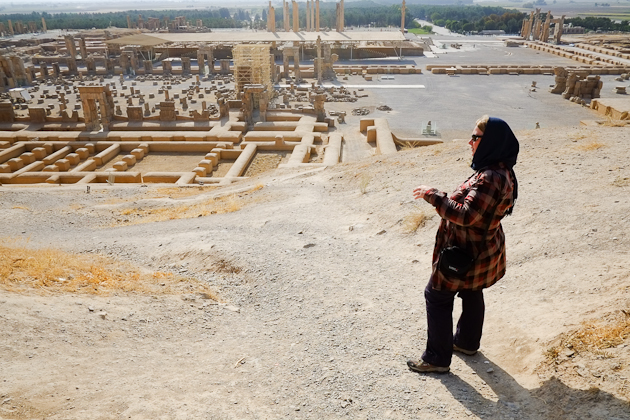 Phillipa, I know it's cold, but stuff it, we're sleeping here. Look at this neighbourhood it's like Edward Scissorhands or Stepford Wives, it's safe, just get some sleep. Yes, it's cold, but do you really want to go back to Compton? Just think, we'll get to Disneyland before everyone else. Love you, nighty-night! I turned off the torch, and we used a few jackets to stay warm and get some sleep in the back of our Rent-A-Wreck hatchback. Good times indeed.
Visiting Disneyland would be bad enough, but my real motivation for spending a night on the streets of LA, circa Rodney King era, was to avoid the crowds. I'd visited LA before, and had no intention of visiting Disneyland, due to my irrational hatred of Mickey Mouse. Not to mention, the difficult relationships Walt had with the Jew's. Oh, and his friendship of Nazi propagandist film makers. Then there's that whole Mickey Mouse black-face episode.
In any case, I was very much into counter-culture punk music at the time (Dead Kennedy's – best band ever) and Disneyland represented to me everything that was wrong in the world. But, I digress. The point is, I'm sure the Disneyland carpark was chock-o-block full yesterday. The Persepolis carpark, was not. I guess it's that whole sanction thing kicking in again. Not many tourists were at Persepolis yesterday. Even with a 14 cent entry fee.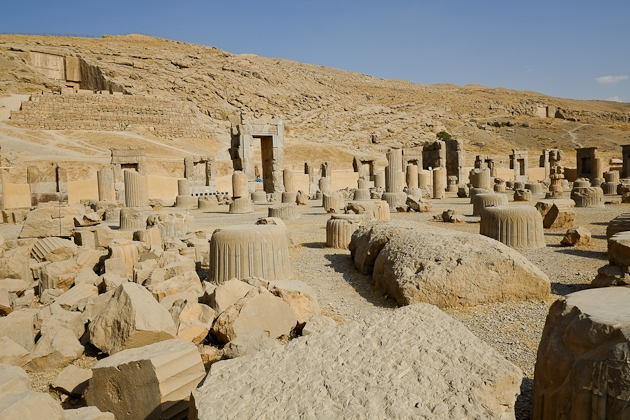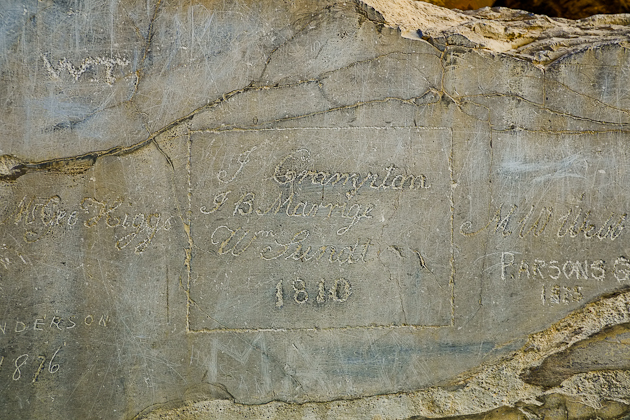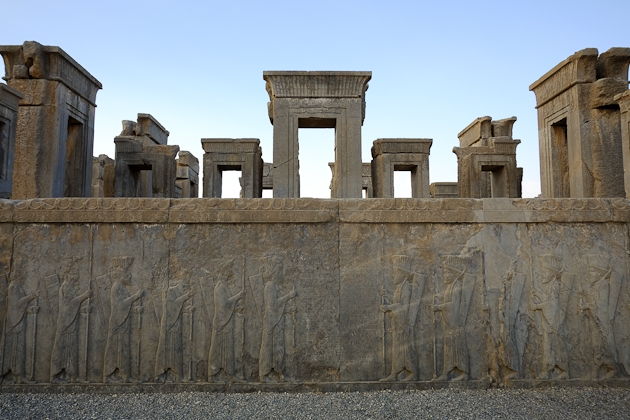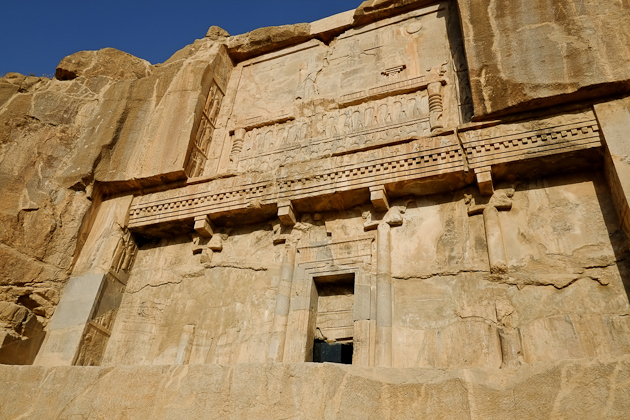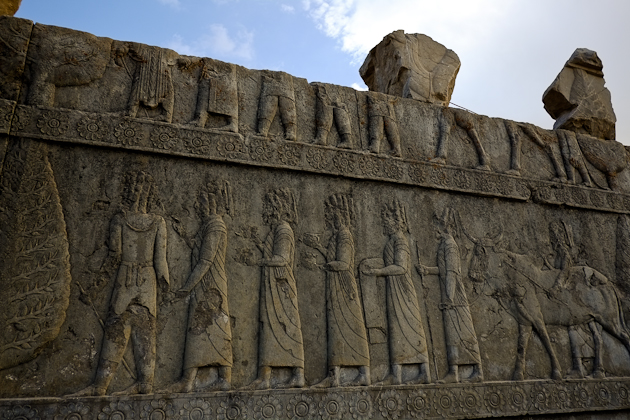 Yes, even I visited Disneyland, once. I haven't always been into such cultural pursuits as Angkor Wat, The Great Wall of China, and Persepolis. But in my defense, I spent the better part of the day at the Disneyland Video Games Arcade, watching the 3D Michael Jackson movie, and taking the monorail through the Tron simulation tunnel. The cultural insight, and educational value of Disneyland, should not be underestimated.
I may have digressed again. Back to Shiraz, Iran, and tales of the ancient city of Persepolis. The good news is, it's spectacular. Set in the shadow of a rocky mountain, (replete with tombs of ancient Kings), there is at once a palpable sense of human history, and a feeling of calm. In decay, it remains beautiful. In it's prime, Persepolis must have been other-worldly.
click to see an interactive map showing the location of this article
Your entry fee allows you to ascend the grand stone staircase of Persepolis, the same entrance that it's always been, and enter the city through the Gate of All Nations – it's the one with the statues of Bulls that have the faces of men with beards. No plans are required – just wander through the now-abandoned ancient streets, or take any number of well-worn off-the-beaten track paths over the hills to check out the royal tombs.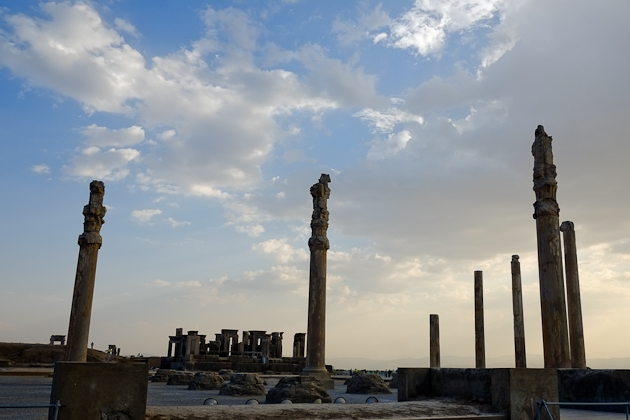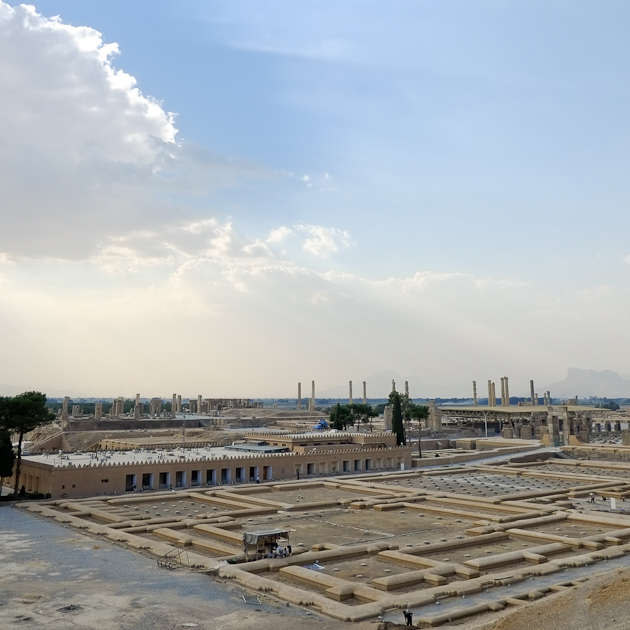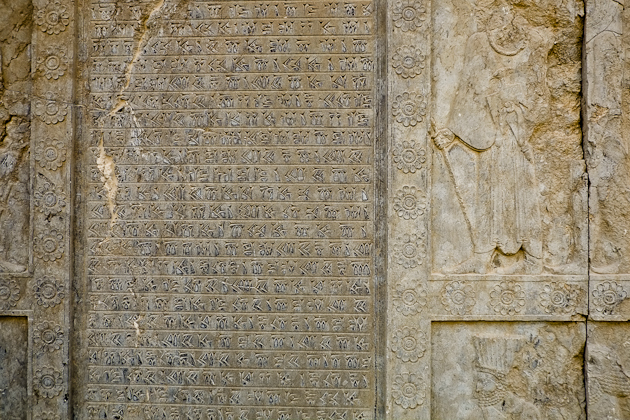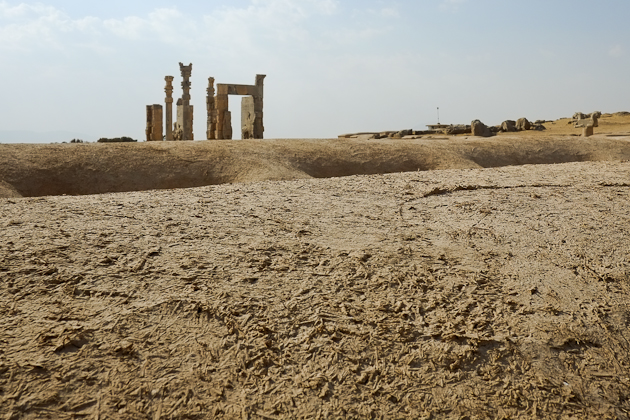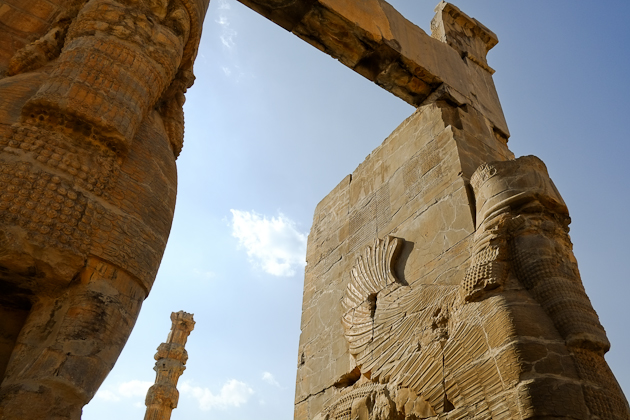 It's apparent why we know so much about Persepolis – it's documented, for all to see and read, tri-lingually, in stone tablets. Most of the engraved messages are along the lines of "I built this thing, on this date, because god wanted me to, check it out, it's amazing, right?". But, it's comforting to know that along with the painstaking archaeological work that has been done to solve the mysteries of Persepolis, there is a wealth of written evidence. The citizens of Persepolis were meticulous record keepers – thousands of stone tablets have been found here, containing receipts, bills, and other minutiae of day to day life in 515 BC.
How to Get to The Ancient City of Persepolis, Iran
Persepolis is about an hour outside of the beautiful city of Shiraz, in central Iran. A private taxi cost 520,000 rial ($14 US). The taxi driver was chartered for six hours, and also drove us to some other spectacular sites (more on that soon). Entrance is 5000 rials (14 US cents, standard rate in these parts). There's a cafe on-site, serving delicious Persian ice-cream 20,000 rial (55 cents), cold drinks, and more. Note, you will not be allowed to take your backpack into Persepolis. I suspect even some ladies handbags would not be allowed, however, a free storage facility is located right beside the entrance.
Nate
PS, dreaming of visiting Iran? Good news, in 2014 this started happening.
BTW, I would love to send you the next dispatch, posted from some-where random around this planet (and you'll soon find out why YOMADIC email followers are my favourite followers):