Crucial Iran Visa Tips – Can Tourists Get an Iran Visa on Arrival?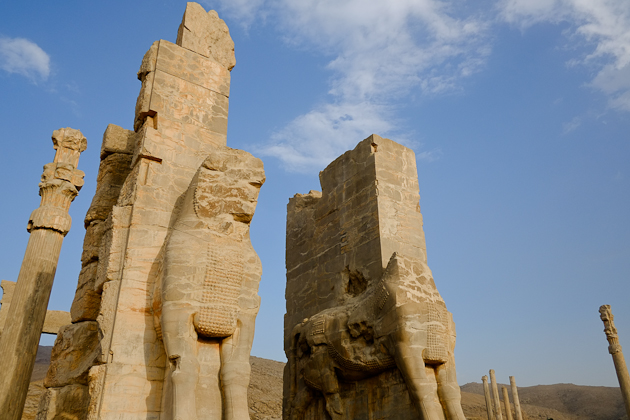 Disclaimer : this is a long article, entirely about getting an Iran Visa, an Iran Visa on Arrival, or an extension for an Iran Visa. There are no witty and insightful travel tales contained within, apart from a direct explanation of what happened when I applied for my visa on arrival in Tehran, October 2012. If you're reading this years after 2012, I'm sure the information is wildly inaccurate.

There is much confusion and mystery about the application process for receiving an Iran visa. Certainly, Iran is a country where the application process differs depending upon your nationality, and there a few hoops almost everyone needs to jump through. However, obtaining a Iran visa is not as difficult as it may first appear.
You're thinking of taking your holiday in Iran. Great choice. Iran is incredible, and amongst the 35 countries I have visited, it has rocketed to the top of my "favourite countries" list. But, unless you're from a small group of nationalities (Turkish and Malaysian for example), you'll need an Iran visa.
There are three methods of obtaining an Iran visa.
Get An Iranian Travel Agency to Apply for an Iran Visa on Your Behalf
Option one – use an Iran based travel agency to piece together a tailor made holiday for you in Iran. In this case, choose a travel agent that will assist with your Iran visa. This is no doubt the easiest way to get your tourist visa for Iran. But, it's also certain to be the most expensive. All you really need is patience, the application process may take two months, sometimes longer, sometimes shorter. Plan ahead.
The length of your allowed stay in Iran as a tourist will vary depending upon the length of your tour – but is commonly issued as a 30 day tourist visa. This is the maximum length of the Iran tourist visa.
Americans, British and Canadians, this is likely to be the only way you can apply for a Iran visa. It's requirement for these nationalities, that all American, British, and Canadian tourists travel through Iran with either a government authorised private guide or group tour.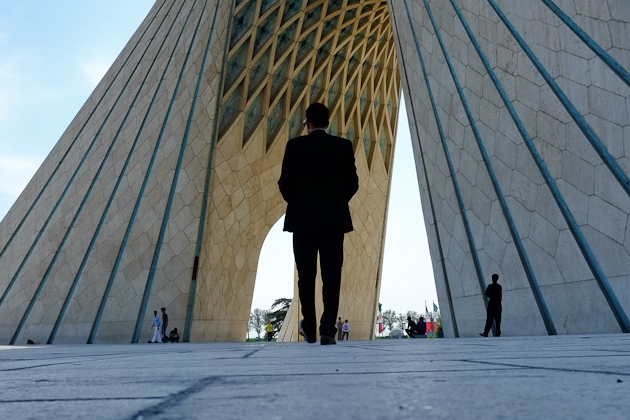 Independent Travellers – How to Get an Iran Visa on Arrival at the Airport
Are you Australian, German, Dutch, French, or Japanese? Good news. You can now apply on-the-spot for an Iran visa on arrival. This is applicable to all international Iranian airports. Note, as previously mentioned – American citizens, British citizens – the Iran visa on arrival is NOT available to you. Other nationalities, consult your Iranian embassy to determine if your nation is eligible for a visa on arrival. There are some useful resources listed at the bottom of the article to assist with this.
This to me is the guts of this article – I'm an independent traveller, and I am providing this information to assist other independent tourists. The Iran visa on arrival process is straightforward, however there are a few requirements you need to take care of, before you arrive in Iran.
1. You must have proof of your accommodation in Iran, with full contact details.
I had booked a hotel for only three nights in Tehran, even though I was planning on staying for two weeks. This was sufficient to meet this requirement for the visa on arrival. I have been told that it is standard practice for the visa officer to contact the hotel and confirm the booking is real. My suggestion is to at least stay one night at the hotel/home-stay/guest house/friendly Iranian's couch you pre-booked before coming to Iran, you are then free to stay anywhere you choose.
2. You must have proof on onwards travel out of Iran…or do you?
If you have booked a return airfare, or an airfare to anther country, you have met this requirement. However, if (like me) you only have a one-way ticket into Iran, with no proof of onwards travel, there are two issues you will face.
Firstly, you may not be allowed to board your flight. Leaving Kuala Lumpur, Malaysia, it took several staff, and various explanations, before I was told "OK, we'll let you on the flight, but once you land in Iran, you're on your own".
But this Iran visa requirement is definitely not cut-and-dry. I had a one way ticket, and no proof or onward travel. I was allowed onto the flight, and received my Iran visa on arrival. This is my story:
I had "official looking" screen prints from the Iranian embassy website in English, as a kind of "proof" that I knew what I was doing. As simple as this sounds, I'm sure it assisted in being allowed onto the flight.
*I showed the airline staff a wad of US dollars. As there is no simple way to access your bank account in Iran, it is essential that you have enough cash for your visit. The airline officer requested to see my cash, and he indicated that the same thing may happen when I land in Iran.
I had an exit plan to leave Iran. I was going to travel from Tabriz, to Armenia, on a bus. This is a short bus trip, and it made perfect sense that I would not require a return flight if I was exiting Iran to Armenia.
I had a print-out of my online Armenian e-visa application, adding further weight to my story
3. Other requirements for the Iran visa-on-arrival
It's a requirement that you are not a journalist, or reporter. If you have been previously rejected for an Iran visa, you cannot apply for a visa on arrival.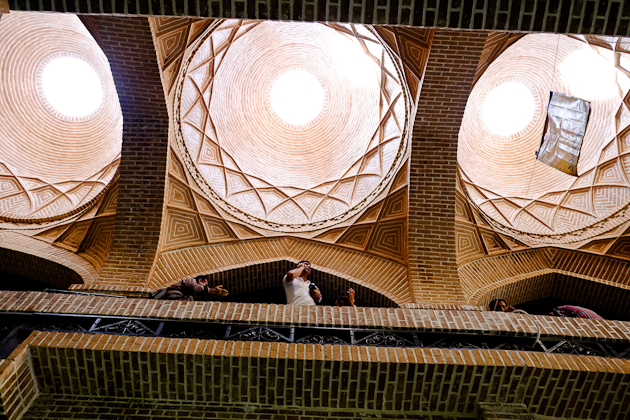 Questions You May be Asked Before Being Granted an Iran Visa on Arrival
The Iran airport officer spoke to me for just a few minutes. He enquired about my occupation, and what my intentions were in Iran. I explained I would be independently travelling around Iran, seeing such cities as Tehran, Esfehan (Isfehan), and Shiraz, before heading to Tabriz and travelling to Armenia by bus. Although he asked a few more detailed questions about my occupation, this was a fairly straight-forward, and short, interview.
What does an Iran Visa on Arrival Cost?
Good question. As at October 2012, the Iranian Rial is under severe stress, and is fluctuating wildly. So, I would anticipate these costs could change at any moment. However, the important thing to note, is that you must pay for your Iran tourist visa with either Euro's, or US dollars. Euro's are definitely the preferred currency, although you will have no problems with US dollars. Every other currency, is unlikely to be accepted. Credit cards of any sort, are not accepted.
The amount you pay for your visa-on-arrival, will vary upon your nationality. I have spoken to other tourists, from countries such as India, The Netherlands, Bahrain, and Australia. Every person paid a different amount. The price for the Iran visa-on-arrival is made up on-the-spot. Costs varied between $40 US, and $100 US, per person. Make of that what you will.
How Many Days Can I Travel With An Iran Visa on Arrival?
The validity of the visa on arrival is a standard 15 days. If you ask for less days, you will likely receive less days. So, ask for two weeks. If you need 30 days, apply in advance at your closest Iranian embassy, or a travel agent. Or, get the 15 day Iran visa on arrival, and then extend it when you arrive…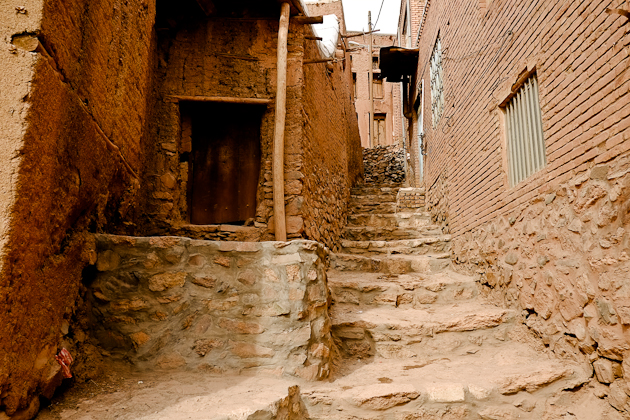 Can Your Iran Visa or Visa on Arrival Be Extended?
One thing about a holiday in Iran – there is so much to see, and so little time. The sights are fairly dispersed over the country, so domestic travelling time will be considerable. If you're like me, you'll find that you may want more time. Especially if you've only received the 15 day Iran visa on arrival.
Good news – your Iran visa can be extended. You need to apply for an extension at the immigration office in cities such as Tehran, Esfahan, and Shiraz.
Shiraz – Is It The Best Place to Apply For an Iran Visa Extension?
My research had told me that the city of Shiraz had the most helpful visa office. In my personal experience – it only took 90 minutes from the time I entered the building, until I was leaving with a 15 day extension in my passport. This is how I got my Iran visa-on-arrival extended in the city of Shiraz.
You will need a photocopy of the "photo" page of your passport, a photocopy of the page of your passport that holds your Iran visa, 300000 rial (about $20 US), and two passport sized photos.
Arrive at the visa office at opening time – 7.30am. Catch a taxi, they know where to go, and they're cheap.
Go to the third floor, and humbly ask various officers about a visa extension.
An officer will provide you with a slip of paper, saying that you must visit a bank to deposit the 300000 rials fee, and then return with a receipt showing this deposit has been made.
The tip is, go back downstairs, and approach a taxi driver hanging around near the front. Every day, they drive foreigners to the bank, fill out the deposit slip on your behalf, do the banking of the visa extension fee, and drive you back to the visa office. My driver charged me 50000 rial (less than $2 US) to do all of this for me. Believe me, this is absolutely the best thing to do. Spend two bucks, and make your life so much easier.
Once you have returned to the visa office, fill out a quick application form on the third floor, and then ask around and find out who to give your growing bundle to (your passport, photocopies, bank receipt and photos of yourself).
From this point, you will be seated in front of two, or maybe three more people – each one just checking things, stamping forms, signing papers, ya know, official business. Before you know it, you'll be done.
In at 7.30am, out by 9.00am. Unofficially, a new Iranian visa extension world record?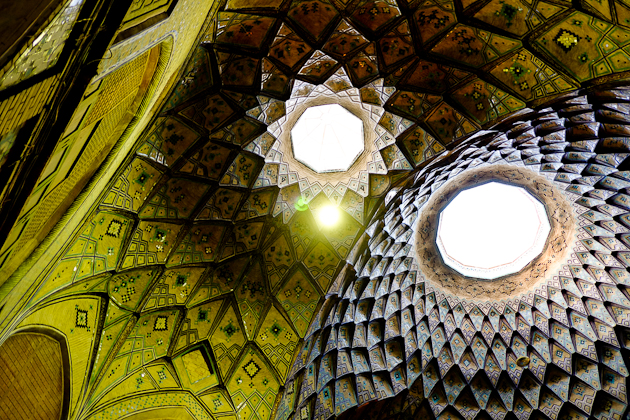 Iran Visa, Iran Visa on Arrival, Iran Visa Extensions – It's All Possible, for Almost Any Nationality, but…
Note – if you have any evidence in your passport of travel to Israel, or you are an Israeli citizen, you will not be given an Iran visa, under any circumstances.
Phew! A lot of info to take in! In summary, I suggest you think about your personal circumstances, and your nationality, and pick the section above that applies best to you. You will either be pre-arranging a tourist visa with your local Iran embassy or travel agent, or applying for a visa on arrival.
Most importantly, whether you're an independent traveller, or using a travel agent to organise a package tour/tailor made holiday – either way, I'm sure you'll enjoy your holiday in Iran.
* disclaimer – this article is based upon research, discussions with other travellers in October 2012, and my own personal experience on entering Iran. Your experience may differ. Don't hold it against me if it does. Do your own research to see if requirements have changed since October 2012. As the man at the check-in counter said to me: you're on your own if anything goes wrong…
PS – if you have experience with receiving an Iran visa, or an Iran visa on arrival, feel free to tell me your story below. It is bound to be helpful to other travellers.
BTW, I would love to send you the next dispatch, posted from some-where random around this planet (and you'll soon find out why YOMADIC email followers are my favourite followers):