Iran : Spectacular Imam Mosque, Isfahan – 16 Cents For UNESCO's Finest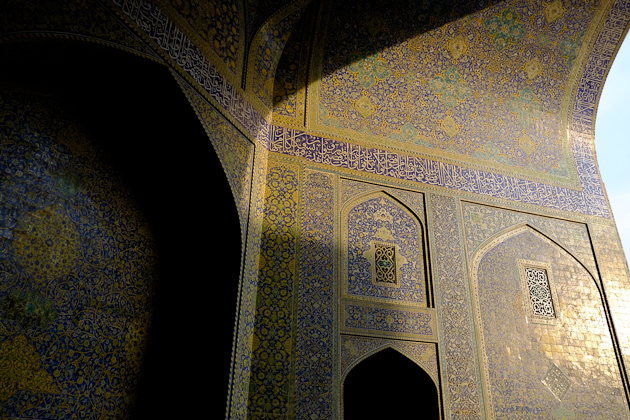 Imam Mosque is just one of the highlights of Imam Square, in the city of Isfahan, Iran. I'll be sure to tell you all about it soon. But first, it's time for a little deviation. No visit to Iran is complete without experiencing a whirlpool of thoughts regarding politics, life, religion, and questions of just what the fuck is going on in the world today. This maelstrom of confusion is an inescapable part of being a Western tourist in Iran.
Why does our media present Iran as a ridiculously one dimensional rat hovel of terrorist training camps filled exclusively with people that have a hatred of all things Western? What is the motivation behind this biased view? You have to wonder.
Is the media responsible for why so many people in the west more readily and automatically equate Iran with terrorism, rather than UNESCO world heritage sites such as Imam Mosque? Why are there sanctions in place against Iran? It's the Iranian Uranium enrichment program,dummy! I hear you say. And let's not forget Iran's intention to use this uranium for weapons of mass destruction! Is this accurate, or even believable?
Keep in mind, the sanctions have been in place for 33 years now, since 1979. I'll leave it up to you to decide what the real reasons for why these suffocating and poverty creating sanctions have existed for so long. And, why authentic Coca-cola (or Pepsi, if you swing that way) is still manufactured and sold in Iran.
click to see an interactive map showing the location of this article
Whilst you're at it, American readers in particular – decide whether you think it's a good idea that your government indirectly but substantially contributes to the daily suffering of the warm and welcoming people of Iran. The Iranians genuinely express nothing but love for the people of America.
The exclusively rich and powerful politicians of this world have a lot to answer for. There are a lot of stressful issues effecting the people of Iran. The citizens here are dealing with problems that almost no other nation faces, with their chin up, and their arms wide open. I commend them. There are certainly domestic political issues, that is a given.
But, as one taxi driver said to me:
"the USA and British governments do not want us to live".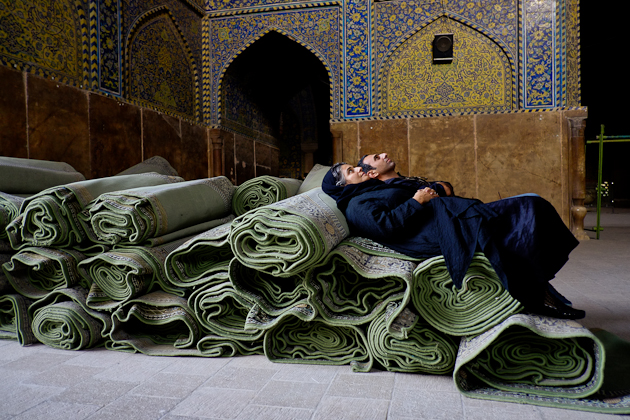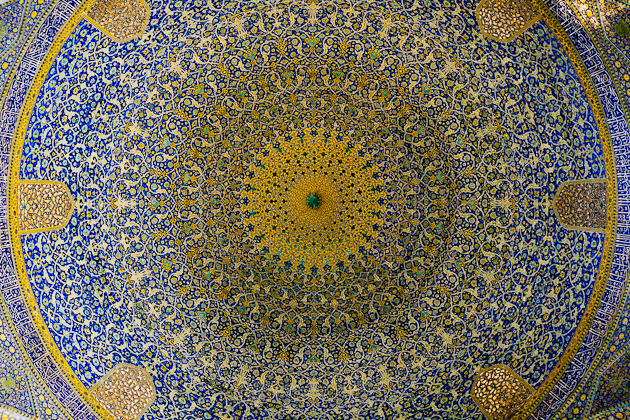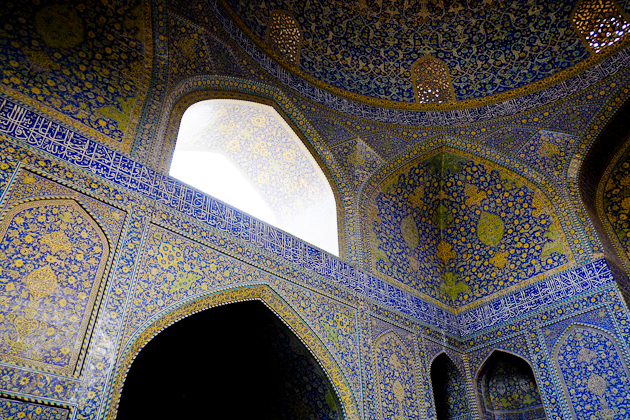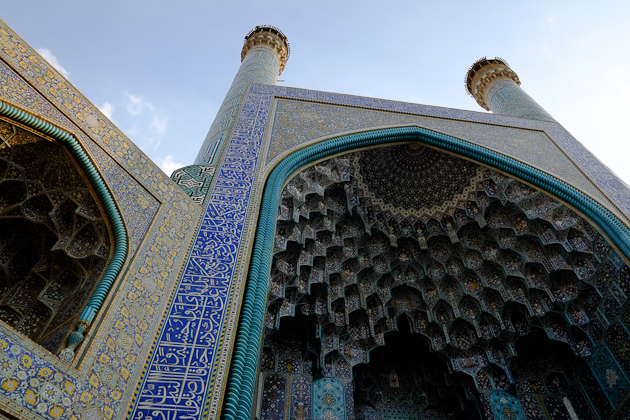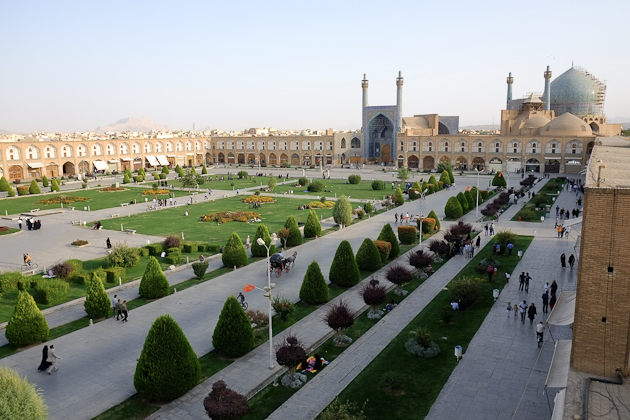 In any case, this ranting – but necessary – article is illustrated with photos of one of the jewels of Iran – Imam Mosque. The Imam Mosque, sitting on the South side of Naghsh-i Jahan Square in the beautiful city of Isfahan, was constructed 400 years ago. Both Imam square and Imam Mosque are deservedly UNESCO world heritage sites. It's one of the few places I have visited in this world where I produced a spontaneous and audible "wow" upon entry. Absolutely mind-blowing-ly incredible.
Imam Mosque – A Show Piece of Persian Architecture in Iran
Imam Mosque is a large and complex structure, elaborately decorated with rambling and detailed seven-colour mosaic tile patterns. The main dome is the largest in the city of Isfahan, and reaches a height of 52 meters (171 ft). Standing on the floor directly under the dome, the acoustics are perfect. This leads to a jovial atmosphere, quite unexpected inside a religious monument.
Fits of laughter from visitors were a regular occurrence as the slightest whisper echoes and amplifies beneath the domed area. It encourages tom-foolery, and it's quite a trip to hear the sound bouncing around. A shiny and worn stone square marks the spot of the best acoustics –  and I'm certain that four hundred years of visitors have stood and did the same thing I did. Beat-box, of course.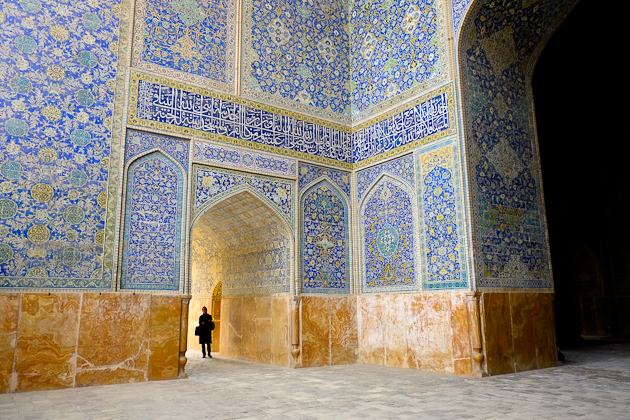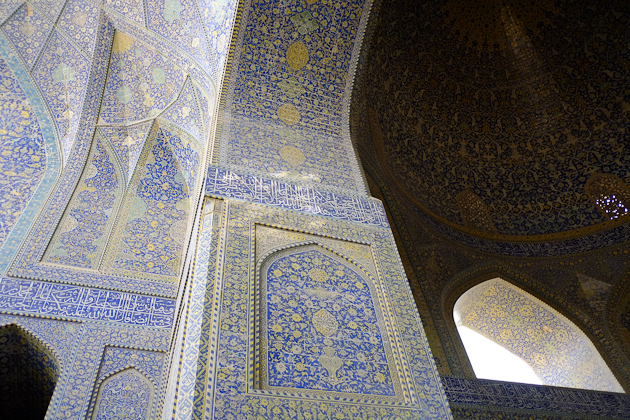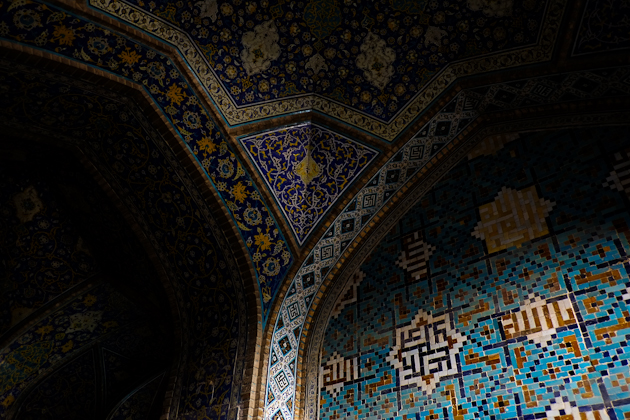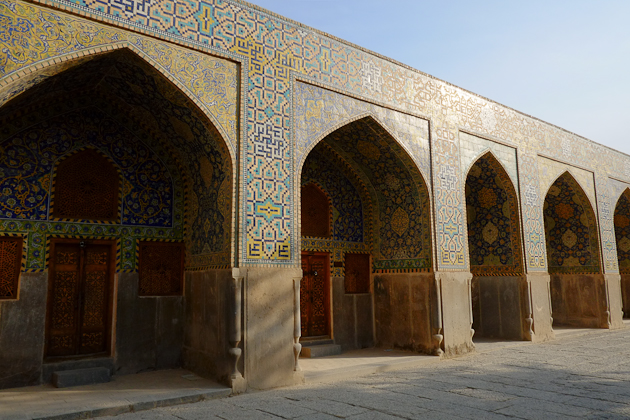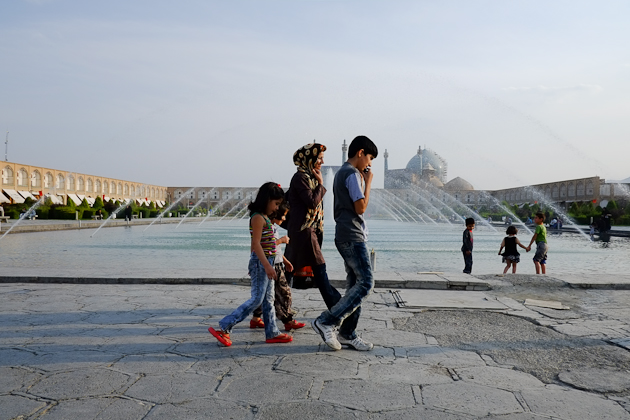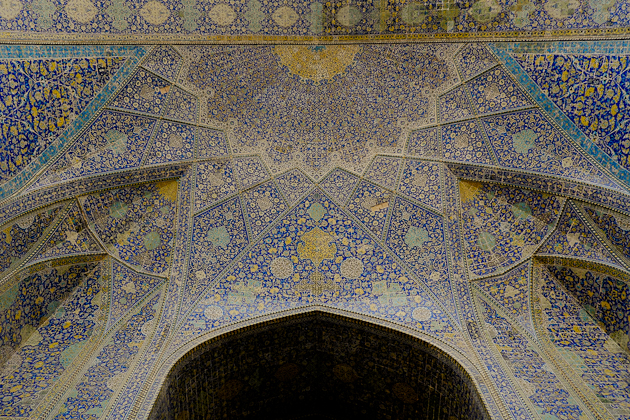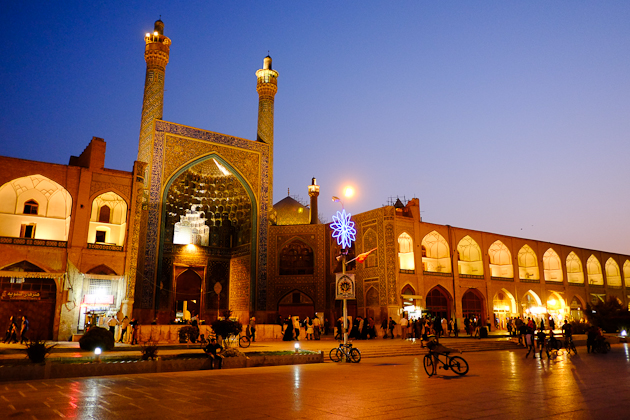 Imam Mosque, Imam Square, Isfahan, Iran – What You Need to Know.
Imam Mosque is located in one of the most popular cities in Iran – Isfahan. The enormous Naqsh-e Jahan Square, commonly known as Imam Square, is in the center of the city of Isfahan. The Imam Square is particularly busy on weekends, which in Iran is Thursday and Friday. Entrance to the Mosque is 5000 rial, or about sixteen cents (yes, I know, it's ridiculous).
Around the 400 year old Imam Square, there are other sites to see including the Ali Qapu palace, the Shah Mosque, and the entrance to the Isfahan Grand Bazaar. The bazaar is free to enter, the others will set you back about sixteen US cents each.
Sixteen US cents.
In Isfahan, I stayed at an apartment that was such a great deal, within a short walk of Imam Mosque (indeed, it felt like I could touch the dome from my third floor window). But, I'm keeping it to myself…. for now.
Nate
PS, thinking of visiting Iran? Good new2 – in 2014, this started happening.
BTW, I would love to send you the next dispatch, posted from some-where random around this planet (and you'll soon find out why YOMADIC email followers are my favourite followers):