Sweatshops, Child Labour, Myanmar Tourist Attractions?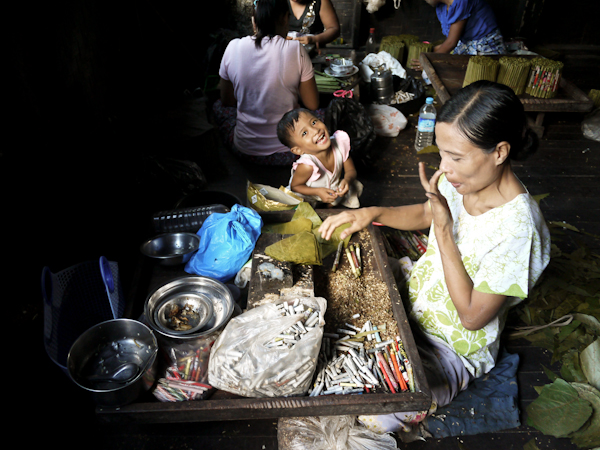 Sweatshops, Child Labour, Myanmar Tourist Attractions?Looking for an attraction, with a difference? Schwedagon Pagoda tour not your cup of tea? Aung San Suu Kyi's house? You can't even take photos there! Not in any Myanmar travel guide, this is a story of child labour, of sweatshops, and of Cigars – an impromptu rendezvous, with the engine of a third world economy. Located between the town of Bago and the city of Yangon, we spent an hour alone, with the young employees of a Burmese Cigar factory.

Sweatshop? Maybe. Child Labour? Definitely. Welcome to Myanmar.
Our guide to Myanmar is Uncle Tin, a winsome man with the best vintage cars in Yangon. Early in our acquaintance it was established that we needed little guidance to popular Myanmar tourist attractions.  Show us how the locals live. That, he did. En-route from Yangon to Bago, cruising in his perfectly patinaed 1960 Volkswagen Bus, he casually asked if we would like to visit a Cigar factory. We agreed to the new plan, and veered off the main highway that carries on to Mandalay.
A quieter unsealed street, with greener surrounds, was home to a hut-like wooden building. Rustic. Open doorway. Jumping out of the Kombi, I sheepishly peered in. In the semi-darkness, I spotted a small baby, clinging to her cross-legged mother, who was sitting on the floor, rapidly churning out cigar, after cigar, after cigar.
Uncle Tin had been here before. He was talking to a pretty lady with the trademark Burmese Thanakah powder applied to her cheeks. The smiles and body language told me the banter was friendly, and familiar. Even so, I felt slightly, uncomfortable, and intrusive.  With many more workers (and babies) than I first thought, the room was a lot larger, and gloomier, than it appeared to be from the outside. "I'll be back in about an hour, take a look". Uncle Tin decided that now would be a good time for him to leave, and drove off, leaving us with the workers.
We had arrived only a minute ago, and now it was myself and Phillipa, and a room full of Cigar-rolling Burmese, who we couldn't communicate with.

"Sweatshop" has a distinct negative connotation, in Myanmar, or anywhere else.
In a typical Sweatshop, Minimum wage laws are ignored. Often, the working environment is dangerous, and the level of abuse is unacceptable by any "modern" standards. However, walking further into the room,  I noticed that the human-assembly-line workers were happy.  Smiling. Even though the side windows were glass-less, the sunlight seem filtered, and, the room had a feeling of  serenity. Busy as a bee-hive, not especially peaceful, but definitely serene. I began to relax. It was difficult to tell if there was a boss, leader, or supervisor. It appeared that each lady worked either individually, or as a small team, to create as many cigars in the shortest time possible.
My gut feeling was correct. Workers are paid according to how many cigars they create. When Uncle Tin finally returned, I had him ask a few questions on my behalf, and act as a translator. Some workers choose to spend long 12 or 14 hour days here. Others come and go, perhaps only spending a few hours at a time. Particularly those children who are lucky enough to be going to school. For them, this is just an after-school part-time job. A third-world paper-route.
By Burmese standards, for factory workers, the pay is middle-of-the-road. Enough to live a basic life, if your children roll cigars so that the family can eat. It's true poverty. Kids, sitting down, sitting down, in their little patch of the factory floor, rolling cigars.
Recalling the scene today is a little strange. Maybe it was the palpable level of happiness, but I don't have a lot of sadness with these memories. Much in the same way that western world factory-line-workers chat, socialise, and pass-time whilst carrying out robotic tasks, the workers here were socialising, and their faces seemed content.
But kids, should really have the time to be kids.


Should we be concerned over whether the city down the road is referred to as Rangon, or Yangoon?
Debating whether to call this country Myanmar or Burma would be the last thing on the minds of the cigar rakers. It's a non-issue. Poverty and human rights are bigger issues in Myanmar. The cigar factory is not exactly a "tourist attraction". For starters, there were no souvenirs.
There is one unanswered question, that I still speculate upon. The factory was actively searching for new employees. Was this due to a lack of workers in the area? Or, that it's just a really terrible job.  Either way, anyone in this part of the world who needed a job to survive, could work at the factory. In some other parts of the world, factories have lines of desperate hopefuls from the front door to the horizon. To me, "employees wanted", indicates that the locals are not facing total desperation. It's an important step up from the dire circumstances many third world citizens are facing.
Yes, my glass is well and truly half-full.
Perhaps that says more about me, than about the realities of life in Myanmar.
Nate.
PS, for video taken inside the Cigar factory? Please see this story I posted: "Burmese Lacquerware? Not in this 56 Second Movie"
BTW, I would love to send you the next dispatch, posted from some-where random around this planet (and you'll soon find out why YOMADIC email followers are my favourite followers):