Minsk, Belarus – A Place For Strange Erotic Journeys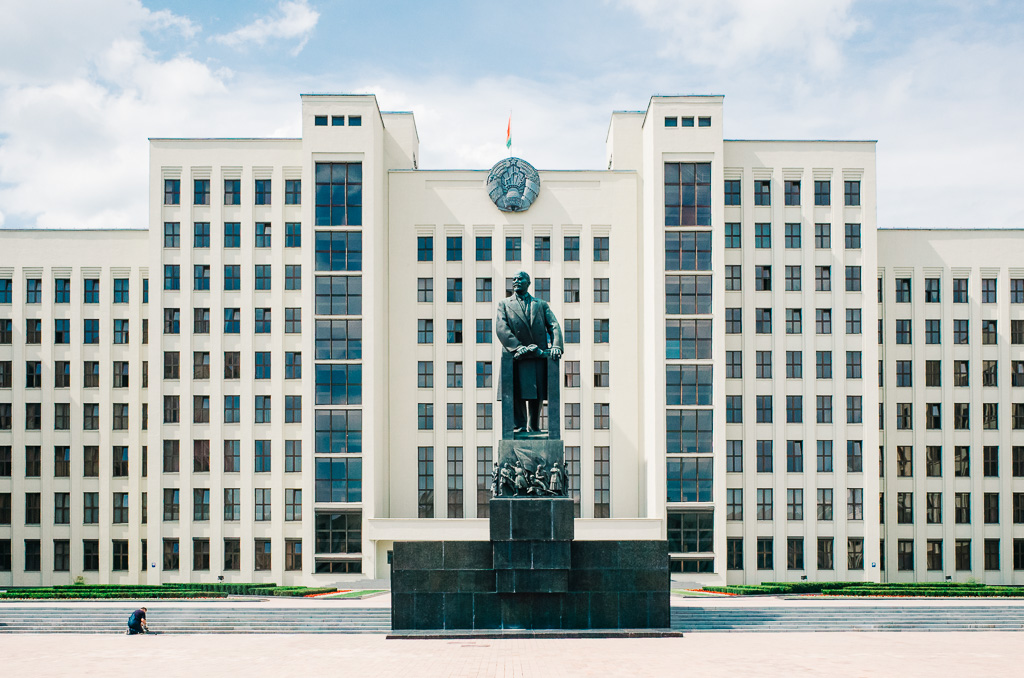 "Here, stand by the fire and take off those wet clothes, you'll catch cold…" Back in 1993, the world was introduced to a film about life, love, and becoming a woman. "Rochelle Rochelle", a young girl's strange erotic journey from Milan to Minsk, was a movie said to be at least half as good as Ponce de Leon. For many people in the West, Rochelle Rochelle was the entire extent of our knowledge on Minsk, the capital city of Belarus. Decades later, Minsk continues to remain somewhat unchartered and unknown to most tourists, nobody is sure if the lead character of Rochelle Rochelle was actually Italian or Belarusian, and finally, I got to partake in my own strange erotic journey – into the very heart of Minsk, Belarus.
Minsk is an ancient city, founded almost one-thousand years ago. Unfortunately, during the recent historical period, Minsk has experienced an appallingly full roster of unspeakable terror. Under the Soviet Union, hundreds-of-thousands of Belarusians were "repressed" by the Communist regime, for committing crimes such as being an "intellectual". Punishment included imprisonment, deportation to other areas of the Soviet Union, and of course death. Currently, the KGB archives in Minsk remain off-limits to researchers, and the true extent of the Soviet repressions – which lasted for most of the first half of the 20th century (until the end of Joseph Stalin's reign) – is not yet fully known.
German bombing raids destroyed more than eighty-percent of the capital city's buildings during World War II. More than two million Belarusians lost their lives – in total, a quarter of the entire population of Belarus. Many were soldiers, but the majority were civilians. Outside of Minsk, nine-thousand villages and more than one-million homes were obliterated.
Belarus was occupied by Nazi Germany for three years. Minsk was ruled by an unfathomably brutal regime dedicated to the complete annihilation of the entire Jewish population. Prior to World War II, approximately forty percent of Minsk citizens were Jewish. Today, it's just a fraction of one-percent. After the Nazi occupation, the worst game of Pass-the-Parcel ever meant it was time for Belarus to return to Soviet control.
In 1986, the worst nuclear accident in history occurred, just seven miles from the Ukraine/Belarus border. Due to weather conditions at the time of the Chernobyl nuclear power station explosion, radioactive fallout came to rest over much of Belarus. Large swathes of farmlands were rendered useless for at least another ten thousand years, countless villages were abandoned forever, and severe medical problems continue to this day. Belarus received more than sixty percent of the destructive Chernobyl fallout – much more than Ukraine itself.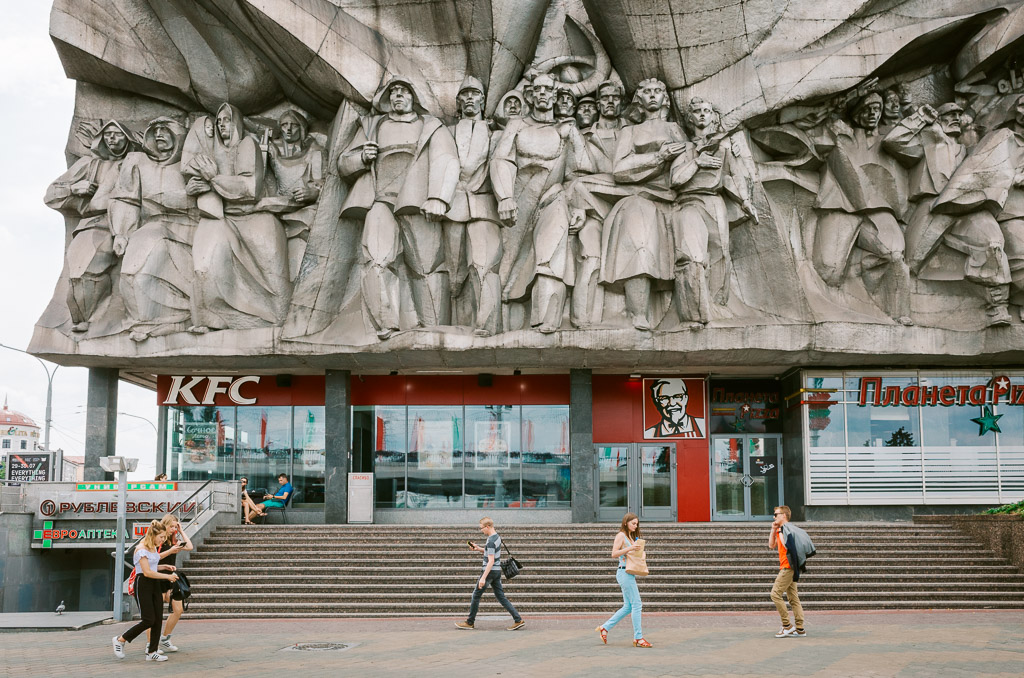 Minsk has carried the burden of the Belarusian economy since the fall of the Soviet Union in 1991. The now independent nation of Belarus has suffered on-and-off economic turmoil, with the life savings of an entire nation practically eliminated. If you were fortunate enough to have somehow saved 10 million Belarusian Ruble's in 1992, after Zimbabwe-levels of inflation you could exchange that entire wheelbarrow of old notes, for just one single Ruble today.
During most of the time since declaring independence, Belarus has been ruled by Alexander "Daddy" Lukashenko – a man who is often referred to as "Europe's last dictator". When the German Foreign Minister repeated the dictator-accusation in 2012, President Lukashenko responded with "better to be a dictator than gay". However, Lukashenko may actually have a soft-spot for well-known German political figures.
On Adolf Hitler, and given the atrocious history of Nazi's in Minsk and Belarus, Lukashenko opined "Germany was raised from ruins thanks to firm authority, and not everything connected with that well-known figure Hitler was bad. German order evolved over the centuries, and attained its peak under Hitler." Lukashenko's methods of "firm authority" include a recent initiative which introduced a tax on the unemployed. However, the "parasite-tax" proved to be unpopular with many Belarusians, and it was soon decided to suspend collection of the tax until the government had some time to review the policy.
Sparked in part by this parasite-tax, street protests against the Lukashenko government occurred in Minsk during March this year (2017). Large numbers of protesters, journalists, and even passersby were arrested by authorities, often in brutal fashion. When concerned citizens rallied and called for the release of those people they considered unjustly arrested, they too were arrested.
But, it's not all bad news.
Indeed, there is much about Minsk, and Belarus, that is truly remarkable.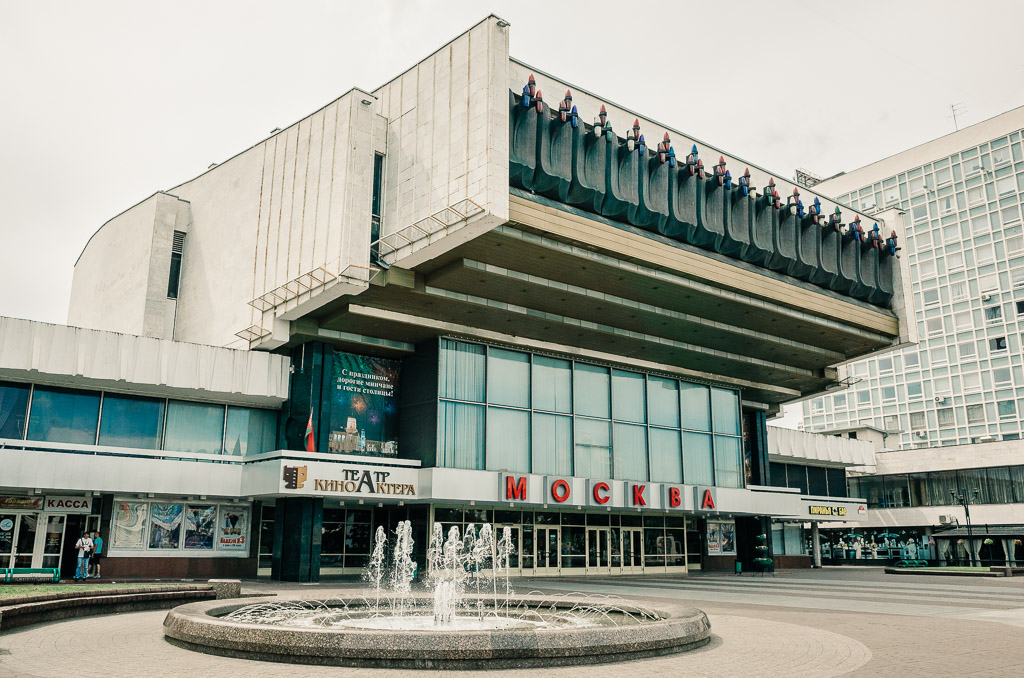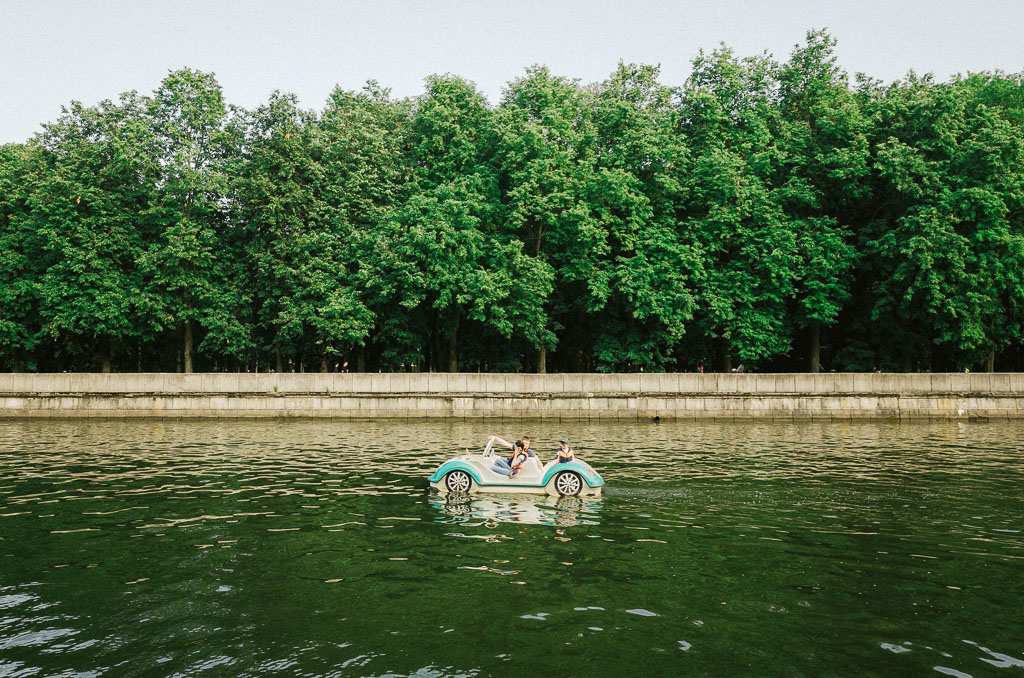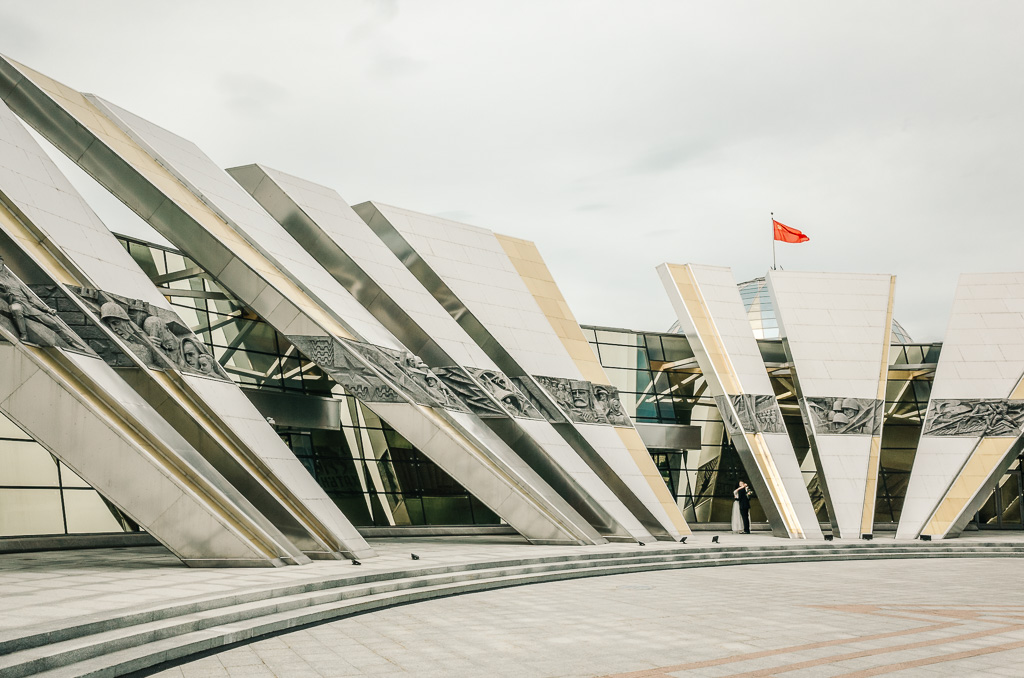 In 2015 Belarus officially became the drunkest country in the world, recording the highest alcohol consumption per-capita of any nation in our known universe. The Belarusian Government denied the honor and suggested the method of ranking was flawed, as the World Health Organisation didn't include infants and children in their statistics.
Although Belarus rarely tops the world rankings for anything, being crowned "Drunkest Nation #1" wasn't exactly a coveted PR coup. In response, the Lukashenko government introduced new anti-alcohol initiatives. This year the 170,000 officially recorded alcoholics of Belarus (almost 2% of the entire population) have been paying higher taxes on alcoholic beverages, and Belarus has fallen down the drunken-ness rankings, all the way to number two. Notably, I'm fairly sure the young man that asked me to purchase a litre of Vodka for him in a downtown Minsk supermarket, was almost certainly a child.
Minsk is, of course, primarily known for being one of the largest centers of Tractor production on the planet. The Minsk Tractor Works employs 30,000 of the local proletariat, producing such popular and renowned tractor models as the "Belarus Belarus 1025.2 1220.3". Gloriously, the Minsk Tractor Works was once awarded the prestigious Soviet-era "Order of Lenin" award – and the medal, of course, featured a gold tractor. Being such a community-minded company, Minsk Tractor Works were the main sponsors of a local football team "Partisan Minsk", a club born from the ashes of "Football Club Tractor Minsk". Football matches were played at Tractor Stadium. Locally, Partisan Minsk fans were known for their anarchist, anti-government, anti-fascist, and pro-LGBT rights stances. And I say "were", because strangely there seems to be no evidence of the team's existence after 2015.
An aside: sadly, the day after I left Minsk, I had to watch The Belarus National Day parade on television. Featuring actual Tractors performing synchronised tractor-ballet down the main city street, adorned with giant sparkled top-hats and cardboard lips on the front, one tractor even had a moustache. The proud fleet of dancing tractors were being followed by flat-bed trucks, featuring elaborate displays of made-in-Belarus preserved meat, bread, dairy products, toilets, and household electrical appliances. Obviously, I'm absolutely gutted to have missed out on seeing, what I assume, is a popular Soviet-era children's-story come to life.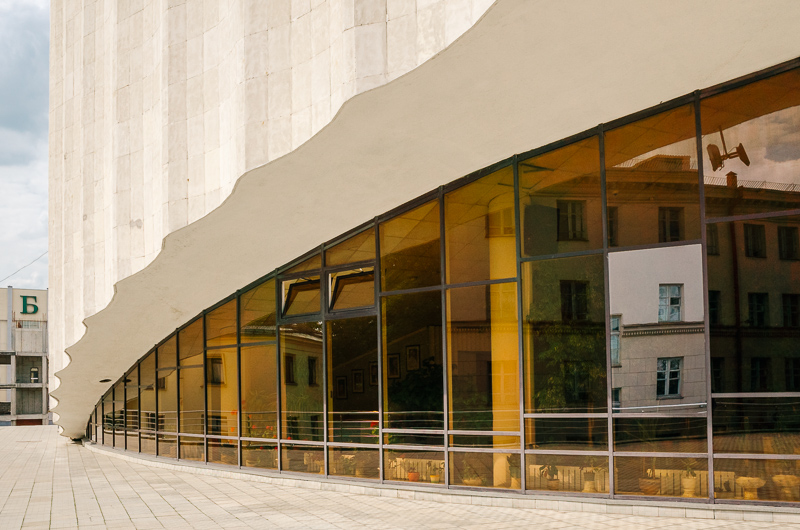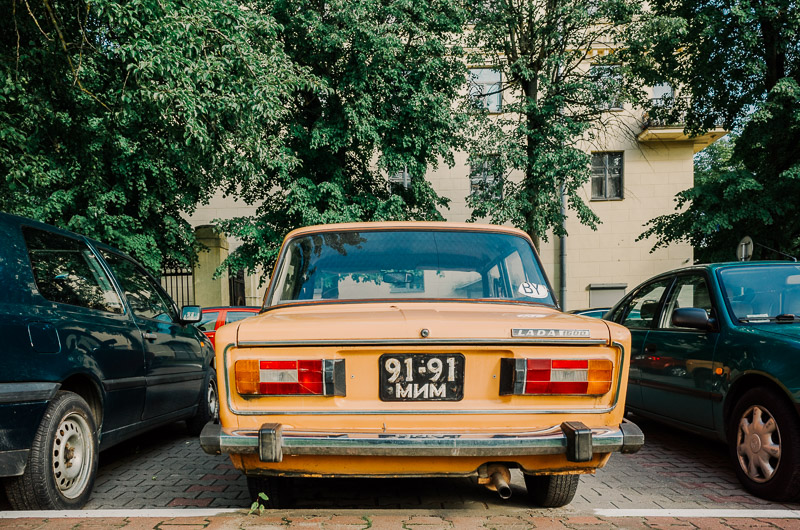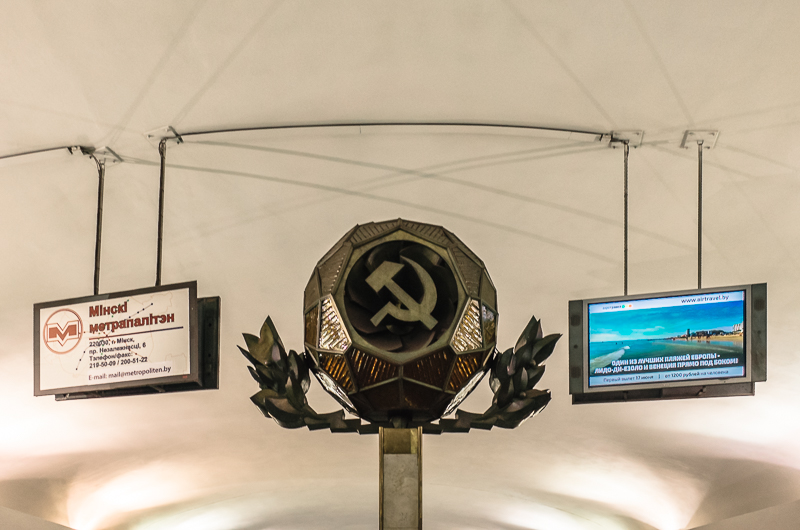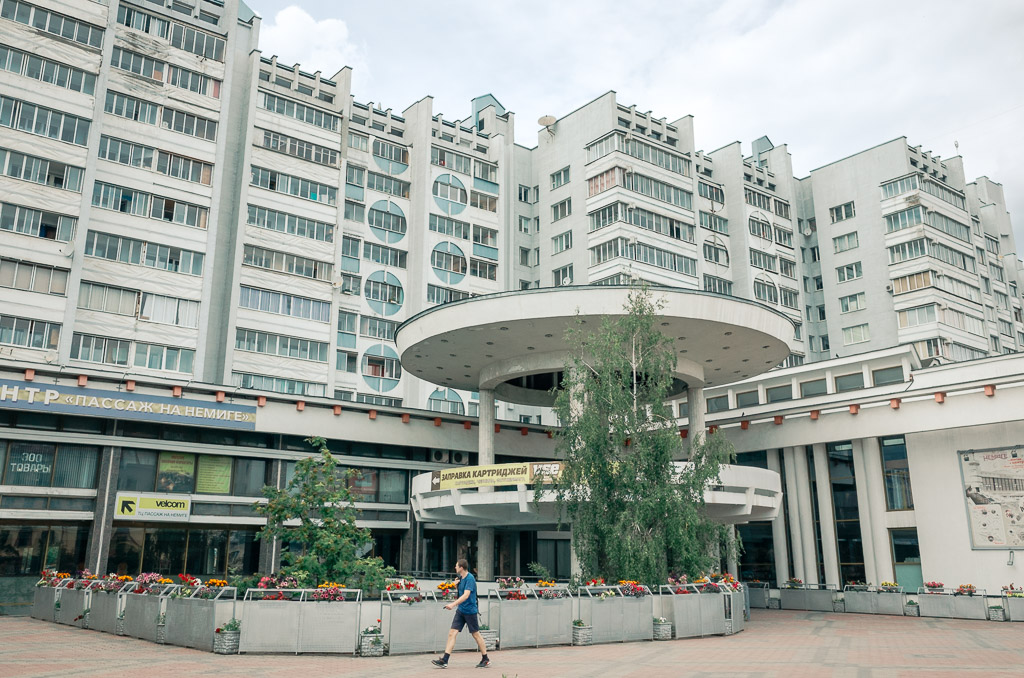 Minsk is the cleanest city I have ever visited. There is no litter. Wide-boulevards are perfectly maintained, squeaky clean, and washed regularly. Graffiti is almost non-existent. I saw a smattering of "street art" on a wall behind a statue of Lenin next to a board proudly displaying large portrait photos of recent "employees of the month" (I assume it was a tractor factory). Street kiosks selling coffee, snacks, and other bric-a-brac, so prevalent in other former-Soviet nations, barely exist in Minsk. Cars are mostly gleaming, people are neatly dressed and follow the law at all times. There are no homeless people or beggars to be seen.
Of course, these unsullied urban vistas are great for lovers of pure Soviet-era architecture. Often referred to as "Communist Architecture", or "Soviet Modernism", Minsk is a truly a Sov-Mod wonderland, sporting a remarkable collection of mid-century buildings. Truly, Minsk is the perfect embodiment of post-war Soviet-urbanism. Almost absolute destruction during World War II necessitated the rebuilding of the city, adhering to Soviet Socialist principles – mostly standardised high-rise apartment buildings, tightly controlled projects with simplified concrete-construction and only small facade details differing between each. In between the residences, some truly cosmic mid-century architectural styles were used for important community buildings such as cinemas, theatres, libraries, and sports-halls.
On a self-guided tour, thanks to Soviet-era infrastructure, travelling around the city is efficient and inexpensive. I noticed the Minsk metro system is identical in most ways to the Kiev metro system, only with many more symbols of Communism. My Ukrainian friends, visiting Minsk for the weekend, marveled at the fully-functioning light globes with wonder as we explored "clean Kiev" from one metro stop to another.
Notably, our visit to the modernist "Hotel Belarus" required interactions with three staff, four keys, cash payment, an A4 printed receipt, officially stamped, just to be able to visit the roof-top cafe and buy a coffee. Totally worth it, for the view, and to enjoy a profoundly personal experience of good old-fashioned Communist-era inefficiency.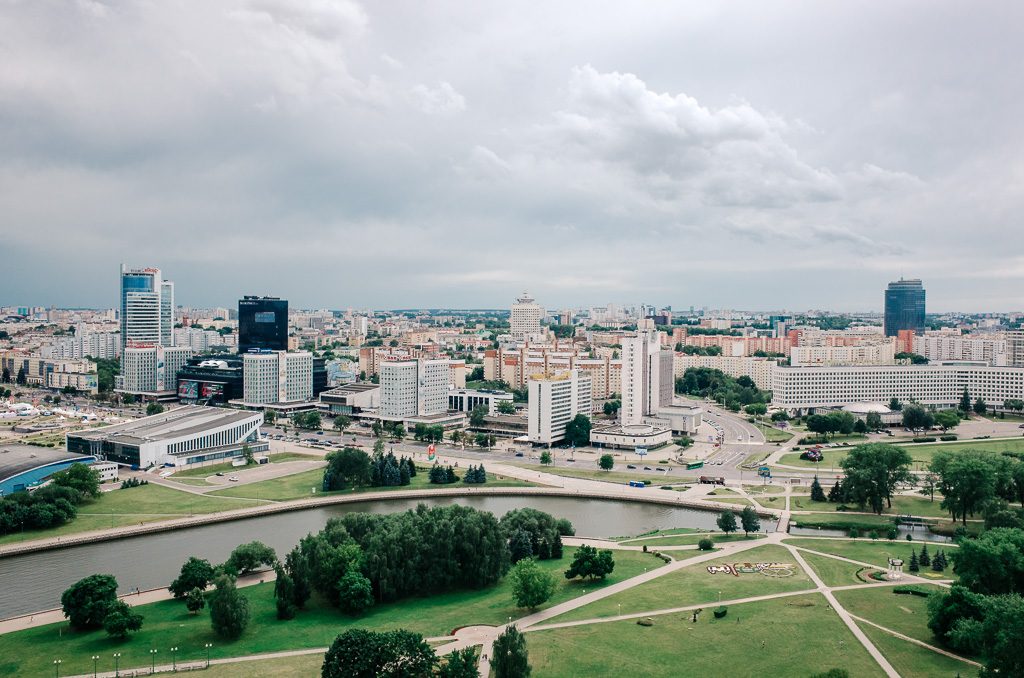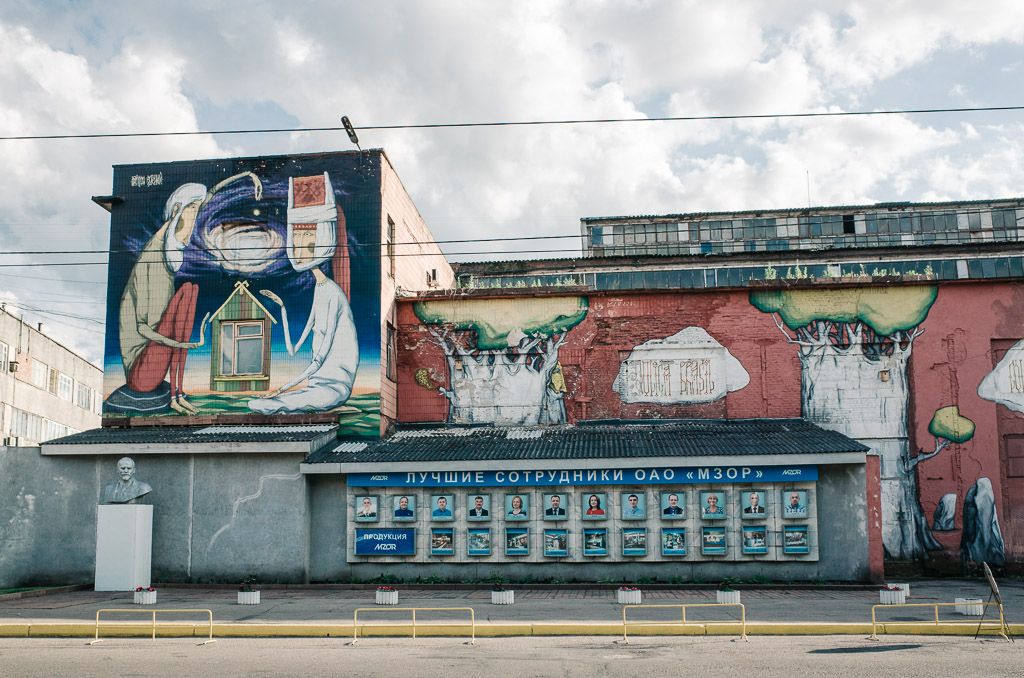 click to see an interactive map showing the location of this article
Some people say Minsk may not have any soul. I'm not so sure it's completely soul-less, but I would say there's a surreal sterility the likes of which I haven't seen in any other city. For a metropolis of two million, it's very quiet. In the city center there's an alarming lack of elderly people. An unnerving array of nationalistic flags, posters, and billboards. Many lush green city-parks – where every tree is in place and no humans may ever touch the grass. But, what Minsk may lack in vitality and spirit, it makes up for with authoritarian levels of Russification and industrial strength Soviet-nostalgia.
Perhaps, Minsk is the logical conclusion of the post-modern Soviet-city. Habitual cleanliness. Relentless bureaucracy. Law and order. An abyss of Authoritarian governments, holding questionable elections. Maybe, Minsk is truly a "future city", where residents no longer worry, as the comfort and security they once desired, is now mandatory.
Or maybe, it's all going to change, very soon.
Nate
PS, Belarus was 65th country, and 13th former Soviet Republic I have visited. I'm currently in Kiev, Ukraine, and today is day number 1822 I've been living from my backpack travelling the world.
BTW, I would love to send you the next dispatch, posted from some-where random around this planet (and you'll soon find out why YOMADIC email followers are my favourite followers):