A Wolf Child Guided Me Through Khujand, Tajikistan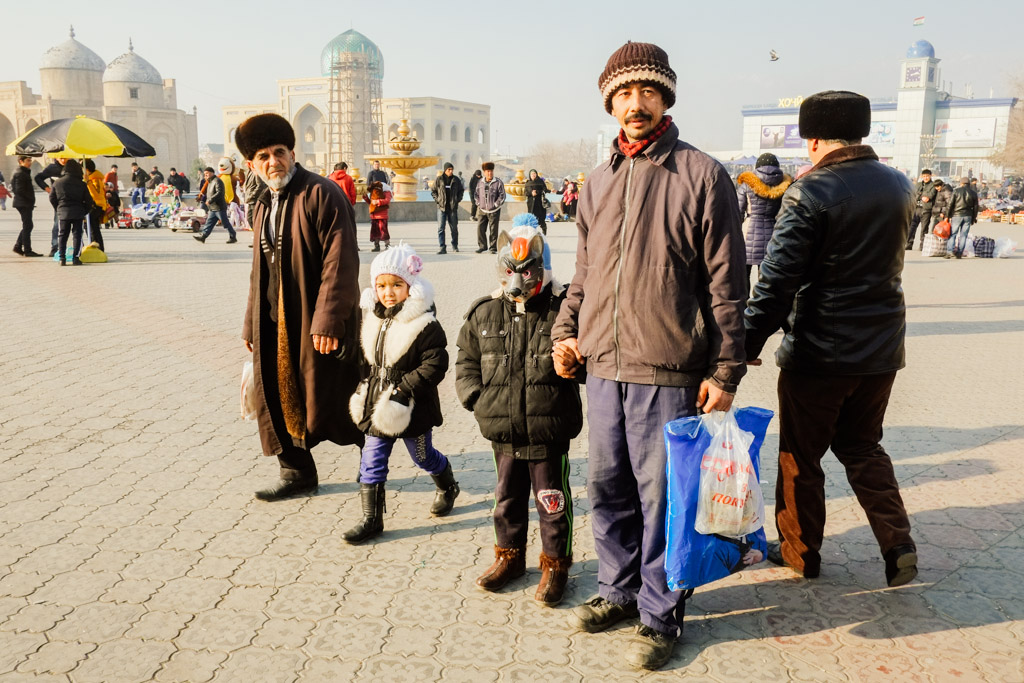 You're probably never going to find yourself walking the unknown streets of Khujand, Tajikistan. But no matter where you plan on taking your holidays, there's good reason for knowing a brief history of Khujand, so bare with me. About 2500 years ago, King Cyrus (the Great), leader of the first Persian Empire, founded a city here and immodestly named it Cyropolis. Alexander (also the Great), travelled here from Macedonia in 329BC, and built a settlement named Alexandria Eschate – literally, Alexander the Furtherest. Not long thereafter, Khujand became the first city where Europeans and Chinese got acquainted, translating Kung-Pow-Chicken recipes and sharing rice-crackers with a nice bottle of Macedonian red. For centuries thereafter, Khujand became a major point on the Silk Road, joining East and West.
Around the 8th century, Muslim armies invaded, adding yet another layer of religion, culture and kebab joints. In the 13th century, Khujand was laid to waste by the Mongolian forces of Ghengis Khan. For most of the 20th century, Khujand was named Leninabad – when the stylishly bearded, but economically retarded, Russian Bolsheviks incorporated Tajikistan into the Soviet Union. And, since 1991 this ancient city of phenomenal complexity is once again back to being known, as Khujand.
Now that you know the overview of Khujand, the irony is this – Wikitravel devotes five words to the entire section on things to do in Khujand. I've been referring to a Lonely Planet guide for the first time since I downloaded an out-of-date pirated book on Iran, but it only devotes a page or so to Khujand. Keep in mind, this is the second largest city in the nation. I'm fairly certain, nobody has the slightest idea about this part of the world. But the guides don't matter – because they never include the most special "attraction" of any given destination.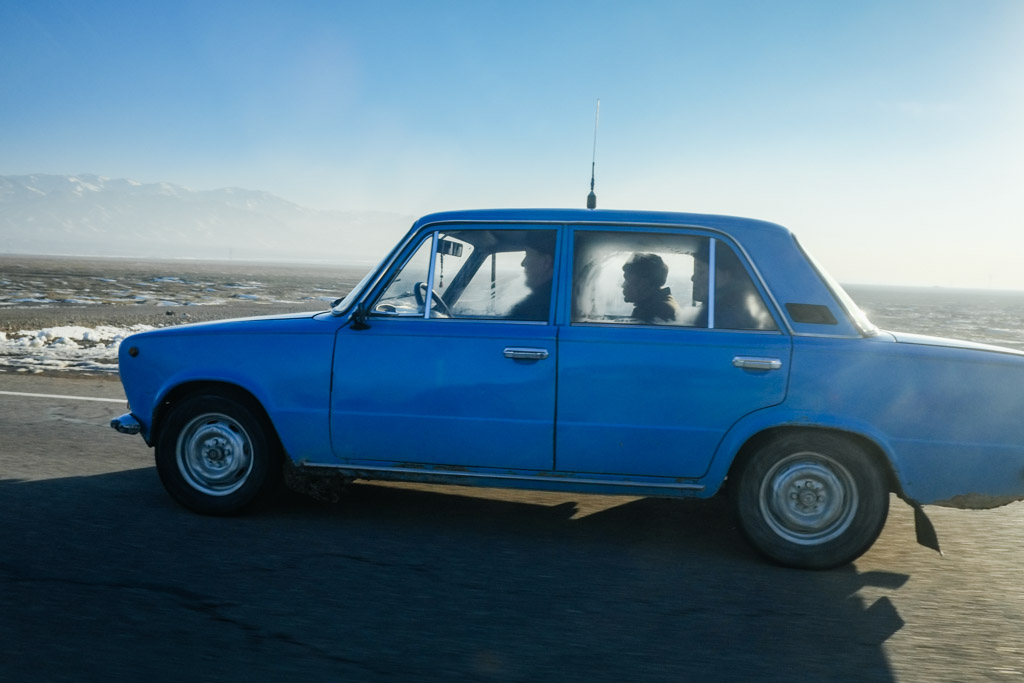 Many of our motivations for travel have changed, from even just a decade ago. There's little point in travelling to shop. Almost anything from anywhere can be conveniently sent straight to our homes, and just about everything is made in China anyway. For lovers of food, particularly cosmopolitans from large multicultural cities – the global migration means you might already be eating better Ethiopian, Jamaican, Nepalese, or Brazilian cousine than you may find in those countries – especially as a tourist on a limited time frame, relying upon disposable and outdated top-ten lists. It's all so hit and miss, so why bother?
All over the world, people listen to the same music, wear the same sneakers, buy farm-fresh, months-old, frozen and pre-packaged "food" from franchised supermarkets, drink the same coffee, watch the same movies, and if you speak English, sorry, you will be hearing the lingua franca of the entire planet almost everywhere. Airfares are cheap, destination choice is abundant, and fucking tourists are almost everywhere these days.
Finding an obscure, off-the-beaten path destination is time consuming. Sometimes, unrewarding. And, there's not much point in being a travel contrarian, just for the sake of contrarianism – there's got to be a raison d'etre for travelling somewhere. But, when you do find the right place, those hidden gems of the tourism world, the experience is unforgettable.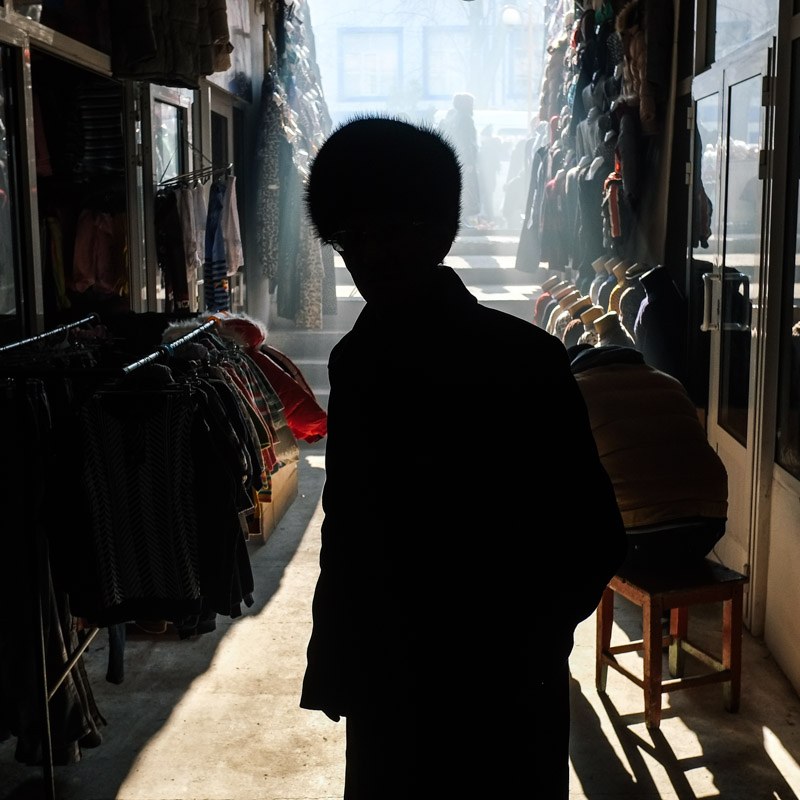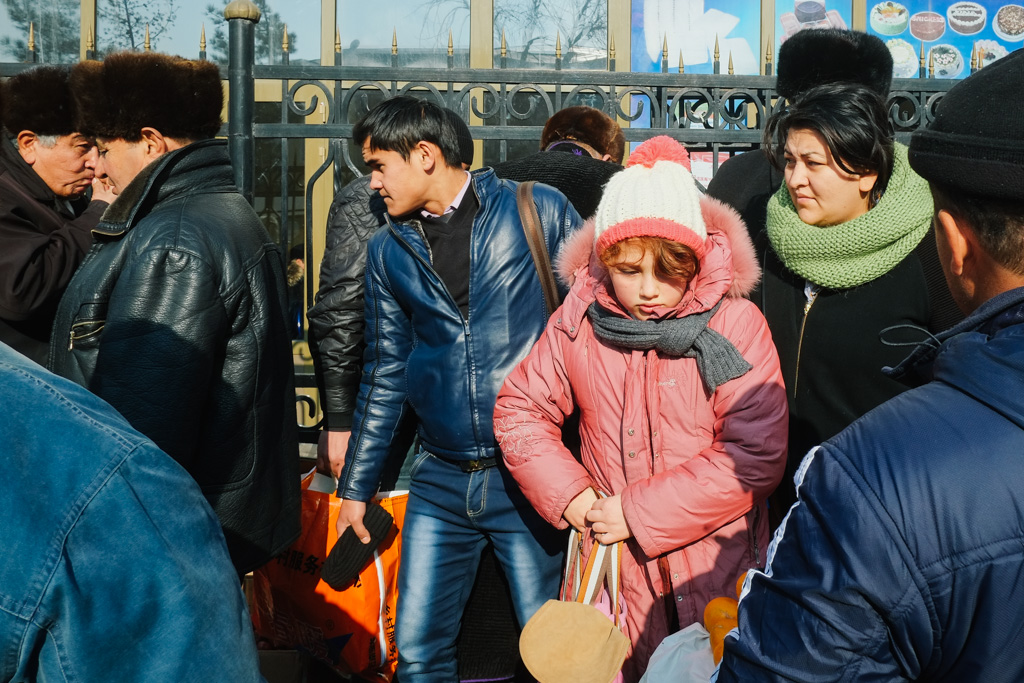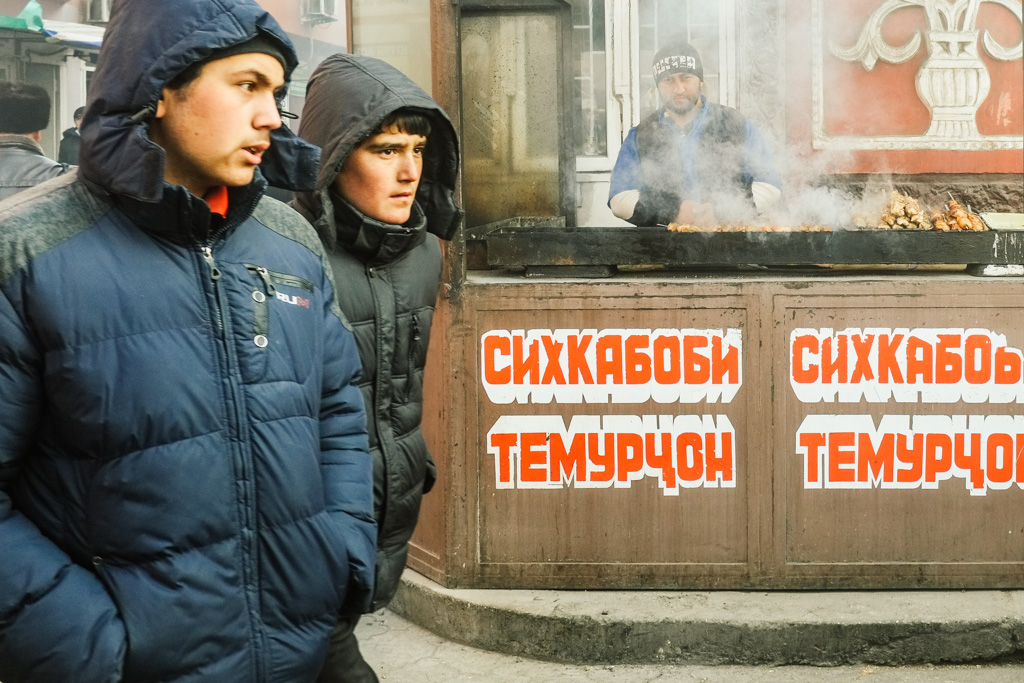 There aren't any tourists in Khujand. None. As I ate my first meal – spiced, marinated, slow cooked BBQ lamb, brown rice, mashed potato, salads, bread that anyone in the West would call "artisinal" but here they just call it bread – half the people within 20 metres of my table asked me to take a photo of them. As a tourist in Khujand, you're noticed – which explains the seemingly surreal experience of a local child wearing a plastic wolf mask, and his friendly father, approaching and attempting to chat. Pecking away at barriers using words from four different languages, it became clear they wanted to show us around their city. And minutes later, we commenced an impromptu walking tour around Khujand.
For the next few hours, I got to know the atmospheric, smoky, dare I say "exotic" small city, through the eyes of a local. Khujand's street scene is much more middle-Eastern than neighbouring ex-USSR Central Asian nations. On the ground, there's an energy exceeding what should be possible for the number of residents. People are everywhere. The hazy main square is dominated by a backdrop of snow-capped mountains, flanked by a glittery domed mosque complex on one side, and the architecturally blended Panshanbe Bazaar on the other. I looked down at Wolf Child, his eyes peering through plastic holes, and savoured one of those rare "just where the hell am I" moments.
We were steered through the nearby Afghan Bazaar. Nation-wide power blackouts only helped to enhance the veiled ambiance, with little light on our twisted path of shadowy vendors. Back outside, we walked through alleys and uncharted 'burbs of Khujand. Standing under an ancient tree, Wolf Father used a stick to write "~2500 – 3000" in the mud below, dutifully including the symbol for approximate. We took photos, and spent a moment gazing up at a gold-domed Mosque next to the tree.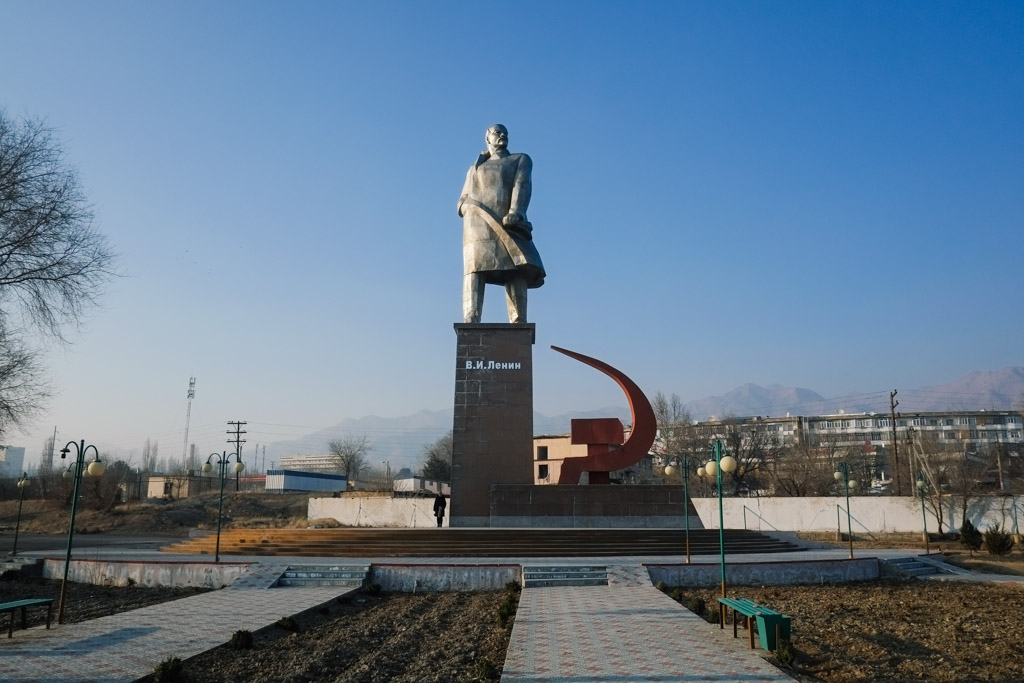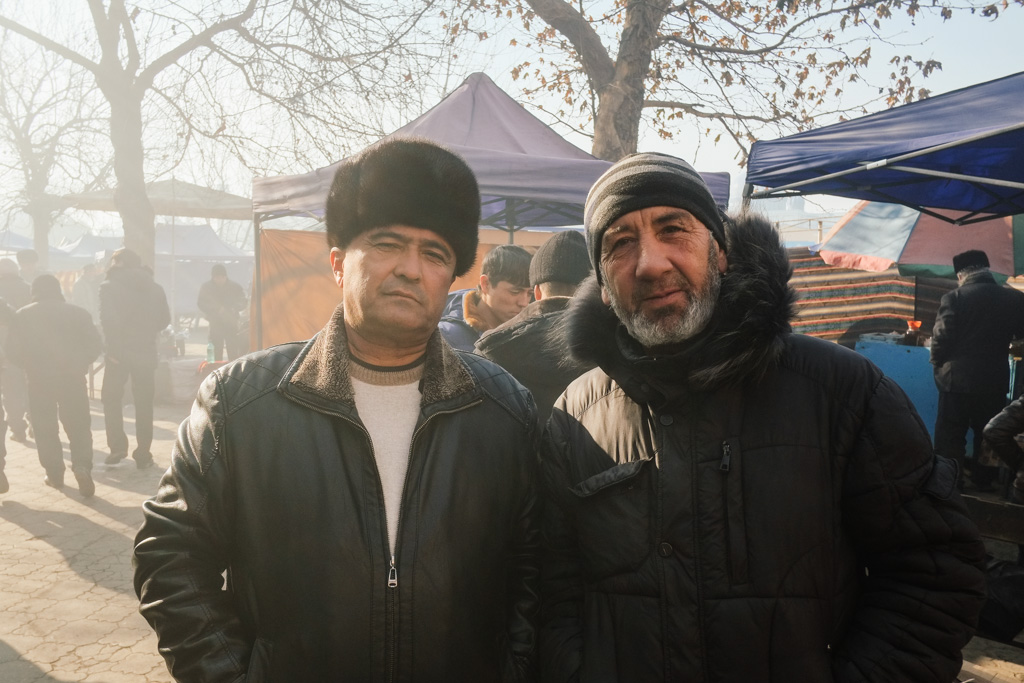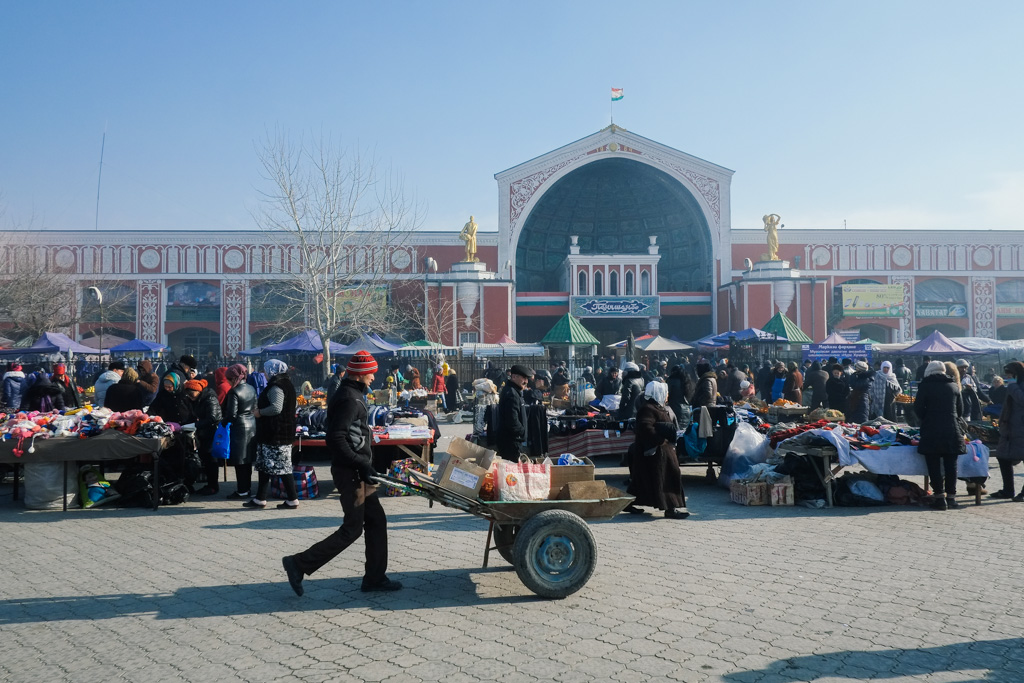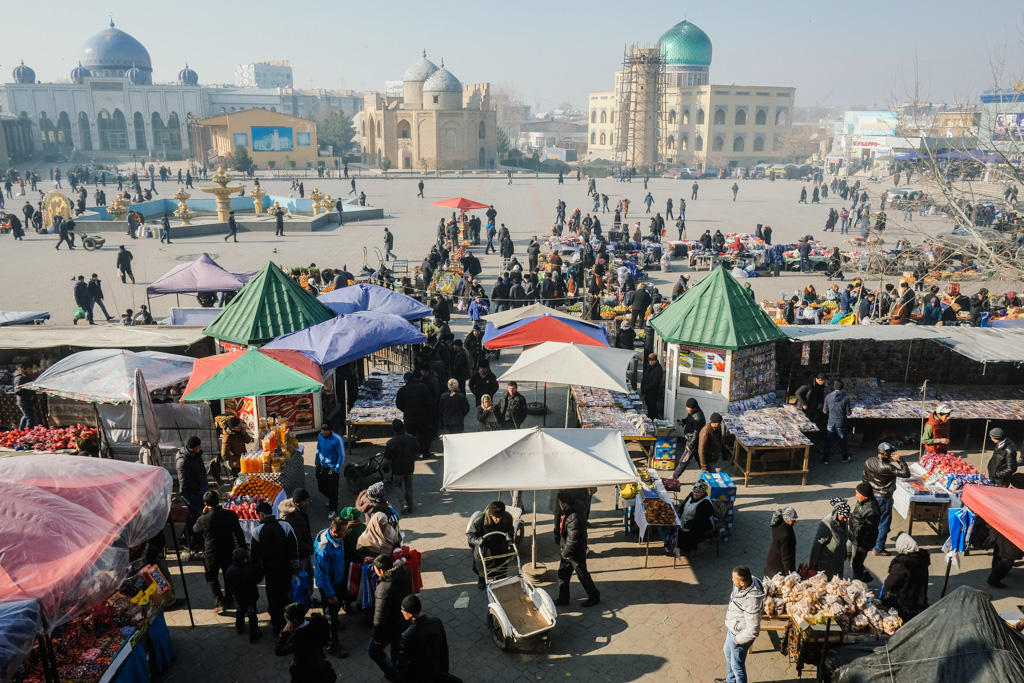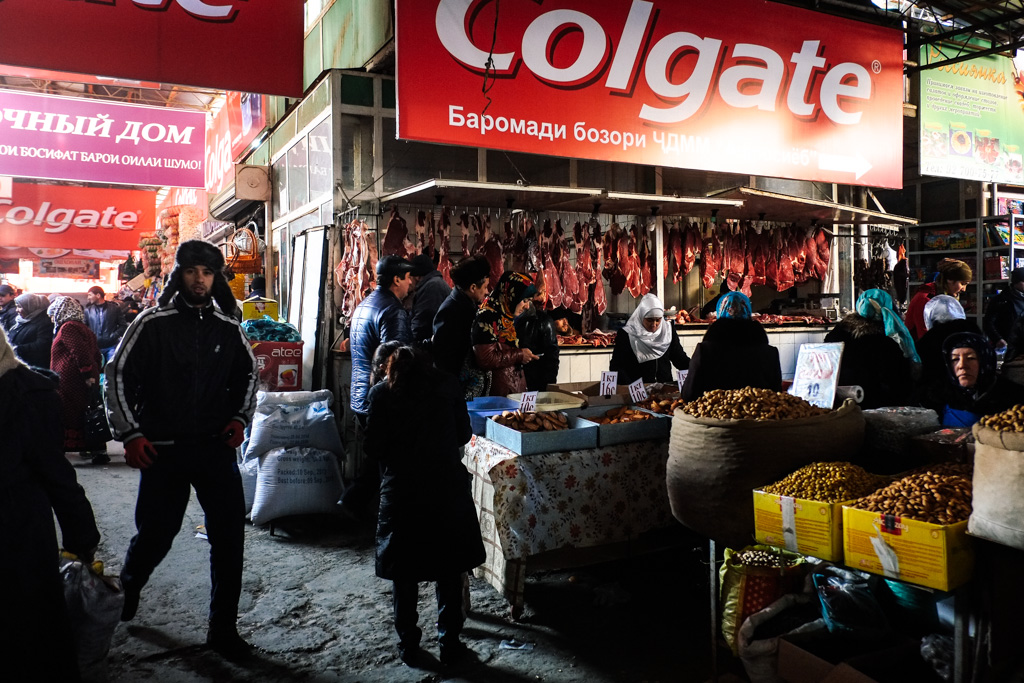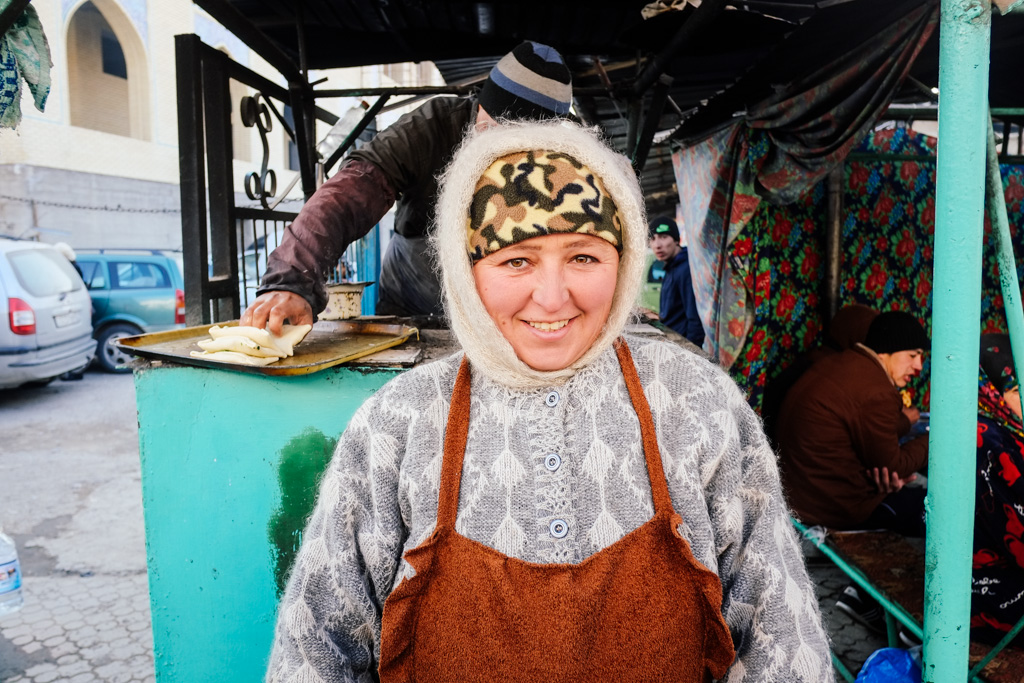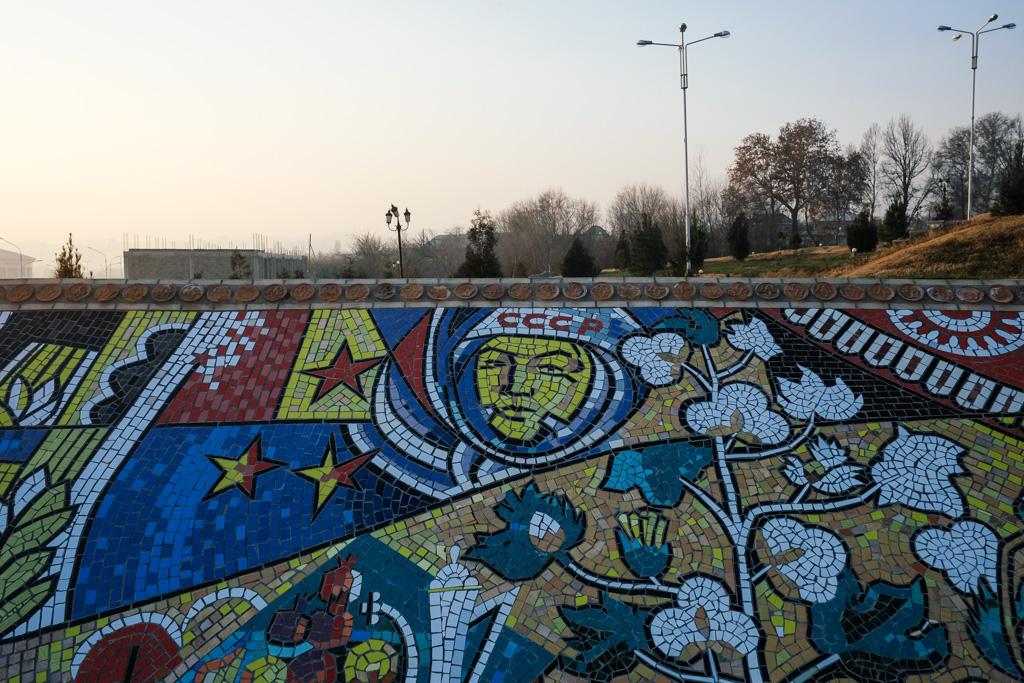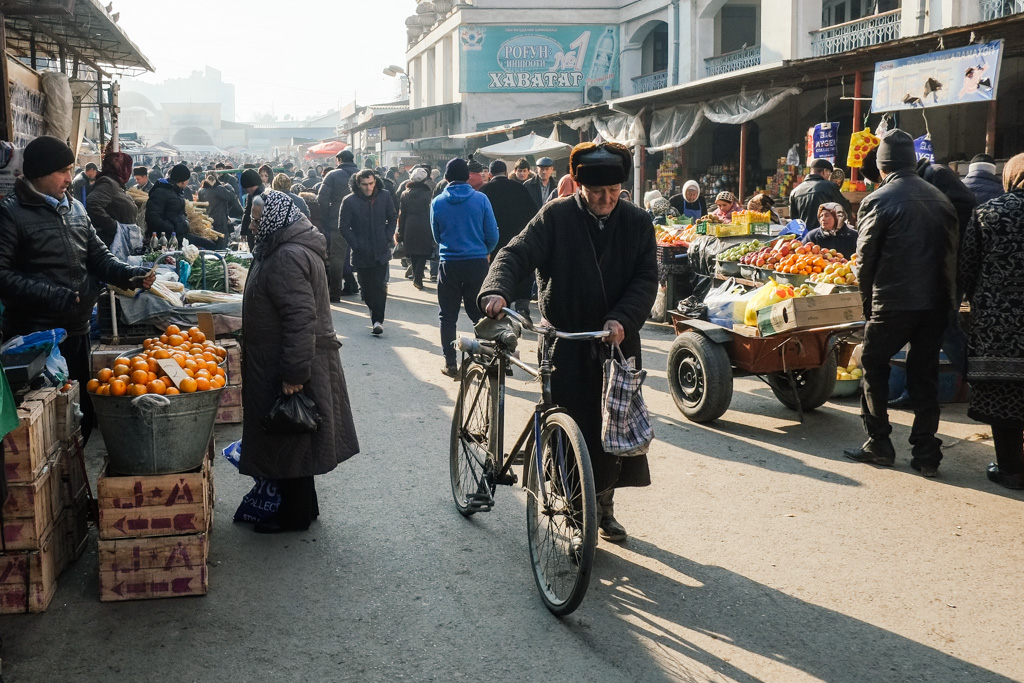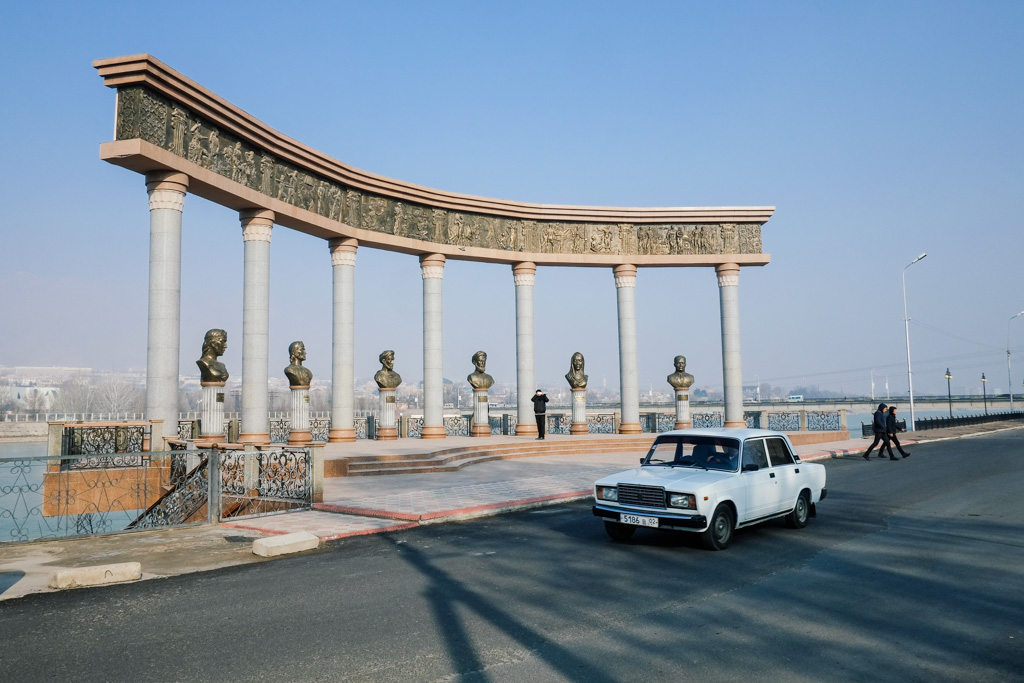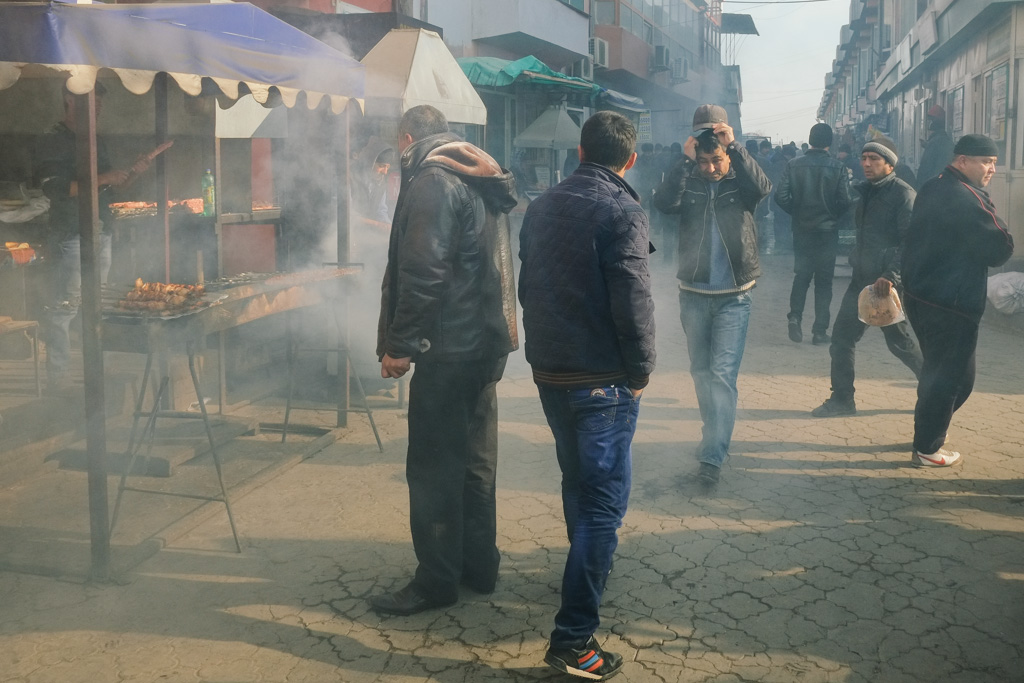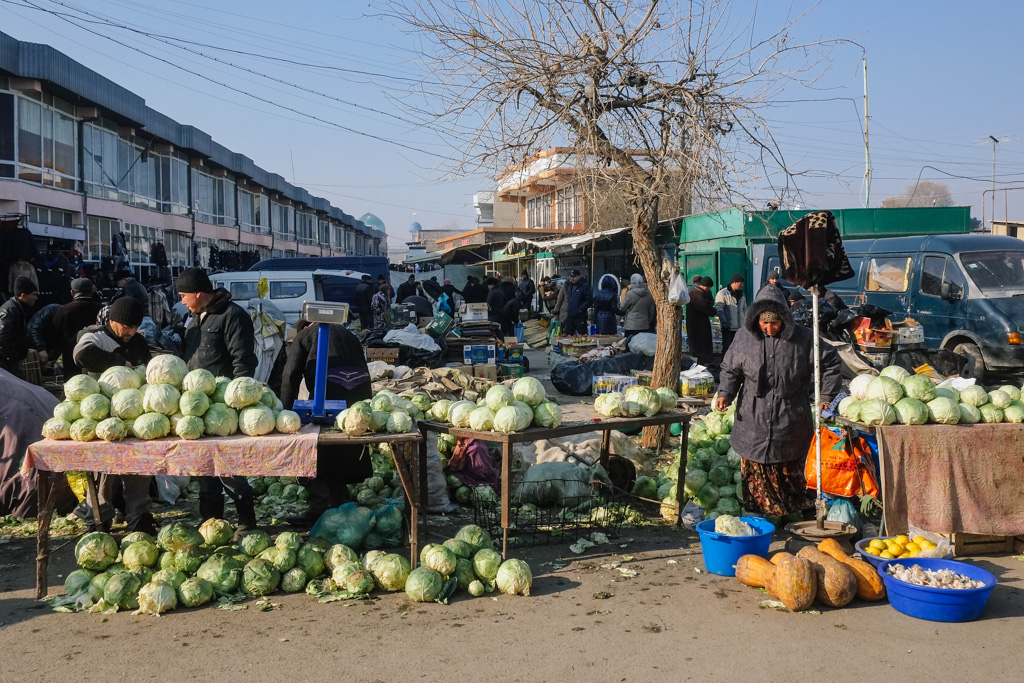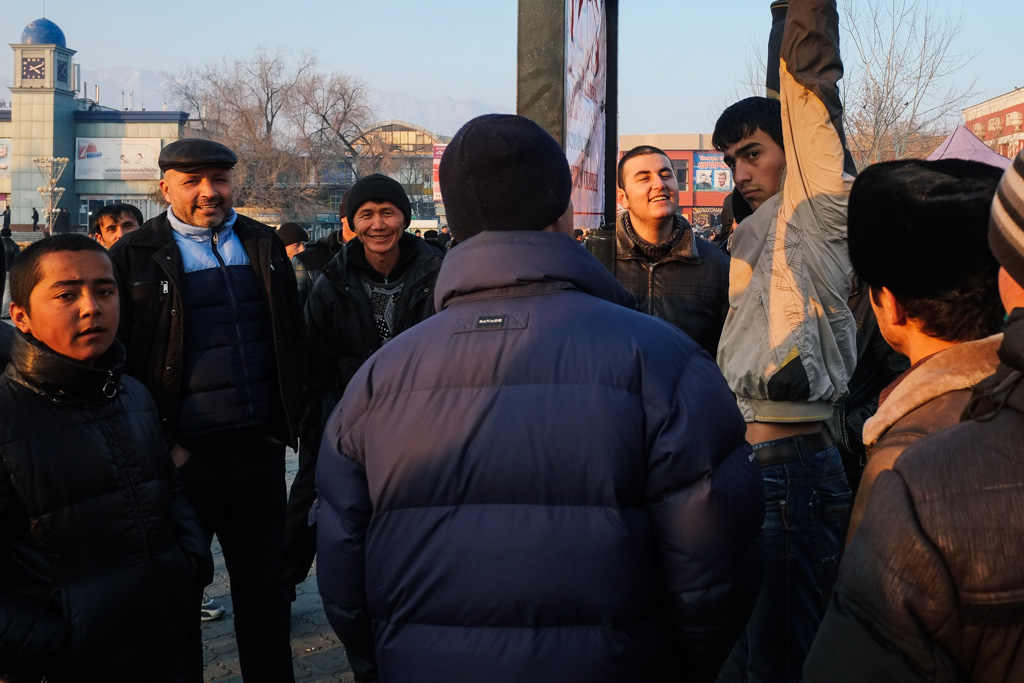 Away from the covert backstreets, there are more conventional tourist opportunities in Khujand. An ancient Citadel. Museums. Some propagandishly large statues. Including Central Asia's largest Lenin – moved in 2011 to the non-descript Victory Park next to the Syr-Darya river in Khujand's 18th "Microdistrict". Perhaps, an unceremonious chapter for the statue of Lenin's namesake city. He was replaced with a statue of Ismail Somoni, King of "Transoxiana" – the much cooler historical name for this region. I would have loved to see the nightly, and no doubt excessively cheesy light, water, and music show that surrounds King Ismail, but, well, city-wide power-blackouts.
Wolf Father introduced one of his local friends, a welder, and they bought Phillipa and I gifts of home-made chocolate Tajiki-Snickers. Heading back towards Panshanbe Square, we continued our tri-lingual language lessons, finally shaking hands and bidding the Wolf Family farewell. I'll not soon forget the image of Wolf Child happily bouncing down the street, plastic mask enswathed, waving, tagging along with his loving pack leader. They hopped onto a local Marshrutka, and carried on with their hunting and gathering, in search of prey and avoiding predators.
click to see an interactive map showing the location of this article
As I walked back to our electricity-starved apartment that was home for the week, I began to imagine my life should I choose to stay here in Khujand. There's an appeal here. Nobody is ever truly off-the-Western-grid in the 21st century, but this may be as close as it gets. Maybe, Khujand is my final destination. I could give up the nomadic lifestyle. Settle into a new life, as a simple Tajiki shop-keep.
Maybe I could set up a little stall outside the Penshanbe Bazaar. Invest in one of those coin-operated Soviet-era punching strength machines I saw back in Bishkek, or sell plastic wolf masks. Phillipa would set up her fold-a-table, full of Chinese made house-slippers imported from across the mountains, carrying on the ancient tradition of silk-road trading. As is custom in these parts, we would grow older together and our decaying teeth would be plated with gold. Travelling back to "the West" for holidays, we would remark on unusual sights – mouths full of white teeth, and apartments with electricity.
Sure, we'd grow ever more fond of the local Tajiki wolf kids. No doubt. However, despite thoughts of stopping, the experience in Khujand is also why I choose to continue on this journey. After being on the road for 878 days, visiting almost sixty nations and countless cities, my week in unassuming Khujand is a strong reminder of the main reason I travel – to experience moments of pure, non-conditional, warm, welcoming, generous, cross-cultural, humanity.
That, and being led through an unknown city in Tajikistan by a wolf child.
Nate.
PS, happy holidays, Merry Christmas, seasons greetings, and all that jazz.
BTW, I would love to send you the next dispatch, posted from some-where random around this planet (and you'll soon find out why YOMADIC email followers are my favourite followers):