Almaty to Tashkent : What Not to Expect on a Long-Haul Train Journey Through the Former USSR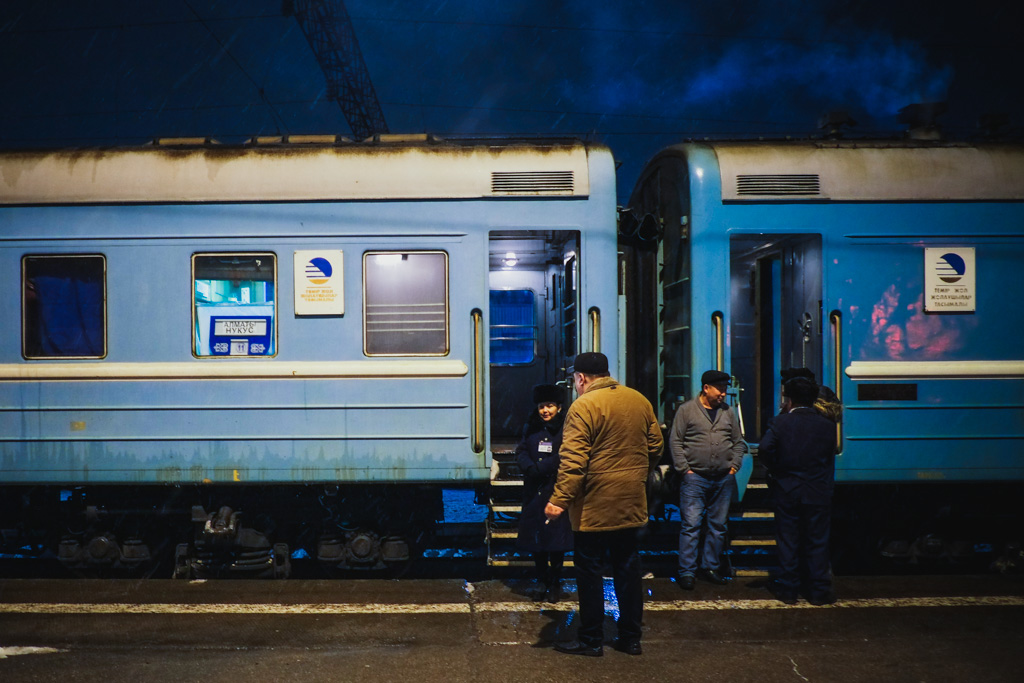 In general, Yomadic is heavy on esoteric travel entertainment, and light on factual endowment. But the thing is, Central Asia in 2014 remains relatively unknown in the world of travel. Increasingly on the radar of ambitious tourists and post-USSR wanderlusters, there are people out there who just might want some information on the 27 hour overnight train journey from Almaty to Tashkent. So, my compromise is this – a tiny kernel of essential facts, wrapped by an unconventional bribe and Vodka filled travellers tale from the ancient region of the Great Game. Everyone is catered for. Probably. In any case, the train ride from Almaty to Tashkent is something that everyone should do at least once, but hardly anyone ever will.
If you've seen the movie "Borat", Kazakhstan is pretty much the exact opposite. Almaty, the former capital city, is wealthy, increasingly western, clean, orderly, and expensive. From Almaty to Tashkent, the capital of Uzbekistan, this journey was to be my first, ex-Soviet, long-haul, train ride.
Much has been written about the trains that pursue the communist-era railway tracks throughout Russia and the former USSR. Especially on the well known trans-Siberian, just north of here. But on this lesser travelled route, little has been said. Usually I check in with the man from Seat 61 for the skinny on any train journeys. However, even that mustached god of the rail lacked the most basic of information on this route. Maybe, there's something he knows that I don't. I was about to find out.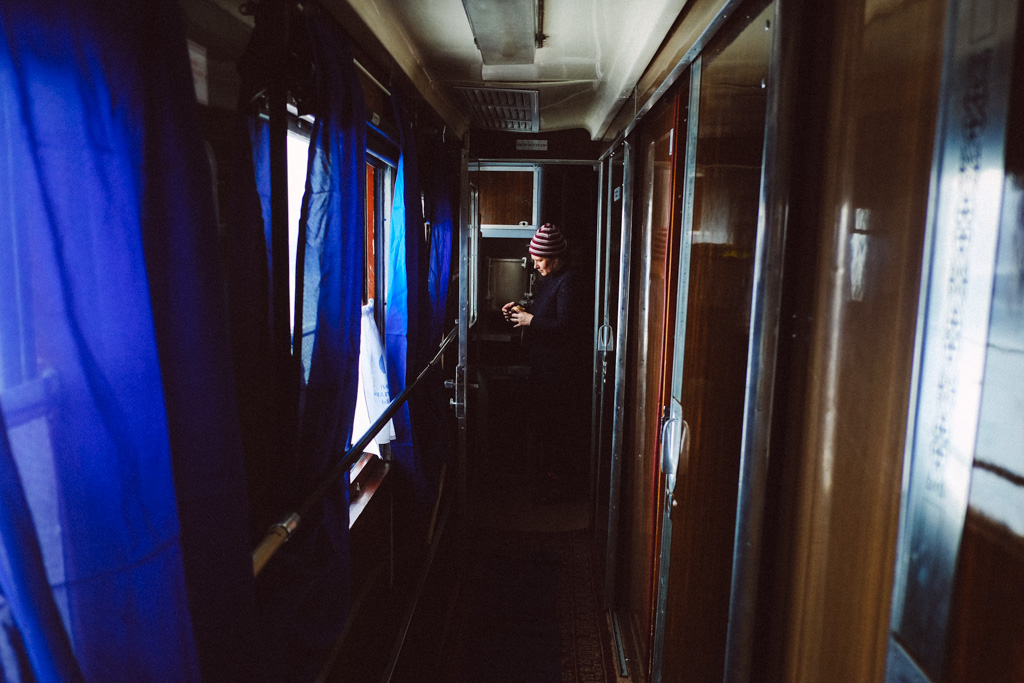 The un-definitive bribe-free guide to the train from Almaty to Tashkent.
Departure time is weekly, 4.29am, very early Sunday morning. Absurd. In the bitter cold of a Kazakhstan winter, these late-night/early morning shenanigans have me questioning my entire lifestyle choices. I'm trudging though snow, in the dark, surrounded by grey concrete, in a post-Soviet world. I could be in Sri Lanka. Sipping cocktails from an infinity pool. Gazing out at the Indian Ocean, tanning and munching curry. Instead, I'm heading towards the main station in downtown Almaty, half asleep, shivering, wondering just how I manage to retain such a loving, loyal, life-partner, when I subject her to such ridiculousness. We arrived, checked in, and boarded the Coupé class carriage bound for Tashkent.
On this train, Coupé ( or "Kupe") is as good as it gets. I considered the cheaper, and more gulag-styled Plaztkart carriages, but only for a fleeting moment. Up in Coupé it's four beds to a small cabin. First impressions – small, warm, seemingly survivable, and oh wow I didn't see that old Russian lady skulking there in the darkness on the bottom bunk, scarf donned, they all look like mothers of KGB mafia to me. She eye-balled me. I stared back into her deep-set cold black eyes. I'll deal with her later.After storing my luggage, I hopped up to my top bunk, pulled a clean-but-torn standard issue sheet around the mattress, had one last look at Phillipa below, and as the train pulled out of Almaty on time, I settled in for few hours shut-eye before sunrise.
When I awoke, our Babushka was sitting with Phillipa. They were unpacking their respective breakfasts, and discussing the filthy table in broken English and Russian, as they smiled and scrubbed it cleaned like a couple of old friends. On a train like this, it's instantly a sharing economy. We're all in this together. Babushka unpacked her farm-fresh boiled eggs, Piroshki, biscuits, cheese, and pickles. She offered us some food. Fuck what we bought along to eat, I love this old KGB spy-lady and I'll happily help eat her breakfast.
Future punters should know, there's no dining cart on the train from Almaty to Tashkent. But at each regular stop between Almaty and Tashkent, vendors line the platform. Or more typically just stand in the snow with old baby prams, filled with food and drink for sale. Nobody is going hungry on this train. Breakfast done, it was time to explore the limits of my new home.
I paced the aisle. The train facilities include incomprehensibly putrid toilets. An incredibly useful hot water dispenser. Not a single working power point, anywhere in the carriage. There's a smoking section between carriages, right next to the "do not smoke here" sign written in Russian – look for the snow and ice on the floor. And, that's the facilities. Inside our Coupé, it's communist practicality. Plenty of room for luggage, hooks to hang jackets, secret compartments ideal for smuggling people and or opium. This is the legacy of Soviet style – efficient, inelaborate, and despite being new and temporary it's somehow homey and familiar. I was enjoying the experience.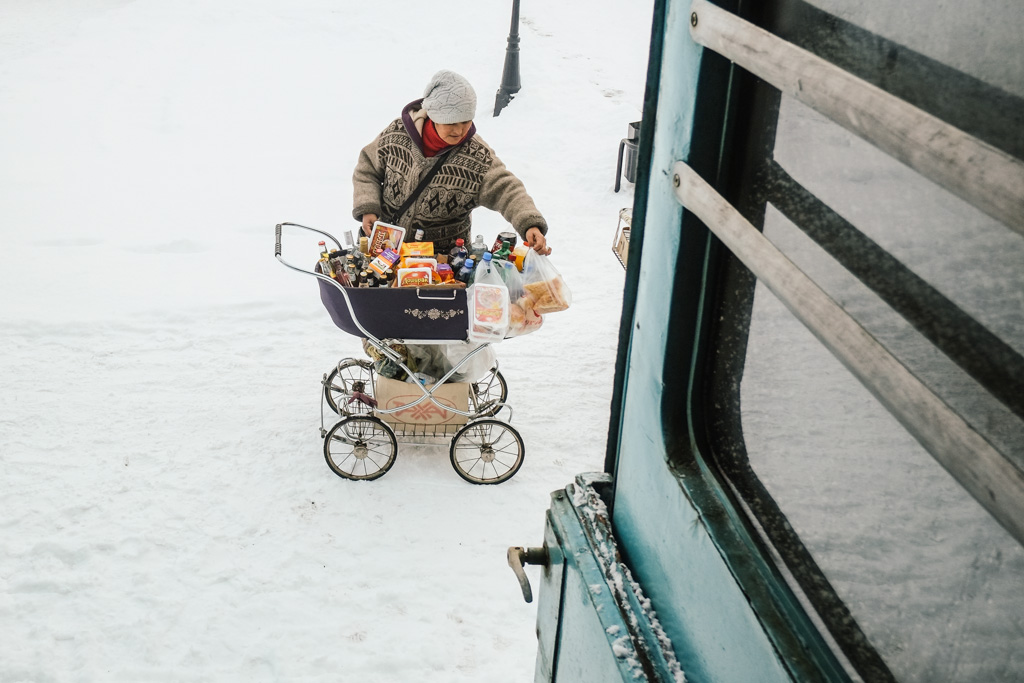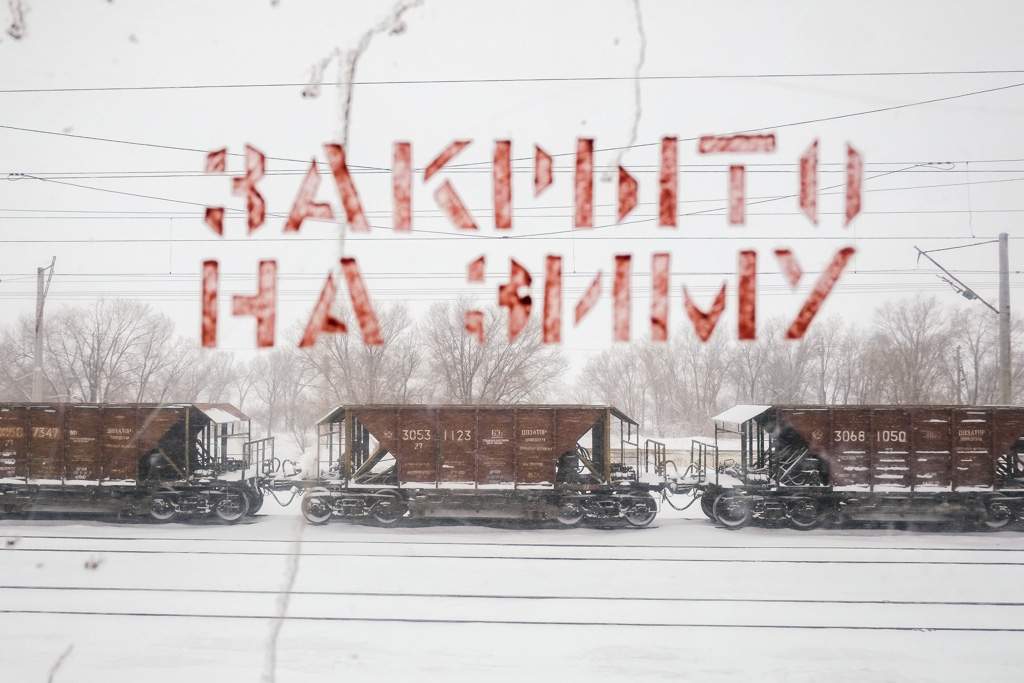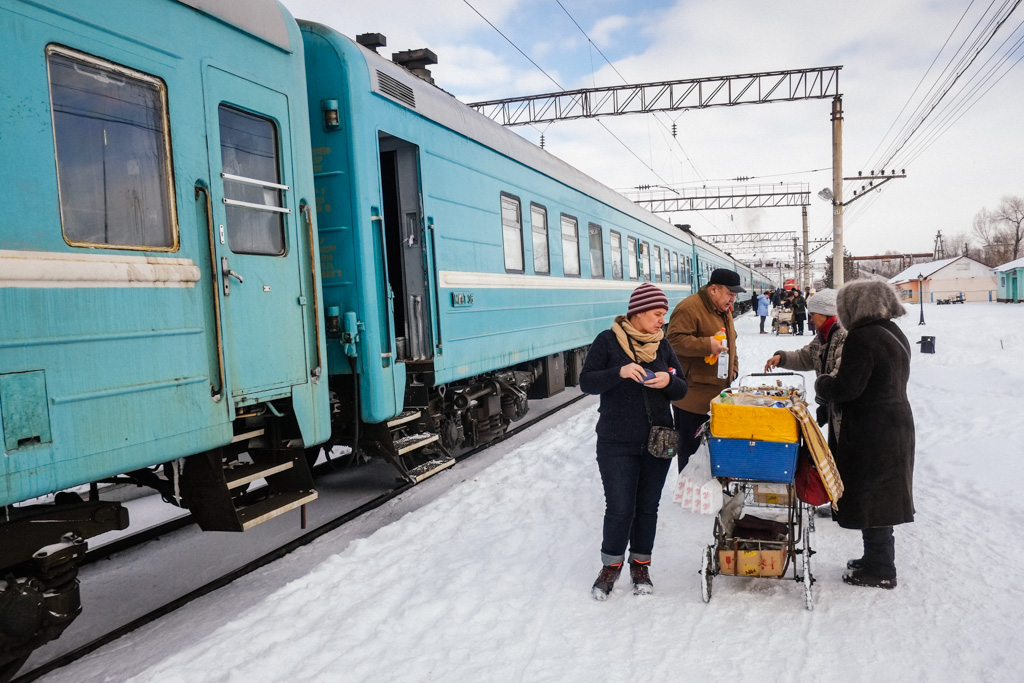 We were the only tourists in this carriage, and the other passengers were all curiously friendly. Staff are helpful. Food was offered. Hello's echoed through the train carriage whenever I walked down the aisle past the other Coupe's. I had hot coffee, delicious home cooked food, and a place to smoke and chat with the other inmates. Everyone was great, with one exception.
It was a grubby Kazakh police officer that came to our Coupé. First, he checked our passports. He looked at the full-page Kazakhstan visa we had dutifully collected in Bishkek. I had two stamps on my visa, as was appropriate. Dates, all good. Kazakhstan registration card, check. The other slip of paper I received entering Kazakhstan, present and accounted for. Everything was in order. I know this game. And, I'd already noticed authorities onboard, slithering and hissing down the aisles from one carriage to the next – so it came as no surprise that I was asked to accompany him down to his personal Coupé at the other end of the carriage.
We stepped inside. Him sitting, flicking through my passport. I stood.
He pointed. Blabbered. Hissed. Mentioned "problem". This circular act went on a few minutes. I listened until he stopped talking.
In English, I simply asked "so….do you want money?" I rubbed my fingers with my thumb.
"Da. Strafe. Da."
Russian. Yes. I had to pay a "fine". Because, I was a foreign tourist. And, because he's a corrupt and underpaid policeman from Kazakhstan.
"No. No money. No. Passport. Please." I clicked my fingers, held out my hand, fingers firm and flat.
"Ok".
He passed my passports and documents back, with a look of resignation. Well, that was easier than I thought.
I left his Coupé, and I never saw him again.
The day passed quickly. In the late afternoon, I met Umid. An Uzbeki, who lived in Kazakhstan. His pretty wife, much younger than he, was his third. I'm not casting veiled insinuations, but, Umid was clearly wealthy. Evidence included a recapping of the Ritz Carltons they had recently stayed at, purchasing all four beds in their Coupé so they needn't share, and did I mention a very young, very pretty wife.
With respect to his marrying expertise, Phillipa jokingly mentioned "third time's a charm", exchanging smiles with his wife, who was pouring Vodka and laying out food. He said that for Muslim men, it was traditionally the fourth marriage that would be the lucky one. I asked him how I could convert to Islam. We all laughed, toasted to our health, and I downed my first plastic cup of Russian Vodka with an orange Fanta chaser.
Our conversation drifted between politics and basketball. Language barriers aside, we recalled our mutual love of the Chicago Bulls circa early 1990's, our distaste of most politicians, and the 1988 Seoul Olympics. Michael Jordan. Putin. USA. Scottie Pippen. Obama. Yugoslavia. Dennis Rodman. USSR. We emptied the first bottle of Vodka. Perhaps, I made a mistake by recalling that I had half a litre of Siberian Vodka in my Coupé.
At that point, in hind-sight, it was clear that his wife and Phillipa attempted to steer us away from continuing our merriment. They spoke of the upcoming border control procedures that would take place a few hours from now, in the dark of the night, as we crossed into Uzbekistan. There would be documents to complete. Militia to negotiate with. Maybe, more corrupt police. We listened to our wise partners, mentioned something about Hitler, and I retrieved the second bottle from my Coupé. We finished that one too.
I wondered how, as we hurtled through the remote Kazakhstan steppe, in the dead of night, a vendor could appear at the entrance to Umid's Coupé – holding various bottles of Vodka for sale. Umid purchased a bottle, the third of the evening, and from that point I don't recall too much. I do retain a vision of stumbling through the carriage. At some point my survival instinct must have taken hold, as I awoke very early the next morning, fully dressed, boots on, in my vinyl-clad bunk bed.
It was just before the border. Phillipa rolled her eyes. She asked me, "do you remember those four guys you were talking to in the Coupé down the end last night?" No."you told me you had lost our passports, I had to look in Umid's Coupé, and the Coupé down the end, talk to the staff, and then it ended up being in your pocket all along… ". No, I didn't remember that either. "…you couldn't stand up, you fell over, it's lucky you didn't land on the snoring Babushka…do you remember the Babushka leaving, we reached her station during the night. She said goodbye to you". No, I don't recall any of that. The Babushka was gone.
As was a small piece of my reputation for steadfast reliability.
Fucking Umid.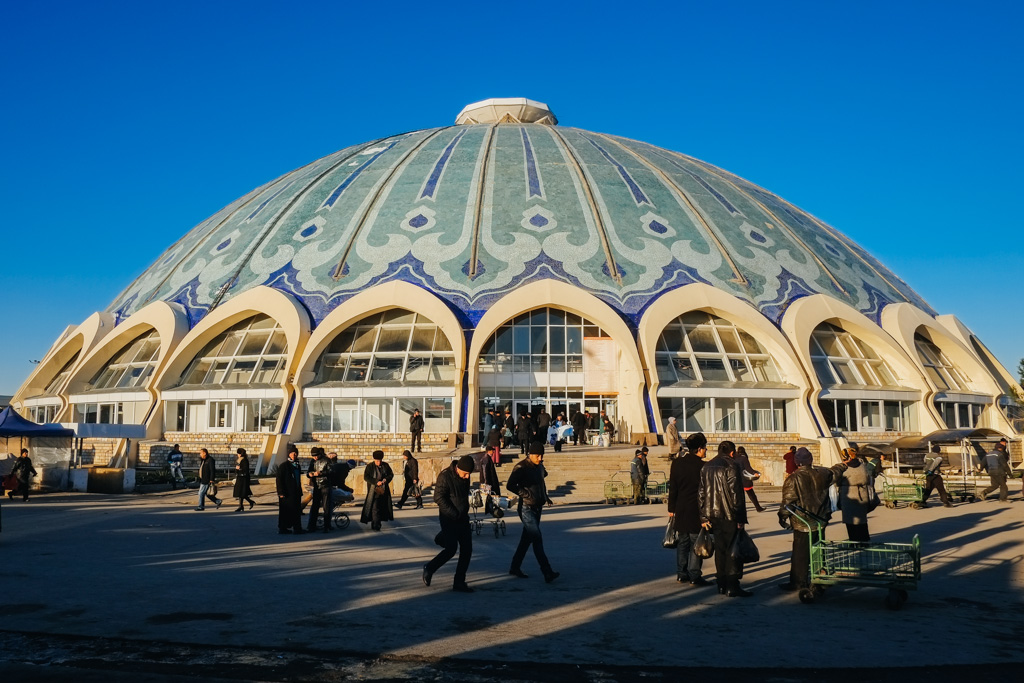 click to see an interactive map showing the location of this article
Unexpectedly, the Kazakhstan/Uzebekistan border crossing was straight forward. During the night, Phillipa had been assisted by an amazingly helpful train employee, who thoughtfully completed the required customs documentation on our behalf – all in Russian. The border guards were efficient and welcoming, all formalities took place within the comforts of our Coupé. Not long thereafter, we arrived in Tashkent.
When we departed the train, a traditional Taxi scrum greeted us. I noticed Umid, being led along the platform by his wife. His face had hues of grey and green, and sweat dripped profusely from his forehead despite it being below zero outside. We shook hands for one last time. Phillipa and his wife hugged, and exchanged meaningful and knowing glances, well beyond the interpretation of myself or Umid.
Around thirty hours after it began, from Almaty to Tashkent, Kazakhstan to Uzbekistan, the train journey was complete.
Summary: 10/10, would ride again.
Nate
PS, at the moment, I'm writing this post with some haste, due to the regular, and predictable, city-wide power-blackouts here in Khojand, Tajikistan. The Central Asian journey continues…
BTW, I would love to send you the next dispatch, posted from some-where random around this planet (and you'll soon find out why YOMADIC email followers are my favourite followers):