Iran : 4000 Year Old Deserted & Crumbling Mud Brick Village – Kharanaq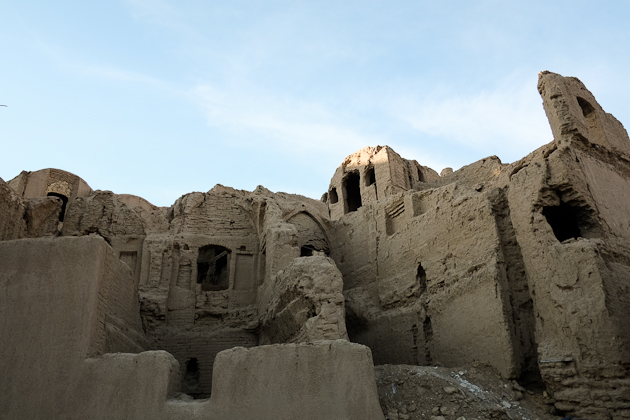 "Yes, get out, BOOM. I know." I mimed an explosion with my arms. The driver laughed. He was about to fill up his car with gas – gas as in compressed gas, not petrol. The rules at an Iranian gas station, as I understood them – get out of the car, in case of explosion. It wasn't the first time I'd been given the "get out, boom" speech in Iran.
What is surprising, is that this also isn't the first time I found myself en-route to a semi-deserted several-thousand-year-old ancient mud brick village. This time, it was Kharanaq. Location – near the city of Yazd, in Central Iran. Age, indeterminate. Beauty, quite indescribable. Potential for hyperbolic filled gushing-travel-writer-esque article? Off the freakin' scale. Chances in this article? Zero.
With at least  1000 years of architectural history on show, the site of Kharanaq has been occupied in some form for around 4000 years. With an inspired location – sunny rocky outcrop, fertile valley below, in the shadow of a scenic mountain, I had to wonder about the fore-thought of Persian town planners circa 3000 BC.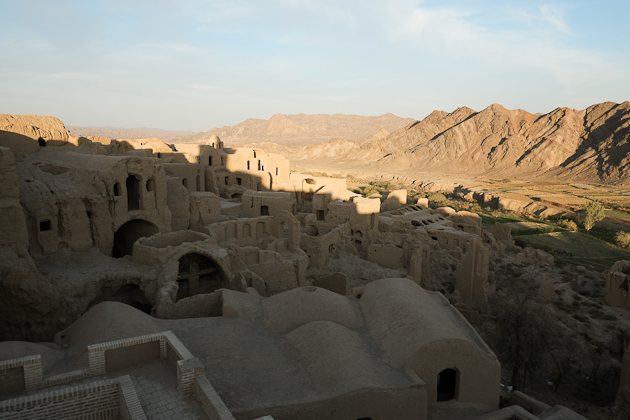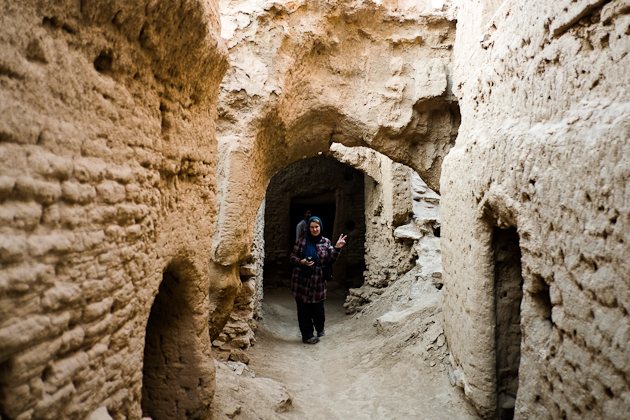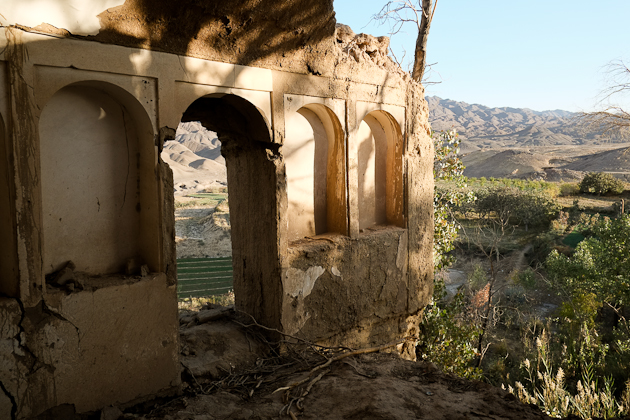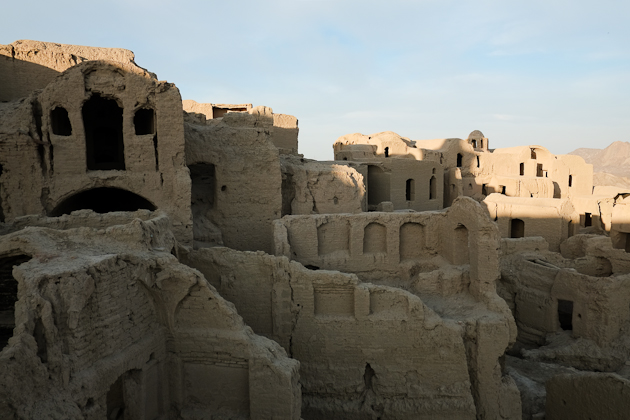 Kharanaq may appear totally deserted, but it isn't. I saw one old lady, who asked our driver "where the hell are these people from and what in Alah's name are they doing creeping around this place – tell them to be careful!" In the center of the village, in the area around the towering Minaret, there are restoration works in progress. It must be said, I add this information just for factual completion – you can see from the photos that Kharanq for all intents, is abandoned, and very much un-restored.
Surprisingly – until recently there was a loan guest-house in Khranaq. Not anymore. My downloaded pirate copy of Lonely Planet Iran circa 2008 mentions the "Silk Road Guesthouse, Kharanaq". But now, in 2012, my driver for the day chose to use the former hotel gardens to take a leak, and then scoffed when I asked whether, one day, the hotel may reopen.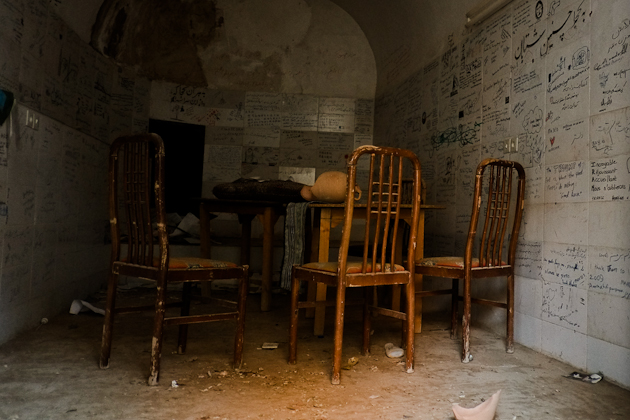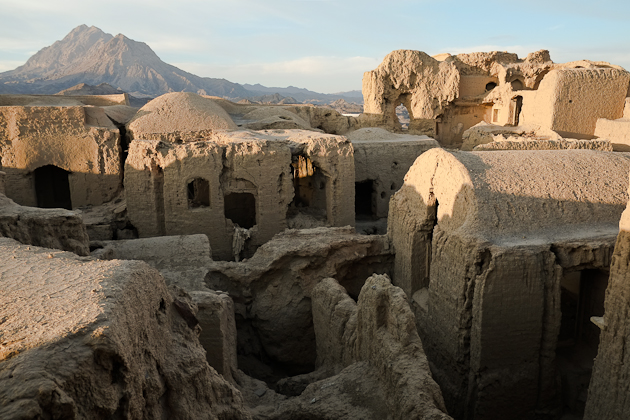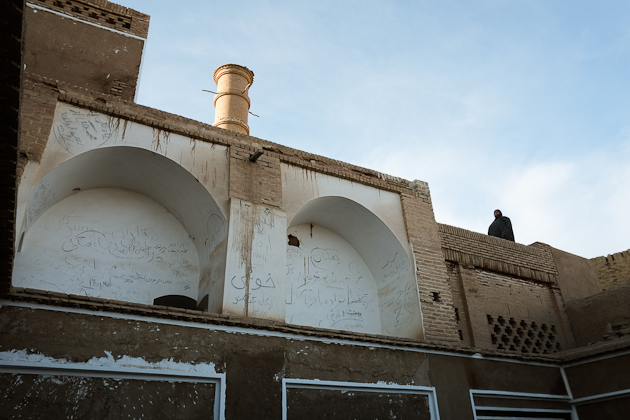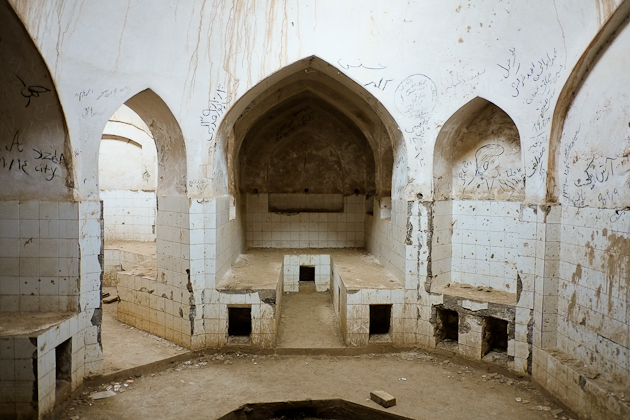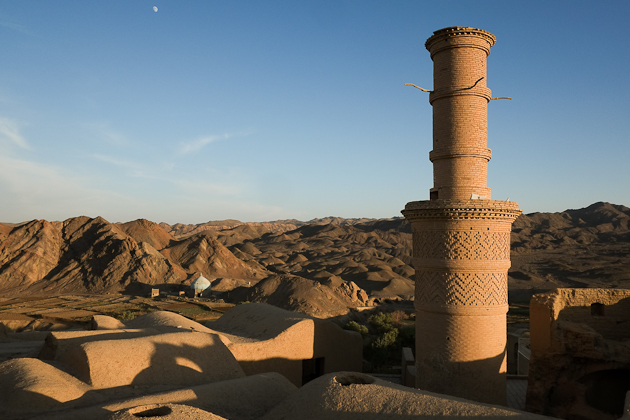 It is the most incredible village, and I have no doubt that Kharanaq will become a large tourist attraction one day. But for now, Kharanaq is raw, authentic, and in a state of beautiful decay. The mud brick roof tops, which I extensively explored, are cracking, shaky, and really, a bit dangerous. Some of the alleys have collapsed. Reports are that at least one tourist has fallen though  a roof. That first step is a doozy, indeed.
Exploring the multi-level hill side maze of Kharanaq has been one of my highlights of visiting Iran.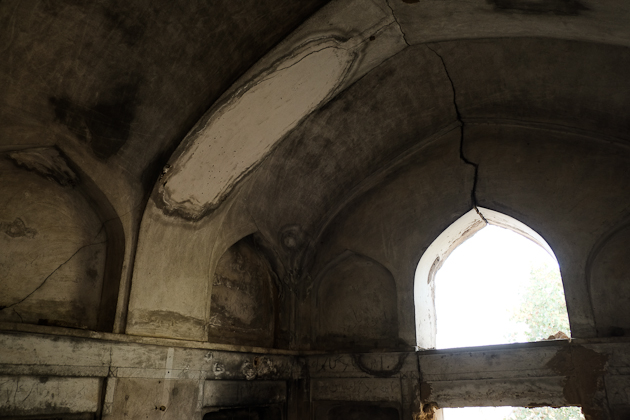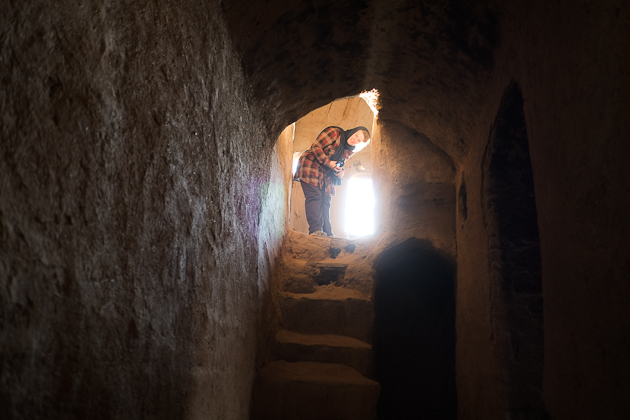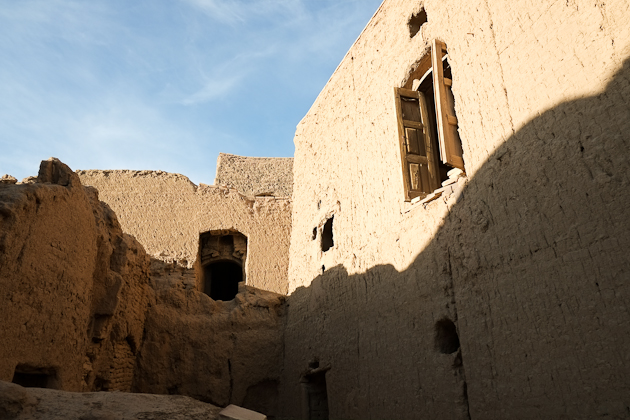 Getting to the Ancient Village of Kharanaq in Iran
Kharanaq is located near the city of Yazd, in central Iran. The easiest way is to ask your Yazd hotel or guest-house to arrange a taxi. It cost me 500,000 rial – about $14 US for the 160 km round trip. I asked three taxi's on the streets of Yazd to take me to Kharanaq, none were interested. Typically, it went like this: Kharanaq? Yes, can you take me there?. Kha-ran-aq? Yes. Haha. No. <taxi drives off>
I have a lot of catching up to do with my Iran posts, despite this being my most prolific month since starting Yomadic. I have been working on a "Street Photography in Iran" series – photos of strangers on the mean streets of Iran.
Stay tuned.
Nate.
BTW, I would love to send you the next dispatch, posted from some-where random around this planet (and you'll soon find out why YOMADIC email followers are my favourite followers):