Iran : Shah Cheragh – Rare Pics Inside Shia Mosque at Peak Prayer Hour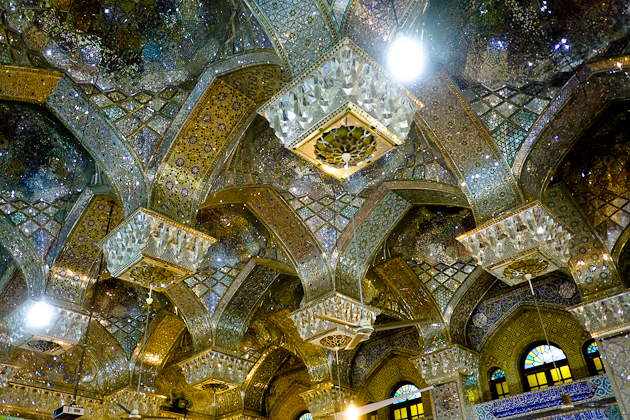 "Just stick to me, move quickly, and try not to step on anyone!" I had just left Phillipa outside Shah Cheragh, one of the holiest sites in the world of Shia Islam. When I say left outside, what I mean is, palmed her off to a group of older ladies. It was a whirlwind entrance to the Shah Cheragh in Shiraz, Iran. We had to get moving, as thousands of dedicated Muslims were streaming around us en masse, for the Friday evening prayers. It was barely organised chaos, and ancient Mosque doors were about to be shut tight.
As Phillipa was rapidly pulled away by strange women, who I hoped would look after her in this utterly confusing and foreign building, only a few more seconds passed before I completely lost sight of her. The thousands of women present were all dressed identically -now including Phillipa. There was no time to discuss rendezvous' points or times for later. Once we entered the Islamic Shah Cheragh, it would be a strictly gender separated affair. I wouldn't be able to see her, at all. She was gone.
Once again, our fate had been placed into the hands of random Iranian strangers we had recently met on the streets of Shiraz. I guarantee visiting Shah Cheragh on a Friday evening isn't on the Holiday-Hypermarket Prince-of-Persia-Iran-Package-Tour itinerary. Perhaps wisely so.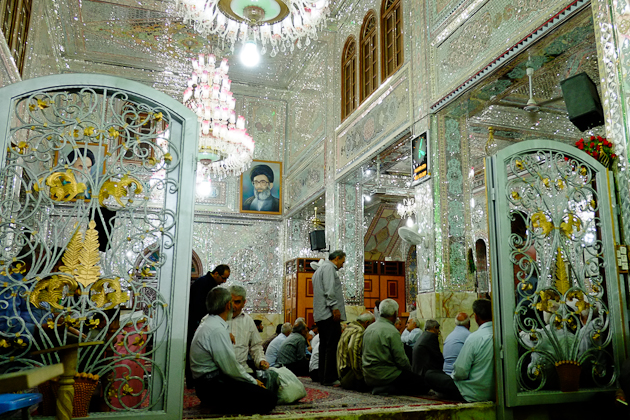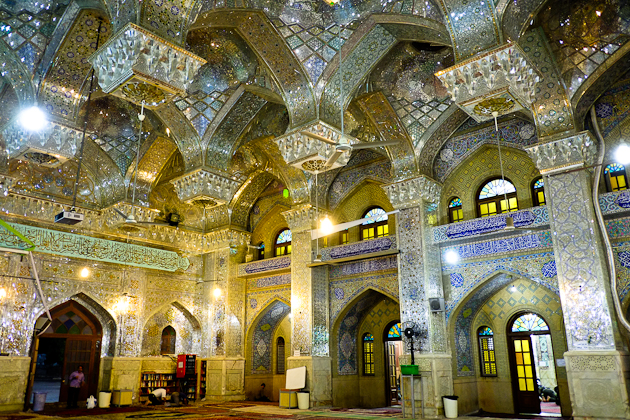 A few hours before, Mr Ali was hanging at the imposing historical central Shiraz citadel named the "Arg of Karim Khan". In another typical gesture of Shirazi hospitality, minutes after we began chatting Ali made an offer – "I can take you to a rooftop". Naturally, I couldn't refuse. Ali gave an impromptu multi-hour tour of local historical sites, ending up at the ridiculously ornate, some may say chintzy, Shah Cheragh – a 900 year old Mosque, Mausoleum, and historic pilgrimage site for Shia Mulsims. When I saw the glittering internal design, I felt relieved that  mind altering substances are thin on the ground here in Iran.
Shah Cheragh – Mirrored Mosaics Gone Buck Wild
Inside, there was a dense crowd of Muslim men, all kneeling and praying. Ali was a man about town. He knew that the timing was perfect for us to see the Shah Cheragh in full swing. We tip toed through the practising worshipers,  to the huge empty back section of Shah Cheragh. Ali knew I would be more interested in the architecture of Shah Cheragh, than the ceremony around us. So, we sat down in a peaceful (but glittery) location, took photos, and chatted.
Ali told me he never prayed, and never went to church. In Iran,an Islamic theocracy and republic, he was openly stating he was not of any religion, as he views Christians, Jews, and Muslims as "fundamentalists". He told me conscious was the most important thing in his life. We spoke about Karma, and about how whatever you give out in life, is what you get back in return.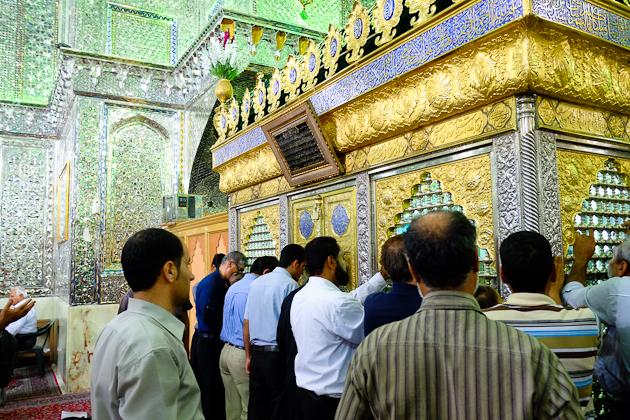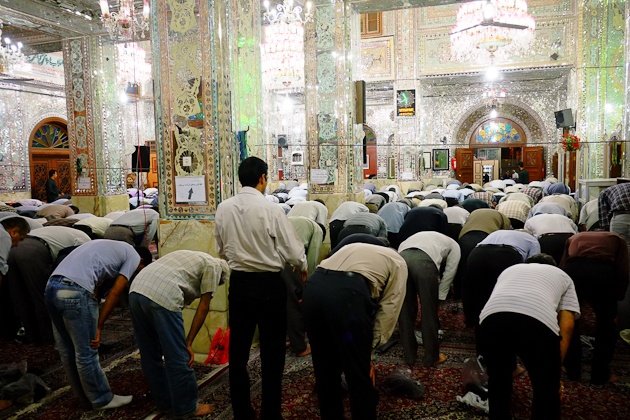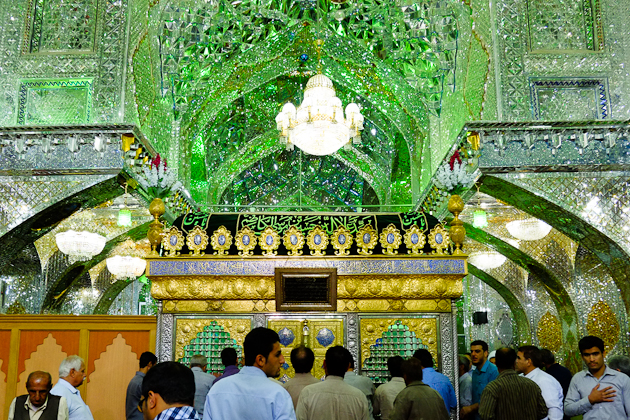 We chatted about travel, and about how things in Iran won't change for a very long time. This was a common thought with most Iranians I have spoken to. Although many people aren't happy with the way things are here, they don't see change coming any time soon. They're trapped in the tight grip of a system that is seemingly unbreakable. It was a relaxing, and engaging, chat.
About an hour later, outside Shah Cheragh, I found Phillipa. Looking quite flustered, sweaty, and disheveled, her first words were "do you have any water!"  followed by "the Chador smelled like piss!". Clearly, our time apart had produced different experiences. After donning a loaner chador (the typical full length cloak placed over the head), she had been proudly placed at the front of the thousands of female worshipers, and was told to kiss the huge golden Mausoleum, which, she dutifully did. "Kiss the cage" is now a new catch phrase of mine, whenever I want her to do something she's not interested in doing.
With gifts of candy, lots of hand squeezing and kisses, all the ladies had been very friendly and welcoming to her, as is the typical nature of Iranians. Phillipa told me when she was initially pushed and shoved inside the crowded mosque, the ladies realised she hadn't removed her shoes – so, they were quickly taken off, bagged up, and transported away by so many hands that she genuinely said goodbye to them, forever. Fortunately, they turned up safe and sound later. Not too many Iranian ladies are wearing Goretex trekking sneakers it seems.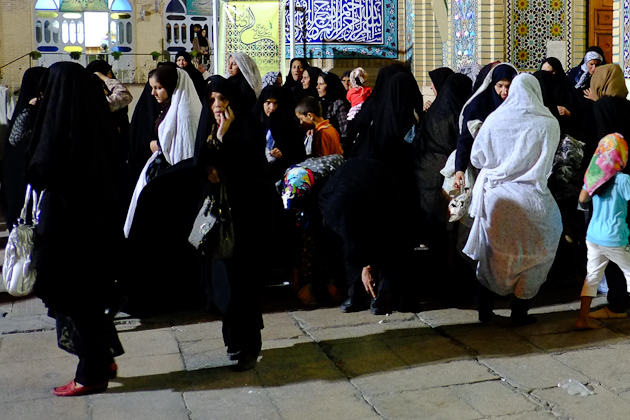 How to Get to Shah Cheragh – And Other Important Details
Shah Cheragh was initially built around 1130 AD, making this incredible building almost 900 years old. There have been plenty of renovations over the centuries, but Shah Cheragh remains one of the best showcases of both classical and contemporary Shiraz master craftsman.
Located near the centre of the sophisticated city of Shiraz in central Iran – Shah Cheragh is easy to get to. There is no entry fee. Remember, you must remove your shoes, and ladies, you must wear a Chador – these are freely available, but perhaps give yours the sniff-test before draping it over your head.
Nate
PS, I would love you to share this article, as I'm completely screwed when it comes to accessing social media here in Iran.
BTW, I would love to send you the next dispatch, posted from some-where random around this planet (and you'll soon find out why YOMADIC email followers are my favourite followers):