Kampung Baru, Kuala Lumpur – 1.4 Billion Dollars Not Enough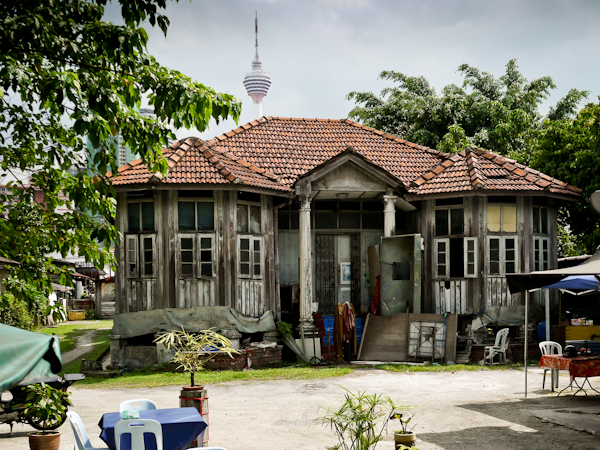 Kampung Baru, a 379 acre Malay enclave in the heart of the city of Kuala Lumpur, meets all of my life-partner-selection-criteria. Kampung Baru is rich, beautiful, and has huge… tracts of land (to paraphrase Monty Python). I can't marry an "enclave", but I can spend some time wandering the peaceful, leafy, village like streets of Kampung Baru. I suggest you do as well, before it disappears, forever.
Kampung Baru is a low-rise and peaceful anomaly within Kuala Lumpurs gleaming skyline.
Kampung means "village". With a population of approximately 35,000, and a location in the shadow of the Petronas twin towers (the tallest twin-tower skyscrapers on earth), the roads here are narrow, and the traffic is light. Wooden houses are constructed predominantly in traditional Malay style, and in starck contrast to the sea of modern skyscrapers surrounding Kampung Baru, the buildings here exude Malay authenticity. They could do with a lick of paint here and there, but this just adds to the charm.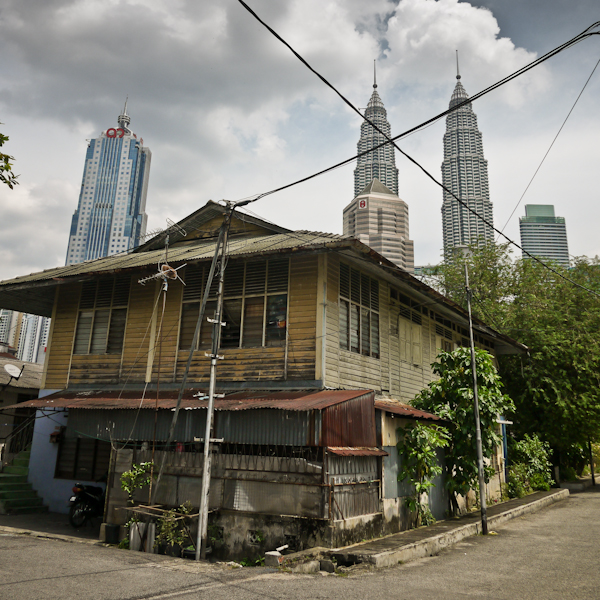 Already rich enough in spirit and lifestyle, the elders that are the guardians of Kampung Baru have turned away offers of 1.4 billion dollars for the area, insisting that the ethnic Malay lifestyle in the area is preserved. That's a lot of Ice Kacangs. Stacked on top of one another, 1.4 Billion dollars of famous Malaysian Pineapple Tarts would reach the moon, nineteen times over. If Kampung Baru was to be lost to the wrecking ball, the city center of Kuala Lumpur would lose one of the most unusual areas to be found in any modern city on earth. Simply, Kampung Baru is irreplaceable.
"We will never sell Kampung Baru. Never."
It really feels like you are in a remote Malayian village here. Open air wooden-shack restaurant. Dishes being washed in a huge bucket on the street. With Ice Kacang in hand, I chatted to the owner. There was no quivering in his belief, his family would never sell. Despite holding out for 110 years, I was told that powerful forces with huge sums of money are hell-bent on development of Kampung Baru. And, if the approximately 4300 owners of the area are splintered, Kampung Baru would rapidly transform into just another down-town area of a modern Asian city.  This genuinely is one of the last tradional Malay areas in Kuala Lumpur. Indeed, the land is a "Malay Reserve", and non-Malay's are currently prohibited from purchasing or leasing land in Kamping Baru.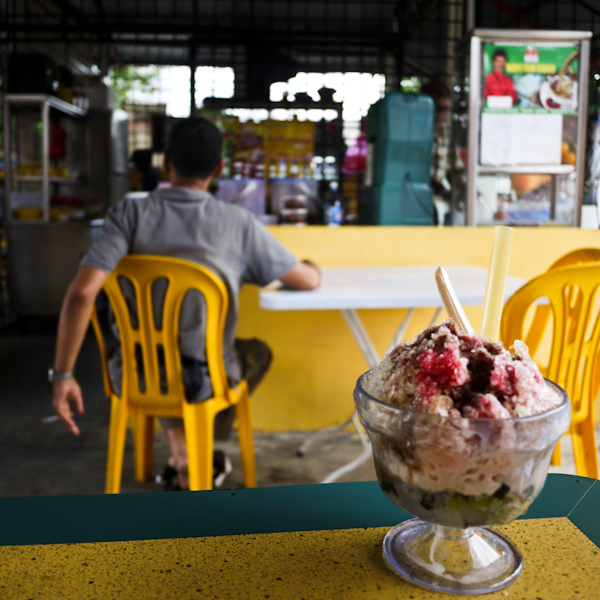 Emotive politics and money aside, no visit to Kuala Lumpur is complete without a stroll through Kampung Baru.
With incredibly easy accessibility, due to its prime location and extensive public transport options, it remains a lesser-visited part of Kuala Lumpur. Unusually, in the two or three hours I spent in Kuala Lumpur, eating, walking, and chatting with locals, I didn't see any other tourists. Locals stared and smiled, in a way that only happens in those areas where tourists are few. In Malaysia, and especially Kuala Lumpur, tourists are never few.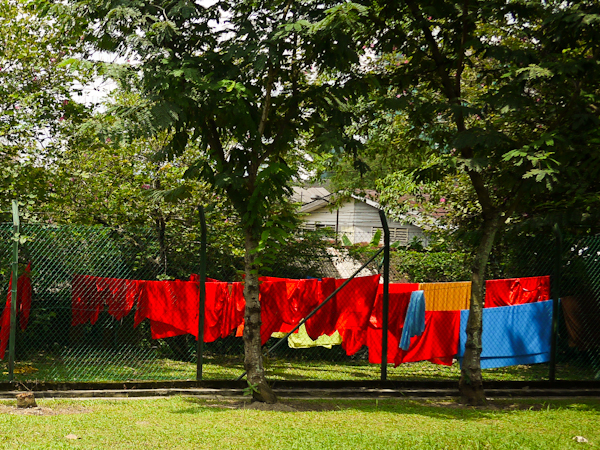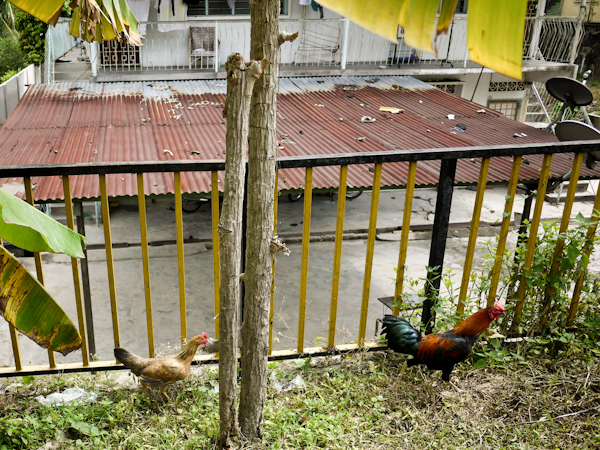 Food. Smiling people. The clash of a rustic street level, with a backdrop of ultra-new towers. There are many reasons to visit here. One reason to visit Kampung Baru – it may just not be there next time you are in Kuala Lumpur.
Money, especially large sums of money, has a way of making things happen.
Will Kampung Baru be any different?
My advice to the residents – you can decide for yourselves whether to sell or not. But, remember that what you have in Kampung Baru is absolutely, 100%, irreplaceable. Money can only buy a place like Kampung Baru, once. After that, it's gone forever.
That would be a sad day for Kuala Lumpur, and Malaysia, and the world.
Nate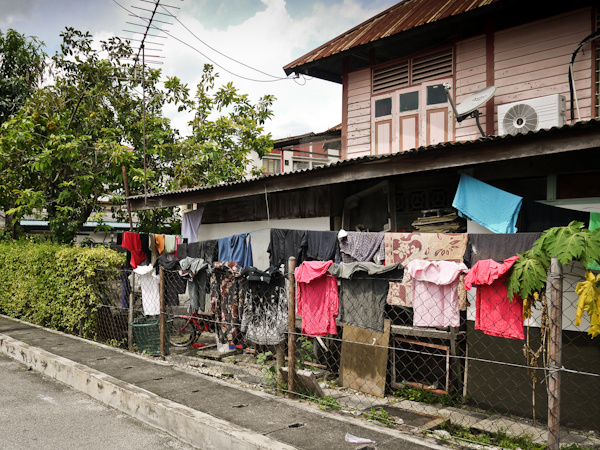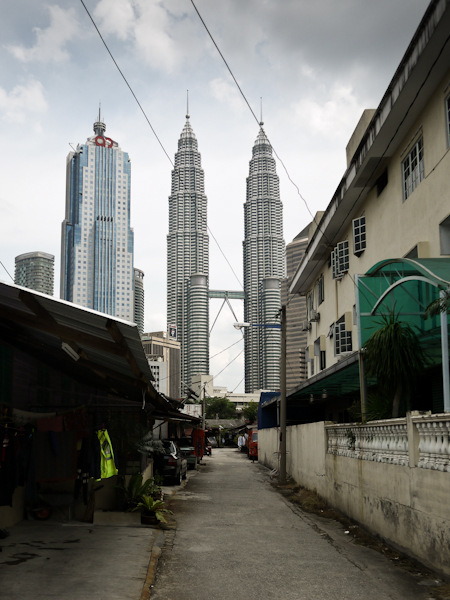 BTW, I would love to send you the next dispatch, posted from some-where random around this planet (and you'll soon find out why YOMADIC email followers are my favourite followers):