Ghost Towers of Bangkok – Abandoned Buildings – Photo Friday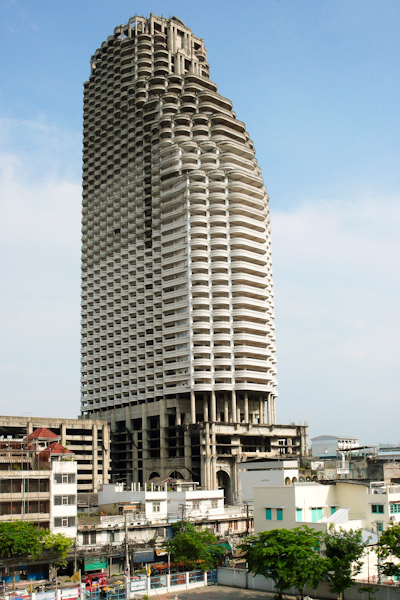 When you think of "adventure travel", do you imagine mountain climbing, crossing deserts, trekking through jungles, and things of that nature? Abandoned buildings, and skyscrapers in particular, can be just as adventurous, every bit as beautiful, and perhaps even more thought-provoking.
One of the many downsides is that this kind of exploration is illegal, and very dangerous. Definitely a demanding environment in every way, including photographically. In every major city on earth lie a vast number of abandoned buildings, but in Bangkok, the Asian Financial crisis of 1997 resulted in abandoned skyscrapers. Unfinished "ghost towers", often a tangle of rusted steel and cancer ridden concrete, can be seen in various neighbourhoods around Bangkok.
Older ruins like Angkor Wat, the Acropolis, the Great Wall of China, and Borobudur, are an incredible testament to by-gone era. However, it is the ruins of the 20th century that hold a special appeal to me. Industrial sites, hospitals, universities, stadiums, and more, have been abandoned, forgotten, and left to rot. Photographers the world over treasure these locations for the untouched layers of spectacular patina. Yet, despite being right under our noses, most abandoned buildings remain mysterious and off-limits.
I climbed to the top of this skyscraper. Bagged the summit, as the mountaineers say. Plus, bagged a few more while I was in Bangkok. Next week, I will have an article about tips and details on exploring these type of sites around the world. First tip: elevators don't work in abandoned buildings.
Nate.
PS, this Sunday, I will be travelling to Hong Kong.
PPS, UPDATE: more abandoned buildings, here.
BTW, I would love to send you the next dispatch, posted from some-where random around this planet (and you'll soon find out why YOMADIC email followers are my favourite followers):