Iran : Arrived in Tehran, One Way Ticket, No Visa – The First 24 Hours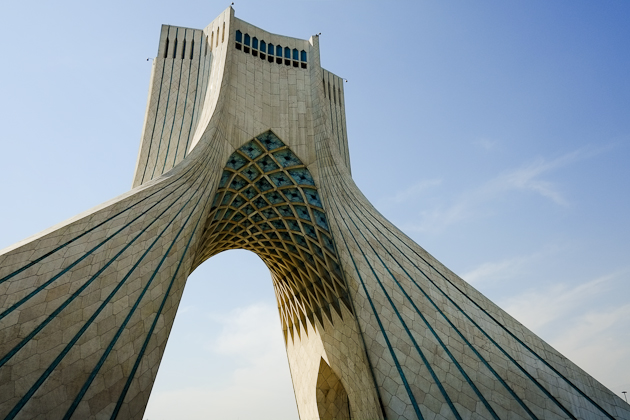 "And, when you worked at this art gallery, well, tell me about your job there?..Do you have photography on display? Are you an artist?" He was a tall man. A very tall man. As he peered down at me, I realised my voice was slightly warbling as I explained my "intentions in Iran".
No badge, no uniform, perfect English, and he was my personal gatekeeper to the Islamic Republic of Iran. Behind him, a scarf adorned Phillipa sat quietly waiting. But, he only wanted to speak to me. She was wearing an large bagging tunic to hide any "shape", and my eye caught a sparkle of a diamante from her scarf-clip. I looked across – her face was as expressionless as my struggling voice.
This was intense. An hour ago, I was on the most sociable flight of my life. The scarf clip was a gift from a friendly passenger we met on-board. Now, I awaited another "gift". An Iranian tourist Visa. I explained that gallery job – the last real job I had – was all about selling paintings and sculpture  and no, no, no – definitely not photography, and that my intention was to travel around the spectacular country of Iran for two weeks, before exiting via bus to Armenia. The second I mentioned bus, and Armenia, I received an OK from the gatekeeper. Then, another hour later, I received an Iranian tourist Visa.
We were in.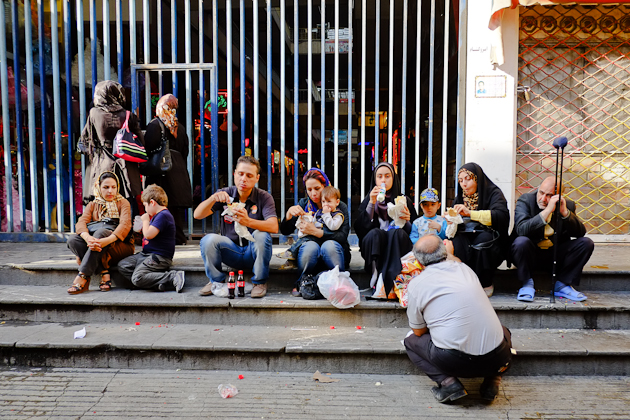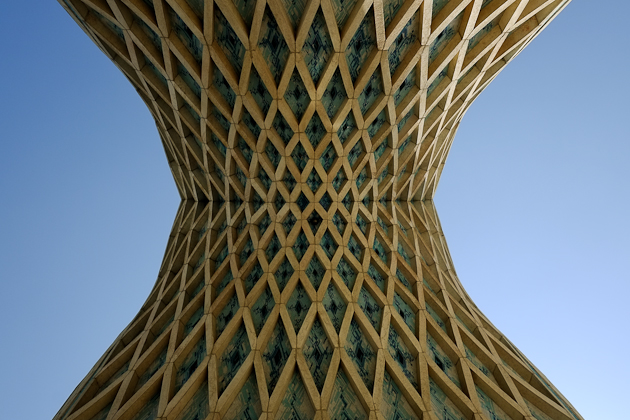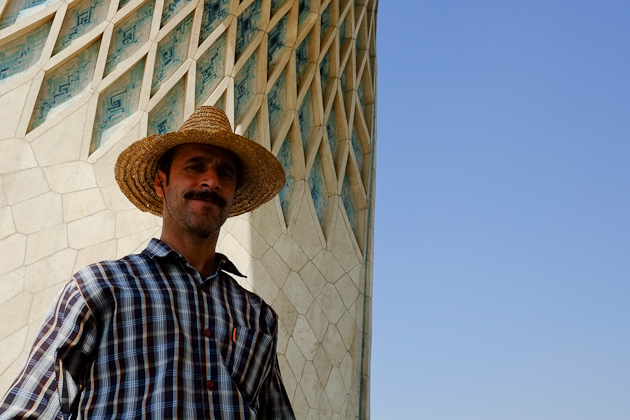 Being allowed to board the flight in Kuala Lumpur was a struggle. A one way ticket into Iran, with no pre-arranged tourist Visa, no "Letter of invitation", no evidence of onwards travel – this was not the done thing. Some say this is pure stupidity. I call it cutting edge 21st century tourism.
Only a combination of scant research, little regard for convention, and a spontaneous life full of good fortune (to date) could have led me to this moment in time. Yes. Incredibly, I'm in Iran. A country I have wanted to visit for a long while – and despite currency collapse, signs of hyper-inflation, and tear gas deploying riot squads on the streets of Tehran as recently as yesterday – now seemed as good a time as any to visit this mysterious theocracy.
The first twenty four hours in Tehran have been amazing. This country *is* different from anywhere I have visited. I've already had small but poignant insights to a people I have instantly fallen for. My kind of people. A people facing such stressful times at a national and international level, that they don't have the time nor inclination to sweat the small stuff. Incredibly welcoming and generous people, very interested in talking to independent tourists – of which there are very, very few. There is a level of calm, happiness, and personal contentedness that just can't be described, only experienced.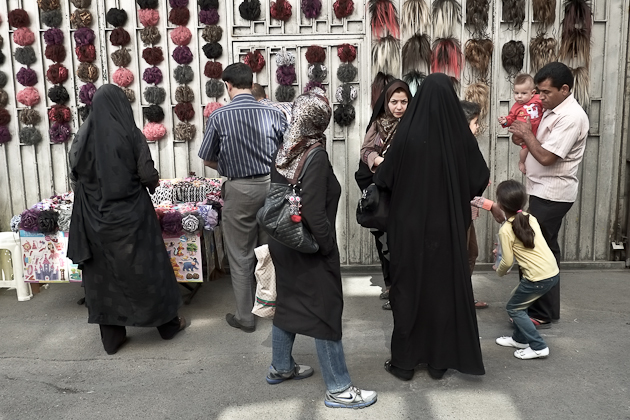 Getting here, the AirAsia flight was like being back in High School, together with all your friends, headed off to camp. It was noisy, rambunctious, and rules were being broken. At one point, moments after a Jersey Shore look-a-like passenger was scolded for sneakily helping himself to a second dinner from the cart, a message came over the speakers, stating that someone had been smoking in the toilet and the alarm had been triggered. I was standing up chatting to my new friend Amir, and lots of laughter ensued as three or four flight attendants tried in vain to get suspect to hand over his passport.
People broke out in song as this was happening. "It's kind of like the Iran national anthem" Amir told me. "Kind of". A few isles behind, a group argument broke out between passengers. Something about a wife. It got heated, and a couple of ladies in the row behind me moved away. In vain, the "seatbelts on" light was switched on, and duly ignored by the many groups congregating throughout the plane. A flight attendant walked past, throwing her hands in the air, saying "oh, I give up, just do what you want".
Another lady prepared some home made rolls and offered me one, as the man in front passed me a piece of pistachio slice. All the while, other ladies were writing down their phone number and address, saying to come and stay at their house in North Tehran. I like these people. Very much.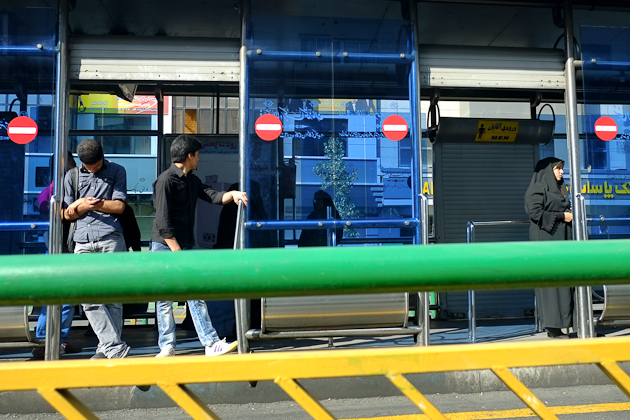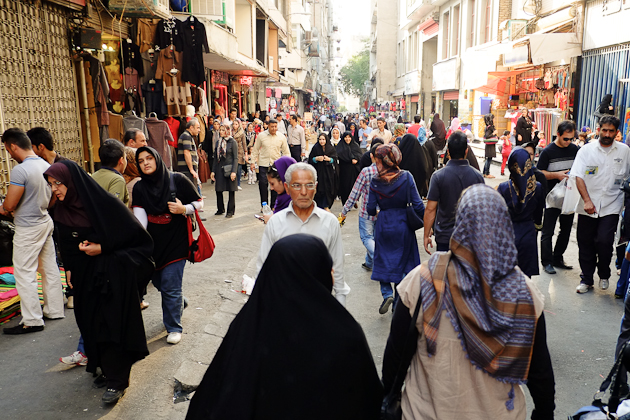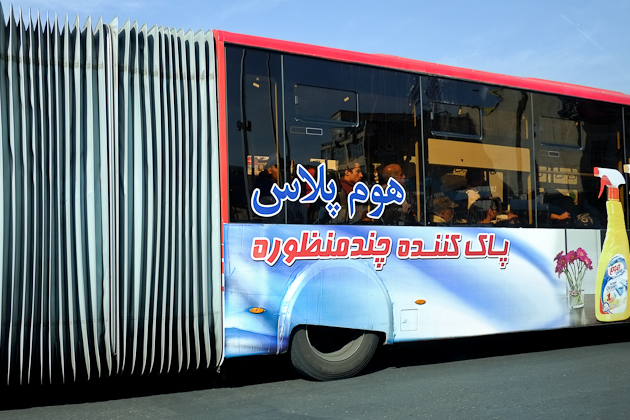 I'm taking things slowly here. With photography, with dress code, and especially with Phillipa's dress code – there are certain rules we both need to abide by. I am a guest of Iran, as I am in any foreign country – and I accept the laws of the nation. I want to let things sink in, and I want to learn more before I mention anything even remotely political.
At this point, I will say there is clearly a gap between the government and the people. But, that gap exists in many, if not all, nations. Who ever heard of a nation where people have nothing but nice things to say about the people in power? It may be more complex than that – the point being, Iran is not so different from the country you live in.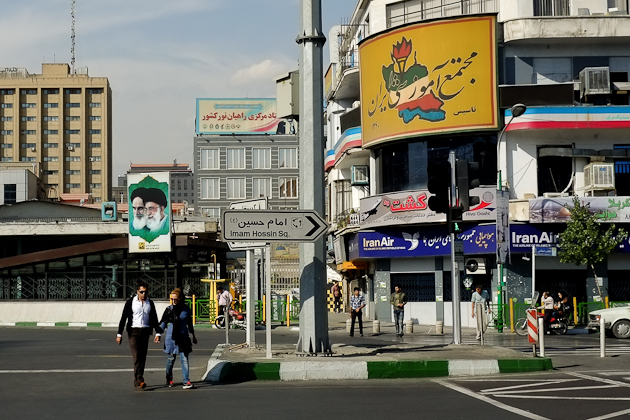 click to see an interactive map showing the location of this article
The photos here are from the first 24 hours in Tehran. My plan is to explore the country, after spending a few days here in the big smoke. Although, I once had this plan of exploring the USA for three months, but I ended up staying within a 2 mile radius of Venice Beach the whole time. So, anything could happen.
Now isn't the time for planning, pontaneity will continue to reign supreme, so stick around, and we'll both find out how this turns out.
Nate
PS, update from the future… if you are thinking of visiting Iran, good news – in 2014 this started happening.
BTW, I would love to send you the next dispatch, posted from some-where random around this planet (and you'll soon find out why YOMADIC email followers are my favourite followers):