Iran : Tehran Grand Bazaar, Largest Mall on the Planet, Age Unknown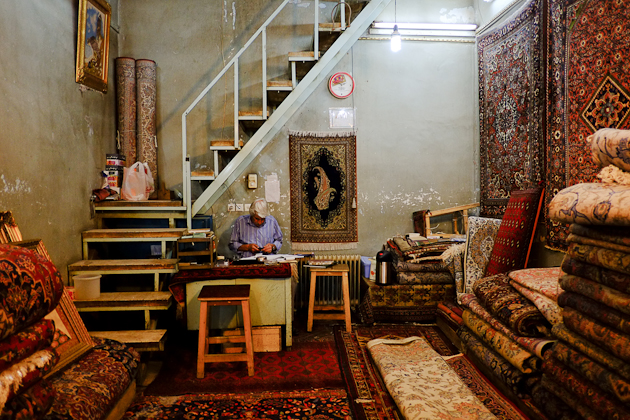 Iran : Tehran Grand Bazaar, Largest Mall on the Planet, Age Unknown.
I'd been given that same style of shrug before. By an Indian man, in Kuala Lumpur. Every time I ordered from his restaurant, no matter what I chose, he shrugged his shoulders as if to say "Is that it? Well, I guess that's OK. If you must. Whatever." Tonight in Iran, I got the shrug again. I know it's a cultural barrier – my interpretation is almost certainly wrong. People indicating "whatever" don't follow up with a genuine smile.
The evenings are cool in Tehran, the climate here reminds me of the Mediterranean climate back home in Perth. Hot days, cooler nights. I was wandering around my new 'hood around Ferdowsi Steet, looking for coffee. Easier said than done in a nation of tea drinkers.
Truth be told, what I stumbled across appeared like the sort of place intelligentsia would meet and discuss matters of philosophy, politics, and the ills of the world. A mysterious basement entrance, with dim red neon sign-writing spelling out Persian words that meant something to the locals, but not to me. I had to check it out.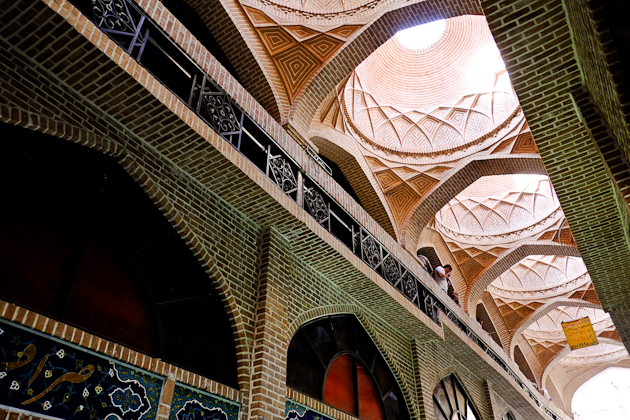 The scene was dark, relaxed, with a chilled-out vibe. In screened-off areas, people were just hanging out smoking large water pipes and drinking tea. I guessed this was an Iranian tea house, but every question I had was fruitless – the language barrier was too great to overcome.
Phillipa and I kicked our shoes off, sat down on our own screened off day bed replete with vintage Persian rugs and cushions, and made like locals – as best we could. They didn't serve coffee, but it didn't matter. We were given a pot of tea on a silver tray, with a plate of candy, some biscuits, and a couple of lolly-pops. Then I received a shrug, followed by a welcoming smile.
It was perfect. My feet desperately needed the rest. Earlier today, I had spent hours walking through the Tehran Grand Bazaar. At twenty square kilometers in size, with two hundred thousand vendors, and I was told up to two million visitors in a single day, the Grand Bazaar is the largest market of it's type anywhere on Earth.
A local provided an impromptu guided tour, as he went about his business. As he pointed down one alley inside the immense complex I stared as it snaked off into the distance, and heard him say "this alley alone goes for 2 or 3 kilometres, with 20,000 shops".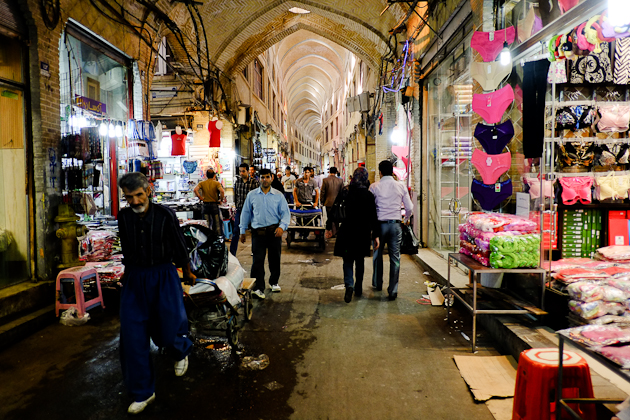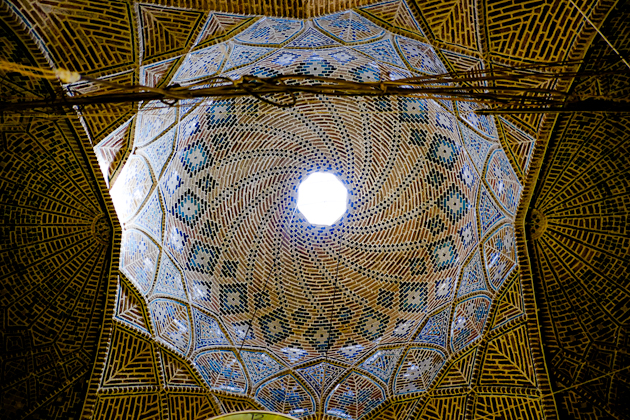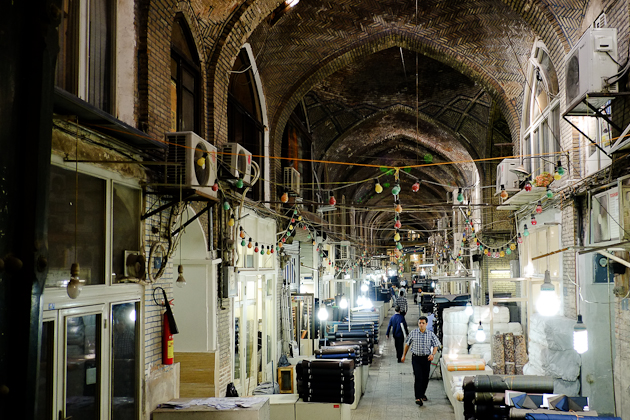 Described best as a city within a city, the location of the Tehran Grand Bazaar is known to have been an area of trade for more than a thousand years, although the oldest walls and buildings are only around 400 years of age. Nobody seems to know exactly when the Grand Bazaar first opened. Considering the area around Tehran has been settled for around eight thousand years, the Grand Bazaar, as it appears today, is a relative new-kid-on-the-block.
click to see an interactive map showing the location of this article
Apart from commerce, the Bazaar has a history of being a focal point for the support of political movements in Iran – including the revolutionary Imam Khomeini. With protests taking place here just a few days ago, today I witnessed armed (and armoured) riot squad police outside one of the entrances, with groups of government security guards sporadically appearing in the immense labyrinth of corridors within. Clearly, the power-base was not in the mood for another protest.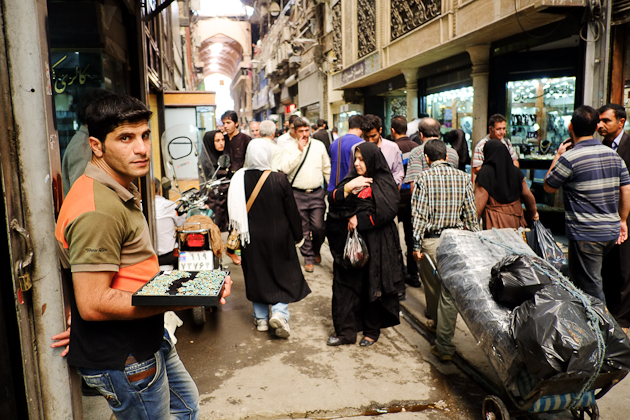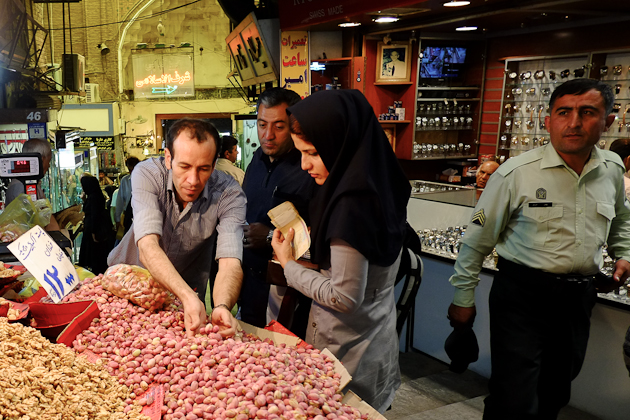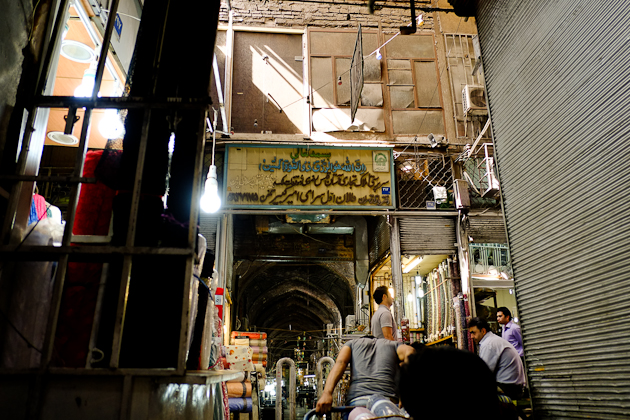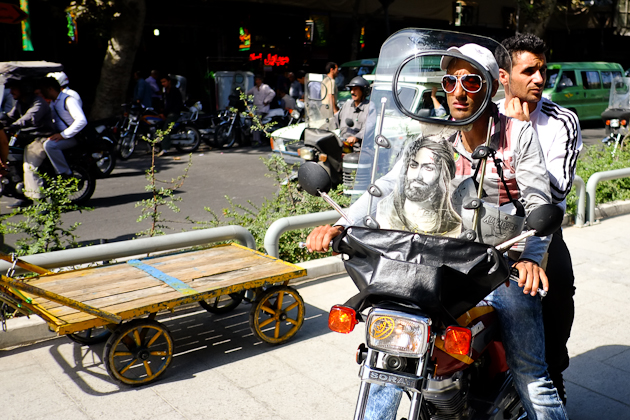 In any case, the show of force was at least slightly intimidating – especially as an independent camera-toting foreign tourist. I was definitely clicking the shutter with somewhat less than reckless abandon. But today in Tehran, all was well. It was business as usual at the Grand Bazaar, and no signs of anything other than what appeared to be perfectly normal, if somewhat chaotic, capital city human activities.
It's incredible being in a country with such an amazingly rich history. For thousands of years, people in this area have been doing pretty much the same things. Buying, selling, eating, drinking, working, and socialising.
Today, it was my turn to contribute to life in the Tehran Grand Bazaar.
Nate.
PS, thinking of visiting Iran? In 2014, this started happening (it's good).
BTW, I would love to send you the next dispatch, posted from some-where random around this planet (and you'll soon find out why YOMADIC email followers are my favourite followers):