Iran : Kashan Bazaar – Rooftop Urban Exploration, Naked Chicks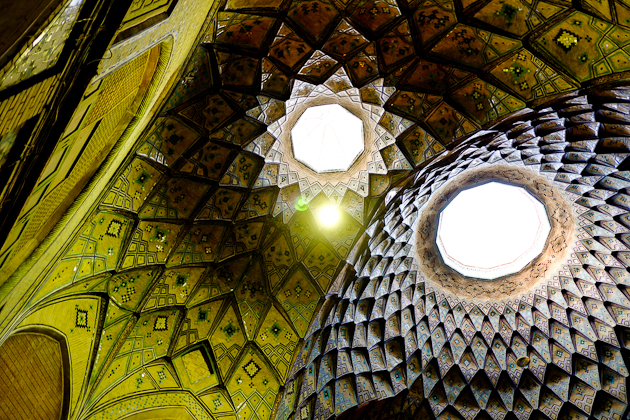 "Yes, yes on the roof. But first, Chai!". Between myself, Phillipa, and the New Zealand couple we had met earlier today, it would be only a small exaggeration to say we must have had fifty cups of Iranian tea, waiting for our "gatekeeper". I was told that the view from atop the roof of the thousand-year-old Kashan Bazaar in central Iran, is simply inspirational. So, I was willing to wait.
We weren't entirely sure what was happening, as I discussed the possibly of getting roof access to Kashan Bazaar with Mahmoud – the relatively eccentric tea-house owner. He seemed to be saying yes, we could get to the roof. But as with other occasions I've experienced during my overseas holidays, the language barrier was fairly significant.
A curiously growing crowd of chai-drinking locals also seemed a little confused – why would these foreigners want to get onto the roof of our bazaar? Making the "I want to take a photo" sign, was probably not the wisest idea. Country Kashan is a little more conservative than big city Tehran. Who knows what the locals would think of strange foreigners clambering all over the roof, taking photos?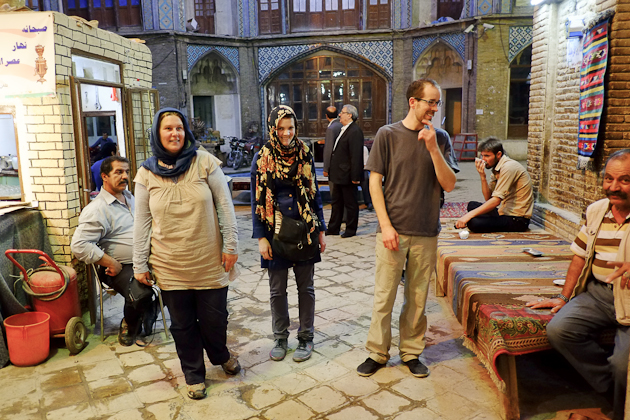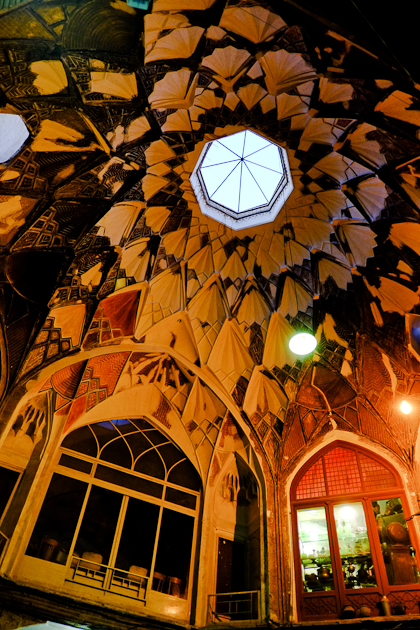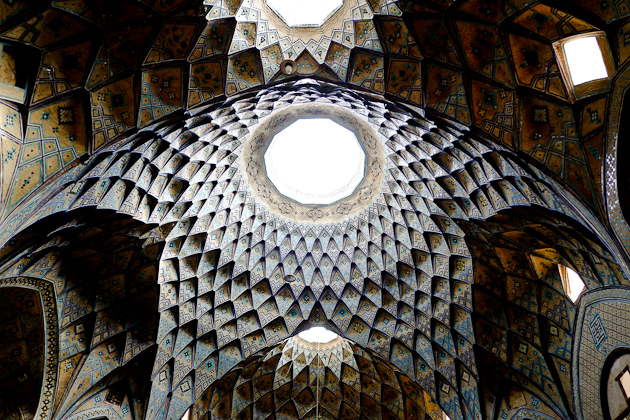 So, we waited. And drank Tea. Then, another guy took us to a 300 year old bath-house within the Kashan Bazaar, passed down from generation to generation, now converted into an incredible Tea House. "This is the sauna, it was powered by manure". We drank a few more cups of Chai, feasted on dates and biscuits, and remarked how it's not every day you get to drink tea inside a 300 year old bath house, located in the depths of a 1000 year old Iranian bazaar.
Returning to Mahmoud, to see if roof access was now possible, he greeted us with a loud "Chai? You want Chai?". When Phillipa replied "no chai, we've just had several cups at the old bath-house, it was delicious, thanks, but no, no chai". Mahmoud interpreted that as "Yes! More Chai!". We sat down with the Kashan carpet vendors, and drank some more Chai.
OK, let's cut a long, chai-filled story short. By the time we made it to the roof, it was dark, and not a very inspiring view at all. It would have been dangerous to explore any further than a few metres from the steps.
However…now I knew about the location of the steps, tucked behind an old door in a fairly disused part of the Kashan Bazaar.
I knew how to get back onto the roof, should I desire.
That gave me an idea.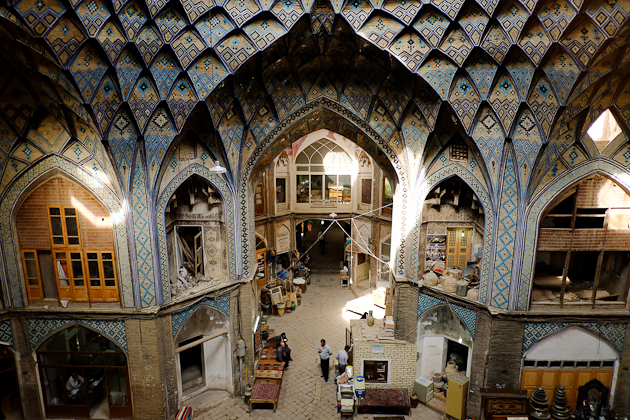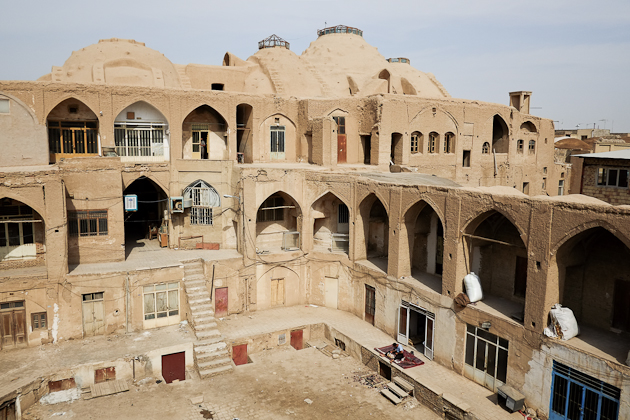 I'm trying really hard not to push my luck on my holiday here in Iran. Really hard. But, now I was armed with the knowledge of how to get onto the roof of the Kashan Bazaar. Sans-gatekeeper. The new plan was – let's return in the morning, and just head up onto the roof by ourselves.
Which, we duly did. And, it truly was inspiring.
The photos show it all. The view from the Kashan Bazaar roof was dare I say it, inspirational – whether looking out over the city, or looking down through the light portals at the comings and goings below. Mahmoud and his customers stood oblivious, drinking Chai, as has been done in this very spot for centuries. I've zoomed in on the photos – not once did anybody look up and see the face of a camera-toting foreigner looking down at them. I imagine that would have been quite a bemusing sight.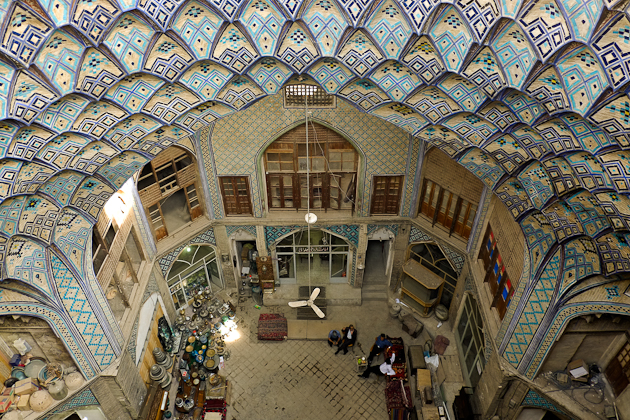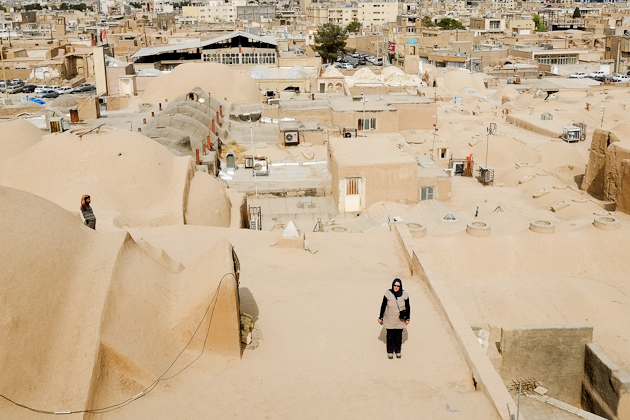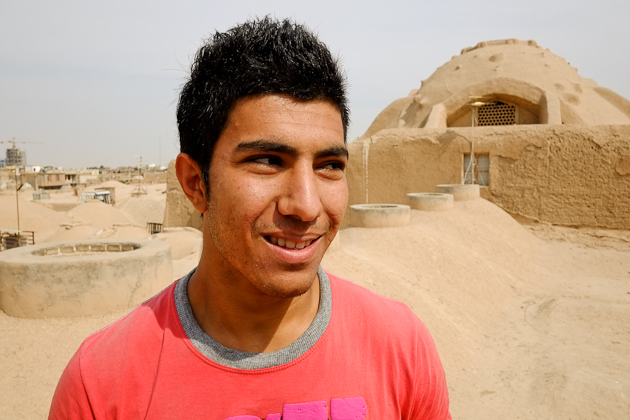 Eventually, more and more people noticed us crawling around the roof. Not the people from below, it was the various roof-dwellers. You see, it's not just a roof – it's a functional part of the Kashan Bazaar, with outdoor service areas, entrances to offices, and a place for workers to just chill.
It got a little heated in more ways than one up there. At one point, a young dude who had befriended us was translating the rants of an older man, who had taken a keen interest in us foreign types. "He says the police will catch you. He says you must go down. He says, you must pay him money. I say to you, don't pay that man. So, Mr, can you tell me about Bondi Beach? The women are naked at Bondi Beach? I'm a <censored>. I was born in Iran. " 
I got some cool shots, hung out and chatted for a while, and then we all slipped back below into the alleys of the Kashan Bazaar.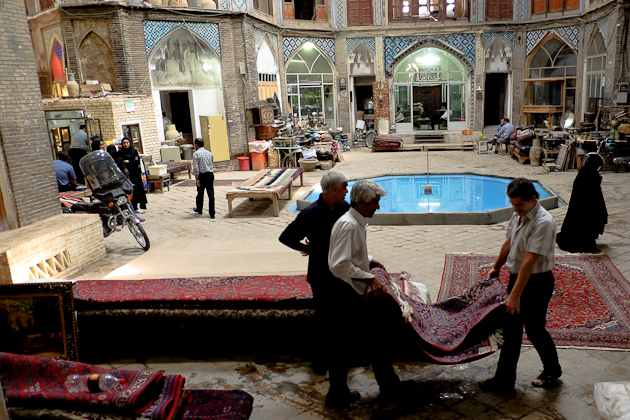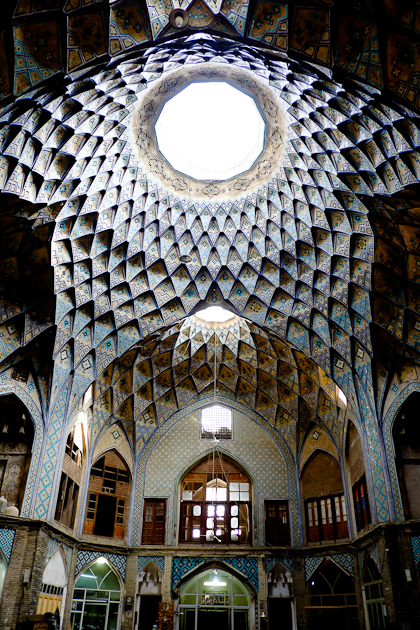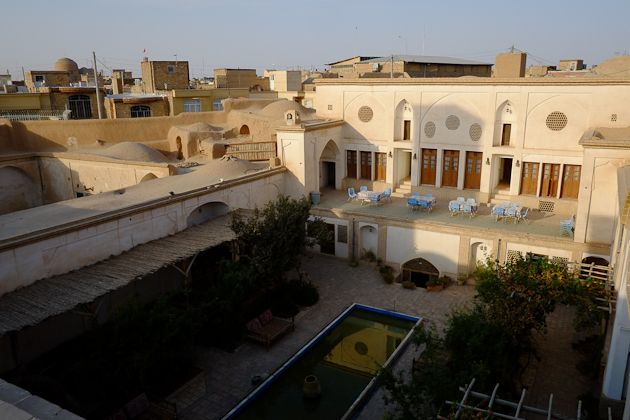 click to see an interactive map showing the location of this article
Kashan Bazaar – The Travel Details You Need To Know
Kashan is an easy city to get to, being just a few hours on a bus from Tehran or Esfahan (also known as Isfahan). No bookings are required, the buses are very regular. I paid 50,000 rial (about US $1.60) for a comfortable air-con bus ride from Tehran, including free snacks and chilled water or orange juice from the on-board fridge.
In Kashan, I stayed at the Ehsan Guest House Hotel (photo above, no, they're not paying me). Located within a short walk of the Bazaar, and the famous historical houses of Kashan, this location can't be beat. A traditional restored and renovated Kashan house, with large, simply furnished rooms with vaulted ceilings.
The tip is, room number 4 may just be the best in the house. It includes two rooms, five beds, air con, opening doors to the patio to capture the cool breezes. I paid 700,000 rial (about $23 US). WiFi was included – usable, but a little slow. Breakfast was also included, and delicious Iranian meals are available if you require them, for very reasonable prices. Note: Room prices will vary by season.
Nate
PS, have you checked out my other Iran articles? Tehran Bazaar, the ancient desert village of Abyaneh, and Iran Visa information.

BTW, I would love to send you the next dispatch, posted from some-where random around this planet (and you'll soon find out why YOMADIC email followers are my favourite followers):