Life In The Shadows of the Pyramids : Filthy Back-Streets of Giza, Egypt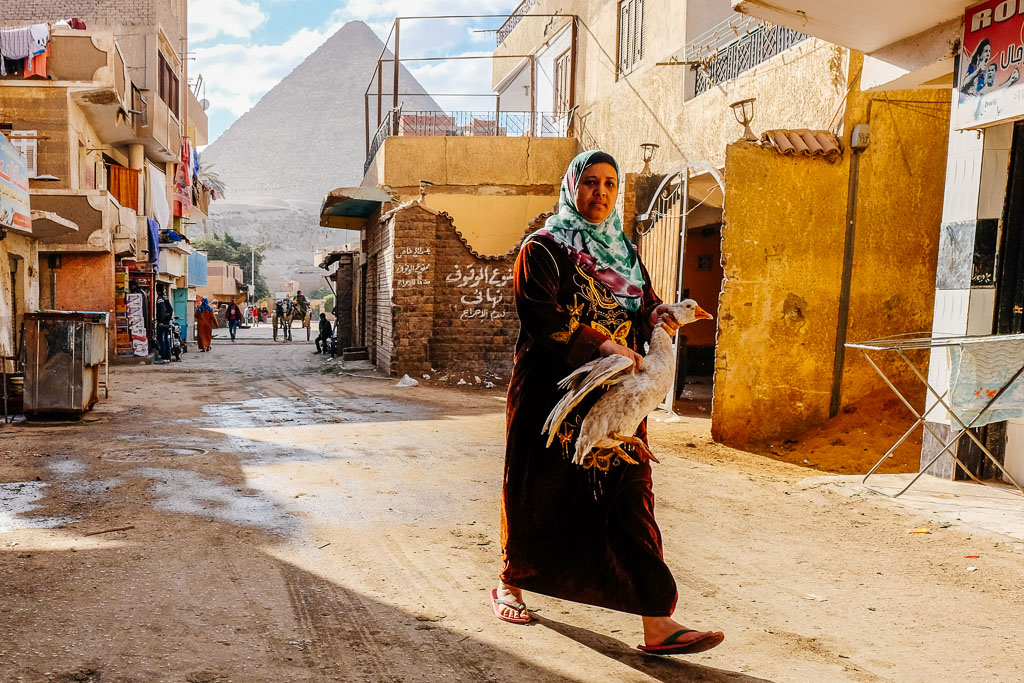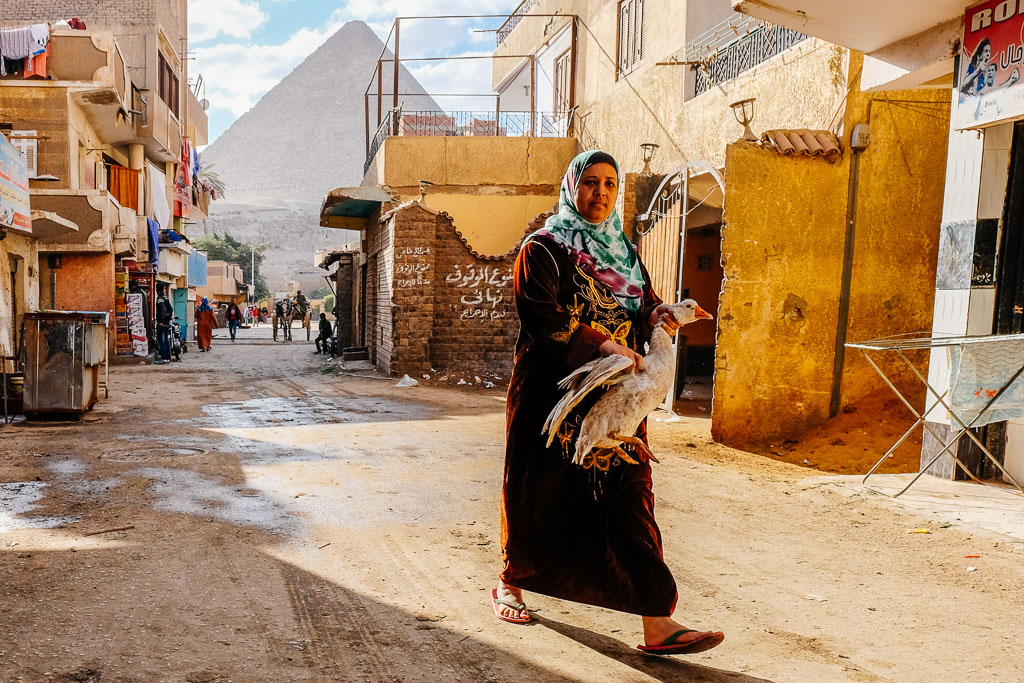 Everyone knows the basic back-story of the Pyramids. Constructed with the assistance of an advanced, unknown, alien race, it's generally accepted the Great Pyramid in Giza was completed around four-and-a-half thousand years ago. However, some scientists and prominent Egyptologists have analysed weathering patterns on the structure, concluding an age of at least ten-thousand years. Hmm.
Weighing thirty times the mass of the Empire State Building, supposedly built using techniques and timings that would be impossible to replicate using an army of modern-day construction workers, power-tools and cranes, the ancient Great Pyramid displays sacred geometry, mathematical precision, and astrological considerations, remaining beyond the grasp of even 21st-Century human engineering and technology. Hmmmm.
It's clear, the Giza pyramid complex, just one of a coincidental world-wide network of matching and aligning ancient pyramidal structures, independently built by assorted cultures who never discovered each-others existence, using nothing more than crude copper tools, wooden planks, and wet string – is obviously our visual link to a lost human civilization. A sophisticated, ancient, civilization, still unknown to "modern" humanity.
This is hardly surprising, as outside of a small tourist enclave within meters of the entrance of the well studied Pyramid Complex – the present day city of Giza also remains unexplored and undiscovered.
My three day stop in Egypt was part of an attempt to "fast travel". After travelling for 1,992 days with little planning nor time limits, I decided to try and visit seven countries on three continents within one week. I felt like I needed to be a "normal" tourist for a change, and Egypt seemed like the perfect place. I failed in most regards, but managed to visit six countries on three continents in eight days – Iran, United Arab Emirates, Lebanon, Egypt, Tunisia, and Italy.
For sure, the highlight of the week was Giza. An uncommon blend of the entire world in one small location, I wasn't expecting to enjoy Egypt, or more precisely Giza, as much as I did. This was the best short-vacation I've ever had.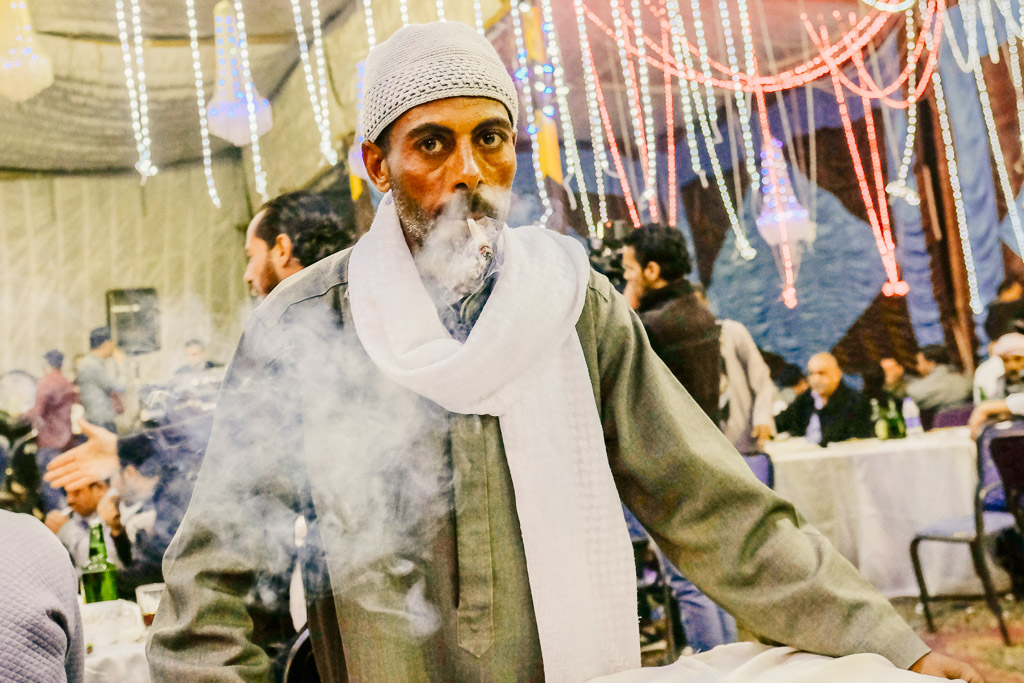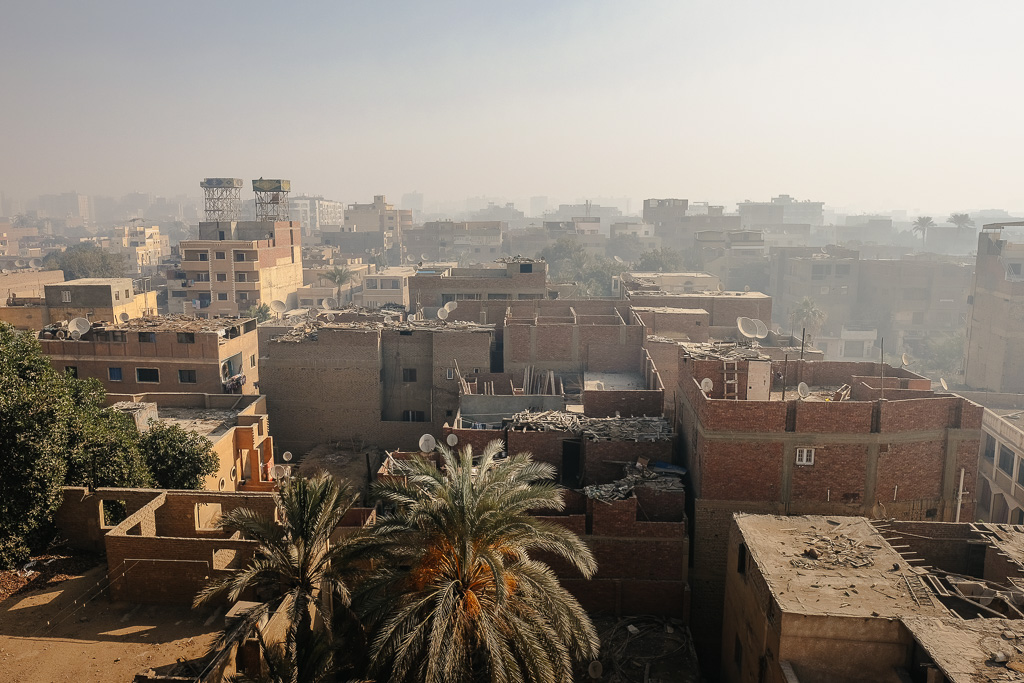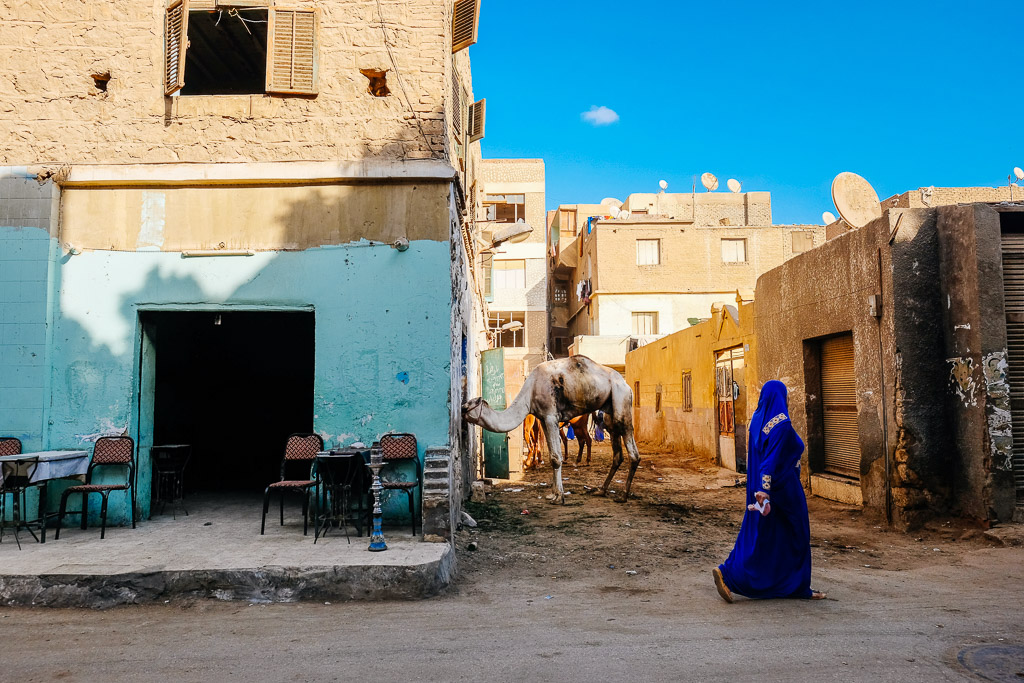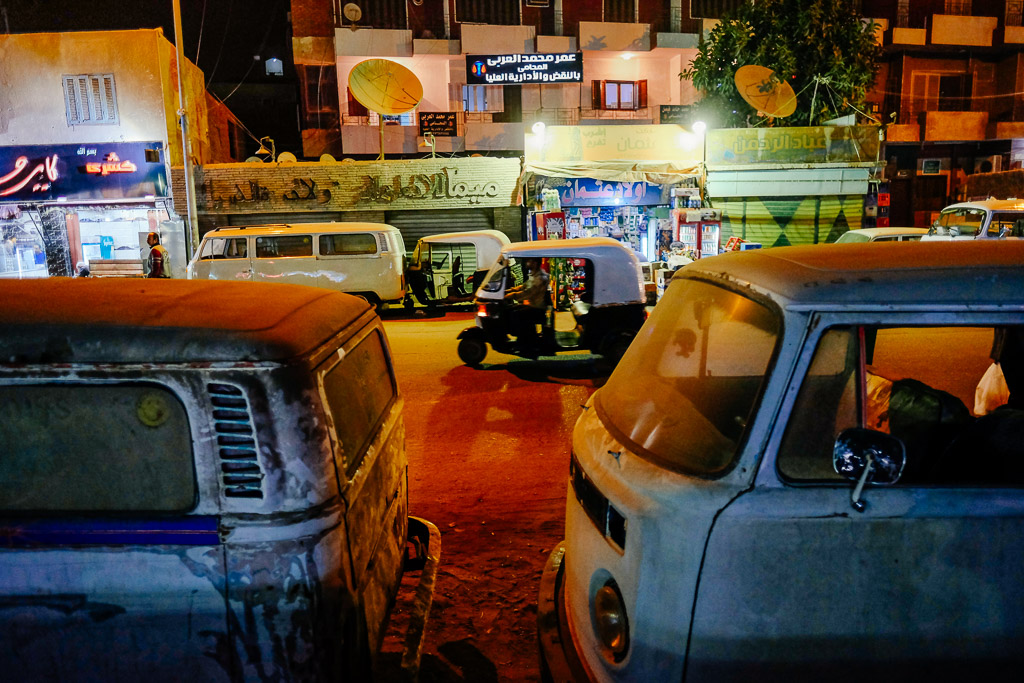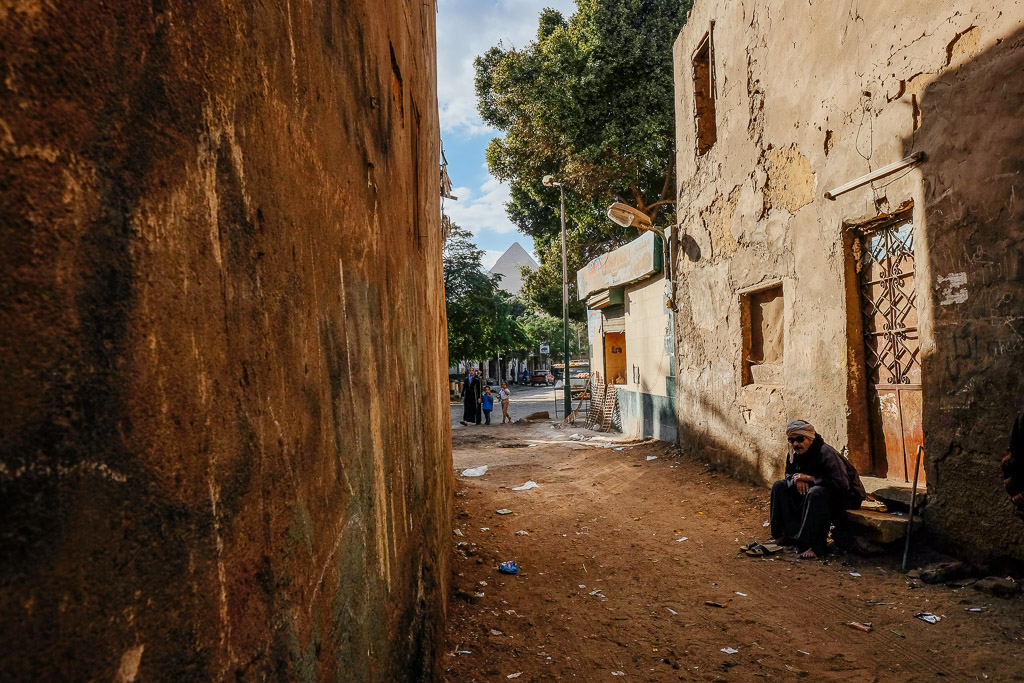 Deciding to visit Egypt these days requires some philosophical pragmatism. For sure, it was a roll of the dice. Just three days before I arrived in Giza, the most deadly terrorist attack in the history of Egypt was unfolding. Approximately forty gunmen used machine guns and rocket-propelled grenades to murder over three-hundred people, who were gathered for prayer at Al-Rawda Mosque in North Sinai. Being just a small village, the casualties were especially heartbreaking – twenty-two percent of the male population died on that day.
When I heard the grim report, I needed to remain realistic about the risks to tourists. Logically, to have been in any danger related to the attack, you would have needed to be in Egypt, on the Sinai peninsular, in the North Sinai Governate, visiting the second-level subdivision of Bir al-Abed, taking a short journey to the village of Al-Rawda, and visiting the mosque, on Friday the 24th November, at around 2pm. Apart from that, you're all good. I think. Further research was required to answer the pertinent question – is Egypt really safe for tourists?
Recently, through 2011 – 2015, Egypt, and especially Cairo, suffered through years of bloody social unrest and political upheaval. Thousands of people lost their lives during this period, on occasion, more than five hundred civilians were killed in a single day. These are truly frightening numbers. However, as a tourist, you would not have been at risk- unless you decided to take part in a revolutionary riot, or, an anniversary celebration of a revolutionary riot. As a precautionary measure, I decided I would stay clear of any revolutionary riots.
Nonetheless, there have been other fairly recent "incidents" where being a tourist in Egypt wasn't so good, including the Russian Metrojet airliner that exploded in October 2015, after departure from former Egyptian tourist-hotspot Sharm El-Sheik, killing all 224 passengers and crew, mostly tourists. Also in 2015, eight Mexican tourists were mistakenly shot and killed – by Egyptian government forces – whilst on safari. Fairly recently, a suicide bomber killed a couple of South Korean tourists, and etc, etc, etc.
Summary – hell no, Egypt is not safe for tourists.
But, let's look at some facts. More tourists have been killed by road and transportation incidents in Egypt, than by the actions of terrorists. Most probably. I didn't actually verify this fact. In any case, if you're legitimately ochophobic (a fear of automobiles), amaxophobic (fear of riding in a car), hedophobic (fear of travelling by road), or gephyrophic (a fear of all types of bridges in general) – visiting Egypt really isn't for you.
For everyone else, visiting Egypt is probably fine. I guess. Unless you're sophophobic.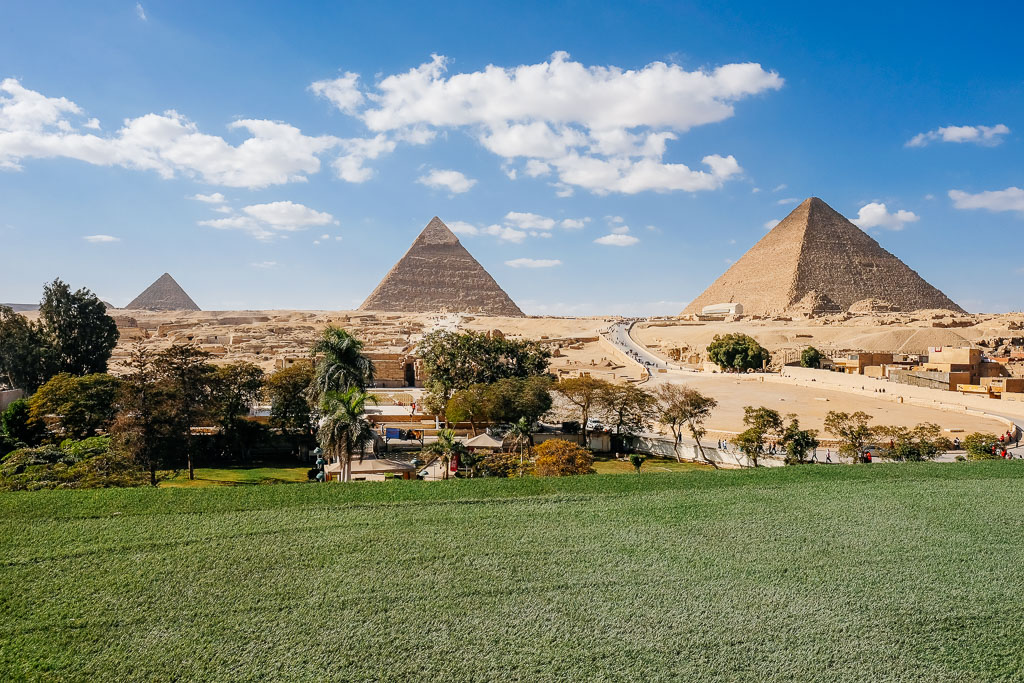 Within Giza, there's a small "tourist district". It's shabby, and has few tourists. The streets are literally smeared with shit. Animals are constantly being whipped. At night, I saw three horses, a handful of dogs, and about half-a-dozen cats all hanging out in a huge pile of rubbish, on the main street that enters this "tourist" part of Giza. A herd of goats were living in rubble on top of an abandoned building next to my hotel. This cemented my decision to extend my booking, and spend the entire three days exclusively in this neighbourhood. And, that decision was made before being invited to an Egyptian "Hash Wedding", on night one.
Walking around the tourist-enclave, there is some annoyance with touts. Nothing too serious or intrusive – camel rides, invitations to restaurants, daily tours, buy a crappy magnet, but really, the majority of locals seem to have pretty much given up on the tourist dollar and only half-heartedly tried to hawk anything. However, around one hundred meters away, past the twenty-four hour machine-gun guards and the roadblock into Giza proper, the touts completely disappear and it's entirely another world.
Earlier in the evening, driving in from the airport, I'd taken note of a visually "interesting" part of town, and guessed it couldn't be more than a twenty-minute walk away. As we approached the heavily armed guards, who stand in the middle of the street and examine every vehicle that enters the area, a local actually called out "no, go back, there's nothing more for you to see down that way". We carried on, walking down a dark, polluted street, in a country I had almost no idea about at all. When we arrived in the general area, I started taking photos.
Immediately, a local man came walking towards me.
"Hey! What are you doing? Why are you taking photos? What are you taking a photo of? Hey!"
The air pollution was thick, the light from the street lamps was barely able to penetrate and reach the ground. The whole area felt kind of seedy. Traffic was noisy, and it was kind of busy, but strangely isolating. Almost every car, van, bus, and Tuk Tuk had at least one light missing or malfunctioning, and at least one body dent. Apart from this one guy walking towards me, nobody had even looked in our direction. It was too dark to read his face.
I decided to call out and ask him a few questions, instead of answering his.
"What are you doing? Why are you sitting in the middle of the street? Huh?"
As it turns out, Muhammad, Muhammad, and Muhammad, are all long-term friends. They were drinking coffee, and smoking cigarettes, settled in for the evening on small plastic chairs around a barely standing small plastic table, in the middle of a raised traffic island covered with dirt, inbetween a six-lane highway, pretty much in the dark. We joined them, and sat down for a coffee.
Within half an hour, Muhammad and Muhammad had invited Phillipa and me to a wedding. Tonight, now. We jumped into the back of a Tuk-Tuk, and drove about twenty minutes down a chaotic highway. I noticed a Volkswagen van, with no headlights, driving backwards as fast as we were heading forwards, just before we turned onto an even darker, dustier, unpaved road, where we were intermittently being chased by stray dogs.
Egyptian weddings are multi-day celebrations. Actually, I'm not 100% sure if that's true, I'm recalling what I think I was told. In any case, tonight was the "men's party". We arrived at a large tent, with perhaps two hundred men sitting around tables. It was smokier inside than the dusty and polluted atmosphere outside. On the stage, a band was playing loudly and relentlessly, in the style of up-tempo-crazy. Decorations only consisted of multi-coloured Christmas-y lighting and LED chandeliers.
Within moments of sitting down at a spare table, a fresh table-cloth was laid out. A couple of Muhammad's friends joined us. Then, hashish and rolling papers were placed on our table, by a man who was circling from table to table doing the same. Beer arrived. A small team of Burqa-clad women provided a bowl of fruit, and sprinkled salty sun-flower seeds over the table. There was some kind of discussion about whether to pay them.
I've spent a lot of time in Amsterdam, and some time at Jonno's house in Perth, and I've never seen this level of hashish smoking, ever, anywhere. Rounded to the closest percentage, approximately one-hundred percent of the two-hundred or so Egyptian men in the tent were all smoking drugs like it was going out of fashion. Phillipa asked me if I noticed the needles being provided to the next table.
Phillipa was the only female guest. The only foreign female. The only blonde female, and the only person not totally stoned out of their freakin' minds. Well, I'd heard stories about how foreign blonde females are treated in Egypt. And on this night, there were less than five females in the entire tent – and they were all wearing Burqa's, moving from table to table and sprinkling sunflower seeds.
Yada yada yada, the next day, we explored the Giza Pyramid Complex.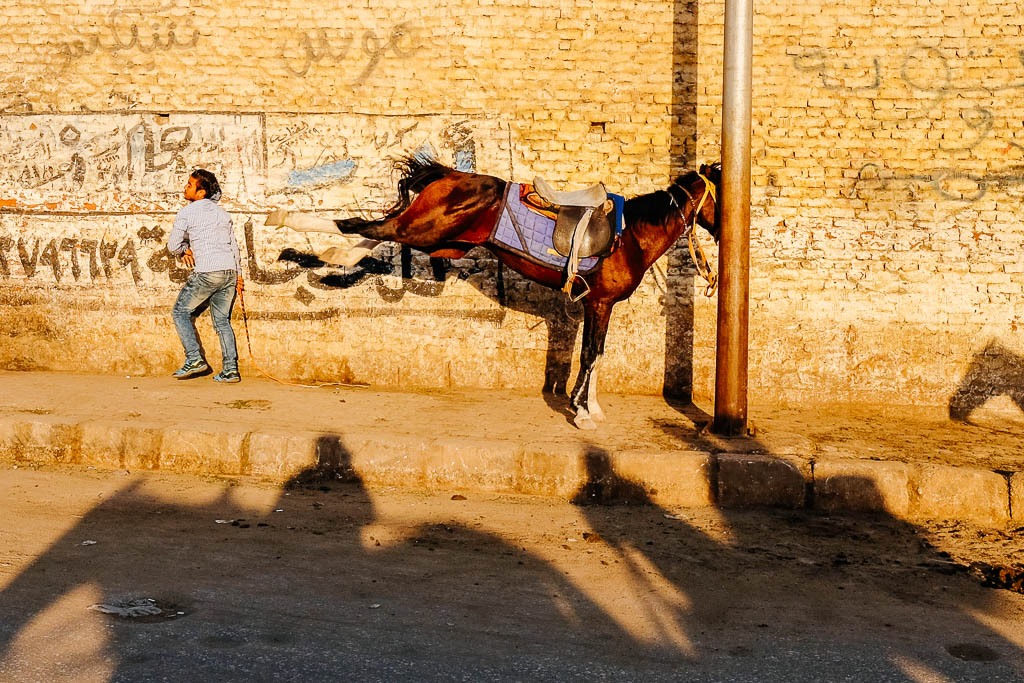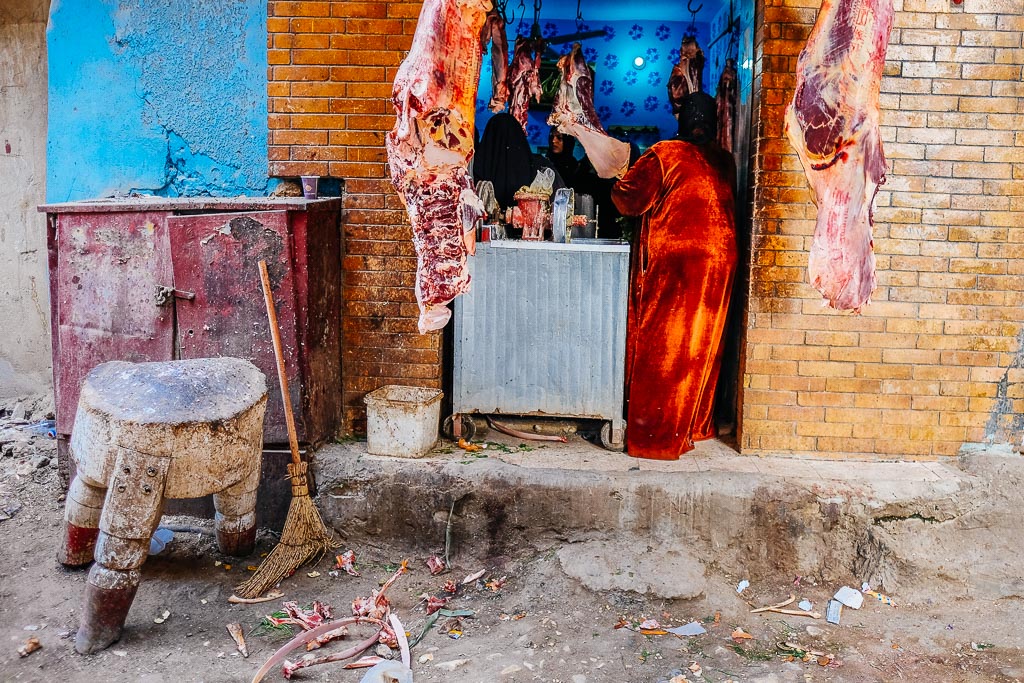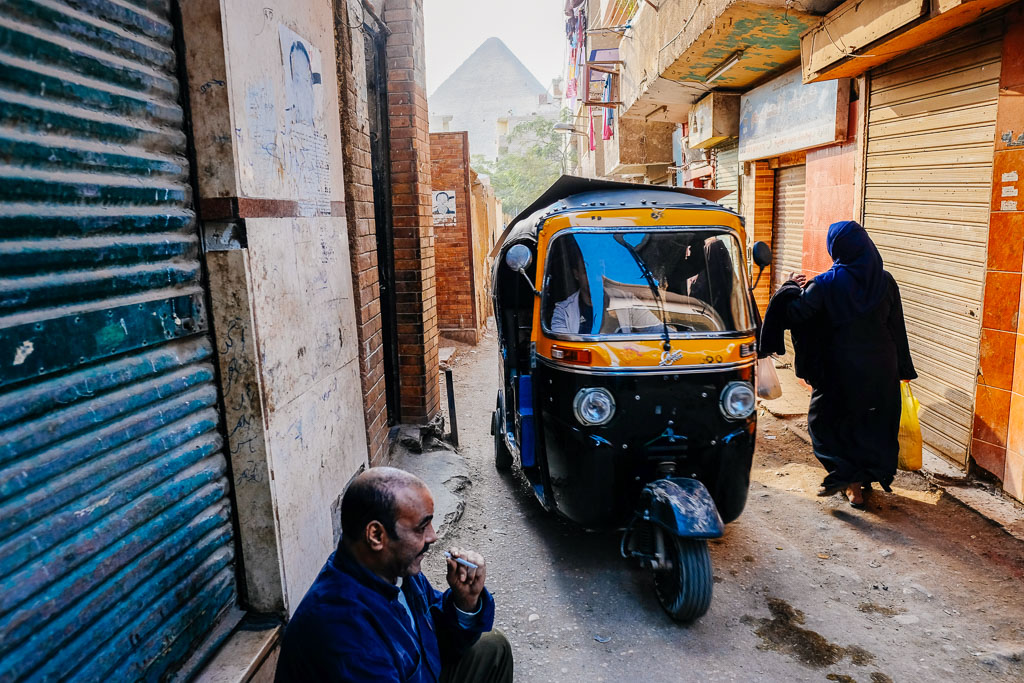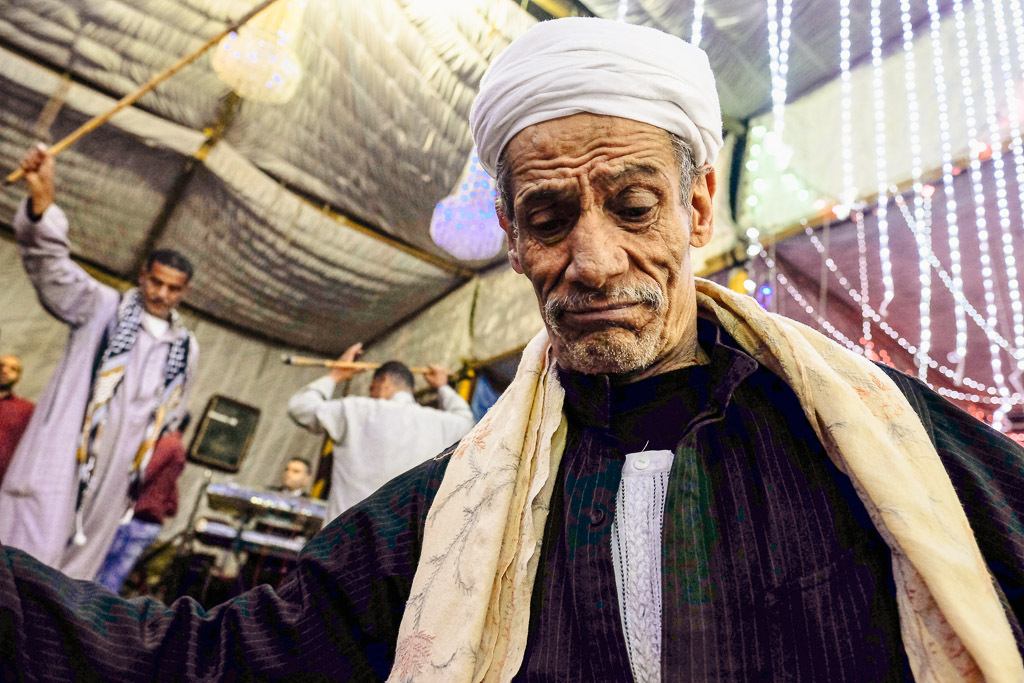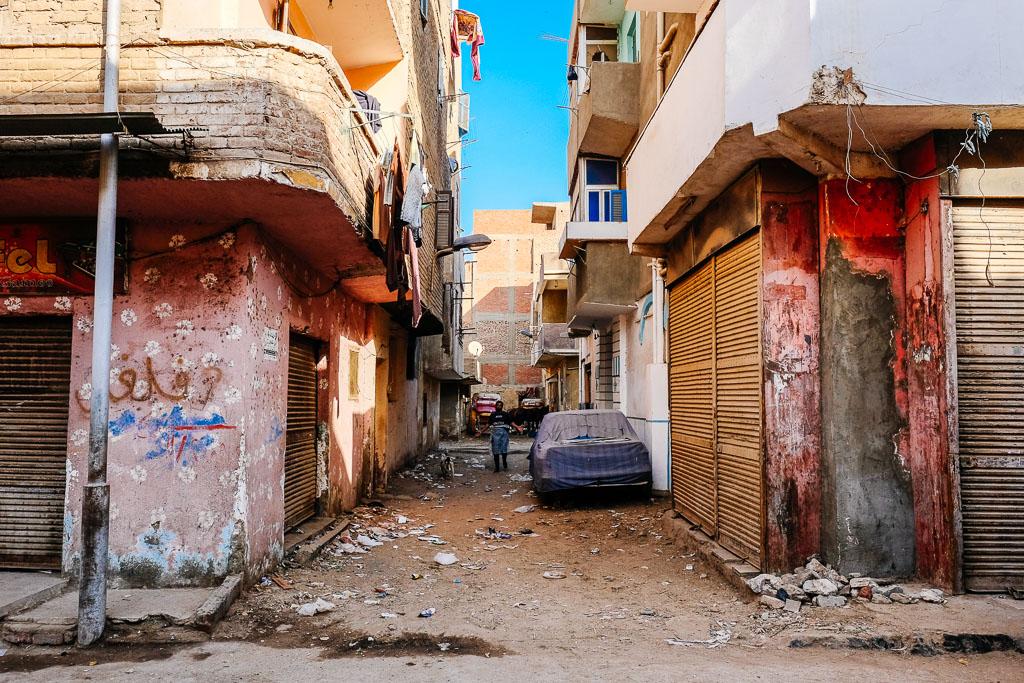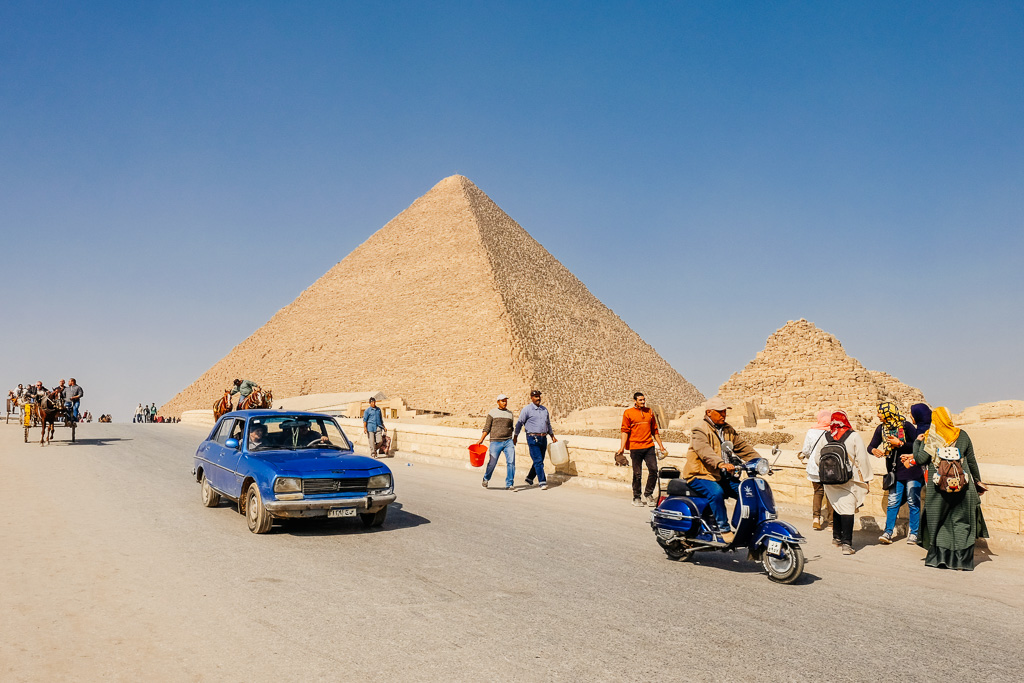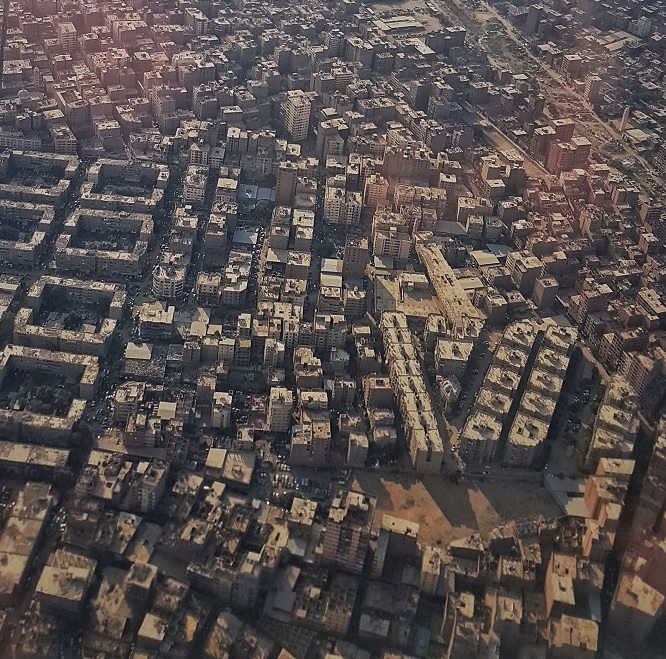 click to see an interactive map showing the location of this article
The Pyramids are really, well, great. I'm sure people have written about them before. Just as interesting, are the surrounding back streets of Giza. Lively, dirty, and supremely welcoming. We were invited, twice, to checkout of our hotel and stay at someone's home. Stopping for a coffee would inevitably mean a local insisting on paying for us. I'm pretty certain I got a special deal on a falafel. In the neighbourhood just a two-minute walk from the entrance to the pyramids, during the three days I was there, I saw absolutely zero tourists. I can't wait to return, and spend a little longer next time.
I have no idea what it's like in the rest of the Cairo metro area, or anywhere else in Egypt.
Nate
PS, welcome to 2018, I hope you have a really great year. I want to say – I feel extremely appreciative of the people that follow Yomadic, it genuinely means a lot to me. Over the last few years, I've met over one-hundred people that have been following my life journey, and been in contact with hundreds more. This is something I never expected would happen. For those I haven't met in person, I hope one day we can enjoy a drink together, somewhere on this small planet…
PPS, the Yomadic Iran Untour commencing on April 2nd (this year) has two final seats available. Contact me for a special last-minute discount, the seat has your name on it… (btw, Americans welcome, visa no problem)
BTW, I would love to send you the next dispatch, posted from some-where random around this planet (and you'll soon find out why YOMADIC email followers are my favourite followers):