How to Easily Visit Seven Countries on Three Continents in Seven Days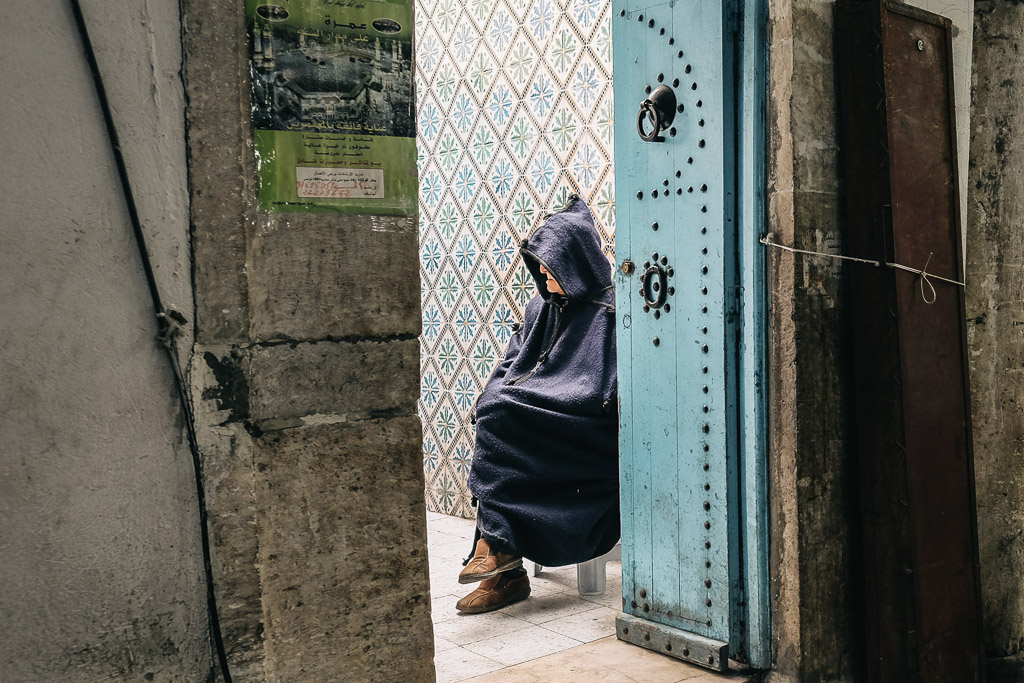 Just over two-thousand days ago, I packed a thirty-five litre backpack and began my current journey. I've been travelling, and living out of a bag, every single day since July 30th, 2012. Between seasonal wandering, these days I'm occasionally working – navigating curious travellers around the radioactive Chernobyl Exclusion Zone in Ukraine, and, mostly, Iran. I enjoy this "work" immensely.
Indeed, much can be said for a two-week holiday – nobody really needs to travel for two-thousand days just to have a good time. If you only have one week, travelling independently, how much can you reasonably expect to see? Is it possible to travel-fast and also have a meaningful, positive, memorable experience?
After recently working in Iran for almost three-months-straight, I decided to visit three continents and seven countries in one week, just to see what it felt like.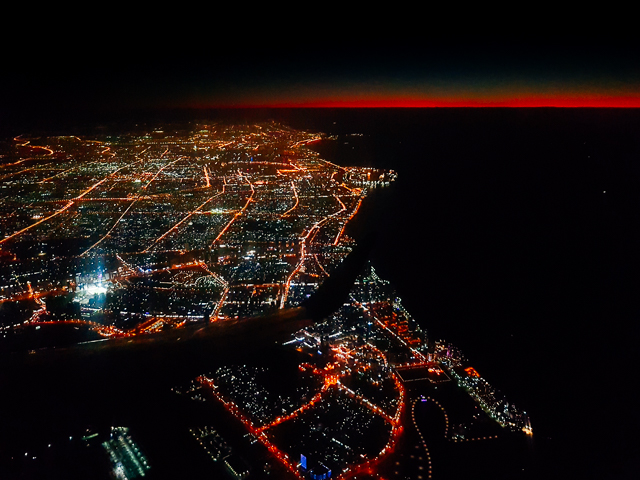 On day one of the journey, I was full of pep. Phillipa and I departed from Shiraz, Iran, around midday. Our first two flights would be the non-popular route of Shiraz, Iran to Beirut, Lebanon, via Sharjah, United Arab Emirates. I've been to Sharjah more times than I can count, but it's always just a stop-over or pass-through. Not wanting to break this illogical tradition, I left not long after touching down. The plan for day-one was to be tucked into bed at my usual time tonight, in country number three.
Later that first evening, I was checking in at the cheapest Honey-Bee-themed hotel in Hamra – smack in downtown Beirut, Lebanon. Nearby Hamra Street was lively, full of people, restaurants, and boutiques. Walking past a few fancy looking restaurants, we chose one with a lovely courtyard area, sat down, and were handed the menu. After three months in almost-beer-free-Iran, I decided it was appropriate to prioritise a cold beer.
I glanced around. Noticing one-too-many-people working on laptops, I stood up, and said to Phillipa "let's go". We left the restaurant, I spotted a bearded man nearby slouching on a stool in almost total darkness underneath a very cheap looking sign that said "bar", he got up from his seat, we followed him down a gloomy lane-way, through an unmarked black-door, downstairs, into a room barely lit with dull green fluorescent lights.
Here, chatting at this perfect dive-bar, I learned about Beirut the old-fashioned way. There were conversations with locals about Lebanon and Syria (the Syrian border was only 50km's away, the heart of Damascus only about 75km's from Beirut), sparking some future travel plans in my mind. And, some number of cold, delicious, beers later, we were back walking down Hamra Street – this time being guarded by the bar manager – who was firmly escorting me to an automatic teller machine, as I didn't have enough local currency to pay my surprisingly large tab.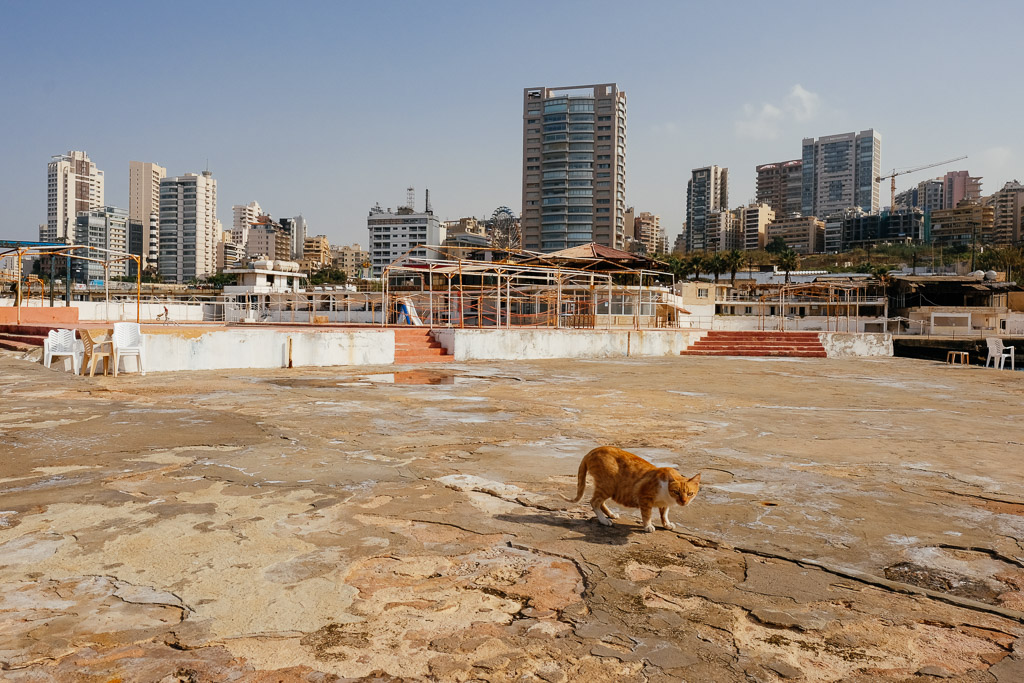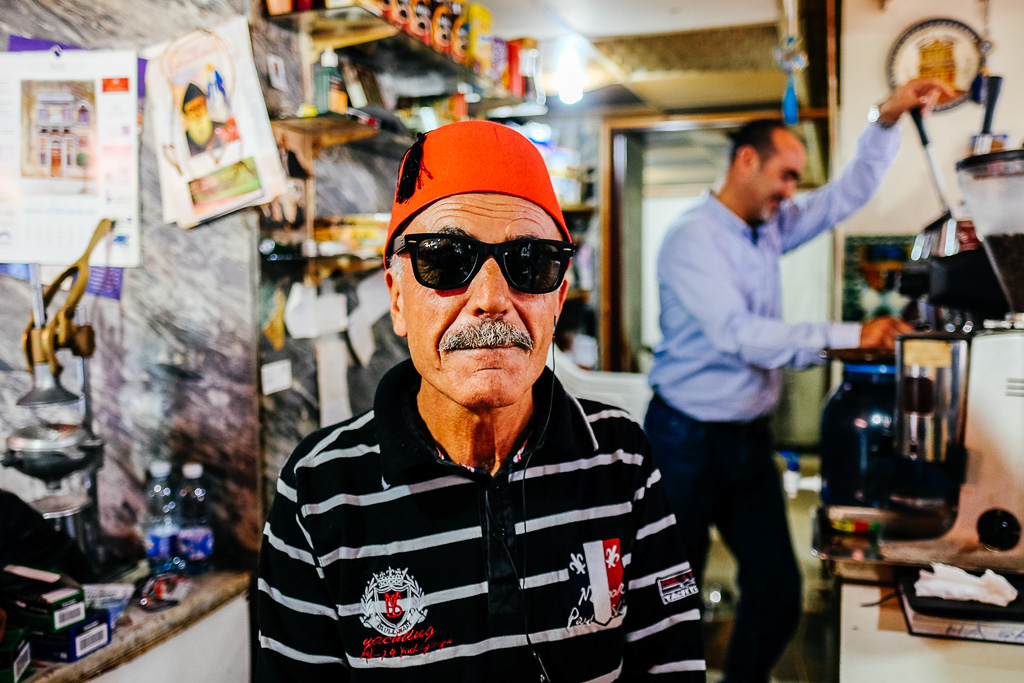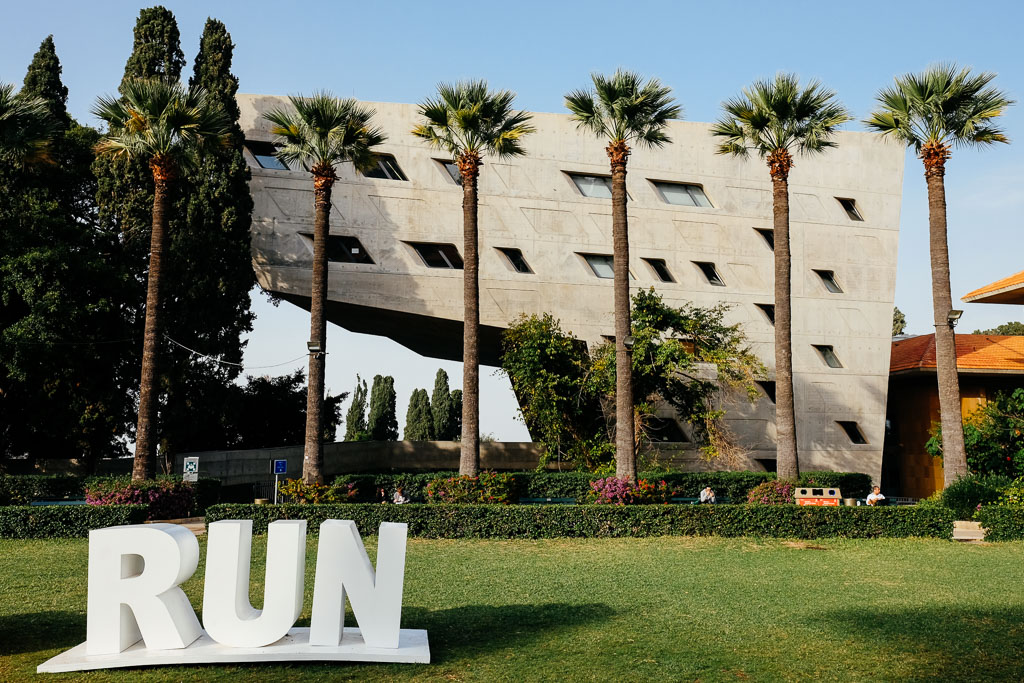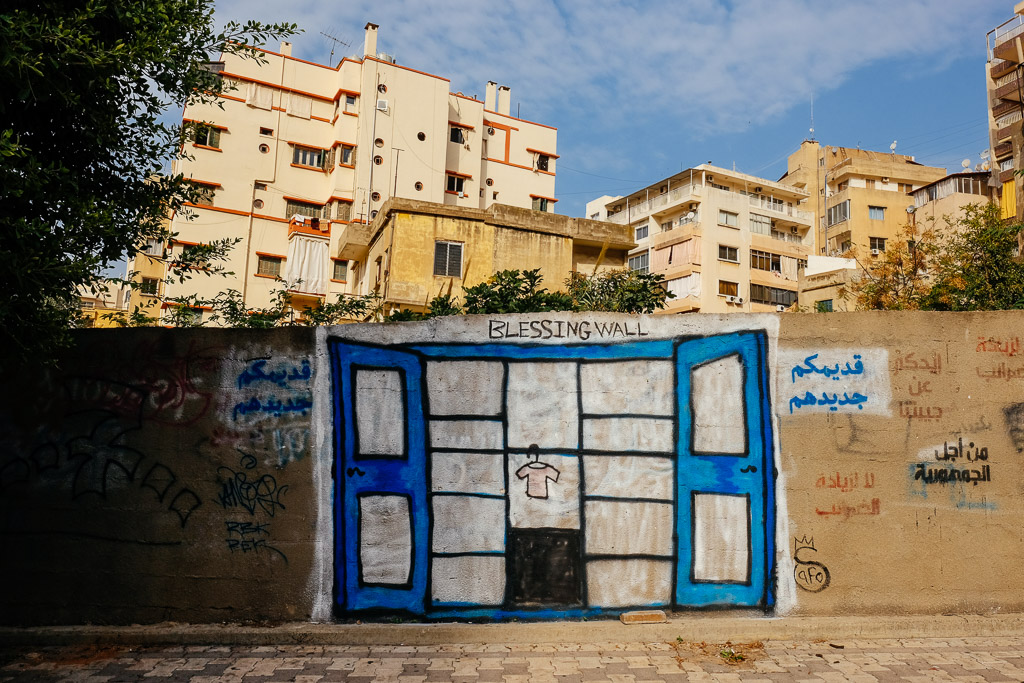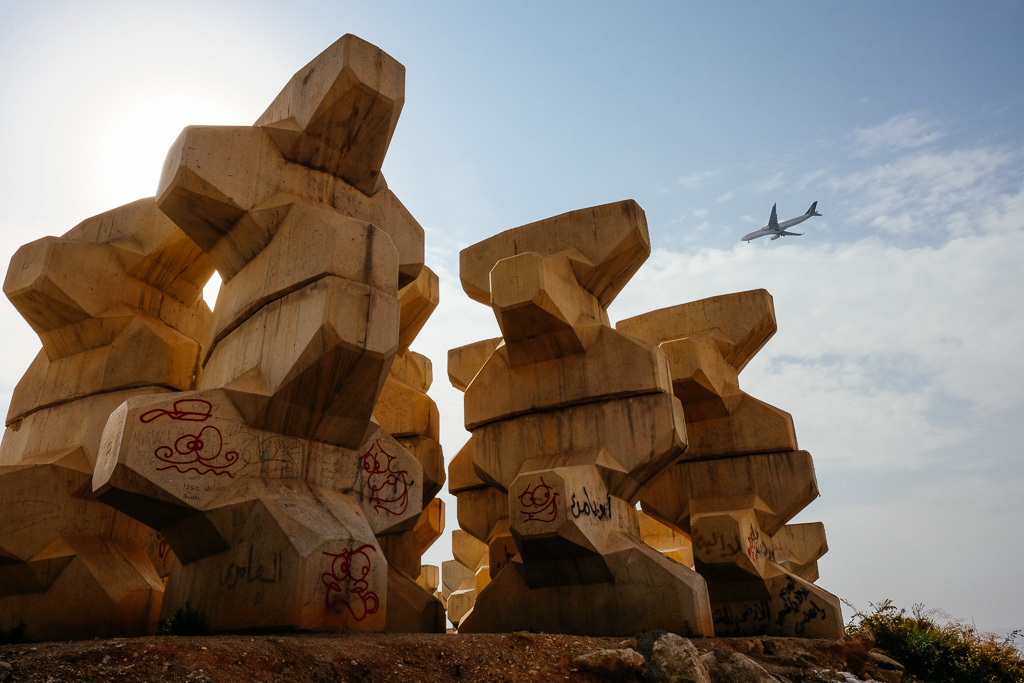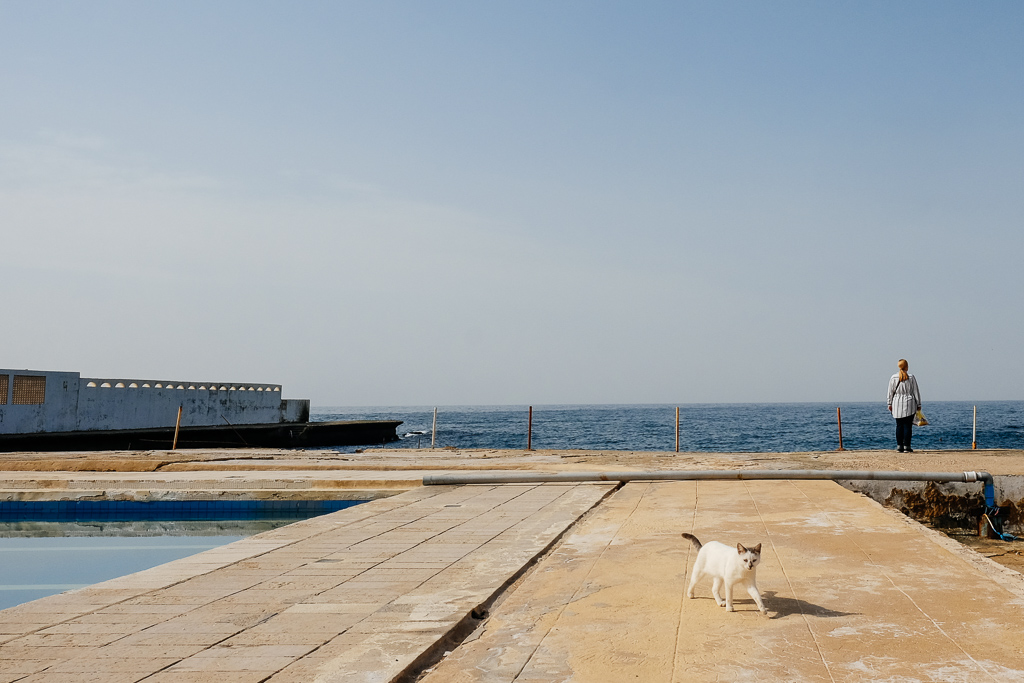 Day two turned out a true success – a picnic by the seaside at an abandoned Mediterranean resort, neighbourhood cafes with coffee and old men, brutalist architecture, and generic inner-city strolling. Late afternoon, we were leaving Beirut and heading for the fourth country, and second continent since yesterday – Egypt, Africa.
Within hours of arriving in Egypt, Phillipa was the only blonde female inside a wedding-tent with me, three guys we'd just met (all called Muhammad), and around two hundred Egyptian men all of whom were smoking drugs like they were going out of fashion. Over the next couple of days, we walked the un-travelled neighbourhood of Giza, through tourist-free backstreets, meeting locals, chatting, all the time in the shadow of a collection of four-thousand-year-old pyramids. There was so much animal whipping going on, and in summary, I enjoyed three nights of pretty much the most perfect travel experience I can possibly imagine.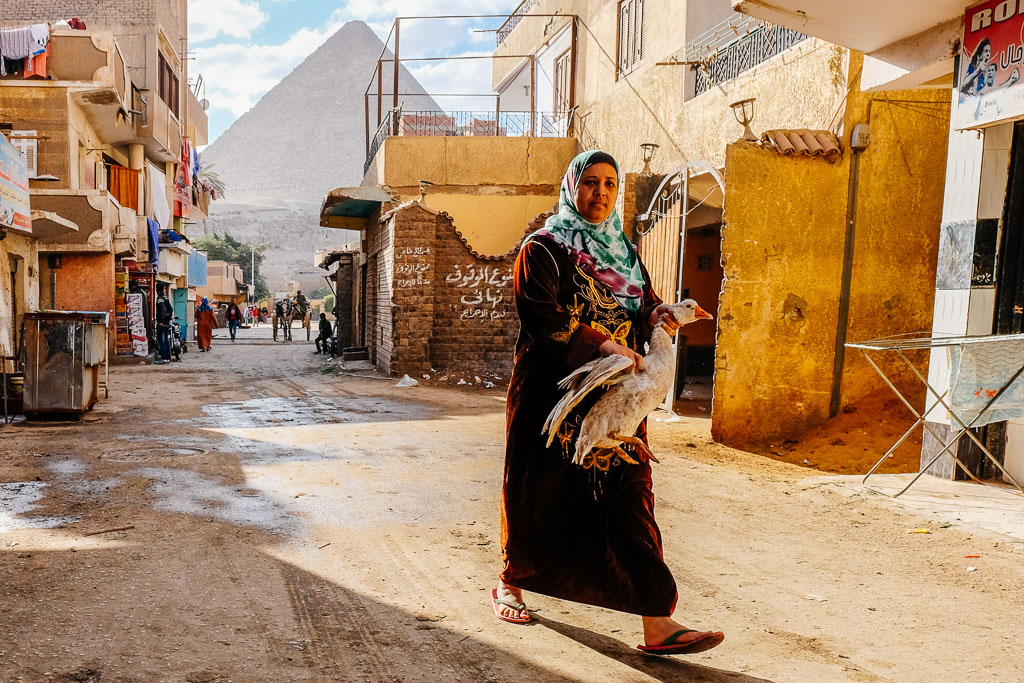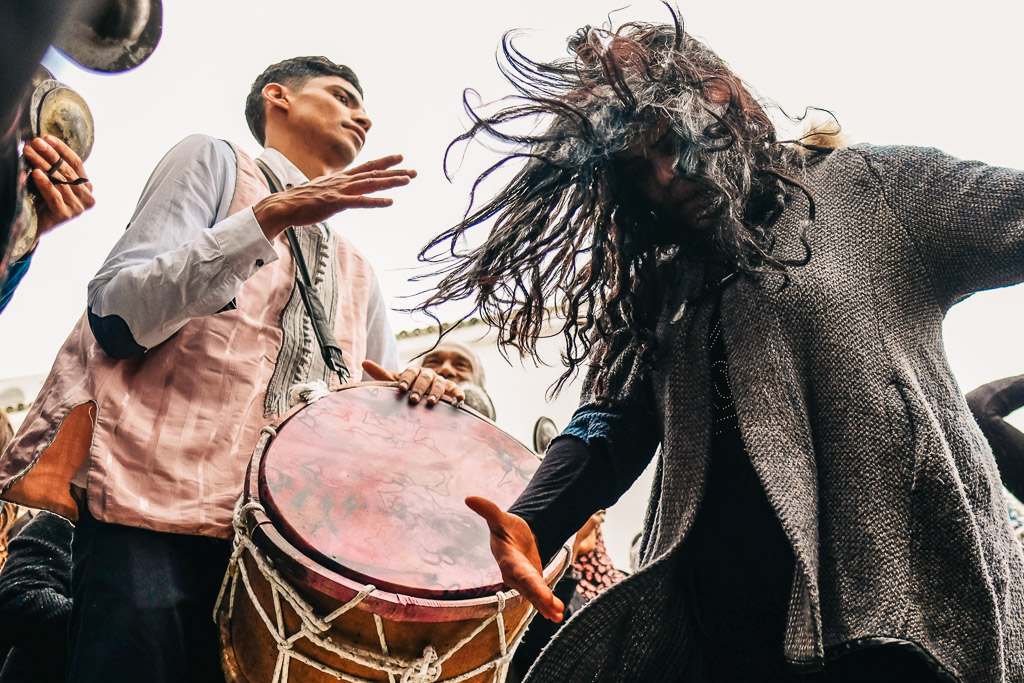 Next stop – Tunis, Tunisia, North Africa. In the middle of Tunis, the capital city of Tunisia, lies the Medina. Founded well over a thousand years ago, the Medina is home to over one-hundred-thousand people, all living within a complex and incredibly enchanting urban labyrinth. It's scenic, decaying, atmospheric and authentic. Our accommodation was in the middle of the Medina, and we spent a couple of full days being mostly lost. The Medina is a truly fascinating neighbourhood, and I didn't really have any reason to leave.
However, down the road from Tunis, probably only a thirty-minute journey away, lies Carthage. I've been fascinated by Carthage for many years. An incredibly sophisticated ancient city, technologically advanced, reaching it's peak two-thousand years ago as the capital city of an empire that dominated the Mediterranean. Carthage was perhaps the most powerful city in the world at that time. Across the sea, the Romans saw Carthage as a serious, existential, threat- and spent great effort to destroy the entire city.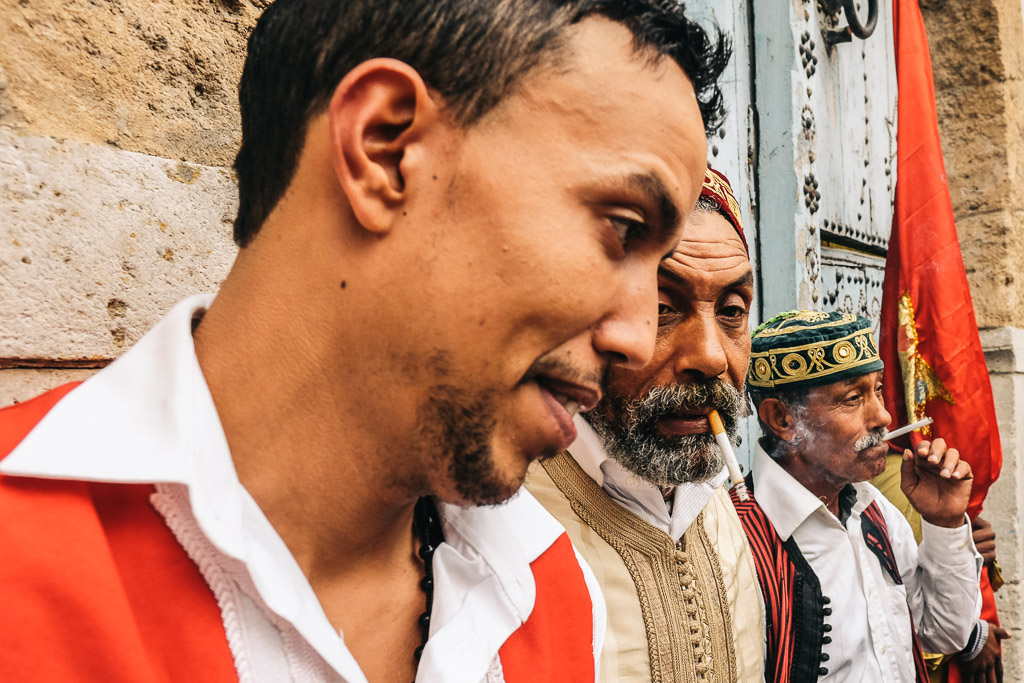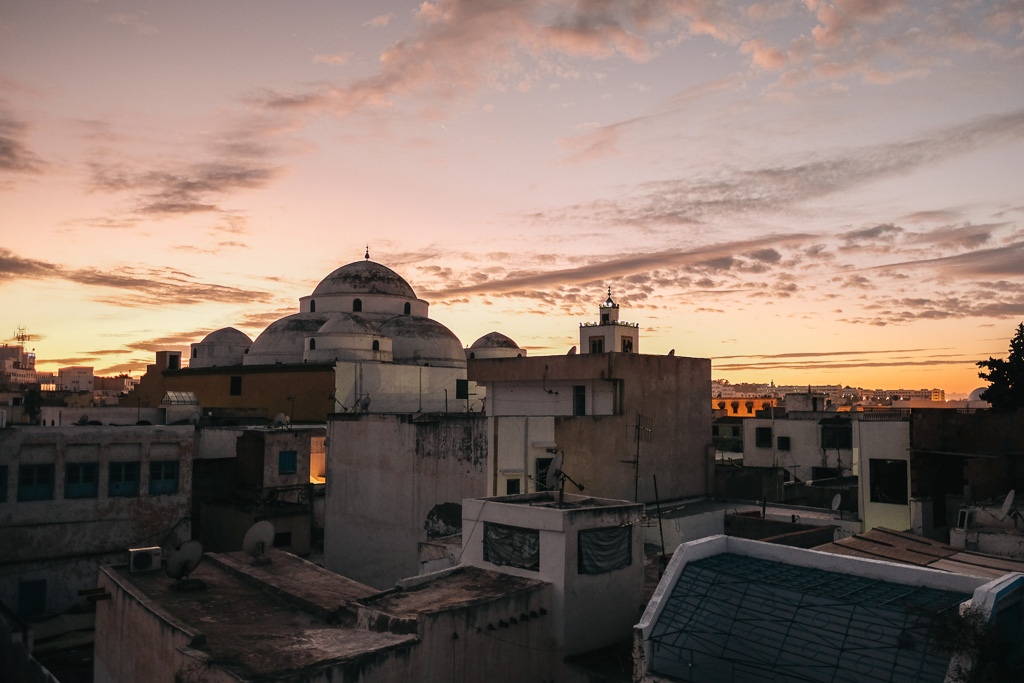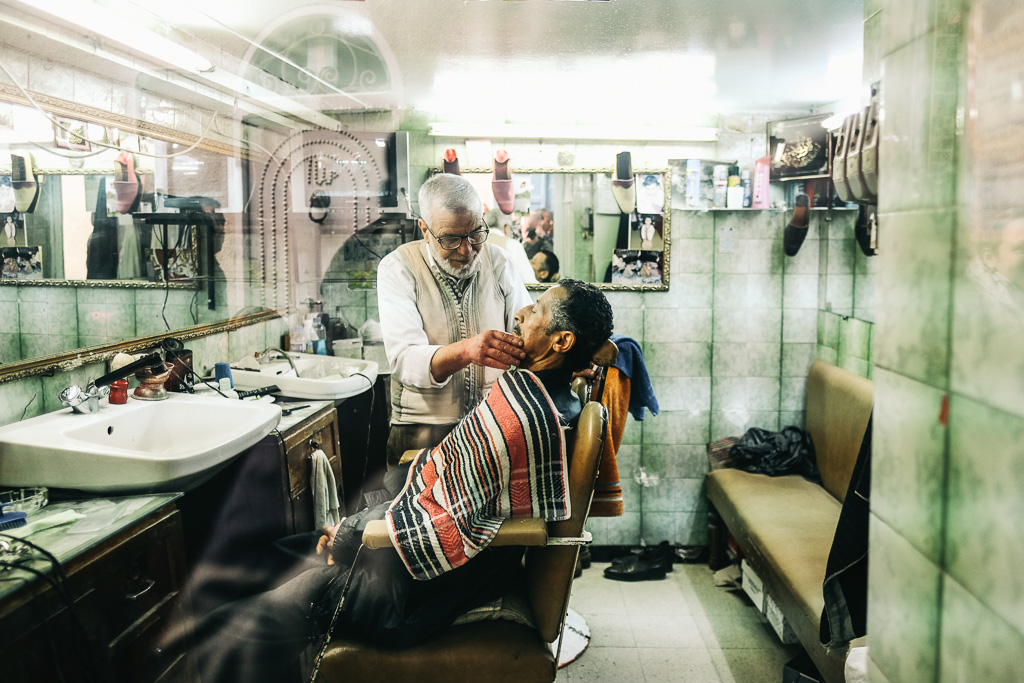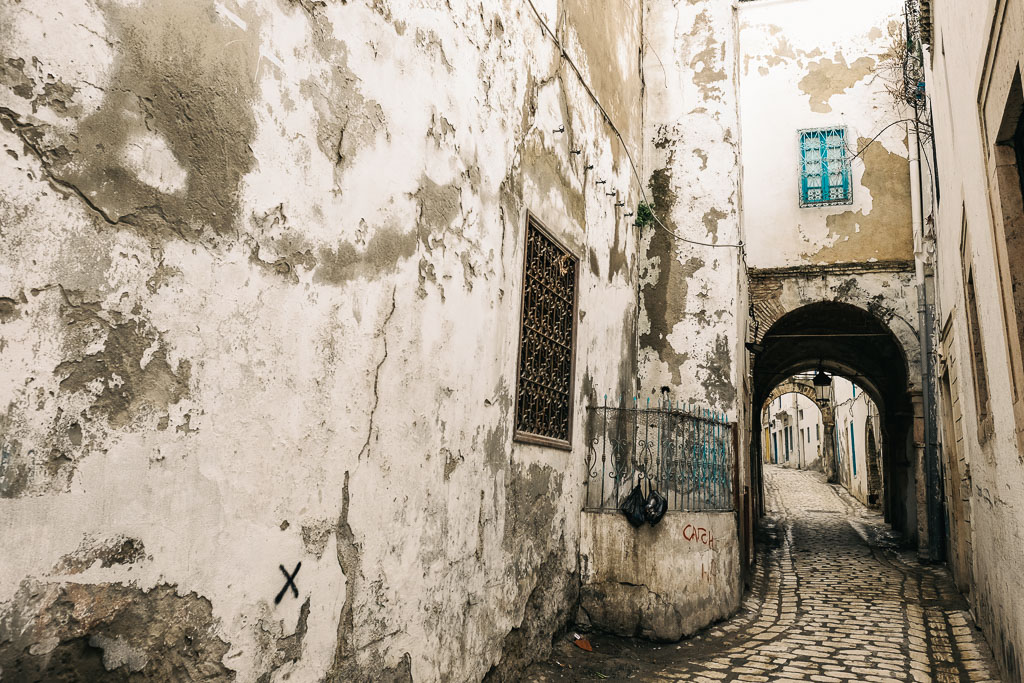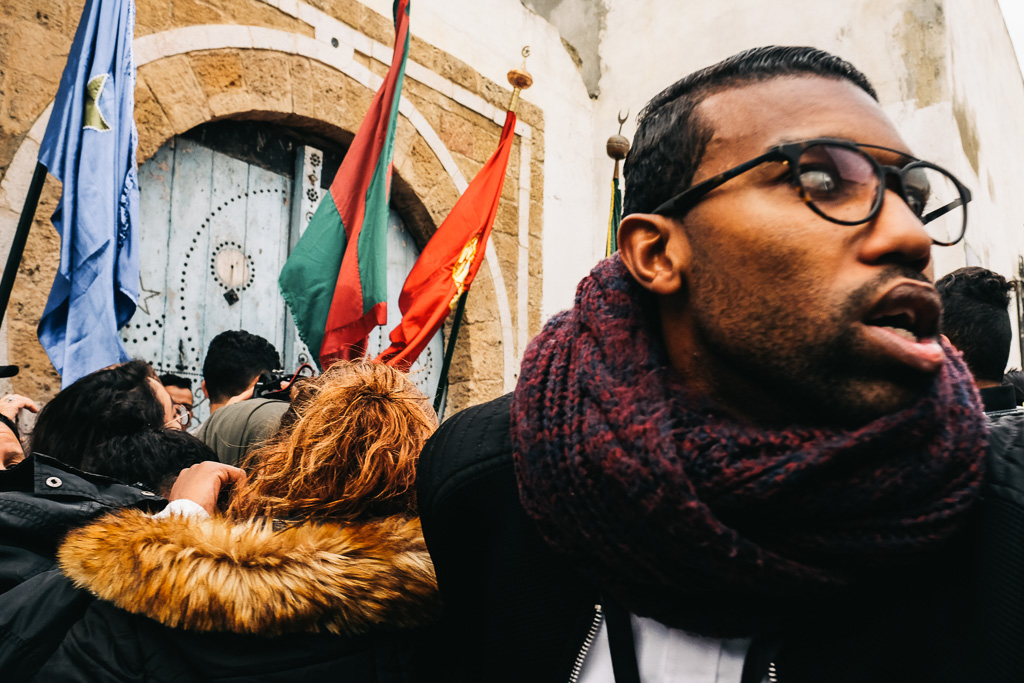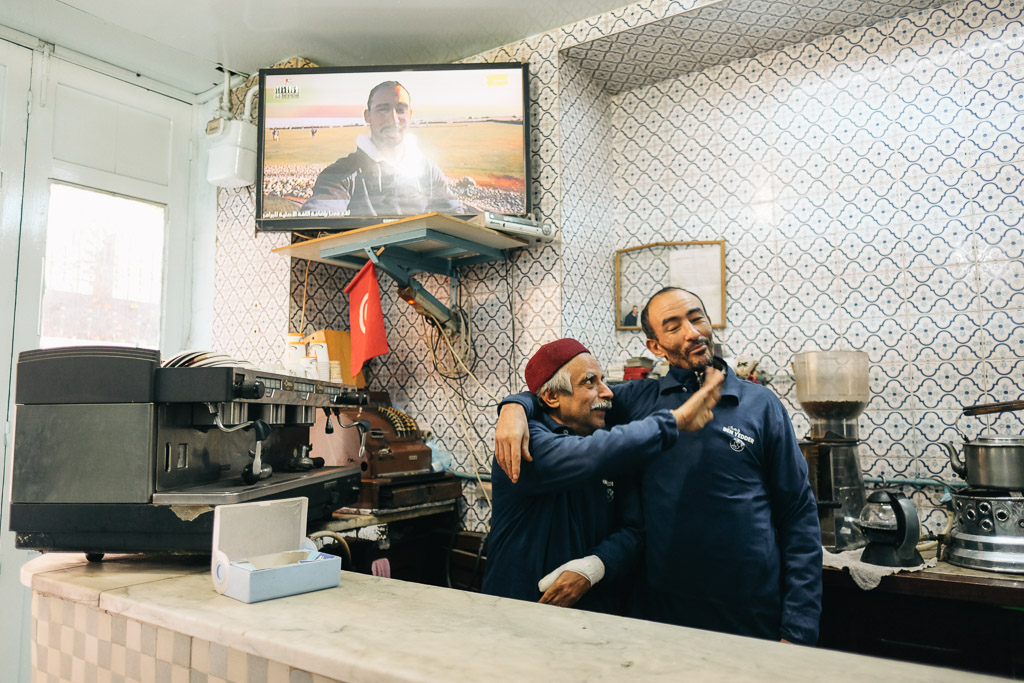 These days, Carthage lies in ruins, a beautifully decaying complex of two-thousand-year old architecture, scenically perched on the edge of the Mediterranean in North Africa. Well, that's what I've heard – I never left the Medina and didn't see Carthage. My time in the Medina of Tunis had been truly fantastic, and at the end of my first week of fast-travel, I left Tunisia and flew to Rome, Italy.
An actual travel-writer could allegorise on ancient Carthage and modern Rome, Islamic nations and The Vatican, the Holy See and the Mediterranean Sea. I thought about being a privileged westerner flying in comfort just for kicks, whilst down below desperate refugees in leaky boats were risking their lives to escape tragedy. Italy and Tunisia are neighbours across the Mediterranean – with distinctly different cultures – tied together forever by both geography and ancient history. This fast-journey could surely end with a potentially masterful set of travel-writing bookmarks.
I had planned enough stop-over time in Rome to visit the nearby Vatican City enclave – and set foot in my seventh country for the week. However, frankly – I'd had enough of travel this week. I'd seen enough. Had experiences I'll never forget, and found three new countries (Lebanon, Egypt, and Tunisia) that I desperately want to return to. Visiting the Vatican would just be a tick, an unnecessary and hollow check-mark, another country written down on my meaningless list on page one of a tatty notebook inside my thirty-five litre backpack.
To be honest, this was already a week beyond my wildest dreams – and that's exactly what a week of travel should be. And so, not long after touching down at the Fiumicino Aeroporto Internazionale Leonardo da Vinci, just after the garbage-bin-liner incident (that's a story I only tell in person), I decided to screw the Vatican.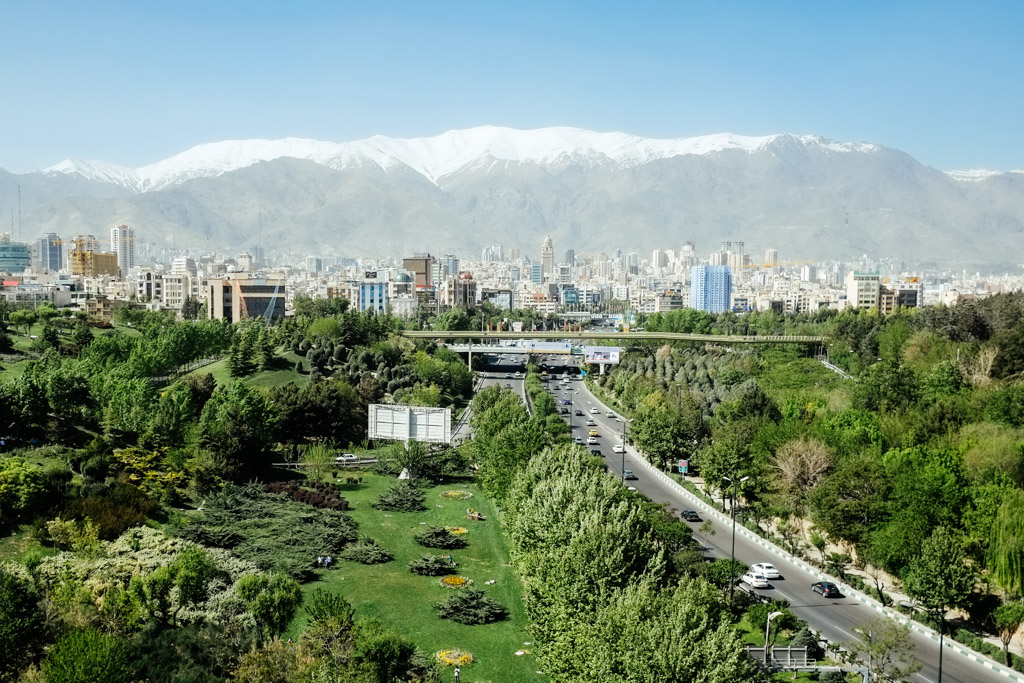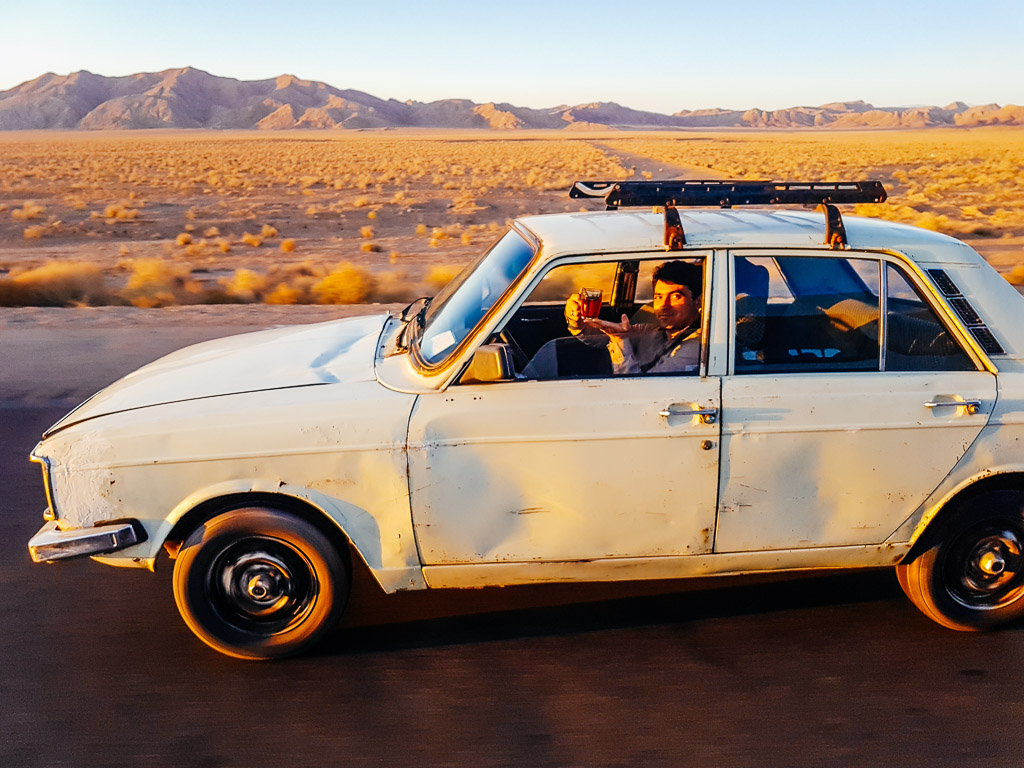 On the evening of day eight, I arrived in Milan. After six countries, three continents, and eight days, I'd spend a month in the Italian countryside, tucked inside the Swiss and French borders, surrounded by the snowy Alps, decompressing the last three months of my life, and making plans for the next three.
Of course, a week is plenty of time to have a life-changing holiday and everyone should think about doing it more often. In your own state, country, or even across the Middle East, North Africa and Europe. The destination is unimportant – participating in the journey is what matters. Life isn't necessarily short, but it definitely will pass quickly unless you occasionally just say yes, and occasionally make the most of your time here.
Nate
BTW, I would love to send you the next dispatch, posted from some-where random around this planet (and you'll soon find out why YOMADIC email followers are my favourite followers):