Grubby Street Kids, Dandies, and Drunks – Dickens Festival Deventer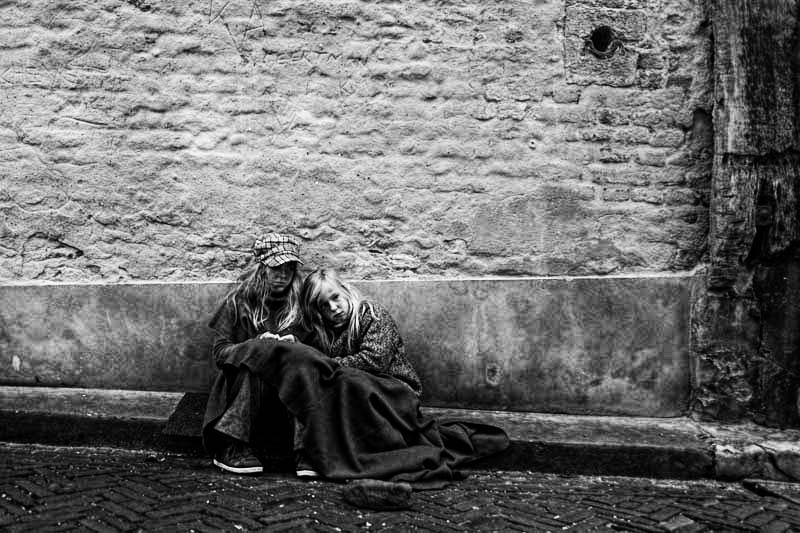 There's a few things I'm just a little bit indifferent to. Christmas and huge crowds of tourists being two of them. Today could have been my version of hell. Along with tens of thousands of other tourists (albeit predominantly Dutch tourists, they're not so bad) I grabbed my camera and checked out the annual Deventer Dickens Festival. Fortunately, I have a strange liking for all things Victorian. Especially those cute but grubby street urchins. And, anything Christmas-Scrooge-esque.
The Deventer Dickens Festival, cutting to the chase here, is incredible. It was definitely a surreal mind-bending experience, entering the authentic old town center only to be surrounded by all manner of Dickensian characters. Reality is put on hold, as the actors – no matter what may happen – just don't break character, ever.
Belligerent drunks. Begging street kids. Gruff policemen. Fancy ladies, and dandy gentleman. Hundreds of characters, filling the streets, just strolling along, riding penny-farthing bicycles, or serving delicious treats such as hot spicy mulled wine, pork buns, or cream-laden waffles. God damn those BBQ pork buns were incredible.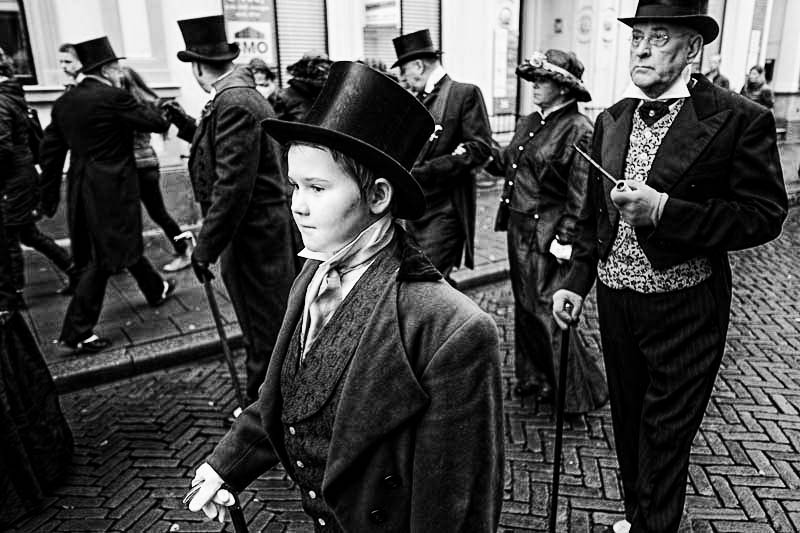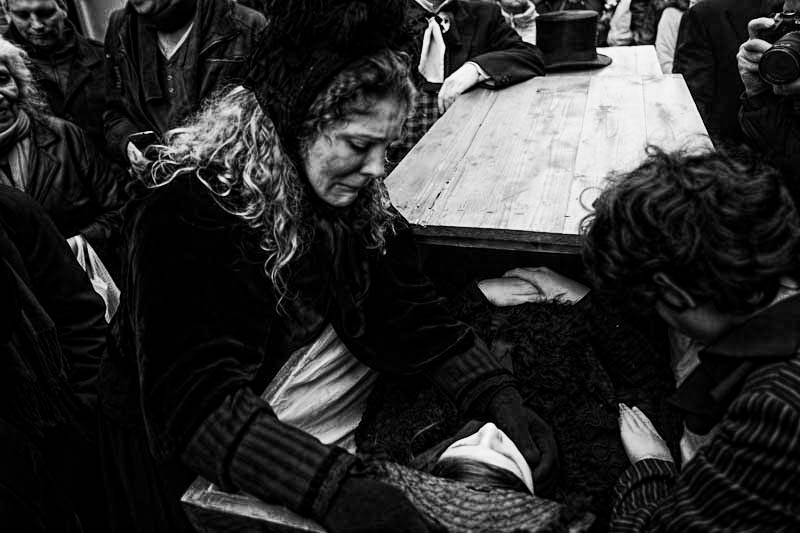 Why Dickens? Why Deventer? As far as I can tell, the locals just decided in 1990, it would be pretty much a great thing to do to dress up in Victorian-era clothing once a year, and hang out in their town center in a celebration of all things Charles Dickens. The centuries old town center of Deventer makes the perfect backdrop, and the crowds lap it up. Over the last couple of decades, the festival has grown to over 300 stalls, 1000 Dickensian characters, and 150000 weekend visitors. A lot of people, in a small town.
The Deventer Dickens festival is always held the second last weekend before Christmas (bah humbug!). Charles Dickens of course has the ultimate Christmas connection – his novel "A Christmas Carol" is perhaps one of the greatest stories ever written (love the anti-consumer, pro-generosity message), and was always destined to permanently cement the connection between Dickens and Christmas, for centuries to come.
Of course, I had a little bit of fun processing these images, and presenting them in black and white, giving them a bit of an old-timey feel. Life's too short not to have a bit of fun with your photos now and then, right?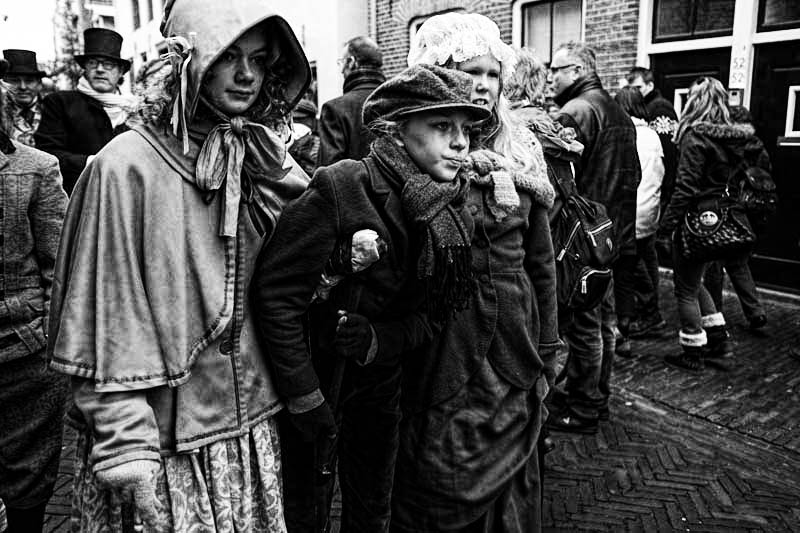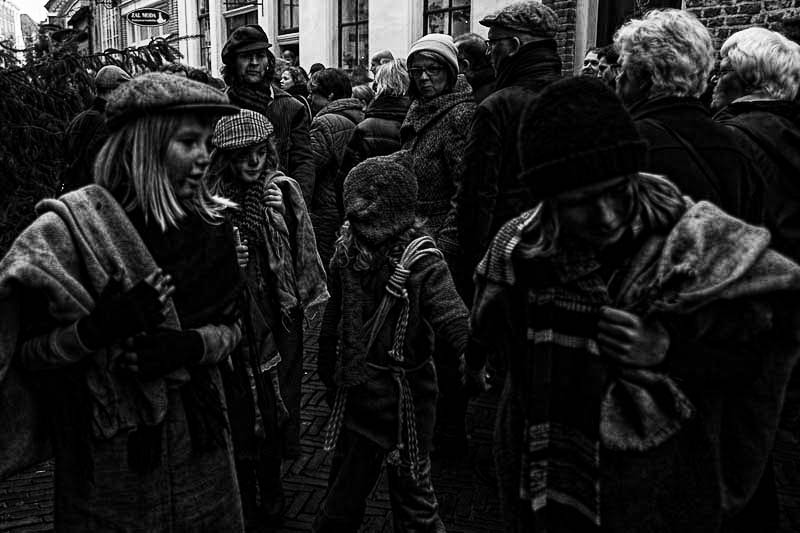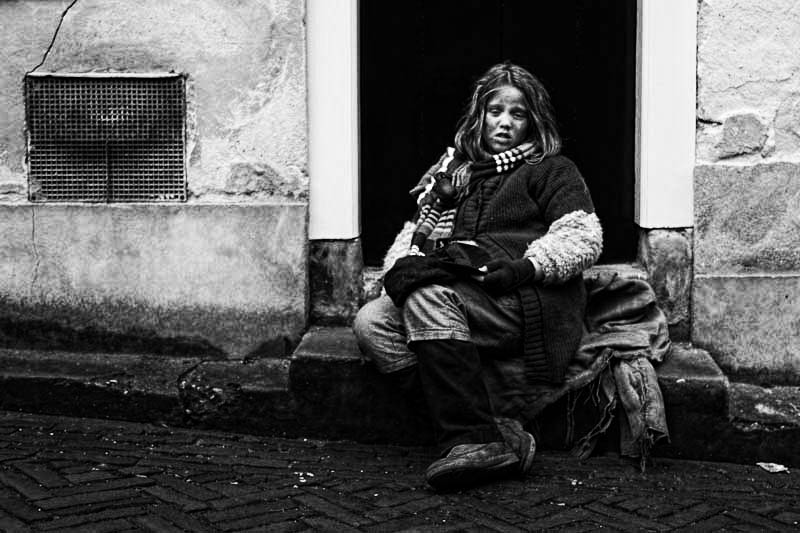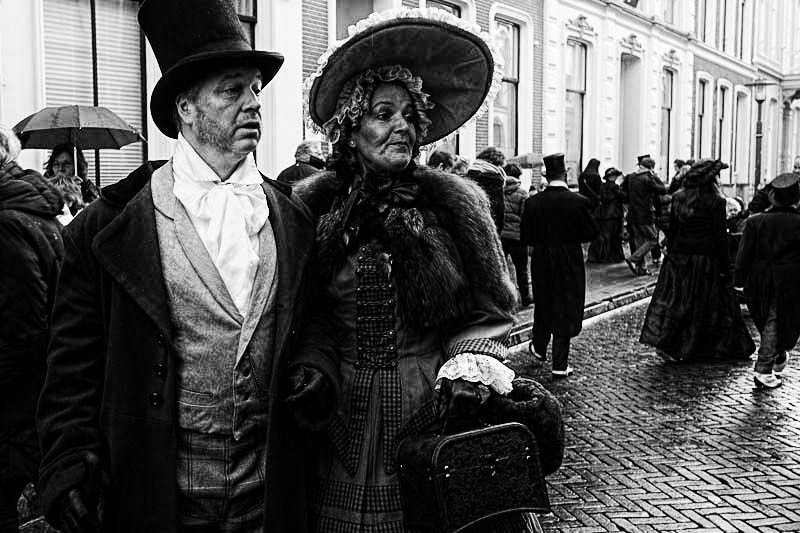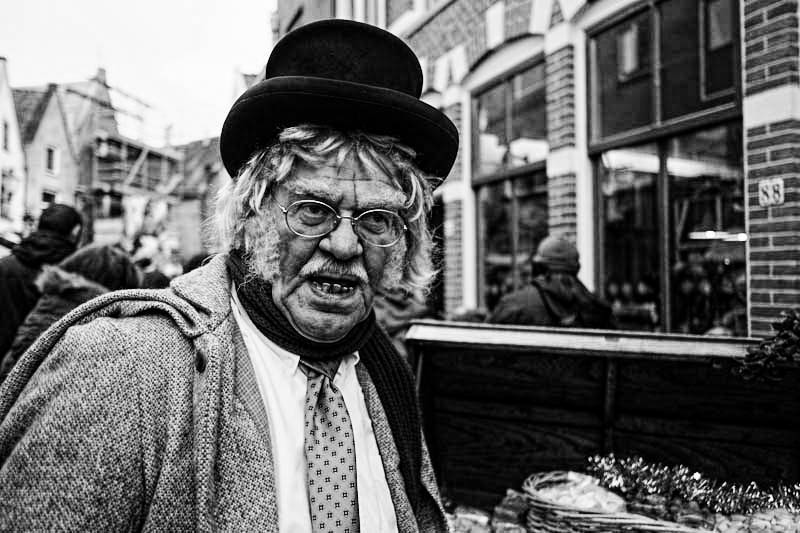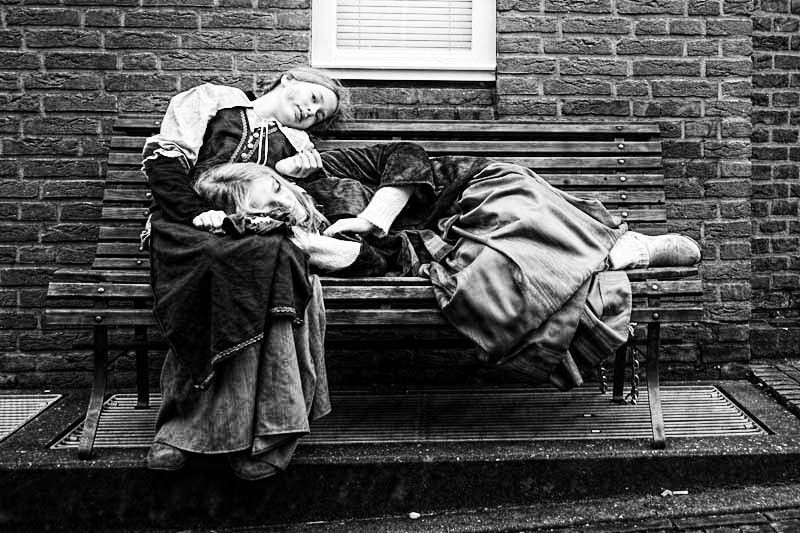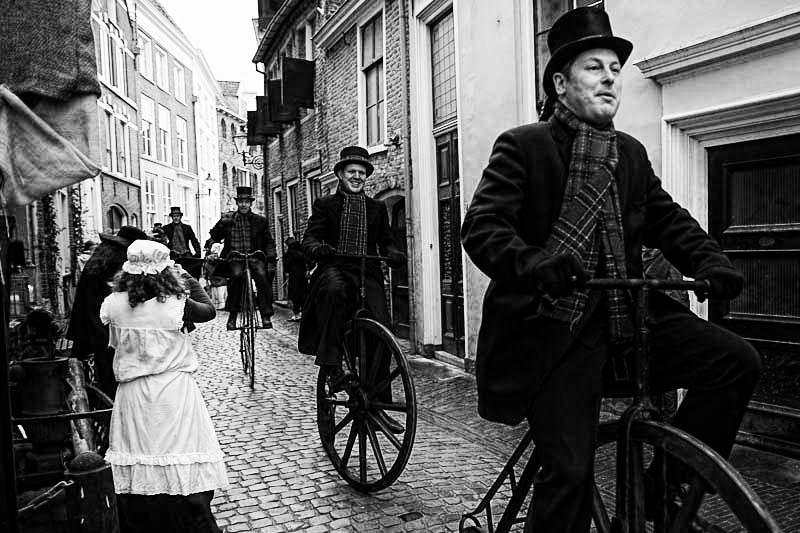 I never thought I would be recommending a Charles Dickens festival, but yep, it's really worth it if you find yourself in The Netherlands close to Christmas.
Dickens Festival Deventer – It's Free.
And, Here's Some Other Information.
The town of Deventer is located in the Dutch province of Overijssel, on the banks of the river Ijssel. And, if you can pronounce Deventer, Overijssel, or Ijssel correctly, you must be Dutch. The Dickens Festival in Deventer is always held on the last weekend before Christmas, and is free to enter. It begins at 11am on Saturday and Sunday. For more information, please check the official Dickens Festival Deventer website.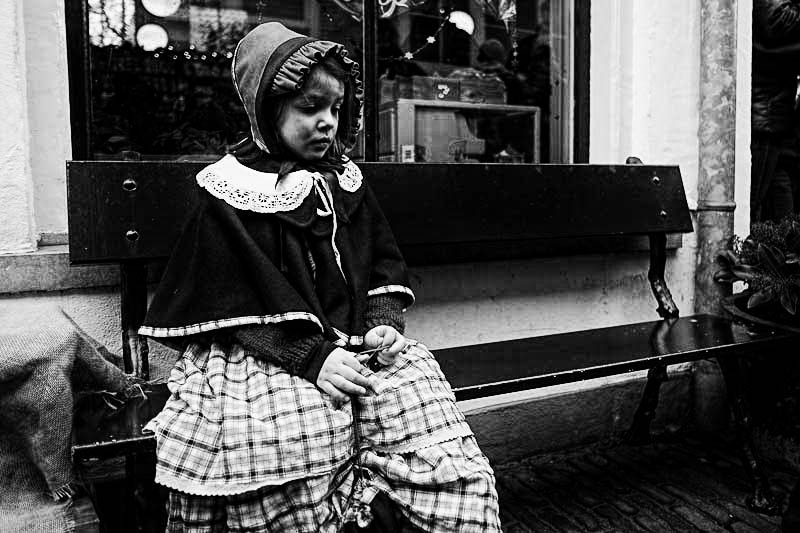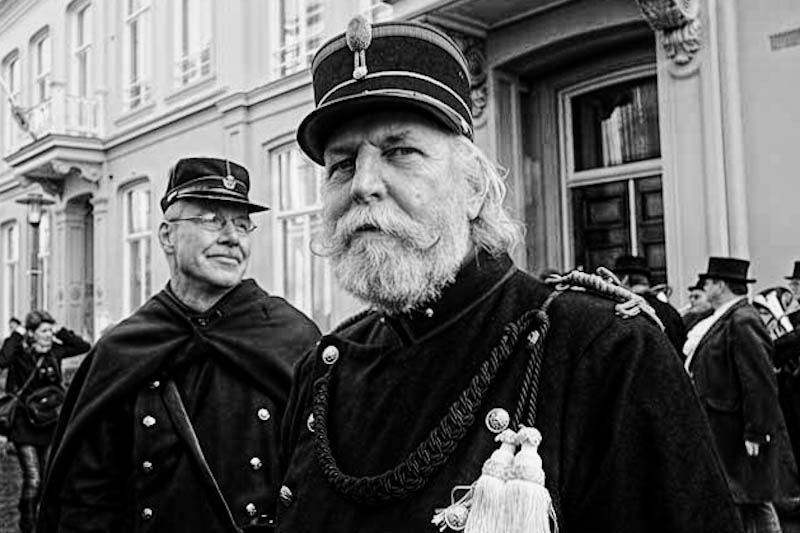 Hope you enjoyed the photos.
Nate
PS, wow, what a year. I'm having a hard time processing all I have seen and experienced, since embarking on this journey almost five months ago. There's multiple countries I have visited without adding a single article about them. So, a big sorry to Poland, Lithuania, Estonia, and Germany – I'll write about you shortly. Thanks for reading, and thanks for following along – I really appreciate it.
BTW, I would love to send you the next dispatch, posted from some-where random around this planet (and you'll soon find out why YOMADIC email followers are my favourite followers):