This Guy I Met in Mostar, Yearning to Die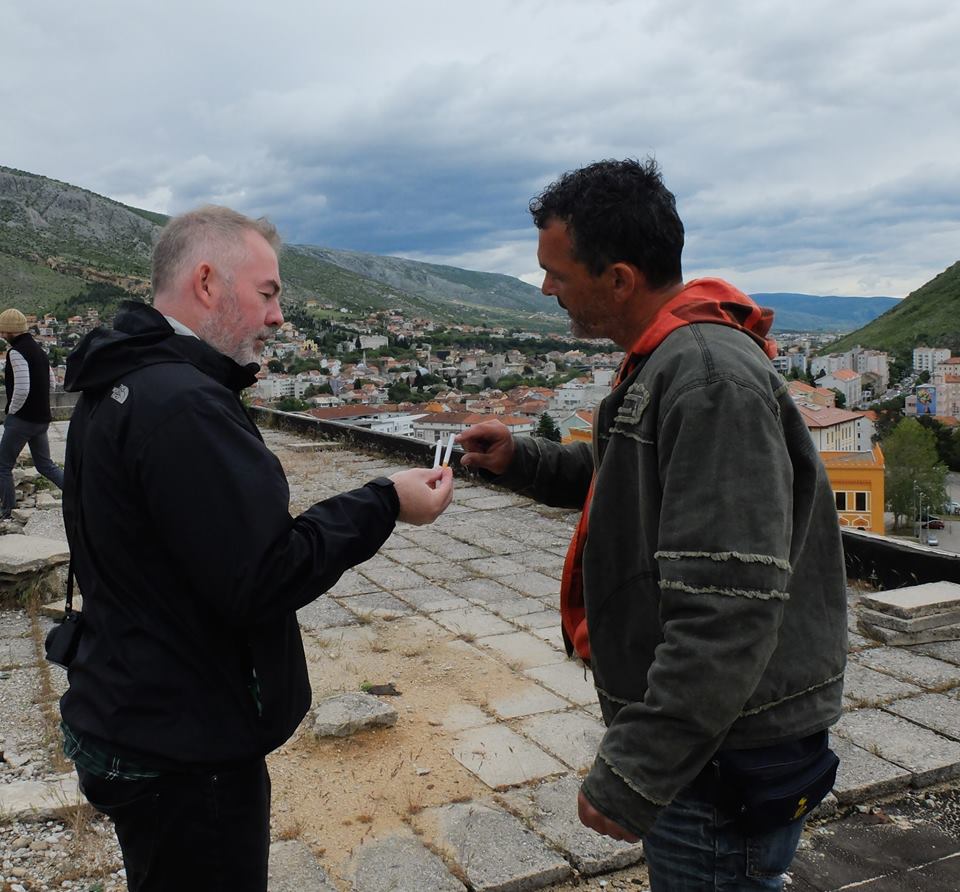 He has two sets of scars. When he pulls up his shirt, the bullet wounds are clear and obvious. All over his chest and stomach. One arm is heavily scared, he doesn't really use that arm for much these days. Not so obvious, his ear had been sliced off across the lobe, neat looking stitch marks are visible if you look carefully. Even less obvious, but more brutal, are the mental scars.
This guy, I first encountered him in Mostar (Bosnia and Herzegovina) last year, in the middle of the city, inside an abandoned bank tower. It's about eight levels high, or so. This guy, he's homeless. He was living inside. During the 1990's war in Bosnia, the downtown tower was used as a sniper-den. From inside, it's not hard to see why. Perfect, elevated views across most of the city. He showed me around his home, from the ground floor up.
A few weeks ago, I returned to Mostar. Something funny happened. When I hopped out of the van, the very first person I saw on the streets was this guy. Now, he lives in an abandoned house, just down from the tower. He explained that he remembered me, but that his mind was foggy, due to his alcohol and drug addiction.
The next day, I visited the tower/sniper-den with a small gang of friends. This time, new brick walls had been put into the window openings at ground level, meaning we had to climb over a wall to get inside. With his one, good, and very strong arm, he hoisted the ladies up, lifting them safely over the wall and into the abandoned tower. As he toured us through his domain, again, we chatted.
I asked him if he was well.
He said he was, but that he wanted to die.
These were not the words of somebody suicidal. They're the words of somebody who has seen, and personally experienced, unfathomable pain and devastation. He just wanted to die, so that whatever was haunting him would go away forever.
He yearned, to die.
To him, it was frustrating, and painful, that he was still alive.
I offered the guy all of my cigarettes. He only wanted one. I made him take two.
I don't remember his name, and he doesn't remember mine.
That's fine. In this case, names aren't important.
Because when I look into his eyes, I understand that strangely, somehow, we're connected.
Today, I'm starting the second YoGypsy trip through the Balkans. Along with Phillipa and Larissa, we're taking a small gang of like-minded souls through the best parts of Serbia, Bosnia and Herzegovina, and Montenegro.
In a few days time, we'll be in Mostar.
The sniper-den-tour is optional.
But I'll be there, and I hope he is.
The photo was taken by my Canadian friend, Dr. Paul Smyth.
BTW, I would love to send you the next dispatch, posted from some-where random around this planet (and you'll soon find out why YOMADIC email followers are my favourite followers):