Mean Streets of Zagreb, Croatia – Most Corrupt Nation in The World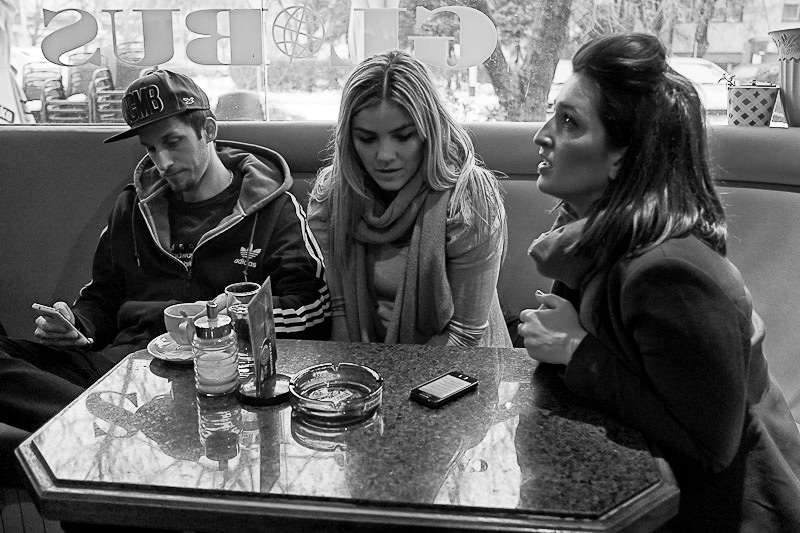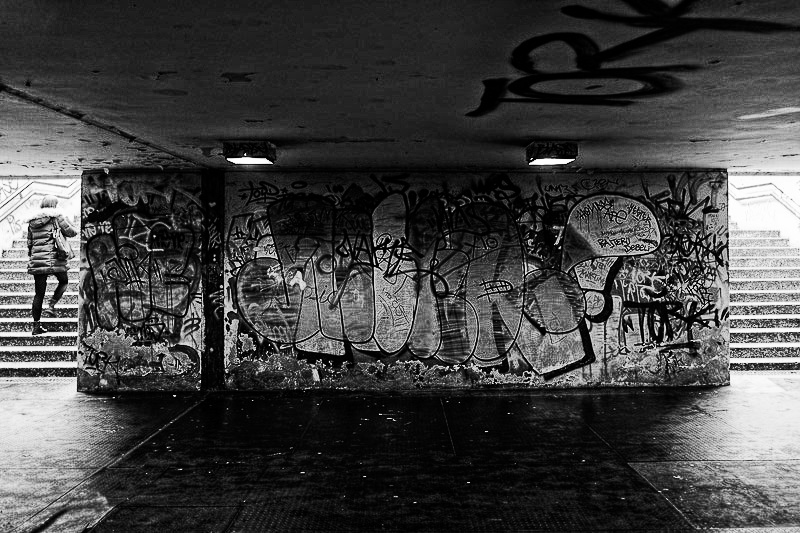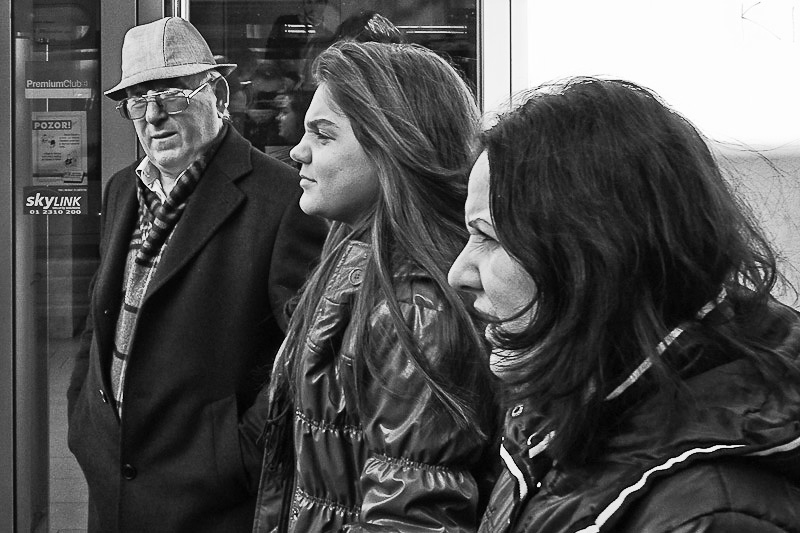 "Croatia is the most corrupt nation in the World". He was the second person to have told me that, in just a few days. First, it was the owner of a local restaurant, who over the course of an evening barraged me with stories including the former truck driver who smuggled rapidly depreciating stolen Croatian currency across the border – on behalf of a government official – exchanging it for much more financially stable German  Deutsche Marks.
The truck driver had been rewarded for his good work, and was now the owner of a large factory in Switzerland.  Another who serviced the powers that be, had become a General – despite a total lack of any military experience. But, it was the second gentleman I met who spoke of Croatian corruption, that had the biggest impact on my understanding of what Croatia has, and is, going through.
"This man asked me if I had any hidden microphones in my office." It had been twenty minutes since the story began to be told. Although it was reaching the crux, he had ensured I understood the intricacies of his tale of "mishandled privatisation" – a concept familiar to most post-communist nations. "He wanted me to sign my name, on a blank contract".
In charge of a large public owned "concern", the carrot for the shadowy guest was the land that the enterprise occupied – prime downtown Zagreb real-estate. A large sum of money – more than 6 but less than 7 figures, in Euro dollars, was being offered in return for a signed, blank, contract. This would lead to a change in ownership of the valuable property.
"I told him that my office door has two handles. One to enter, the other for leaving. And that he should leave, and never come back." At that point of the story, I assumed this wasn't the accepted way to play the game, not with such powerful and connected individuals. Refusing a large sum of money, with likely impunity, was not a regular occurrence.
"Soon after, I received word that the company was officially declared bankrupt. I had to tell more than 200 people, they no longer had a job. It's not just 200 people, it's their families as well. We shut down." He retired, that was his last job. He mentioned he wasn't rich, and joked that he was now waiting to die, to be buried in the cemetery on the hill behind us.
The whole time he was telling me this story, his wife was standing by his side, occasionally helping out with English. "He doesn't cry about it any more". Ironically, he had wiped tears from his eyes multiple times while telling me this complicated and yet straightforward example of corruption, or "mishandled privatisation". It's an unfortunately familiar story – greedy people, stealing from their fellow citizens.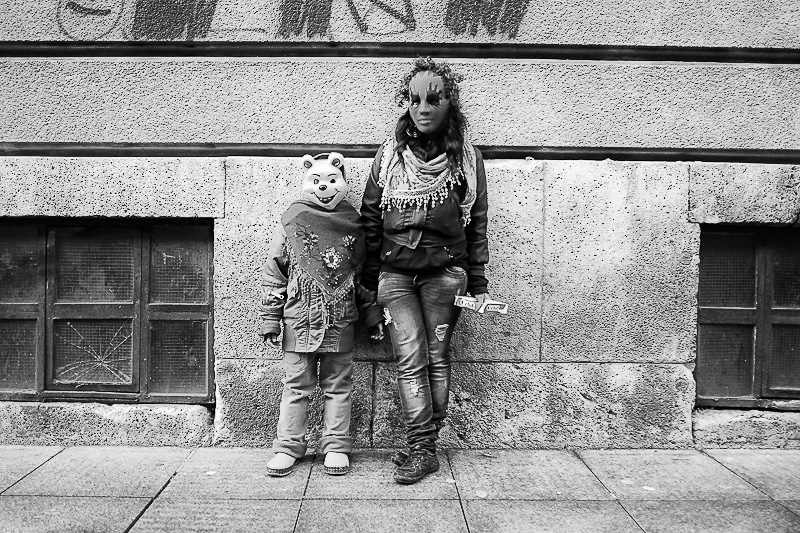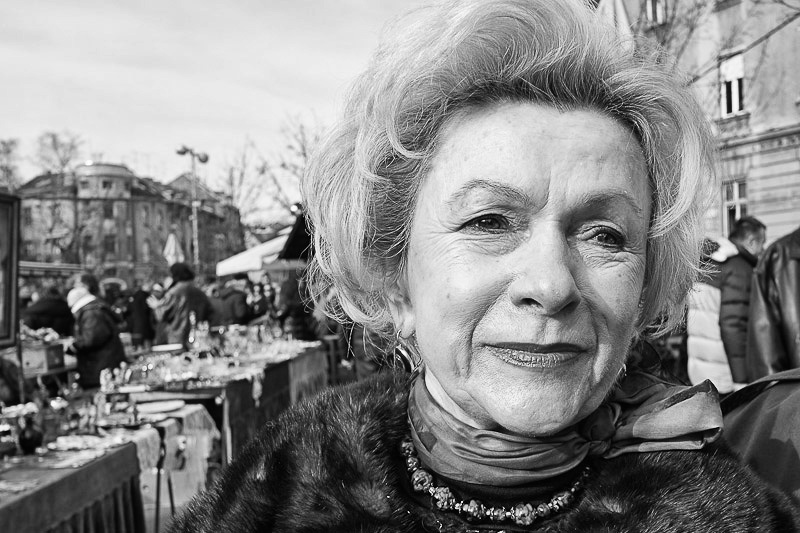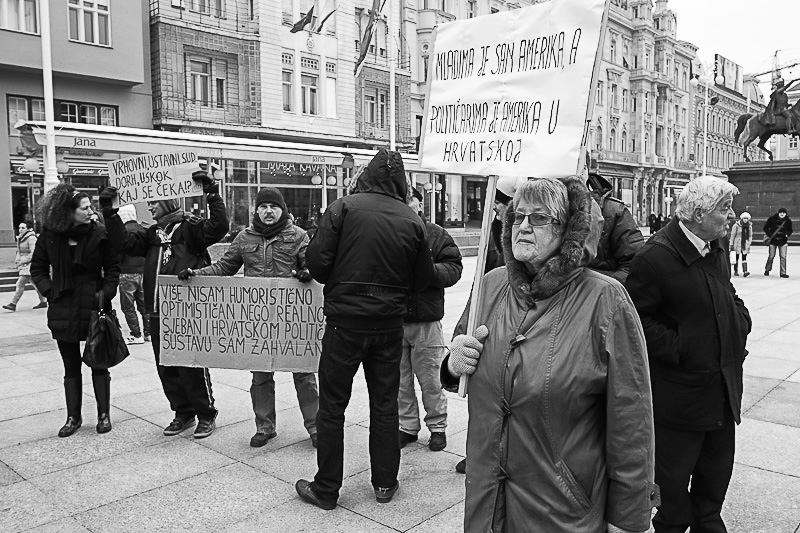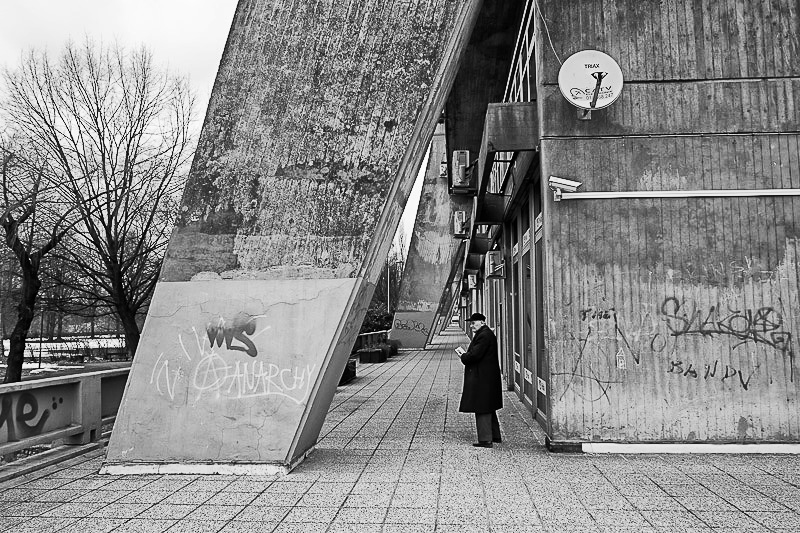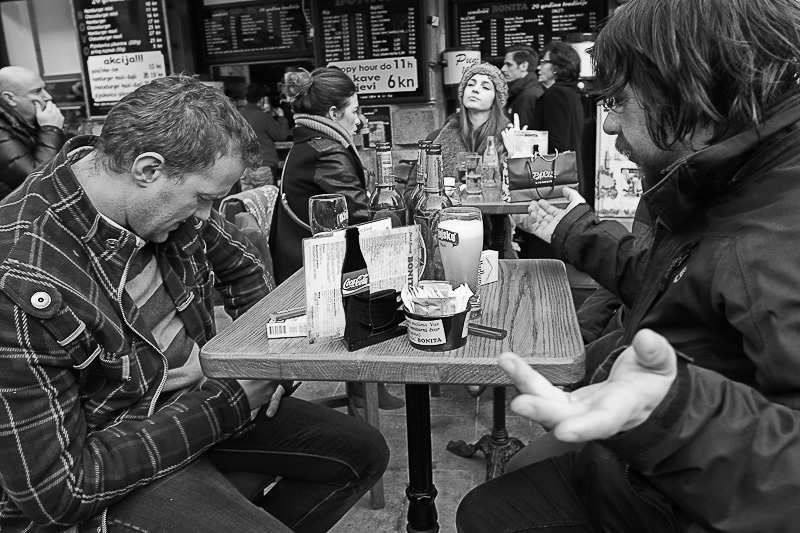 This is far from an isolated case of corruption. In the late 1990's,  then Croatian President Tudman devised an insidious concept that would see "200 families" be given control over all property in Croatia. During this period, influential individuals – with state backing – acquired publicly owned properties and land at bargain discount prices.
Having been robbed of their communal wealth, the ordinary citizens of Croatia were further punished by having these inept and inexperienced new company owners run many organisations into the ground. This lead to an economic depression, resulting in widespread unemployment and pain. To this day, Croatia grapples with extreme unemployment. The nation continues to deal with seemingly endemic corruption, nepotism, and elitism.
These conversations I have been having in Zagreb, with locals all too willing to tell me the truth about their personal lives, and their country, are starting to have an effect. "All my life, I wished I was born in an English-speaking country".  On the outskirts of Zagreb, this definitely wasn't a normal tourist haunt. I was taken aback, and I saw sadness in her eyes. "Why?", my companion asked.
"When I was younger, I watched Santa Barbara on television. I loved it. I wanted that life. Anyway, what are you doing here, in this part of Zagreb? Not many tourists come here". I explained I wanted to take a look at the enormous, brutal, communist-era apartment building across the road. "Oh." Any confusion she had developed about why we were standing in her world, had just been amplified.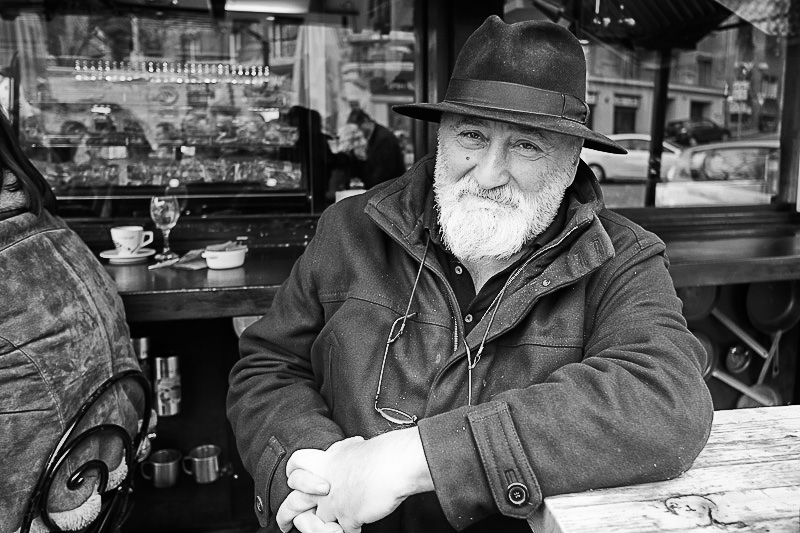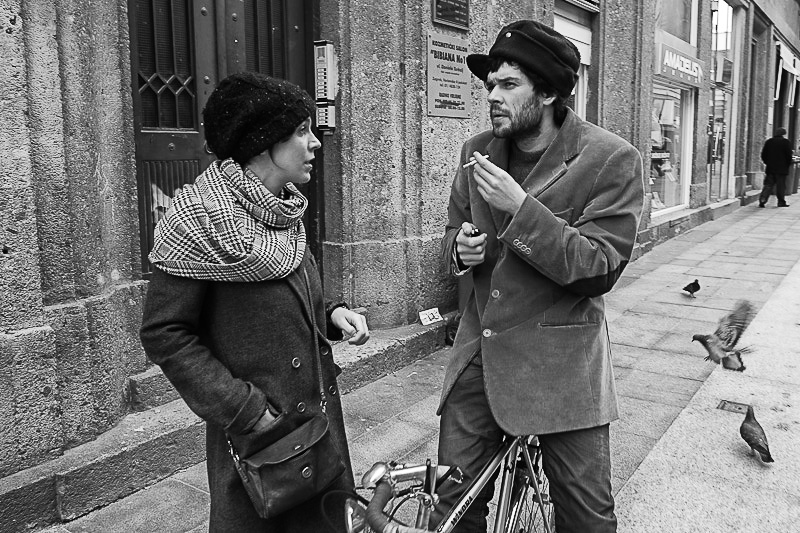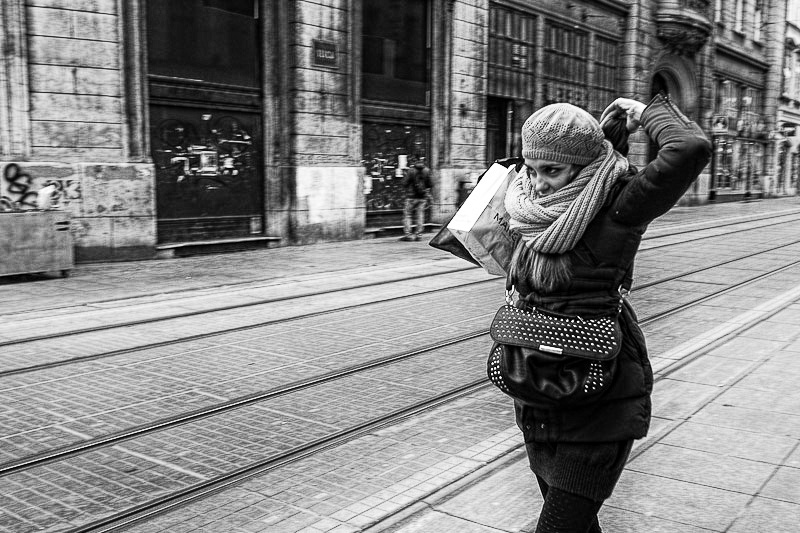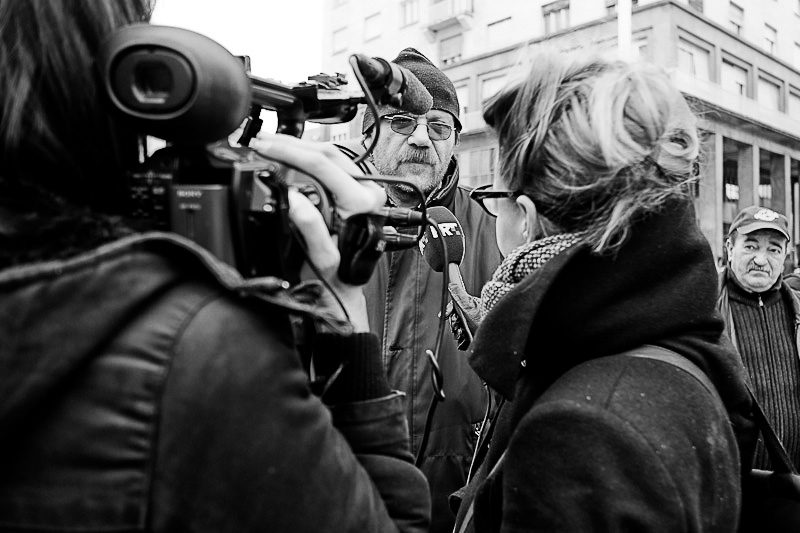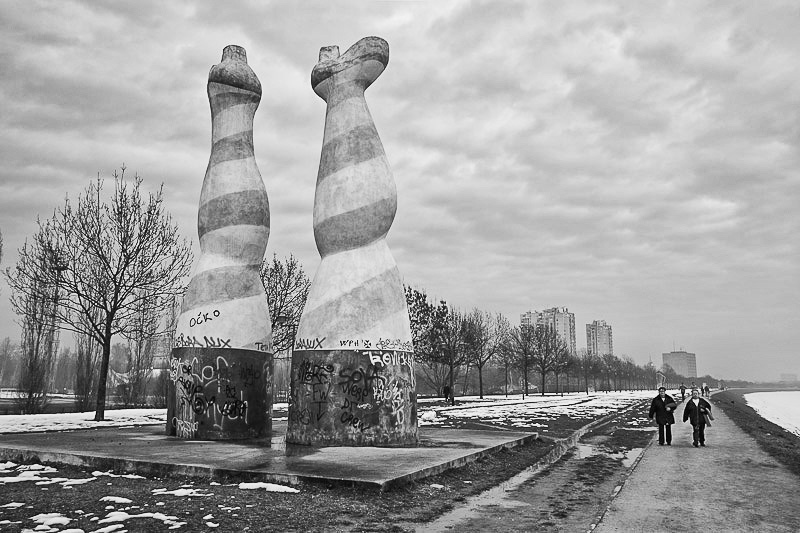 This world, to many people – it's a harsh, unforgiving place. On the surface, Zagreb is a beautiful city filled with attractive people, a wide variety of interesting architecture, great food, and more museums per square foot than any other city on Earth.
However, it doesn't take long to get beneath the surface, and see that despite the generally happy disposition there exists real fears and doubts about the future of Croatia. People are decidedly living in the moment, day-to-day. They're not that interested in dwelling on thoughts about the future.
"I'm OK. I earn 1000 euros per month. Then I pay 350 in tax. I have 650, it is enough. But, I fear for the future of my children." After two weeks of routine, I had a concept of the prices here in Zagreb, and I know that 650 euros would require some extreme budgeting.
This man was the manager of a cafe, working long hours, to have enough money to pay for his wife, and his two children. "I've seen hard times. I can go a day eating just a piece of bread if I have to. I can do it. Maybe for two days." If somebody knows how to respond to being told things like that, please let me know.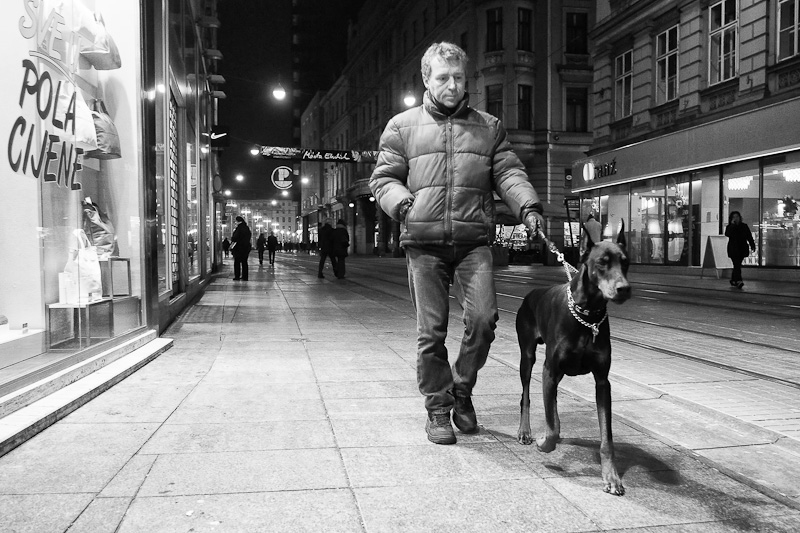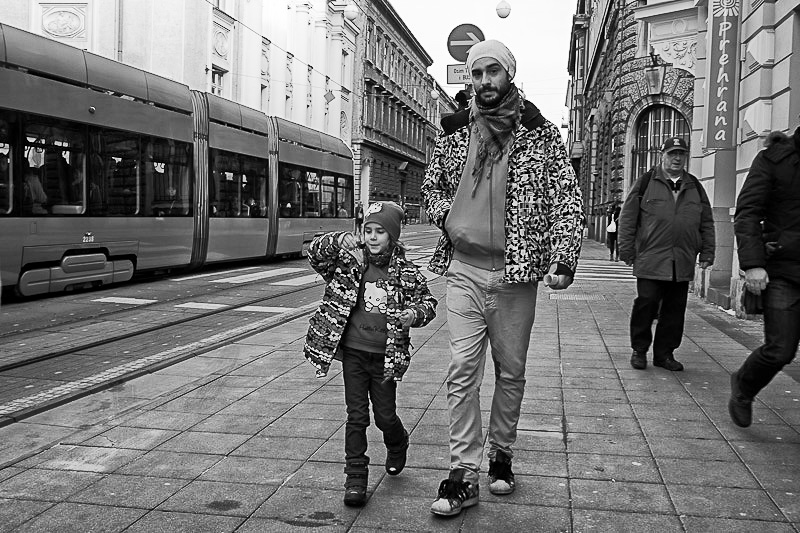 Talking to people on the streets, in the bars and cafes, is how you get to know a place. Without this interaction, you have no chance – at all – of understanding a nation. Taking photos of people on the streets of an urban environment is how I get to know a country. It often starts with a simple question – do you speak English? I explain why I just took a candid photo, they ask me questions about where I am from, and it goes from there.
When you spend a lot of time taking photos of people, you hone your ability to remember faces – even those you have only seen fleetingly. A couple of days ago, I noticed a familiar face. I had seen him a few days before that, sitting at Cafe Bonita. I approached him, let him know I had seen him the other day around the corner, and asked what he was doing with his camera. "I take photos of people on the streets of Zagreb. Fashionable people. I put the photos on the internet, it's very popular. This is my job." Obviously, he was smiling.
There is no shortage of attractive and fashionable people out and about in Zagreb. Despite an official unemployment rate of over 20%, the streets are full with cafes where on a sunny day every seat is accounted for. It seems nobody is working – perhaps because the reality is the majority of people aren't. In paradoxical opposition to the economic issues, Zagreb is one of the most alive small-scale cities I have ever visited. People, are happy. I know, because I have asked this question many times over the last two weeks "are people happy in Croatia?". Everybody answered – yes. "Not rich, but happy".
Croatian people have experienced a long history of consistently periodic disruption and upheaval.
With a population seemingly convinced that things will get worse, not better, perhaps it's just a well-honed national psychological defense mechanism, to not think about the future.
By and large, Croatians remain happy, and get on with life.
Maybe there is something to be said for living in the moment.
Or maybe there isn't any other real choice.
It's always a tough one – getting political on what is ostensibly the personal blog of a travelling photographer. However, stories like these deserve to be told.
Nate
PS, for further reading about the current situation of corruption in Croatia, this article was published just a couple of weeks ago: EU should stop funding Croatia's corrupt networks.
PPS, all of these photos were taken in Zagreb during January and February 2013. The subjects of these photos are not the people I mention in this article, I have respected their privacy.
BTW, I would love to send you the next dispatch, posted from some-where random around this planet (and you'll soon find out why YOMADIC email followers are my favourite followers):