Tim Ho Wan Hong Kong – A Guide to the World's Cheapest Michelin Star Restaurant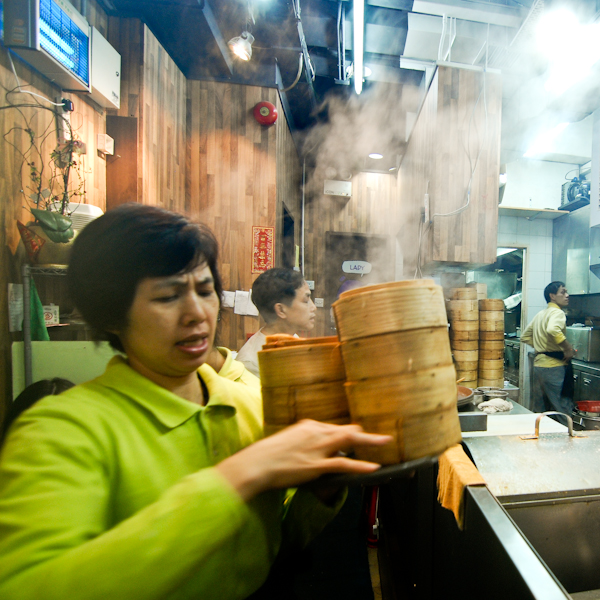 Tim Ho Wan, Hong Kong. World's cheapest Michelin Star restaurant. My fingers are quivering with the withdrawal symptoms. I'm finding it difficult to type. My name is Nate, and I'm a Dim-sum-aholic. At least once a week, for years now, I have to get my fix. I'm addicted, and committed. I waited five hour's to be seated at Tim Ho Wan, located in the district of Mongkok, on the Kowloon side of Hong Kong. Generally, I don't do lines. As a hand-model, I'm used to getting the VIP treatment. But at this Michelin starred restaurant, there are no VIP's. But the thing is, after sampling Tim Ho Wan, it's going to be rough going back to any of the other non-Michelin starred Dim Sum restaurants in my regular Yum Cha rotation.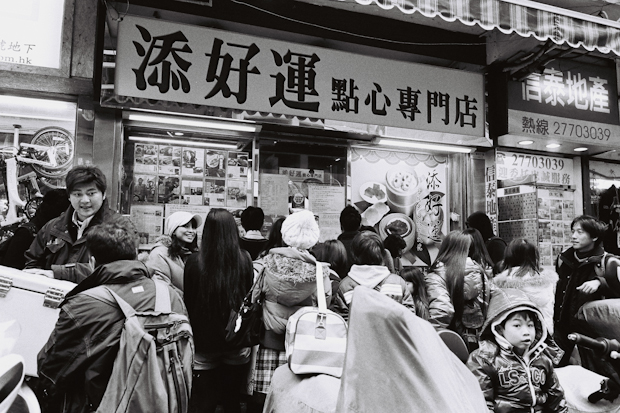 At Tim Ho Wan, the Dim Sum Mastery is Clear.
I've been told that I'm an "egg". White on the outside, yellow on the inside. Despite coming from pure Anglo-Saxon stock, in my opinion the greatest breakfast of all is Hong Kong style Dim Sum. The traditional full English fry-up takes a close second. A big difference between the two – I can cook a high quality full English breakfast at home. However, the skill and experience requried to delicately and expertly prepare the range of Chinese Dim Sum dishes, takes years to master.
A quick primer for the uninitiated: Dim Sum is a Chinese style of food, where small bite sized portions are served on small plates, or in steamer baskets made of bamboo or stainless steel. Consider it a Chinese version of Spanish Tapas. In Cantonese, eating at Dim Sum restaurant is normally referred to as "Yum Cha" – literally, drinking Tea. Always served at Dim Sum, Tea is an essential part of the experience.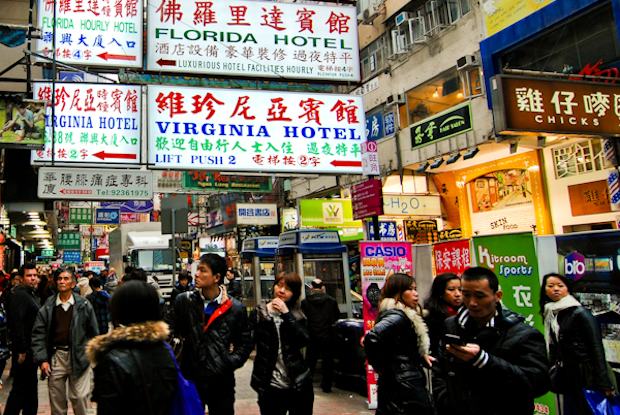 Tim Ho Wan, and The History of the Michelin Guide
Andre Michelin published the first Michelin Guide in 1900, as a way for motorists to locate mechanics, auto-repairers, fine lodgings and good eats, whilst touring the French countryside. By the mid 1920's, restaurants of outstanding quality had a star added next to their name, and the Michelin star rating system was born. Cut to the 21st century, and the guide is now considered somewhat of an "Academy Awards" for restaurants.
Really, there is no higher praise in the restaurant guide-book world than being awarded a coveted Michelin star. The very best restaurants, representing many different cuisines the world over, have one thing in common – the Michelin star. Of course, given the power and status of a star, the Michelin guide is not without controversy. However, some of the worlds most renowned chefs have the opinion that Michelin is the only guide that counts.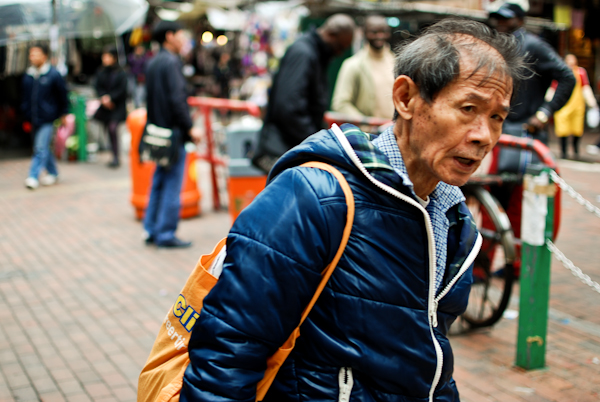 Opened in 2008, Tim Ho Wan is the baby of Mak Pui Gor, a Hong Kong chef formerly of the prestigious four seasons hotel in Hong Kong. Now, Mak dishes up Michelin star meals, for less than 2$ USD. Yes. Two bucks. It's ridiculous. Inside Tim Ho Wan there is no pretension. Unlike other normally boisterous Dim Sum restaurants, Tim Ho Wan is relatively peaceful. Staff wearing old, faded, lime green polo shirts move around the cramped tables delivering small baskets and plates. The camaraderie amongst the twenty or so other diners that have made it inside is palpable. Eating the finest Dim Sum dishes available, for spare change, creates an unspoken bonding between strangers.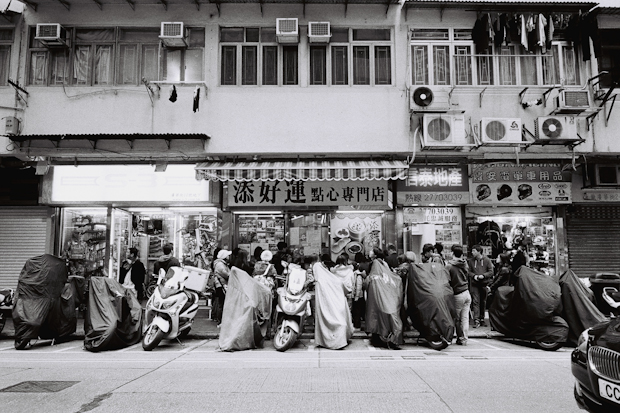 Getting a Seat at Tim Ho Wan.
Thirty minutes after opening time (10.30am), we arrived. Our reward was a hand-written number – 118. The current number being called was 12. Ten minutes later – no more numbers would be given out today. Interpreting the Cantonese and broken English from Tim Ho Wan's gate-keeping-number-caller, and observing how slowly the numbers were climbing, suggested at least a three-hour wait.
After exploring the densely packed district of Mongkok for a couple of hours, my fellow dim sum junkies and I returned. The Gatekeeper informed me, "oh, many people today, come back 3 o'crock". "Three o'clock, or 3 hours?" I enquired. "Yes. 3 hours. 3 o'crock". Uh huh. It was now about 1.30pm, so we decided to return at about 3pm. Of course, when we returned, our number had already been called.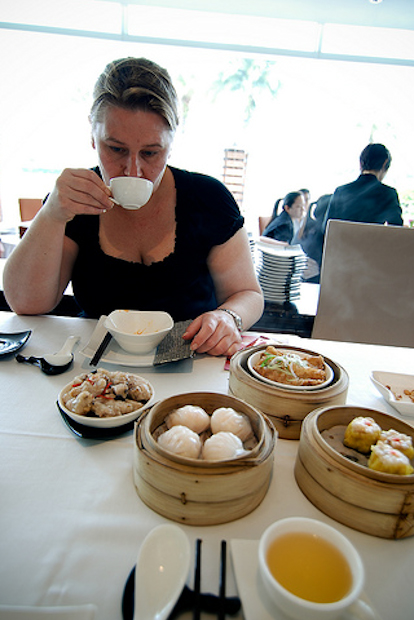 I stood with the constant throng of eighty or so people hovering around the front door, leering through the windows, taking photos, and trying to get the smallest glimpse, or whiff, of the hallowed ground within. Tim Ho Wan's gatekeeper reappeared, after dipping inside for a bit. I squeezed through to the front of the pack, holding my hand-written number 118 high. "Oh, no. You miss out today". My heart sank. We had missed our chance. Scratched off the sheet. It was devastating, I had the shakes, and I felt itchy all over. And, I could feel an uncontrollable facial tick developing.
Showing my best imitation of puppy dog eyes, I pleaded with the gatekeeper. "Many hours. I wait many, many hours. Prease to let me in! Prease!". He turned, opened the door just a bit, and said "OK. You come in now." It was close to five hours, from the time we arrived at Tim Ho Wan, to the time we were sitting down.
What About the Food at Tim Ho Wan?
Hey, Tim Ho Wan received a Michelin star, two years running, 2010, and 2011. I won't wax lyrical, I'll just give you a quick run down, and some pointers:
Order as much as you can possibly eat. The two of us ate for about $13 USD in total. Absolutely, positively, hurt it.
Get the baked pork buns (Char siu bao). Dear sweet lord, for the love of all that is good in the world, order the pork buns. Never, ever, has there been such a perfect combination of sweet, savory, crispy, crumbly. Mere words cannot do this morsel justice.
Lo Bak Go – fried radish cake. Normally, I find this dish tastes like, well, nothing. Not at Tim Ho Wan. Perfectly light, full of flavour, non-oily.
Go for the Dim Sum standards – the Har Gow (Shrimp dumplings), the Siu Mai (pork and shrimp dumplings) and the Pork spare ribs. These are amongst my favourite dishes at any Dim Sum, but it was great to sample what could be done to perfect these simple dishes.
How to avoid the long wait ? Who knows? Maybe get there before opening, I think without luck on your side, you're in for a bit of a wait no matter when you arrive. Tim Ho Wan is only a very small restaurant, and insanely popular.
Bookings are not taken at Tim Ho Wan.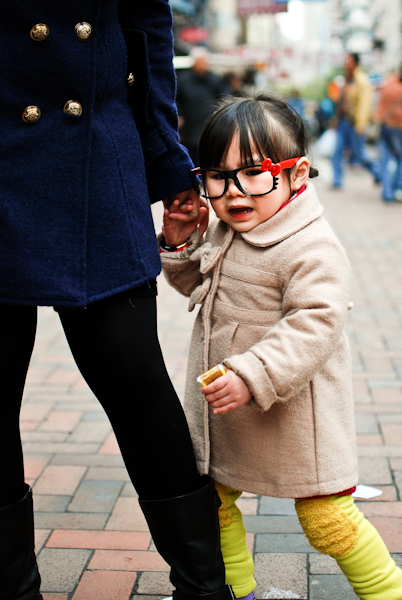 Tim Ho Wan is a place I could just curl up in a ball under the table, and never leave.  In my opinion, Tim Ho Wan is Hong Kong's number one tourist attraction.
Nate.
PS – the lack of photos of the dishes at Tim Ho Wan? I don't want to ruin the surprise, you'll just have to visit.
INFO:
Tim Ho Wan Masterful Dim Sum Expert
Address : Shop 8, Tsui Yuen Mansion,
2-20, Kwong Wa Street,
Mong Kok, Kowloon, Hong Kong.
Tel No : 2332 2896
BTW, I would love to send you the next dispatch, posted from some-where random around this planet (and you'll soon find out why YOMADIC email followers are my favourite followers):