Communist Architecture Collection in Europe's Dead Centre – Bratislava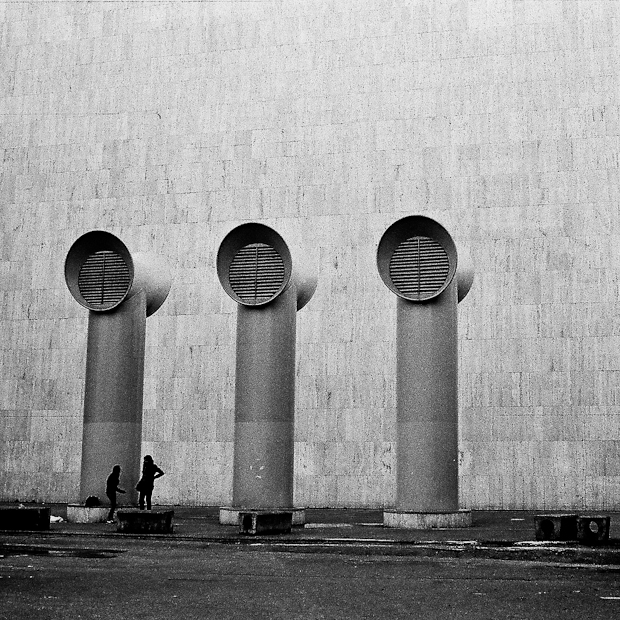 Bratislava, Slovakia. Like the red-headed step-child in the middle of a three kid family, Bratislava is cruelly overlooked. Nearby city-siblings Prague and Vienna get all the glory, and Bratislava, apart from a short period in the naughties as a stag-party favourite, just doesn't attract the same number of tourists.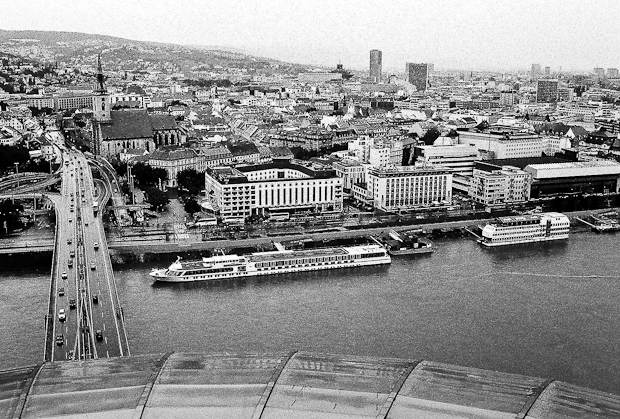 Hardly off the beaten track, Bratislava is located geographically in the dead center of Europe, and only 34 miles from Vienna. The city has a rich and complex history (both ancient and modern), females known for having the most atypically "model like" features on Earth, hearty cuisine, and diverse architecture. Including many amazing examples of 1960's and 1970's communist-era architecture.
Communist Architecture is Not So Hot Right Now
I should preface this article by saying, I'm probably not going to win many Bratislava converts. Personally, I am a fan of communist-era architecture. With elements of brutality and modernism, and a pinch of dystopia, Bratislava has a unique collection of buildings and structures that represent a by-gone era that wasn't so long ago, and yet, is now strangely foreign and distant.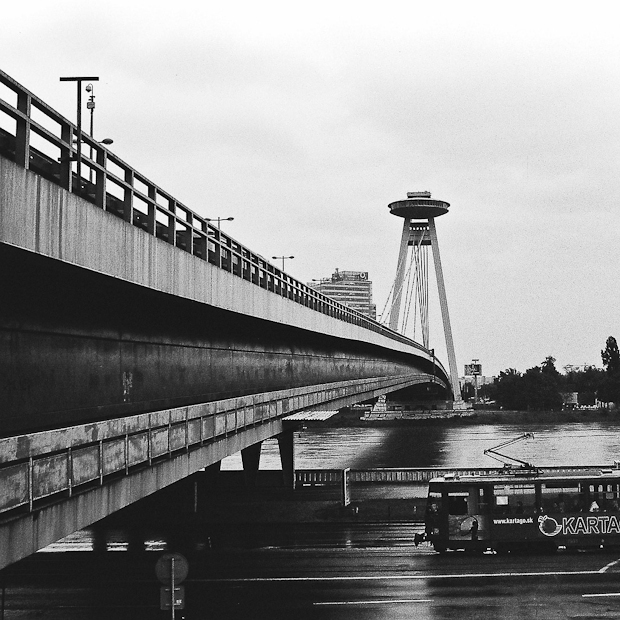 Prominently situated in prefect juxtaposition to the 1000 year old Bratislava Castle, is the 1960's "Nový Most" – the worlds first, and only, asymmetrical suspension bridge and UFO tower nightclub restaurant. Formerly known as the not-so-catchy "The Bridge of the Slovak National Uprising", Nový Most, or "the New Bridge" crosses the Danube from down-town Bratislava.
Perched on a two-legged tower, the metal clad UFO has been staring menacingly at the array of classical buildings across the river. Since 1960, it's been as scary as hell. Not due to the appearance so much as the shaking. It moves. It sways. The bridge, the UFO tower, nothing feels solid. The very fibre of the bridge, concrete and steel, moves so erratically I found myself grabbing anything I could just to keep my balance.
More than once, as I watched the fast-moving Danube River flow under Nový Most, I didn't think I would make it across. Creaking and groaning, I thought this inevitably would be the day the spectacular bridge and UFO finally comes tumbling down.
After a shaky journey up through the leg of a UFO to a viewing platform 95 metres above Bratislava, you too can have pleasurable day-dreams of crashing to your death atop an otherworldly sci-fi tower in the heart of Europe. Personally, I would be taking photos all the way down, with the spectacular backdrop of old Bratislava on one side, and about a million cookie-cutter Communist apartment blocks on the other. And, I would do anything for that moment to come true.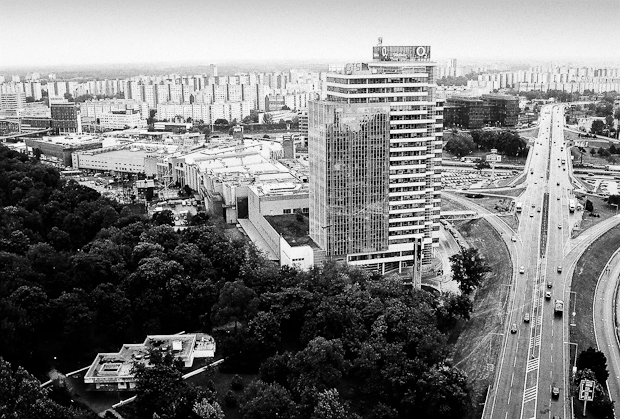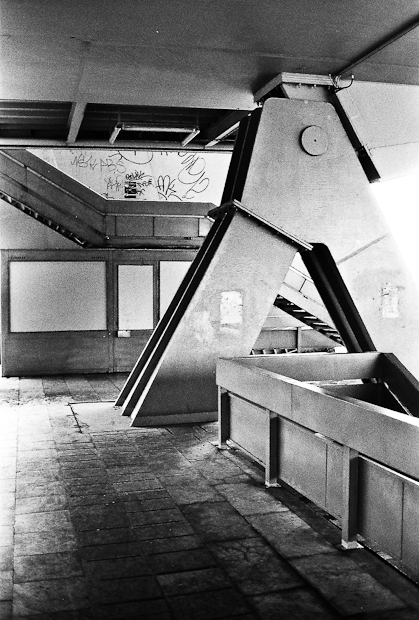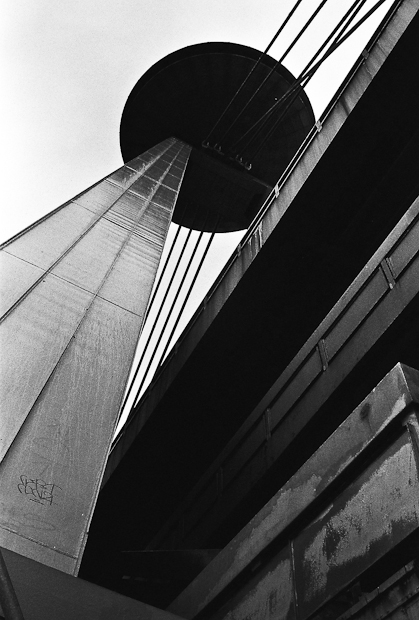 Bratislava holds one of the densest residential areas in Eastern Europe. "Petržalka", clearly viewable from atop the UFO tower, is an area the size of a few football fields and home to more than one hundred and fifty thousand inhabitants.
Built on a former Hungarian concentration camp, Petržalka has been called "The Bronx of Bratislava". Countless identical Soviet-era towers do an admirable job at blocking sunlight for all those who inhabit the Stalinist reminder. Another tourist offered his opinion, somewhat crassly – "what a shit hole it must be living out there".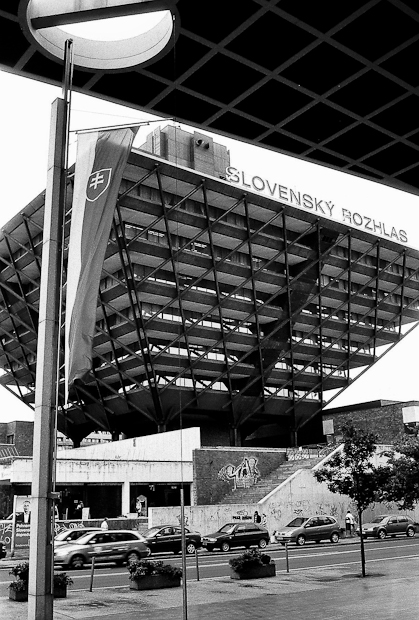 Perhaps no other building represents the mis-directed ambitions of communist-era Bratislava more than the building that is home to the Slovak radio station. A giant pyramid, built upside-down. Taking twenty-seven years to complete, the building is one of the most inefficient uses of money and space in the history of architecture.
To my eyes, the structure is incredible. However, I can't help but think it was quite a huge effort, just to house a radio station that blasted out a few hours of government propaganda each day.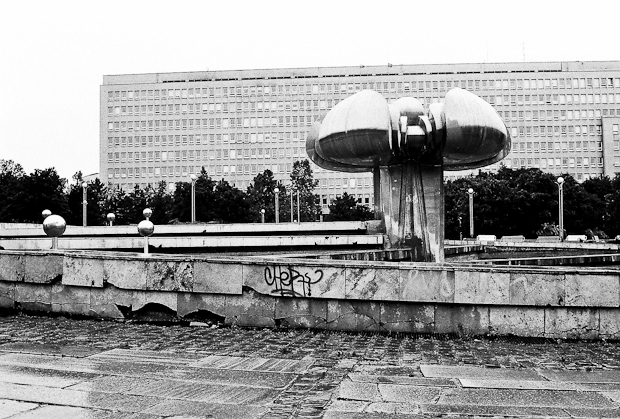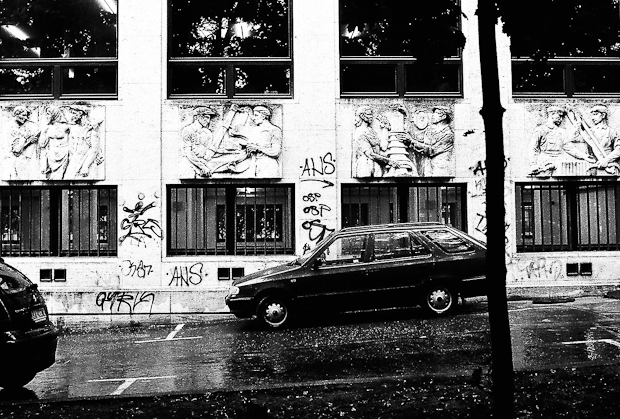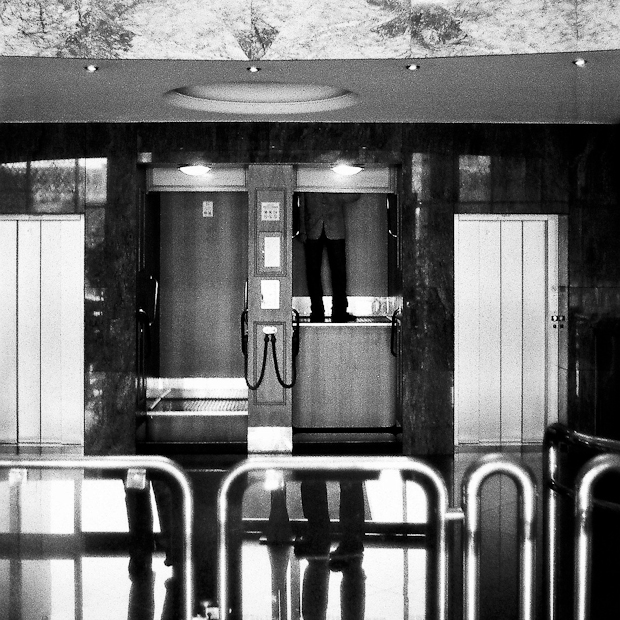 Nearby is the worlds largest Post Office, of course. Contextually, the Post Office is a behemoth. Positioned opposite a virtually abandoned graffiti-covered marble-clad park, the socialist administrative building is brutally modernist in design.
Inside the Bratislava post office, exists a unique communist-era escalator. You may have seen one of these in the movies. A conveyor belt drags small wooden platforms up and down the building. You hop on, one person at a time. No door. No rails. Then, jump off when you feel like it. Does it ever stop? What happens when you reach the top, and the platforms turn around and make the return journey, upside down? Valid questions, for which I have no answers.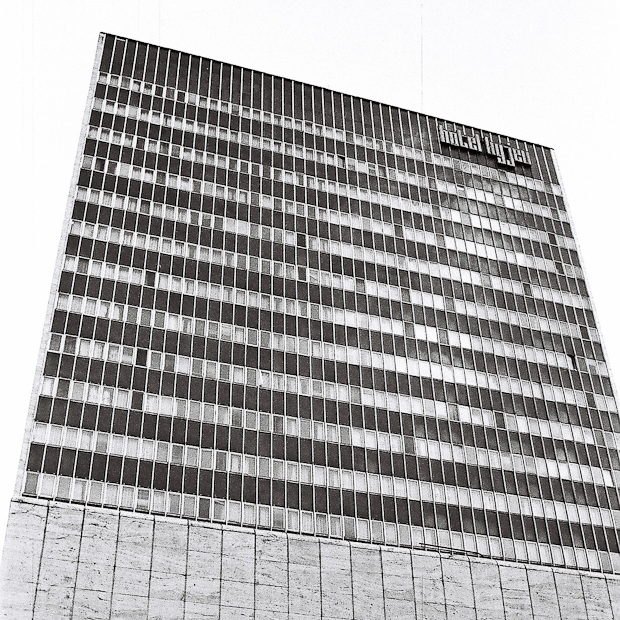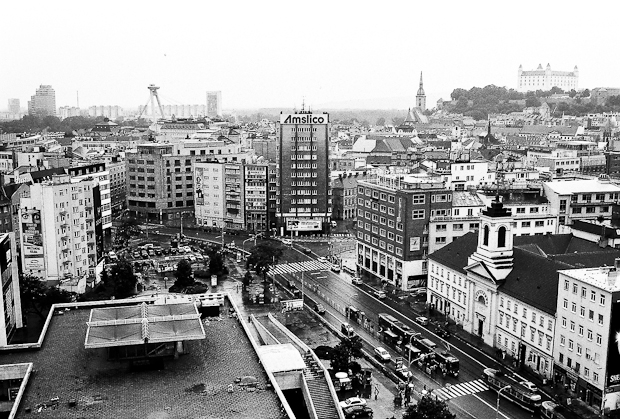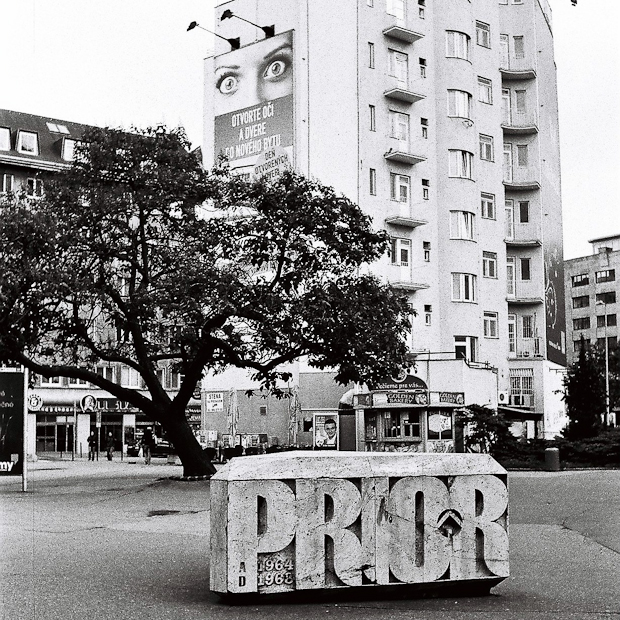 For the moment, visitors to Bratislava can stay at Hotel Kyjev (pronounced "Kiev"). A masterpiece of communist-era architecture, sadly, the entire block is due to be demolished. Constructed in 1970, the Hotel remains almost unaltered, with funky organic furniture, an overdose of wood paneling, and bullet holes in the door of room 1212. It's a long sordid story, don't ask.
Once the Bratislava main-stay for visiting government workers, and even the occasional capitalist pig from the west, Hotel Kyjev is now a little tired, but remains 100% authentic to the mid-century communist architectural aesthetic. Frankly, the hotel building, and adjoining shopping complex are one of the architectural highlights of Bratislava.
UPDATE: Hotel Kyjev Bratislava has now closed down, and awaits demolition.
Nate
PS, I visited Bratislava during a failed attempt to make it from Singapore to Oslo overland. I'm now travelling permanently, having visited over forty countries so far.
PPS, bonus trivia – Bratislava and Vienna are the World's closest Capital cities.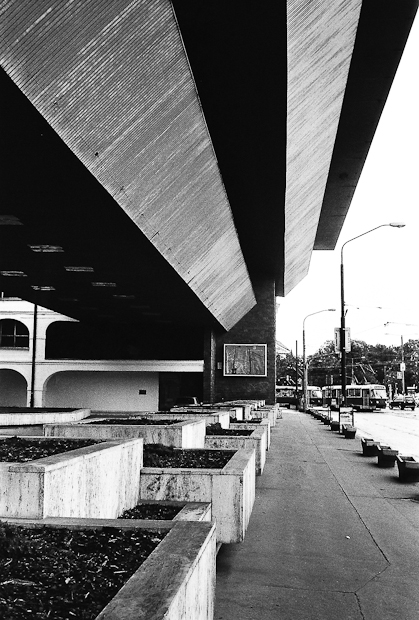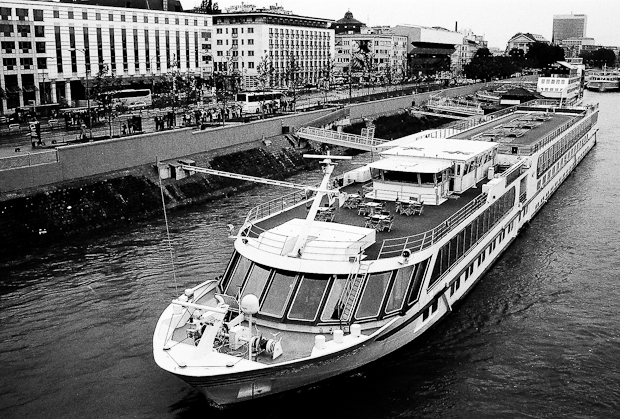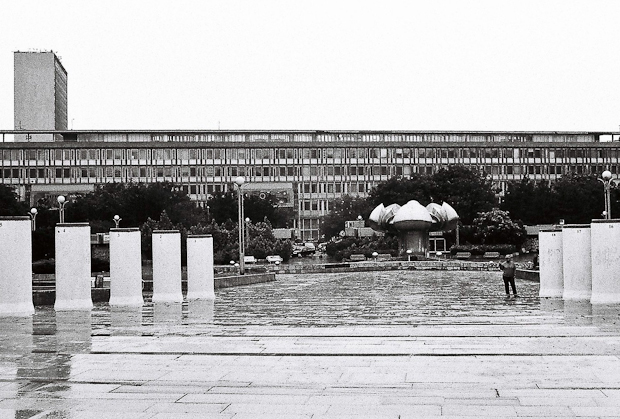 BTW, I would love to send you the next dispatch, posted from some-where random around this planet (and you'll soon find out why YOMADIC email followers are my favourite followers):