Announcing My Next Iran Tour
UPDATE 2022: this is an old page – we have grown a lot since 2016! All of the current Yomadic Iran tours can be found by clicking *here*. (BTW, we like to keep this old stuff on the website – it helps you see that we've been offering unique Iran "Untours" for many years now. We're always authentic, proud of what we have developed in Iran, and we really hope you can join us soon!)
Today, I'm announcing the launch of one more Yomadic Iran Tour for 2016. The "Untour" is a purposefully limited opportunity for you to experience a remarkable country in it's "before" state. Everything you need to know about the upcoming Yomadic Iran tour is right at this link here – prices, dates, how to book, what to expect, and of course, what not to expect. Not interested? Can't make it? Just looking to waste some time on the bosses dime, catch a little wanderlust? Read on…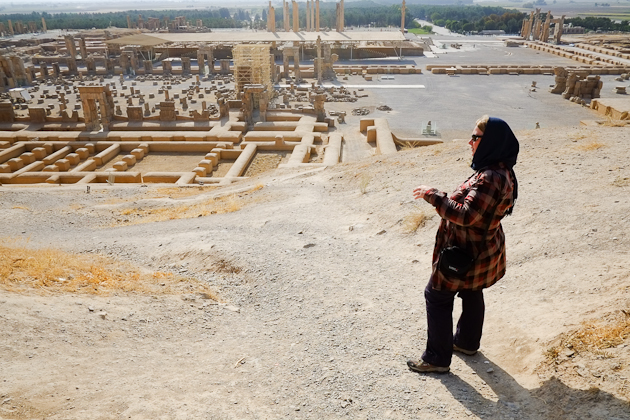 There's a somewhat incredible group of travel destinations and journeys, perfect for making those kind of permanently life-altering memories. But, they're the places that, unfortunately, often seem like too much "work". Those out-of-the-way and lengthy journeys, to places unknown, off-the-beaten-track, and sure, they're worth it, but sometimes they feel like they're a little bit too hard. So, we take trips to Paris, London, New York or Disneyland, instead. We play it safe in life. We take short weekend trips to familiar locales because taking a few weeks off from the job seems way too risky.
But, it's worth noting, the unexpected travel experiences in your life, not the experiences that you planned for, will create the most lasting memories. The times where you find yourself saying "guys, guys, guys, guys…. guys… let's just all calm down, I'm pretty sure fireworks are perfectly legal in Iran, and, sure, of course, I'm no doctor, but that man Paul just shot, well, he doesn't seem to be hurt too badly", those beautifully forbidden, I-can't-believe-I'm-really-here moments, when it's critical to remember that what happens in x stays in x", in hindsight, those really are the experiences you'll cherish most.
Maybe, you'll be re-telling your unexpected tales over and over, boring your friends, family, random people in the supermarket line, and that homeless guy on the corner, at every dinner party, BBQ, division meeting, and water cooler conversation, for the remainder of your natural life. Probably, you'll just use those unplanned travel memories to give yourself a little smile, and a small moment of happiness, on an otherwise shitty day.
Those unexpected journeys, to the lesser-travelled places, are priceless. They give you an everlasting lift, in a way that the well-trodden and well-marketed destinations often struggle to do. They're the go-to places for when you think there's nothing else left to see in this world. They teach us that life really is short, and that we all need to just live a little more, and enjoy our time on this planet, right now.
And when you blink, those places change forever.
Tony and Maureen Wheeler spent months travelling from London to Afghanistan in the early 1970's. They travelled in a beat-up Mini that they purchased for 65 quid, and journeyed through a part of the world almost completely unknown to western tourists. Then, they used their experiences to create the Lonely Planet guidebook empire, providing an opportunity for intrepid travellers everywhere to re-trace their footsteps. Not long thereafter, Afghanistan became war-torn, dangerous, and largely off-limits for tourism. Despite the hard work that the Wheelers put in, to this day, the opportunity for travellers to follow Tony and Maureen through Afghanistan has passed.
Many decades ago, adventurous surfers wandered long-term around the exotic island of Bali. Part of a very small band of pioneers, in search of waves, taking their time, exploring, relying on local knowledge in the days well before endless Top Ten Best Bali Beaches articles. Today's Bali is inundated with tourists. Not at all coincidentally, the island suffers from issues of pollution and environmental degradation. Even though Bali isn't dangerous, the opportunity to enjoy an unspoilt tropical island has become a lot more difficult.
Spain's rugged Costa Brava region must have been incredible, before the over-exploitation of a pristine coast that's been transformed specifically to suit the tastes of mostly British package tourists, complete with greasy Fish and Chip shops, English pubs, and made-in-China tourist souvenirs. Not so long ago, the Croatian coast was cheap and uncrowded, the spectacular Albanian Riviera was tourist-free, and I'm wondering about Cuba now the tourism floodgates are open. Often, when a nation's "before" time comes to an end, the transition phase can be difficult, and even downright ugly. New money has a way, of abusing old opportunities.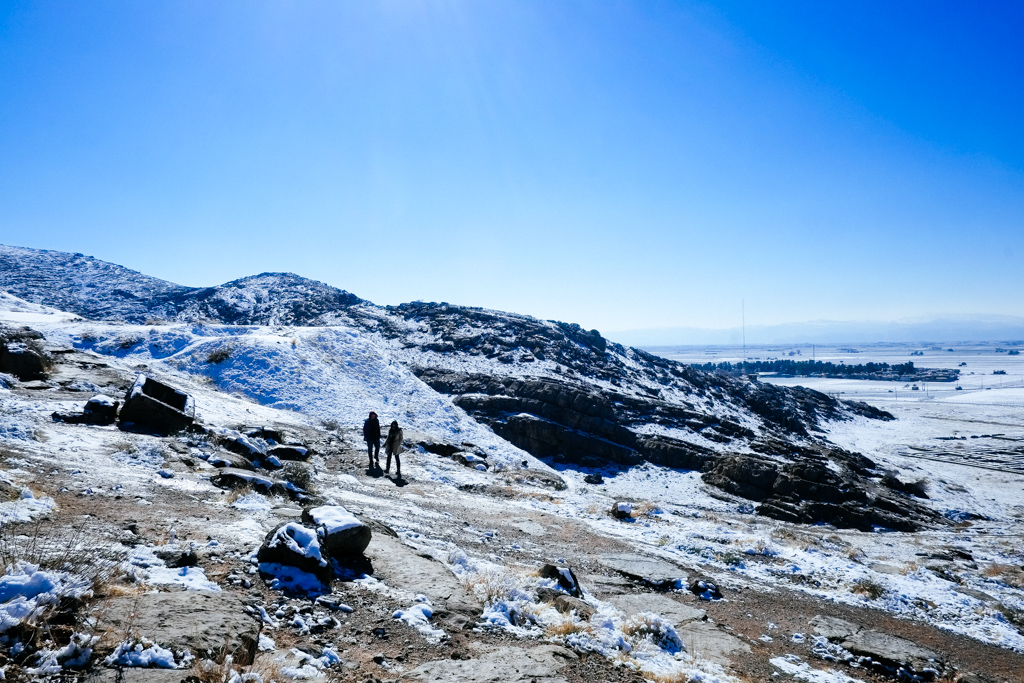 In 2016, Iran is perhaps the worlds best "before" travel opportunity. But, the problem remains – like all of the "before" places, Iran takes a significant amount of time to explore independently. Reliable information is lacking, whilst disinformation, lies, and misconceptions are rampant. Guidebooks are well and truly outdated, and the overwhelming majority of local guides and Iran tour companies offer little beyond an unimaginative and well-worn path that has been followed by tourists, almost forever. Like all "before" destinations, the best way to learn about modern Iran is slowly, spending time on the ground.
Not everybody has the time, nor the inclination, to explore and travel, long term. Facing the ups and downs, up-ending your life, in the hope that a few of those glorious travel moments will eventuate, it isn't for everyone. Not everybody wants to see the "before" places, they're happy to see the aftermath. But, for those of us that are interested, fortunately, there are shortcuts. It's possible to borrow the time, and experience, of those travellers who have forged the unknown path before us, so we can all travel to these unexpected and unknown destinations with a little more ease.
Unlike Tony and Maureen Wheeler, and other travelling pioneers, I haven't written any guide books. However, my Yomadic "Untours" through Iran and other lesser-travelled destinations, have provided many people with the opportunity to gather a lifetime worth of unexpected and unplanned travel memories. I run these Iran tours, because I love this "job". From the moment we begin in Tehran, I love seeing all the faces slowly change their expressions from apprehensive, to thrilled. I love seeing Phillipa and my gang of local helpers keep their fingers on the pulse of all things Persian, and I love being part of a group that magically distills the spirit of independent travel into a very non-typical, unique, and unexpected, group-experience. And, I love that people who come along, love it too.
Unexpectedly, this will be the sixth Yomadic Iran Tour (and the ninth Yomadic tour I have run since 2014). It's more than I would have ever believed. However, there's a really good reason to run another trip through Iran – I'm yet to find another country in that perfect "before" state.
Nate.
PS, I have been lightly legally threatened with the use of the trademarked word "Untour". I'm also using a photo of Bill Murray as Steve Zissou to help advertise my Iran Untours, and have yet to hear from Bill.
PPS, October seats available for the sixth Yomadic Iran Tour from Tehran to Shiraz, here. This opportunity will also pass. You can read everything I've ever written about Iran by clicking here.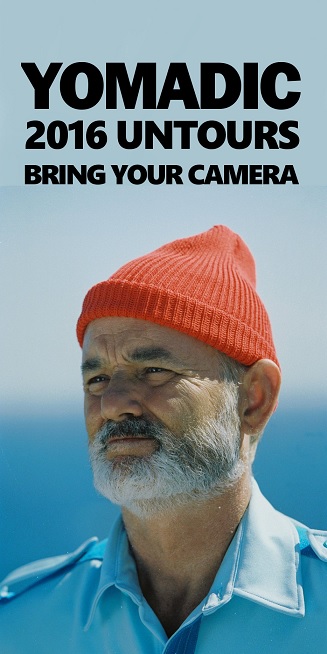 BTW, I would love to send you the next dispatch, posted from some-where random around this planet (and you'll soon find out why YOMADIC email followers are my favourite followers):