The One Thing I Don't Want to See at the Beach, I Saw In Pogradec, Albania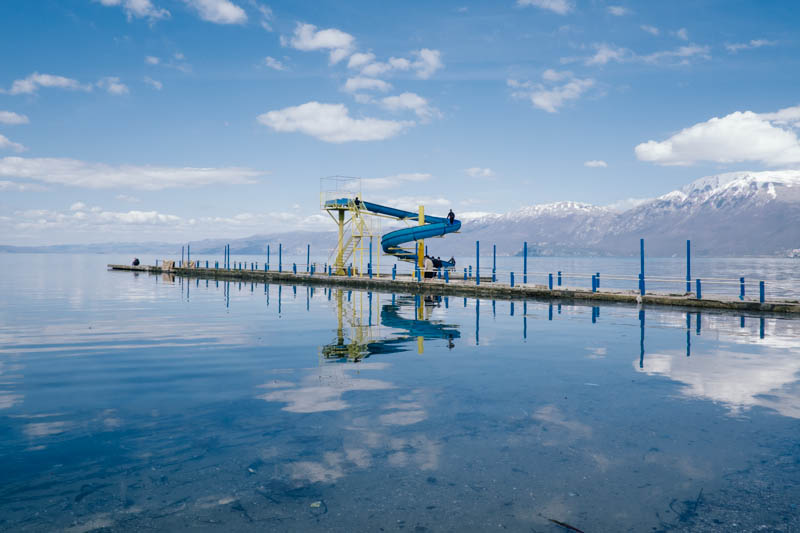 You would think after all this time travelling, I would have a few more negative things to say about the world. Sure, I once wrote about Paris being London's best tourist attraction, but since then it's all been rather sparkly here on Yomadic. Even within the brutal communist-era concrete neighbourhoods of Belgrade and Zagreb, I found nostalgic wonderment. Macedonia, where I'm temporarily based, can't put a foot wrong. Stunning scenery, welcoming people, impossibly cheap beer. But this week I crossed the border into the little explored country of Albania. In some ways, it felt like I had entered hell.
Lake Ohrid, my millions-of-years-old-impossible-to-leave temporary home, is shared between the nations of Macedonia and Albania. From the UNESCO listed city of Ohrid in Macedonia, an hours drive will get you to the closest Albanian city – Pogradec. The Macedonian locals offered up encouragement when I suggested I would rent a car, circumnavigate Lake Ohrid, and take a day trip into Albania.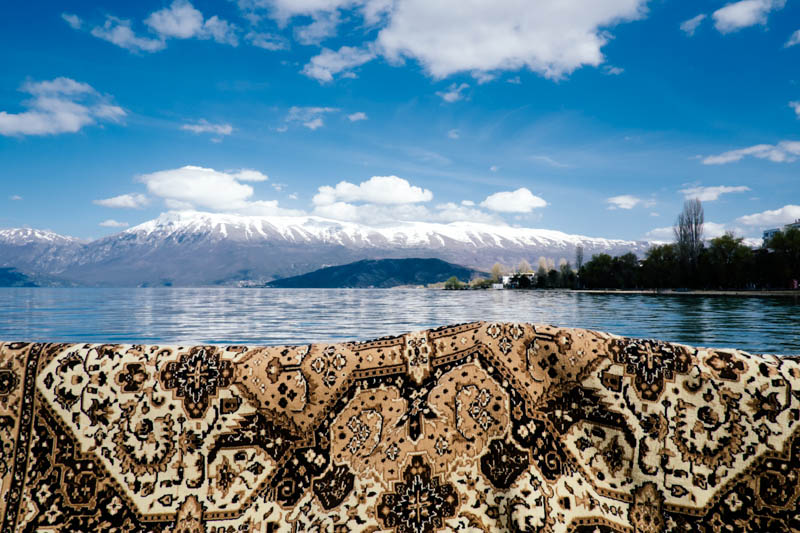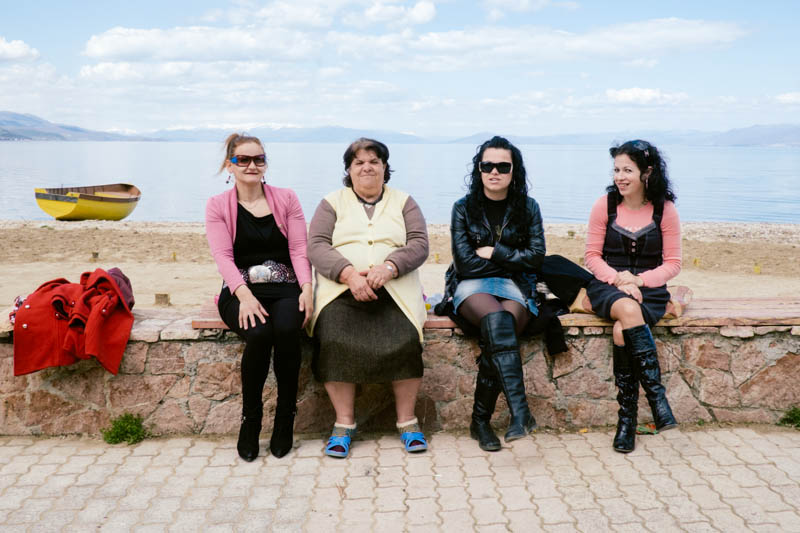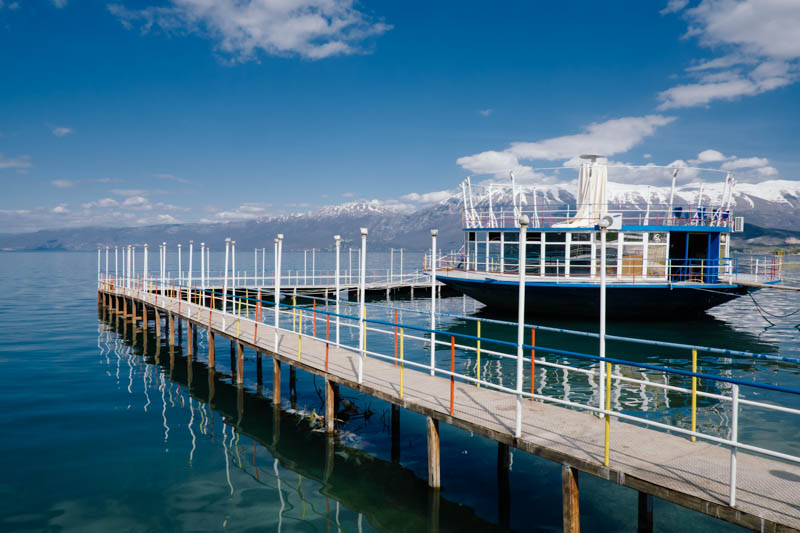 At the border, the sight of the Albanian flag made me smile. A blood red background holds a pitch black silhouette of a two-headed eagle, all in the shape of a shield. Equally suited to a medieval coat of arms, or as insignia for post-apocalyptic Hollywood b-grade bad guys. The ninth official Albanian flag within the last century, it looks  staunch and evil, and that's a great thing.
Macedonian/Albanian border formalities were simple. Within a few minutes I was welcomed to Albania by the efficient and smartly dressed border guards.  Thirty seconds of Albanian potholes later, the car, smooth to this point, had developed a significant vibration and wheel alignment issue within another minute or so. I pulled over to see if I still had four wheels, then continued on to the center of Pogradec.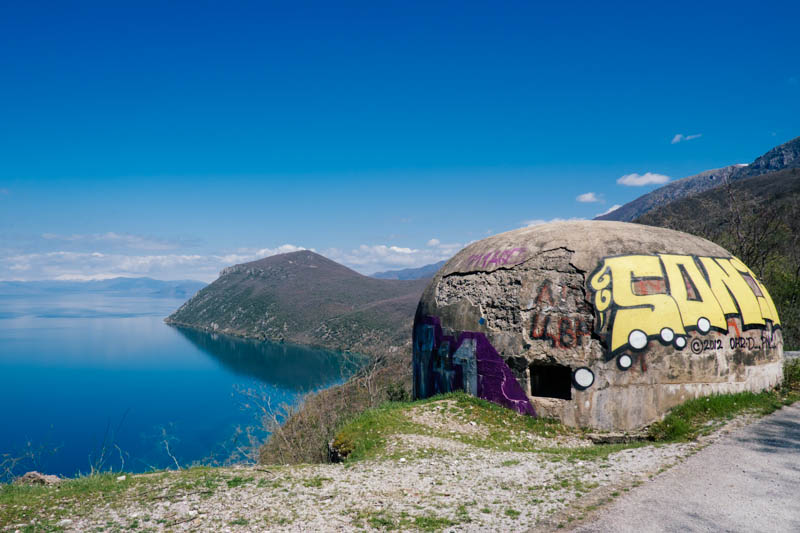 Other cars creep along, and oncoming traffic weaves from one side of the road to the other, avoiding potholes. Alongside  the road are countless concrete bunkers. Albania went on a mad "bunkerisation" building program, and ended up with 700,000 public bunkers – one for every four inhabitants.  Vision was limited at this point, due to the huge number of roadside fires that were burning. People were staring. I had no map, no GPS, I didn't know where I was going, and I started to feel a little bit like an intruder.
It didn't take long to find the center of Pogradec city – it's at the end of a dirt track. I parked the car, and Phillipa and I went for a stroll along the Pogradec waterfront. Unlike the more glitzy side of Lake Ohrid, Pogradec remains a town at the beginning of a revival. There's a huge amount of construction in progress, with plenty of lakefront hotels and apartment buildings in progress. Pogradec is right on the lake, and the snow capped mountains make for an amazing natural backdrop.
But, I didn't see any other tourists.
Locals were friendly. There's a bit of  "hey look, a tourist"-  something I have experienced in places like Iran and remote parts of China, but never in Europe. It's not a problem – trust me, I don't mind being the center of attention occasionally. But beyond this, Albanian people of Pogradec were genuinely, and outwardly, friendly. Two young men introduced themselves, and outstretched their hands for a handshake. A group of older men playing dominoes on the lake front laughed and insisted that I take photos of them. A pretty lady walking her baby waved and said hello from quite some distance away. Smiles all round, all day.
Out on the jetty, one of the locals posed a question.
"And, do you think it is beautiful here, in Pogradec?"
"Do… I… think it's beautiful…umm, here?"
"Yes, do you think so?"
"Umm…beautiful?"
I wasn't sure how to answer.
I was stalling for time.
Maybe I could avert my gaze away from the Pogradec shore.
Looking up, the towering mountains really are beautiful. Looking out over the lake, the unique light is absolutely mesmerising. Geographically, Pogradec occupies a pretty special part in the world.
But, it's not such a simple question to answer.
click to see an interactive map showing the location of this article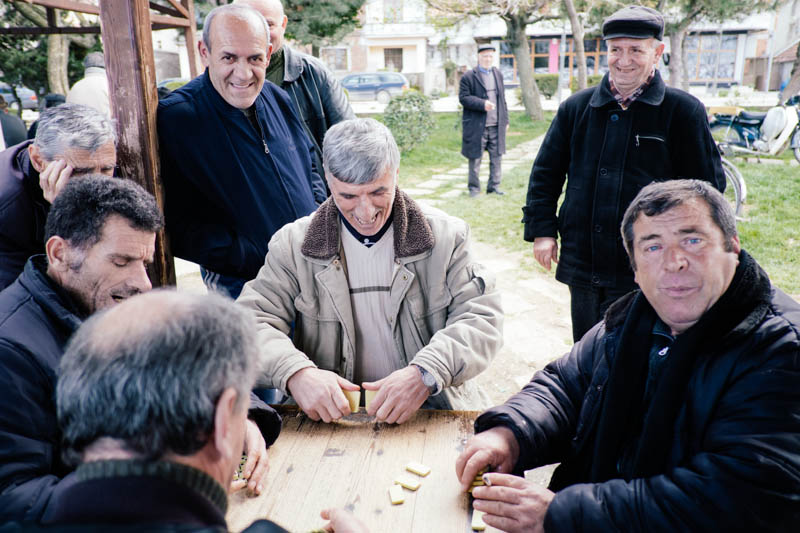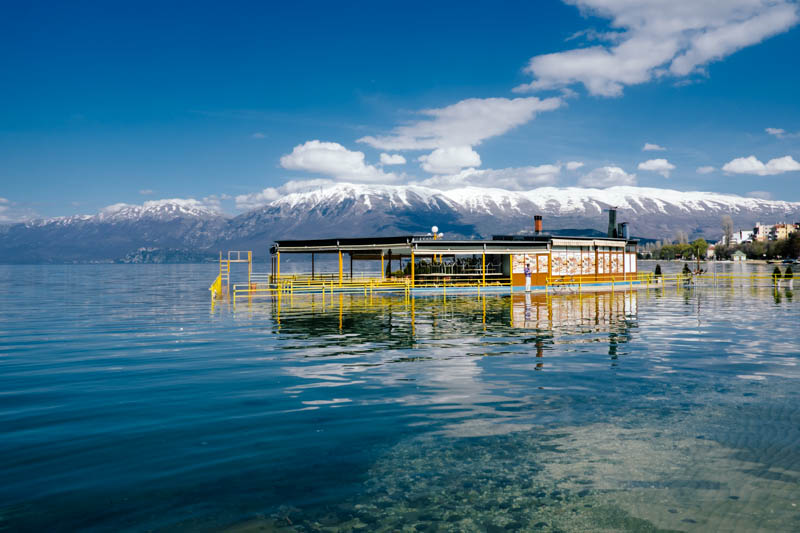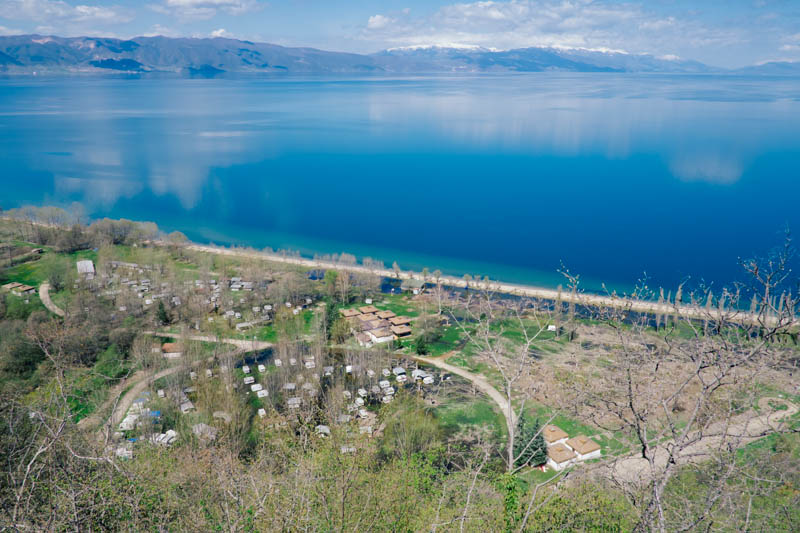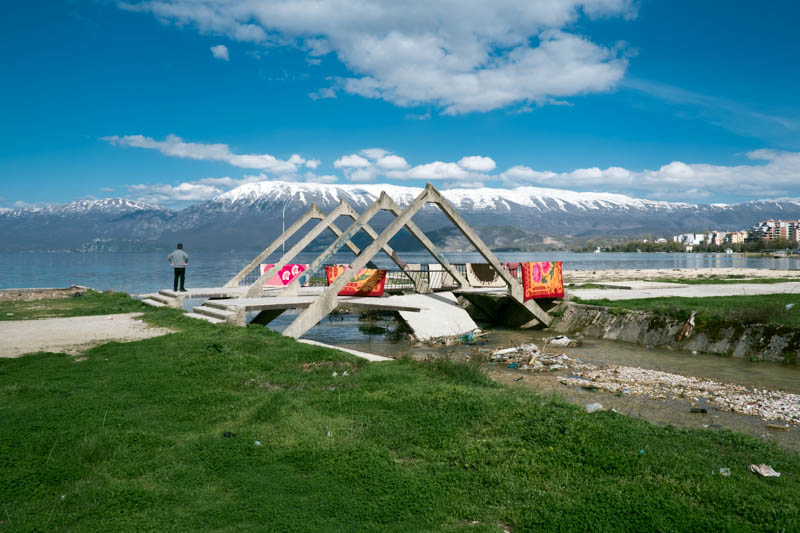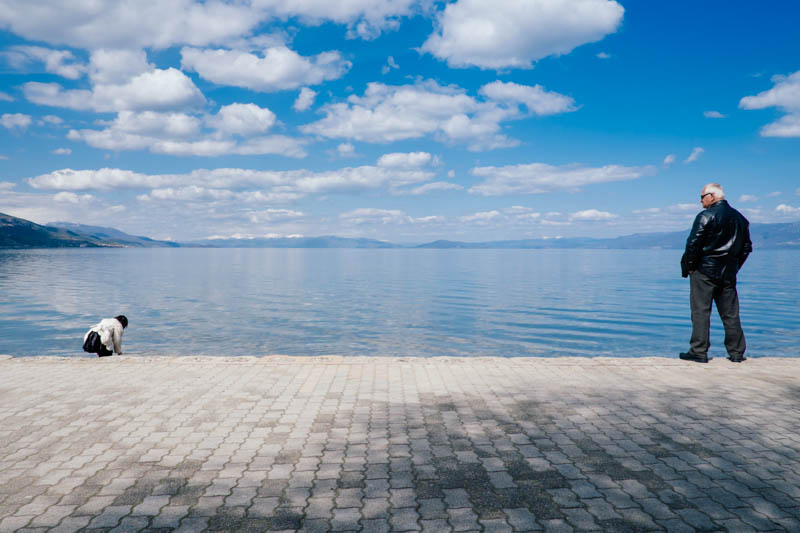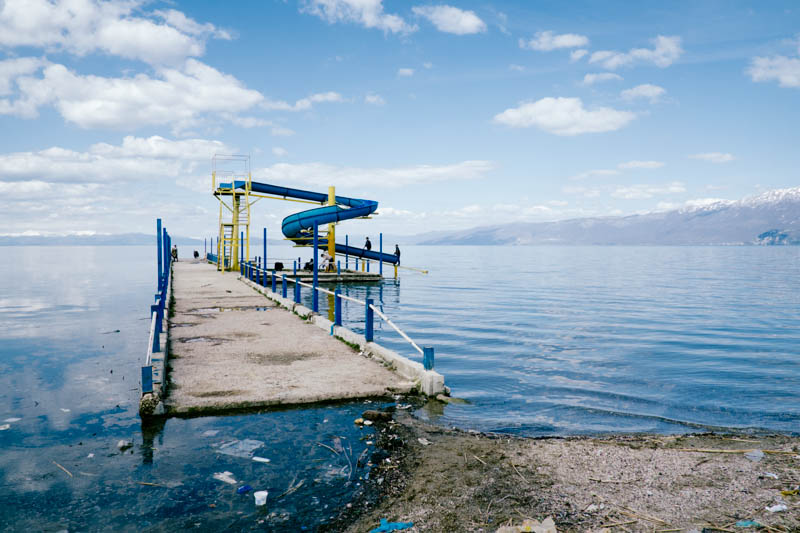 Along the lake there's bars, cafes, a little theme park, water-slides, boats, and everything you would expect in a small Albanian city that during the communist-era, was renowned for tourism.
I enjoyed a great coffee, and some amazing Walnut biscuit.
"Beautiful…ummm…. well….."
In the lead-up to the question, I had just walked along  the beach.
Phillipa walked about 50 metres away from me.
I think I heard her dry retch.
I definitely heard a lot of "oh my god", "why doesn't someone do something!"
Possibly a "won't somebody PLEASE think of the children!?!?"
She wouldn't come any closer.  We eventually met up at the start of the jetty with the water-slide on it, hopped over the rubbish, and walked to the end. This provided some well needed relief from the shore.
Perhaps it was the wind direction.
The two friendly guys chatted to us. They wanted to know, what we thought of Pogradec. The problem, and what made it hard to answer the question – honestly – was the smell of a dead dog, heavy in the air.
Sitting at the bar, I could smell it. The guys playing dominoes, they must have smelled it. The young men asking me the question, surely they could smell it. And the pretty lady walking her baby, well, she was only metres away from it. Along with the many people walking along the waterfront, she could see it.
But nobody seemed to mind, that a bloated, fur-less, dead dog was sprawled out among the rubbish, right in the center of  Pogradec, Albania, Europe.
It wasn't a small dog either. Even the birds wouldn't touch it. It looked like a Chinese roast pig. Nearby to the dog, was a concerning amount of old condoms, used plastic bottles, and a whole bunch of unidentifiable debris.
So I took a photo.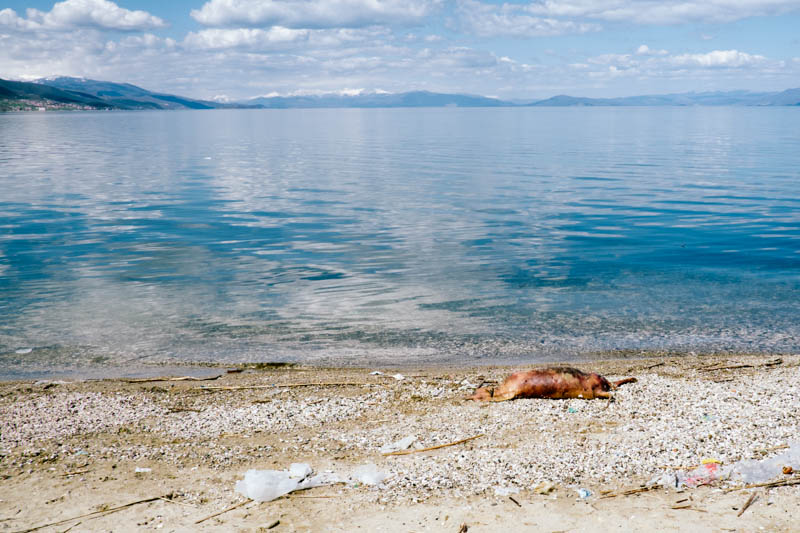 One thing popped into my mind.
Even just a single dead dog mixed in with rubbish on a European riviera, is probably one dead dog mixed in with rubbish too many.
That can't be good for tourism.
I told the guys that yes, I thought it was beautiful here in Pogradec, Albania.
Nate
PS, I am now more than ever intrigued to explore Albania, and I soon will.
BTW, I would love to send you the next dispatch, posted from some-where random around this planet (and you'll soon find out why YOMADIC email followers are my favourite followers):