When I first visited Albania, I drove across the border and soon found myself slowly creeping through countless garbage fires, along a road laden with tire spikes and potholes. The air was thick with choking smoke, I drifted through the toxic plumes amongst a procession of locals giving me that beady-eyed "you're not from around here boy" look I'd last seen in Alabama circa two decades ago. Minutes later, my nose was filled with an overpowering scent of stale death, emanating from the rotting carcass of a recently deceased dog – bloated, hairless, stacked atop an absolutely criminal amount of garbage, right on the shores of the oldest, and probably the prettiest, lake in all of Europe. Most smart people would have got the fuck out of tourism-hell, never to return. I'm not most people, and I'm really not that smart.
I decided Albania would make an ideal tourist destination, and recently, for the second time, I untoured a small gang (including a wealthy monocle-wearing Canadian Doctor, a pretty Malaysian girl, and Ken… well, I still don't know how to describe Ken) around a country that I now believe is the biggest secret in European tourism. Of course, everyone loved Albania. And that's the thing – it's obvious to anybody who has recently visited Albania, that it should probably be one of Europe's most-visited destinations. But, it hasn't always been this way.
Albania has been through some atrociously rough times. In 1985, citizens of Western European nations wore Reeboks and leg-warmers, and slow danced to Careless Whisper on infinite repeat. Meanwhile in Albania, a brutal and probably insane communist dictator, Enver Hoxha, was forty-years deep into refining his ever-more prolific use of the death penalty. Albania had become a communist shit-hole like no other – think North Korea, two kilometers from Greece and a stones-throw from Italy. Enver was relentlessly killing and torturing not only regular Albanian citizens, but fellow communist party members, friends, and family.
Freedom of speech, religion, cars, foreign travel, foreign investment, George Michael, and even beards, were all forbidden. Albania became the most isolated and poorest country in Europe, a land where citizens were more likely to know of someone living in a concentration camp than have a neighbour that owned a colour TV.
Enver ordered the construction of 750,000 now infamous concrete bunkers, filled some with machine guns and others with chemical weapons, intending to protect a population of 3 million people from an invasion that was never even remotely likely to eventuate. Enver Hoxha, was a textbook nutjob. And then, after he died in 1985, things got really bad.
Within a few years, demonstrations throughout Albania started the ball rolling on overthrowing the now Hoxha-less communist party government. A feat made even more impressive knowing that due to their isolation, most Albanians had no idea that communism was falling all over Europe. Although, slowly, many of the things that were banned (including restrictions on foreign travel, tourism, and car ownership) were un-banned, the transformation to democracy was extremely difficult. Then, in 1997 – less than twenty years ago – within a climate of extreme social unrest, economic collapse, and widespread corruption, the wheels really fell off. Big time.
A failed pyramid scheme, where most of the life savings of the entire nation was lost, caused widespread protests and eventually country-wide anarchy. Not the good kind of anarchy, the bad anarchy where rebel groups and gangs took over. Military bases and depots were raided, and millions of machine guns, ammunition, and grenades made their way into the general population. A recounting of those times told directly to me spoke of a gang leader "carrying a severed human head" down the main street of the city of Berat. Murders were regular, as were food shortages. This carried on for several months. Again, this is Albania, in Europe, less than twenty years ago.
Long story short, Albania isn't like that anymore.
Apart from regular concrete-bunker sightings and the occasional fading communist-era propaganda artwork, the casual tourist wouldn't realise such tumultuous events occurred so recently. However, after experiencing around sixty years of grief, many Albanians got tired of waiting for "things to get better" and over the last couple of decades, they left the country, en-masse. The exodus hasn't stopped – for example, in May of this year, more Albanians than Syrians sought asylum in Germany. The Albanian diaspora around the world is now larger than the number of Albanians living in Albania. Given the history, it's not hard to understand this exodus – sixty years is a very long time to wait for a bunch of promises that never actualised.
So, Albanians continue to leave, just as tourists are really starting to arrive.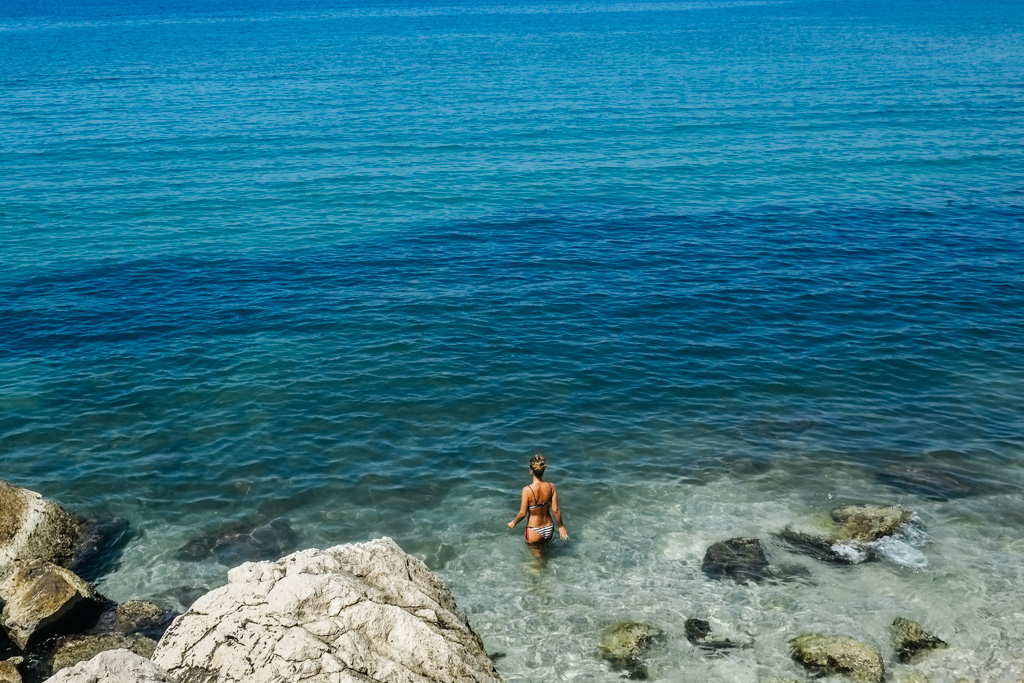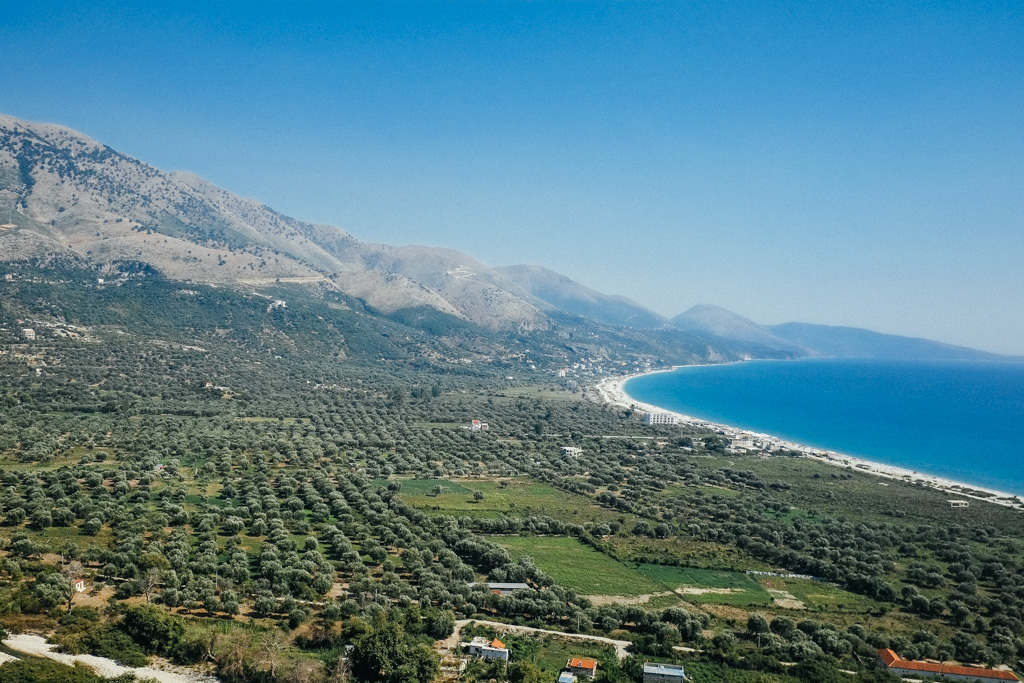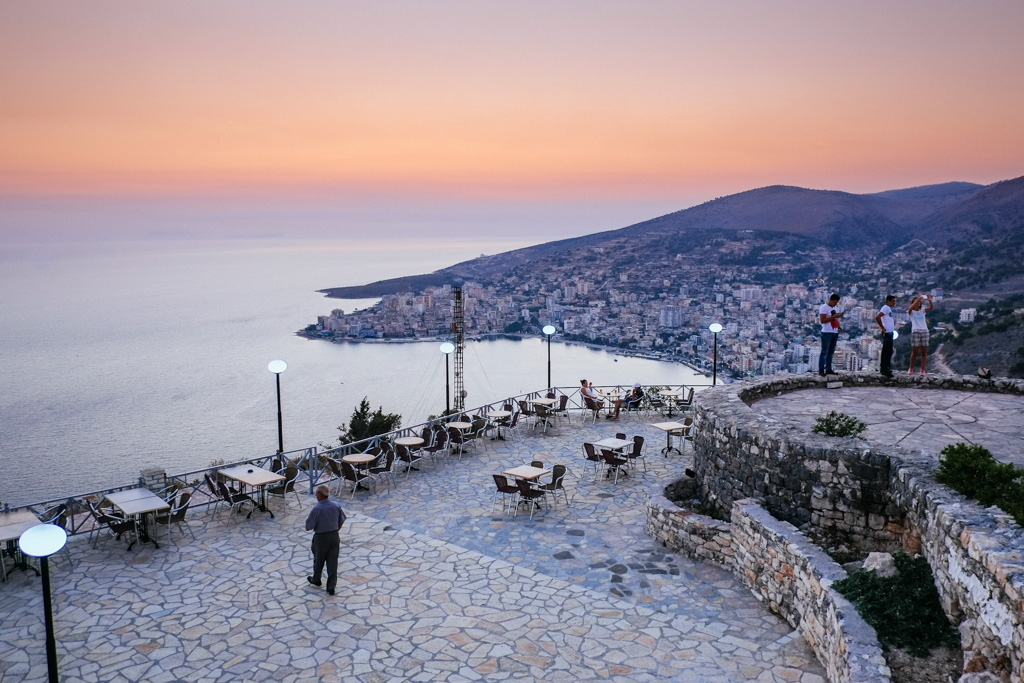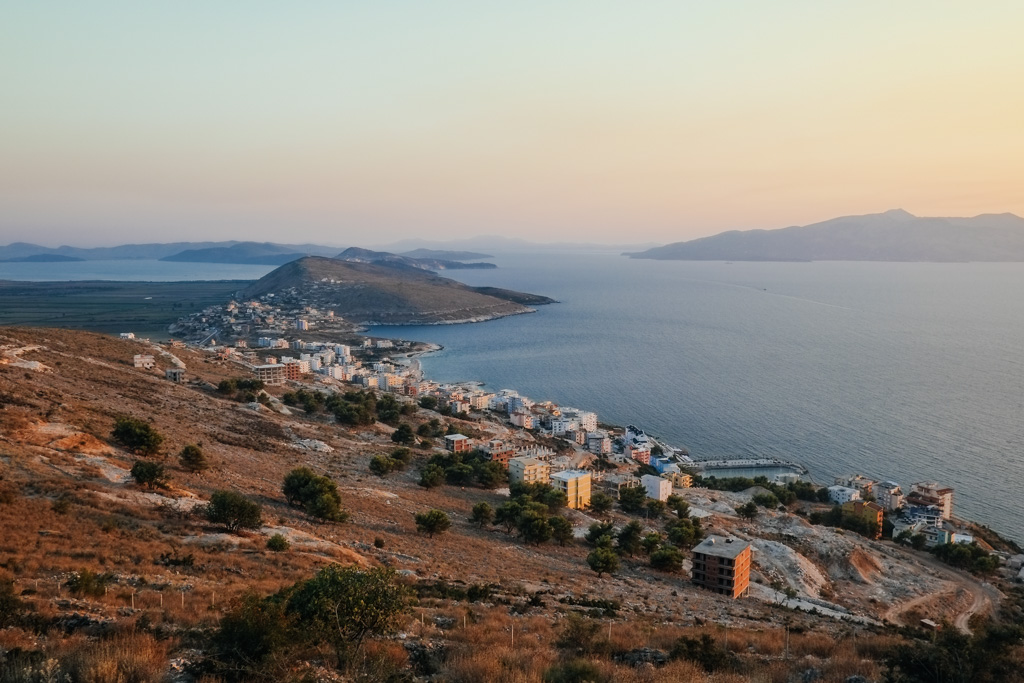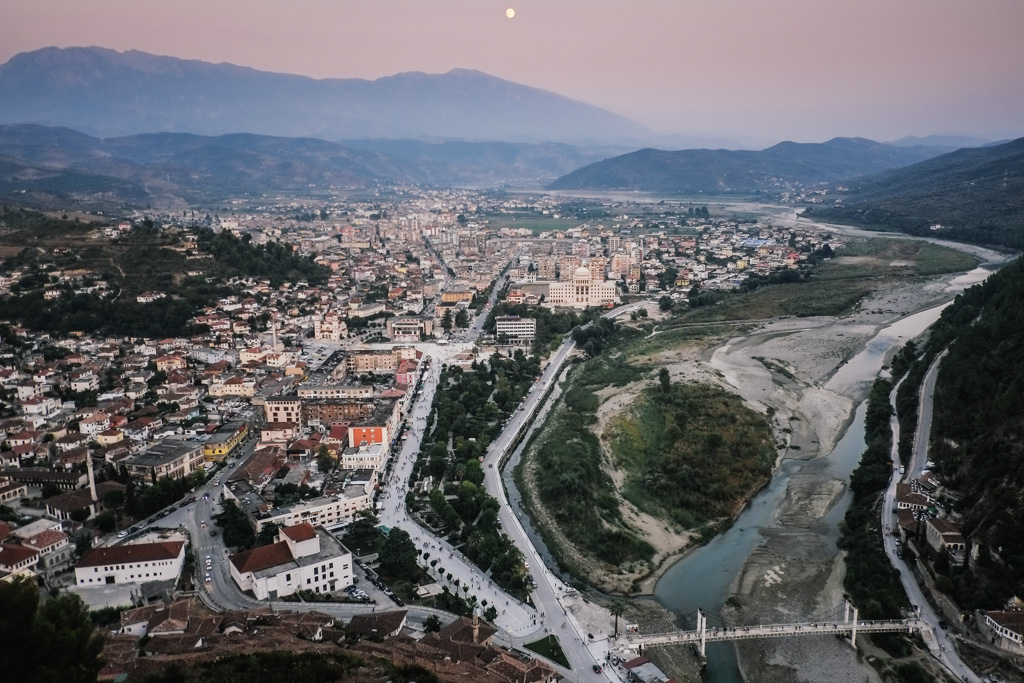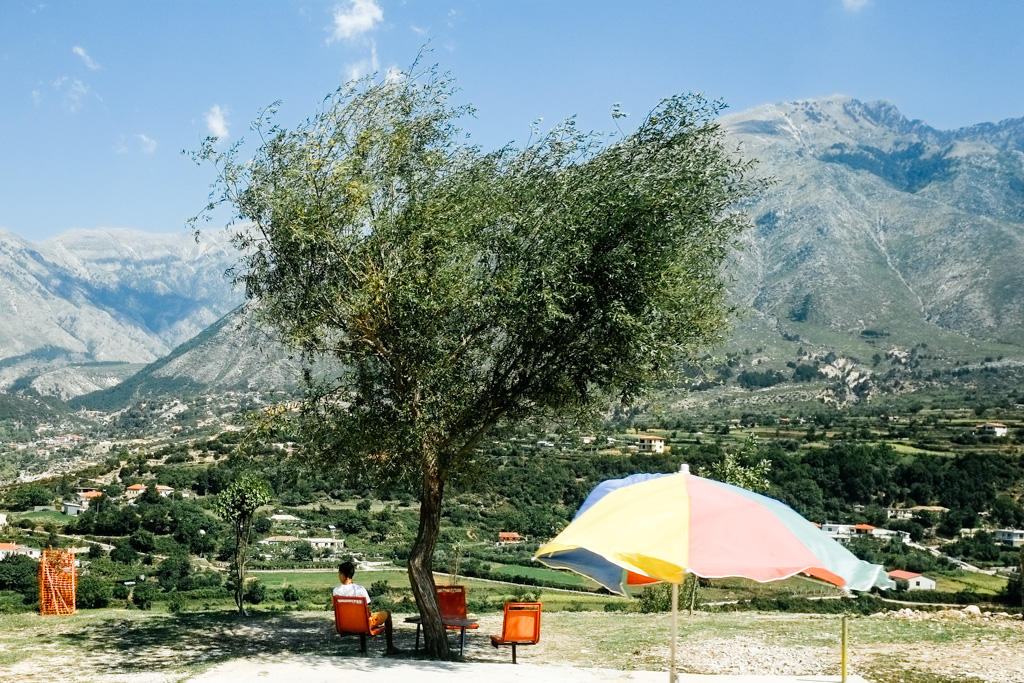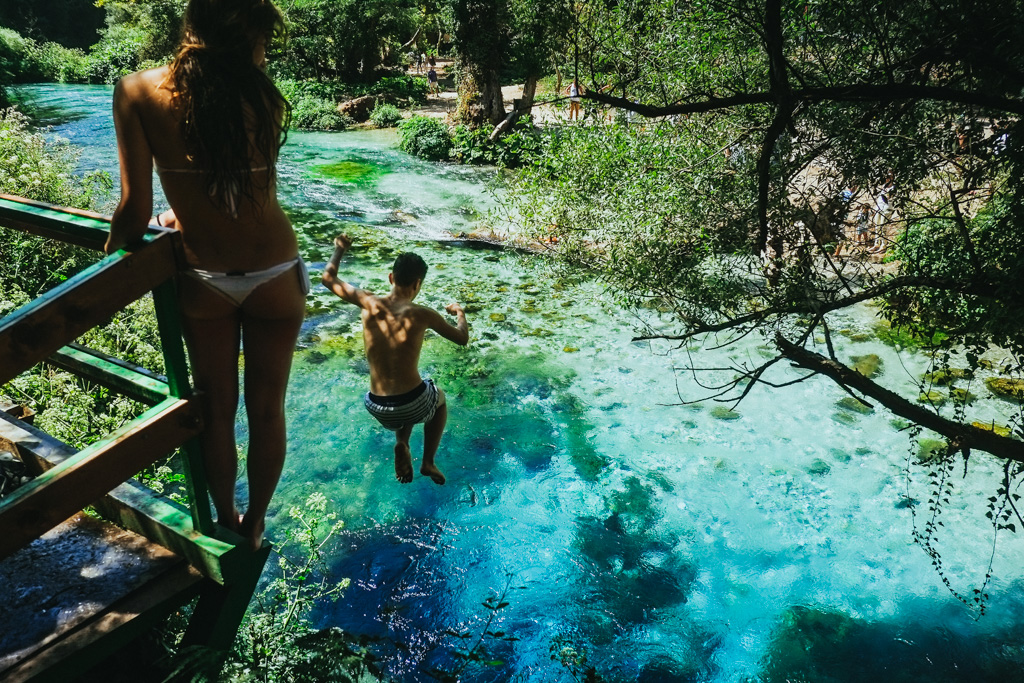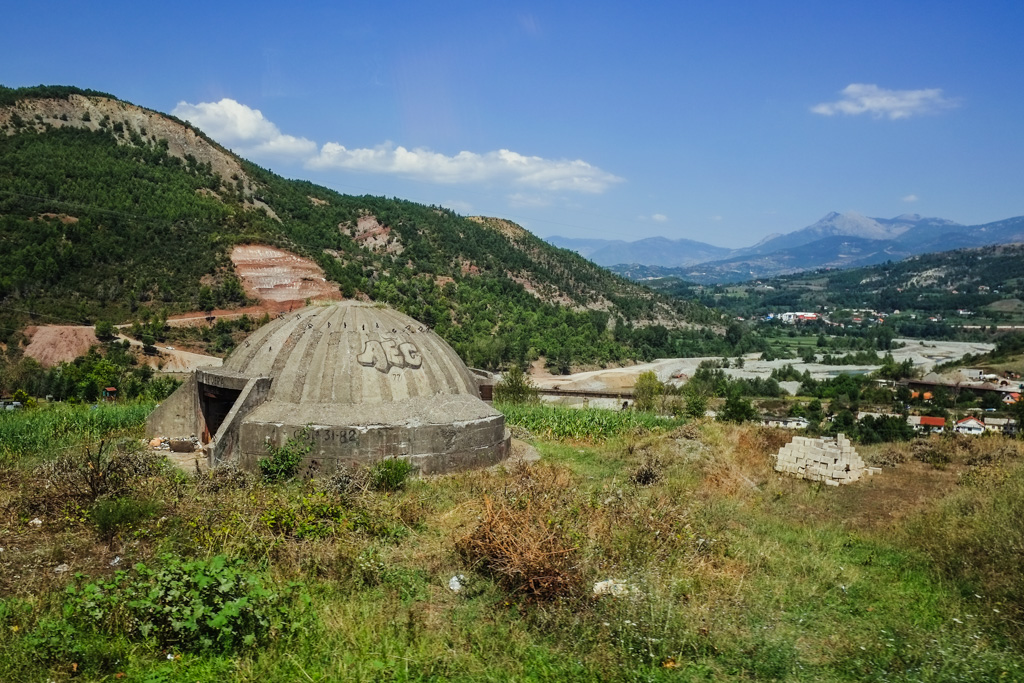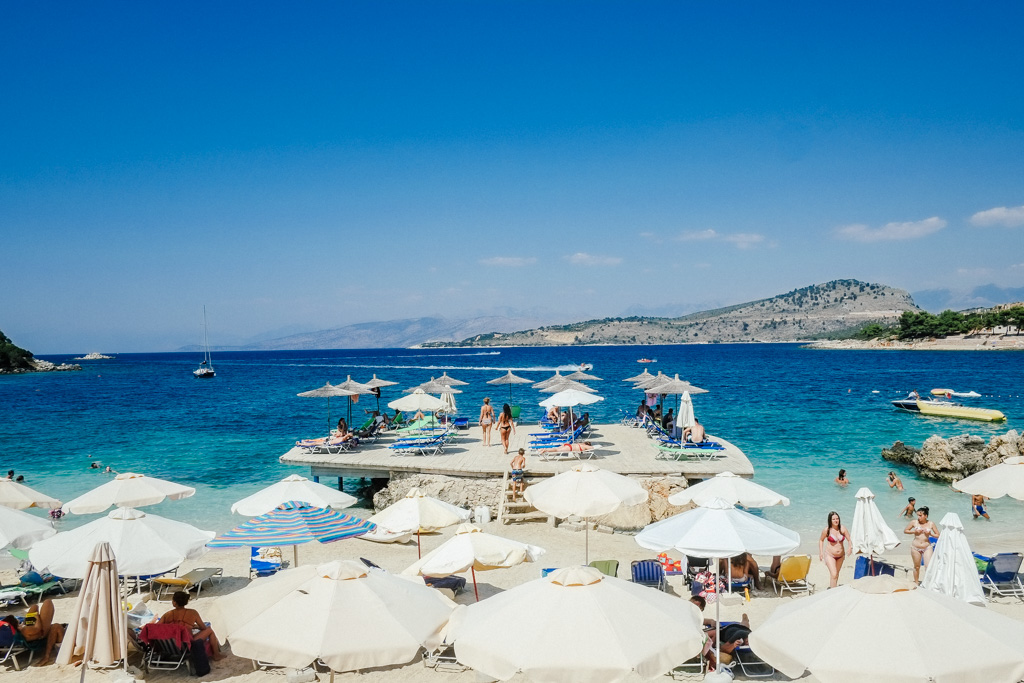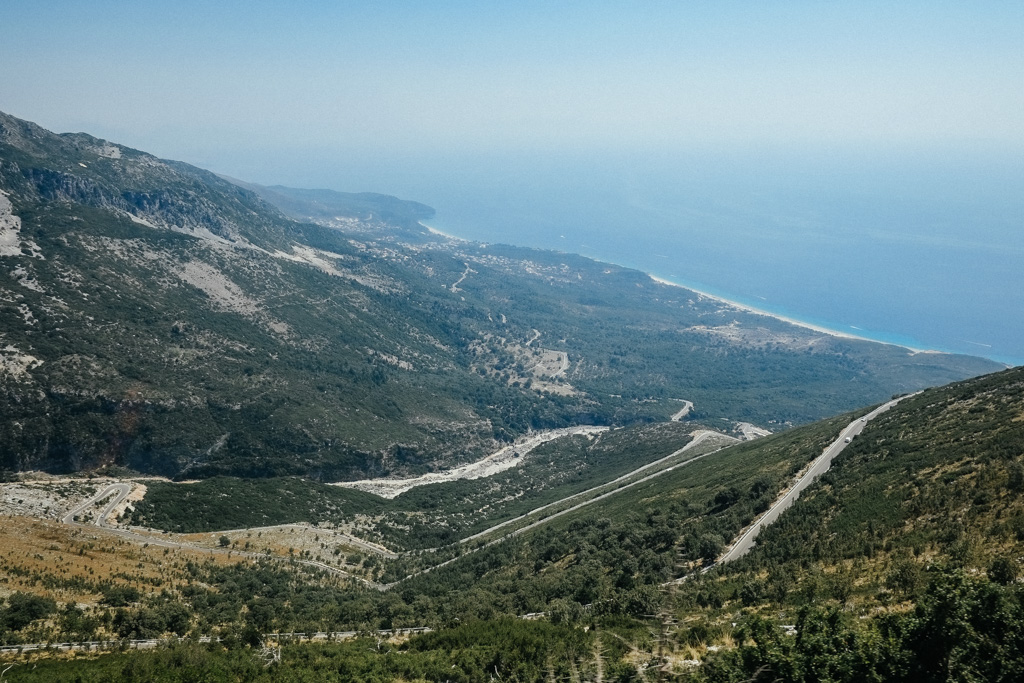 Things are changing in Albania. My first night in Tirana this time around (the Albanian capital city) was not filled with fires and dead dogs, but Irish single malt whiskey and cocktails, in the leafy courtyard of a stylish and casually upmarket Whiskey bar. I was the watcher, not the watched – the visual feast included being slowly surrounded by well-dressed ladies in the courtyard, whilst out on the street an impromptu parade by the Rich-Kids-of-Tirana™ was taking place, cruising the block in their European performance cars. This is "Blloku" – a downtown neighbourhood once guarded and off-limits to all but the evil dictator and his designated buddies, The Block is now ground zero for Tirana's night-life.
With no exaggeration, only a year or so back the highway into Tirana from the coast was filled mostly with swerving drivers. Sometimes, they were just avoiding potholes and generic road decay, caused by years of infrastructure neglect. Other times, the obstacles were semi-camouflaged groups of beggars, dirty clothing fading in and out of clouds of pollution, hoping for a little spare change whilst risking their own lives and the lives of their loosely-held babies, hanging out on the "highway" in between speeding, swerving, and sometimes stolen Mercedes. This year, the same highway into the capital is smooth, modern, lined with newly planted palm trees and safety barriers, and totally uneventful.
click to see an interactive map showing the location of this article
Albanians are reading this, and already thinking "yeah.. but… but… ". I know. Albania is far from perfect, and my intention is not to dismiss the serious issues that remain with regards to expat repatriation (including poverty, inequality, corruption, and nationalism). However, I'm writing from the perspective of a tourist. For short-term visitors, Albania is a land of ridiculously scenic beaches, postcard-worthy mountains, historic castles and towns, ancient fortresses, Roman-era ruins, the oldest lake in Europe, and a cool European capital city relatively devoid of tourists. The photos speak for themselves (but – as I took fewer photos this time around – if you're not convinced, please check my collections of photos and words from previous visits).
For tourists, it's a bit of a paradise here. Compared to almost any other country in Europe, Albania is inexpensive. Hotels are great value, and if you think about staying longer, you could purchase a new ocean-front apartment for about the same price as a Volkswagen. The Albanian Riviera was described to me, by an older man from France, as "Spain in 1970". Prices are definitely increasing, for food and accommodation – some of the same hotels I stayed at last year were double the price this year. Supply and demand. However, some hotels were the same screaming bargains they've always been.
Sure, getting around Albania has always been an issue, and the lack of transportation information deters many travellers from making the journey. Albanian roads have a deservedly bad reputation. However, they are much improved – journeys that previously took half a day can now be completed in a couple of hours. I was genuinely amazed at the reduced amount of time it took to drive from the South, back to Tirana – a journey that practically killed my guests last year, was now just a quick nap and holy crap we're in Tirana. Or into the UNESCO listed town of Berat – last year our car was being beaten by an elderly lady leading a Donkey. This year – wow, it's an actual road.
But, this introduces a new "problem" – last year we were "forced" to stop at a random restaurant for lunch, due to the time it was taking to complete what should have been a quick drive (if the roads were better). It turned into a memorable experience, a fun lunch with a waiter that couldn't speak English and was too fearful to interact with us. Our Albanian driver, who had been with us for a week, switched duties – taking orders, running in and out of the kitchen, and laughing at the hilarity of the situation. There were no menu's, but the food was great, and a good time was had in the surrounds of pure 1980's run-down kitsch. This year, we didn't need to stop for lunch during the same journey – we may have gained improved travel times, but we've lost so many interactions with the very soul of the nation.
Public transport has not been one of Albania's strong points – and that, is the understatement of the year. However, this too is improving. My mind was blown when I saw a glistening new bus station in the city of Fier, and a modern bus stop shelter in Tirana, located on the same dirty spot where last year an incredibly drunk man was selling live chickens. Finding a regular and reliable bus to any neighboring country is easy. International flights to Tirana are increasing, but trains are close to non-existent. Renting a car to tour around Albania remains the best option.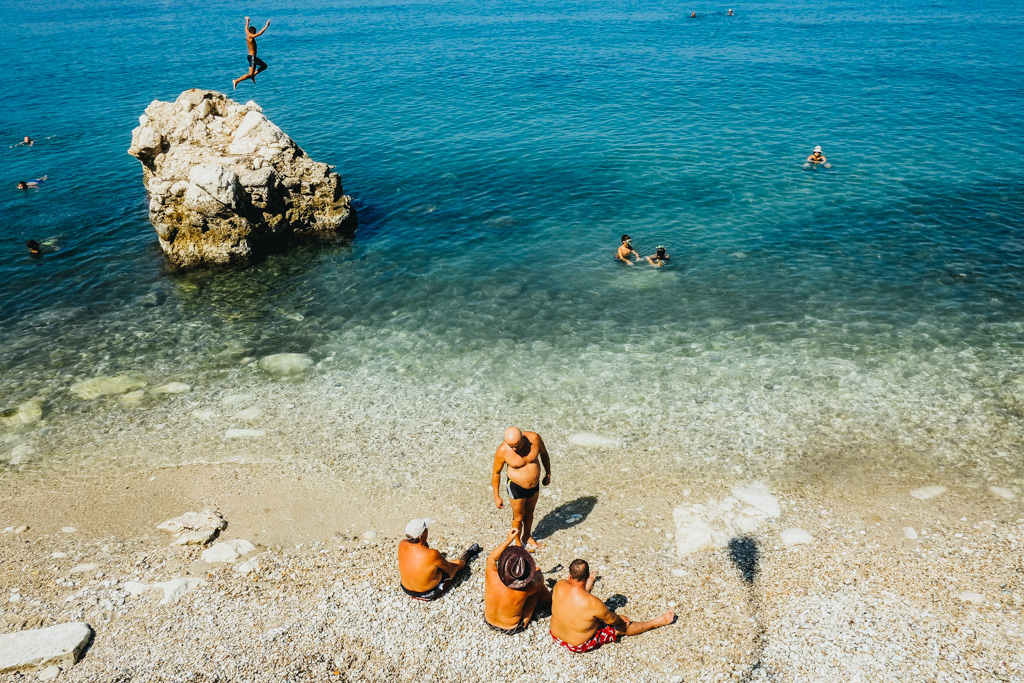 Although Albania can use all the tourism income it can get, more than likely this will lead to significant changes in the coming years. I'm not suggesting that change or development is bad, nor that borderline-unusable highways and bloated-dead-dogs are something worthy of preservation, just so a contrarian itinerant has a story for a blog post about an "unknown" part of Europe. Quite the contrary – to date, the changes I have seen in Albania are great, and seeing a little more financial security in one of the poorest regions in Europe can only be good. But, I already feel a little selfish nostalgia knowing that the future will inevitably bring more and more crowds to Albania, and more of the raw natural landscapes will be blighted by the over-development of apartment blocks and hotels. For better or worse, it is, what it is.
For now, you can travel through a part of Europe and experience a herd of goats blocking traffic, not on a quiet country road, but on the highway joining two cities. On that same road, you might be better off hitchhiking, because you won't find a bus-stop. And if you turn onto the side streets to stop for a bite to eat, you'll likely be eating inside an inter-generational family-run restaurant, filled with authentic patina, inherited-recipes and home-made-booze.
But you might not find a menu.
For now.
Nate.
PS, the accompanying photos are from the Albanian segment of the recent Yomadic Untour through Albania and Macedonia.

BTW, I would love to send you the next dispatch, posted from some-where random around this planet (and you'll soon find out why YOMADIC email followers are my favourite followers):