Italy is truly an enchanting and magical land, filled with corruption, dirty money, even dirtier politicians, tax-avoidance, fervid inter-generational neighbourhood battles, and a network of organised crime so historical it should be UNESCO listed. It's a land of "accidents", a place where "offers" are often unable to be refused. In Italy, lurking around every cobble-stoned corner, is death. And where there's death, religion is always nearby. Which makes the little-known Sacro Monte di Crea perhaps the most Italian thing in existence.
Sure, Italy has an overabundance of great food, coffee, and wine. And lazy Italian travel writing cliches permitting, the hills around Sacro Monte di Crea are very much rolling. Ancient towns do indeed dot the peaks, and historical church steeples certainly do visually pinpoint a collection of somewhat rustic villages, all connected by a lush carpet of undulating green crops.
There's a reason so many travel writing cliches are written about Italy – for the most part, they're all true. This is scenically one of the most amazing parts of the world, and I haven't even the mentioned the imposing backdrop of snow-capped mountains that stretch all the way to Switzerland. Or the effortlessly stylish people. I'm still not sure it's real.
For somebody more used to writing about decaying communist-era architecture in the seedier parts of Europe, a travel-contrarian who usually prefers decaying graffiti-covered concrete and dark Eastern European nights, Italy is a tough gig to write about. The unfamiliar lands of farmers markets piled high with fruits and vegetables, cheeses and cured meats, days filled with macchiato and Negroni, endless churches, castles, bars, cafes, it's all full of patina, relatively tourist-free and so beautifully authentic in this part of Italy, and it felt like another planet compared to my usual days blagging around the Balkans and Eastern Europe.
Fortunately, Sacro Monte di Crea is very real. An Italian intersection of mystery, religion, and death. A Roman Catholic commune, atop a steep and densely forested sacred mountain. Inside the ancient chapel are hundreds of community-submitted paintings and drawings depicting horrific, grisly, brutal, near-death experiences.
Spellbound by the collection of home-made images depicting near death miracles, I cued Sisters of Mercy, put my headphones on, painted my fingernails black, pulled the last of my fringe down over my face, reminded myself of how depressing and lonely my life really is, and brooded that nobody really understands me, man. Shining like thunder, crying like rain, I absorbed the darkness engulfing my bitter soul, surrounded, by near death.
A gallery showcasing unrestrained paintings and illustrations featuring ladder falls, flesh-eating parasites, being run over by out-of-control horses, men miraculously surviving a trip inside industrial farming equipment, being run over by Fiat's, spinal injuries, drunken bar fights, stick-ups-gone-bad, war, crushings by errant wine barrels, motorcycle accidents, really really really bad tummy-aches, and again, and again, so many Fiat-related near-death experiences. Sacro Monte di Crea is just a beautiful space to be in.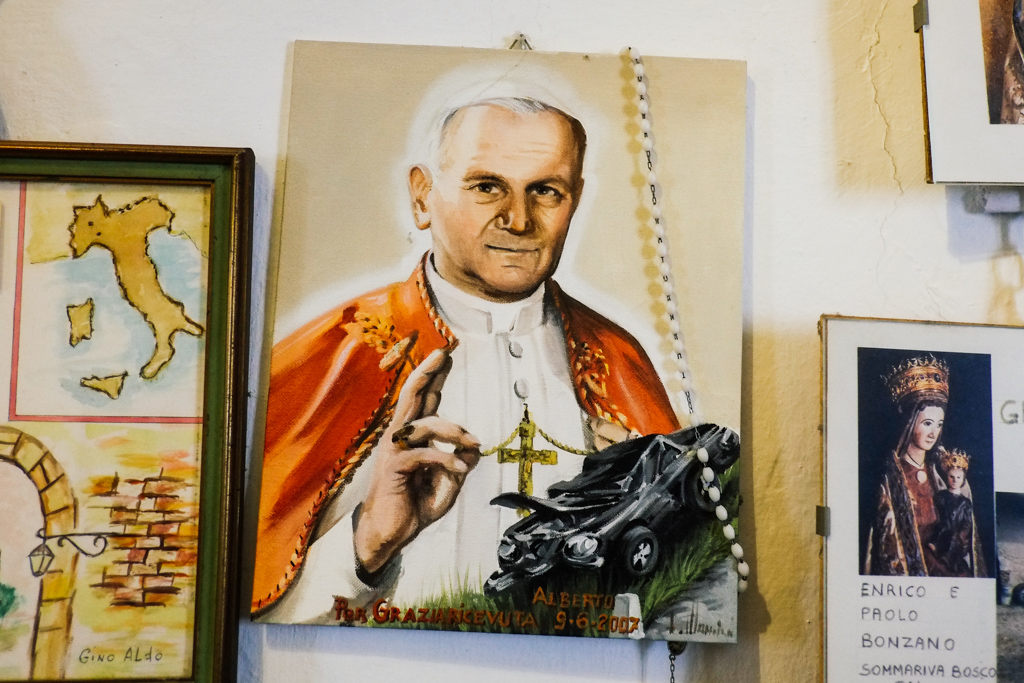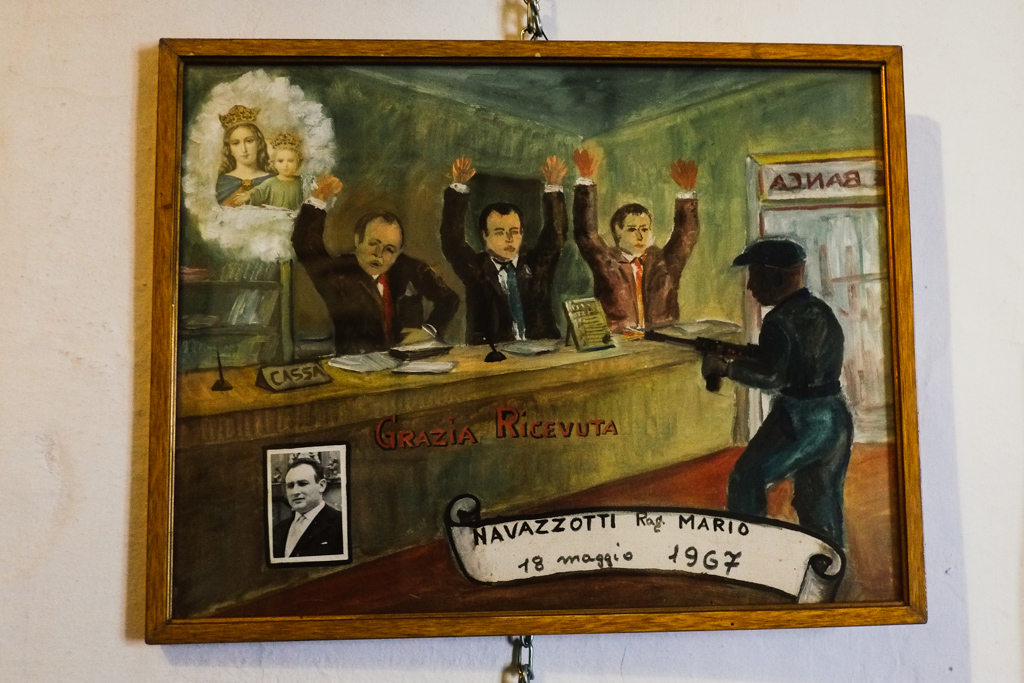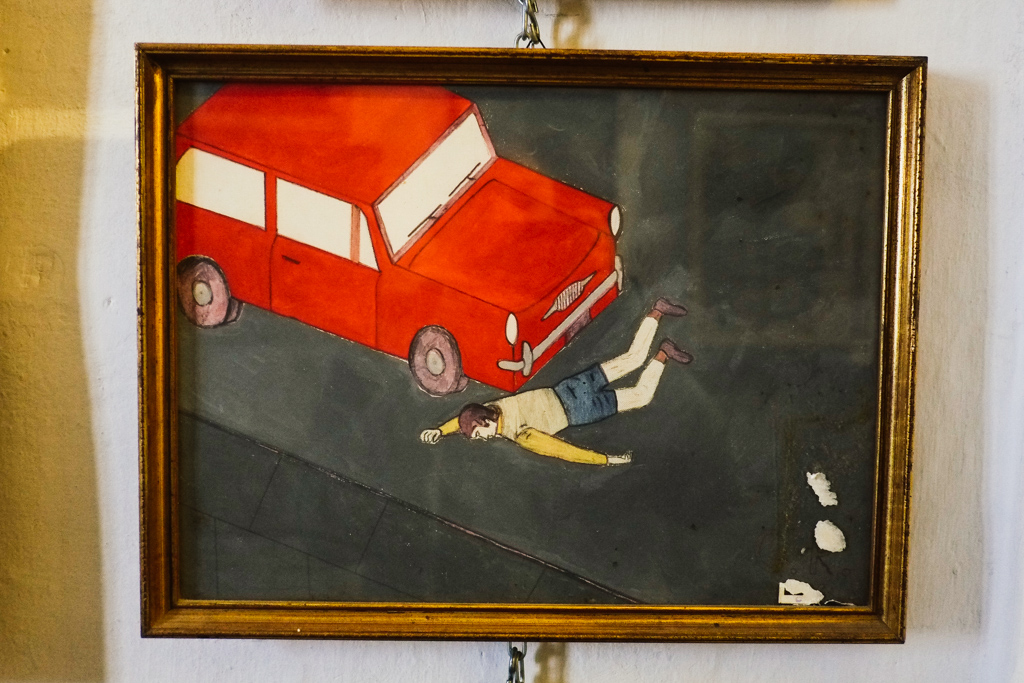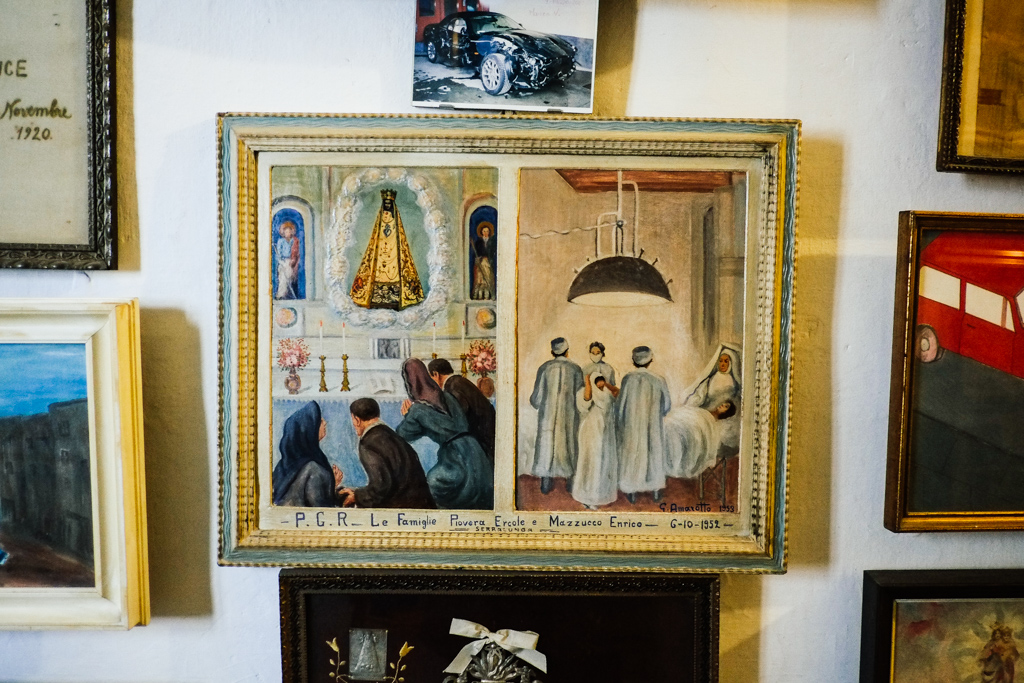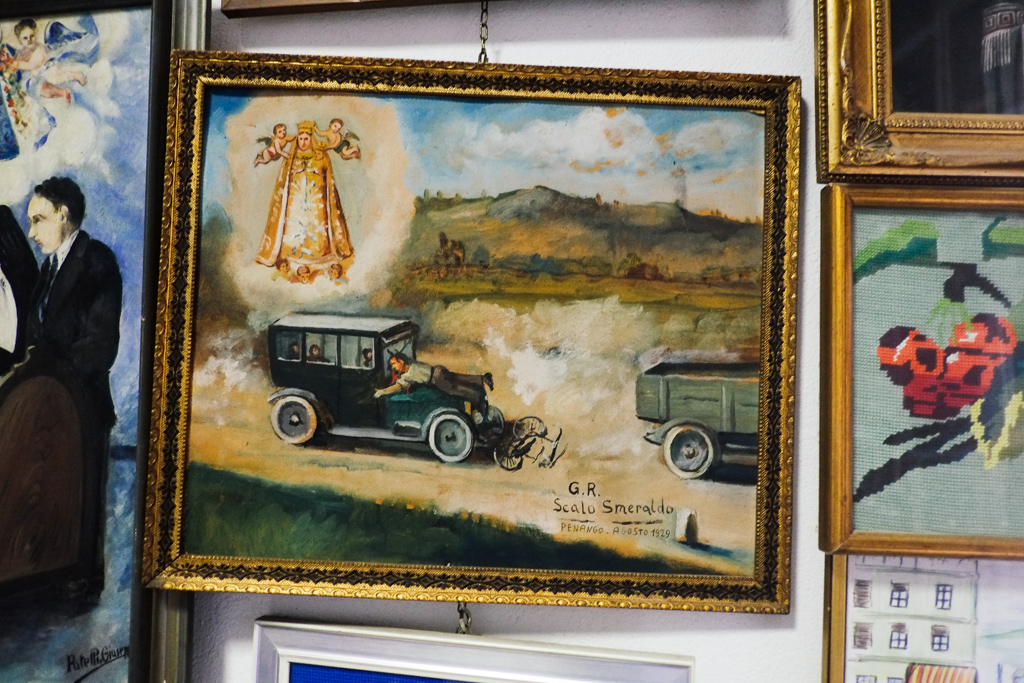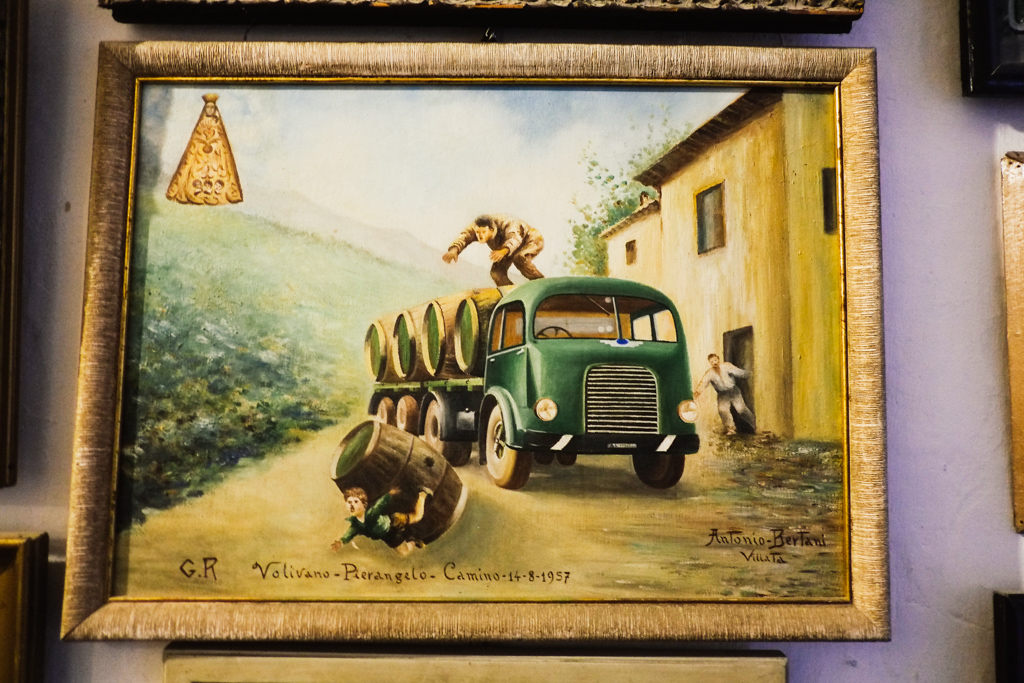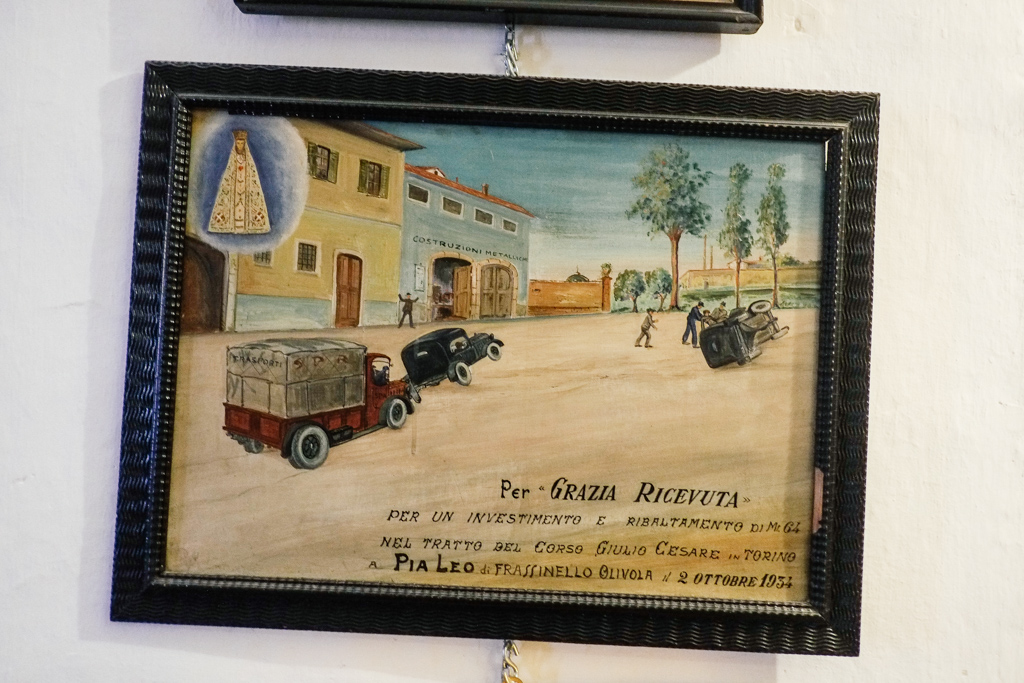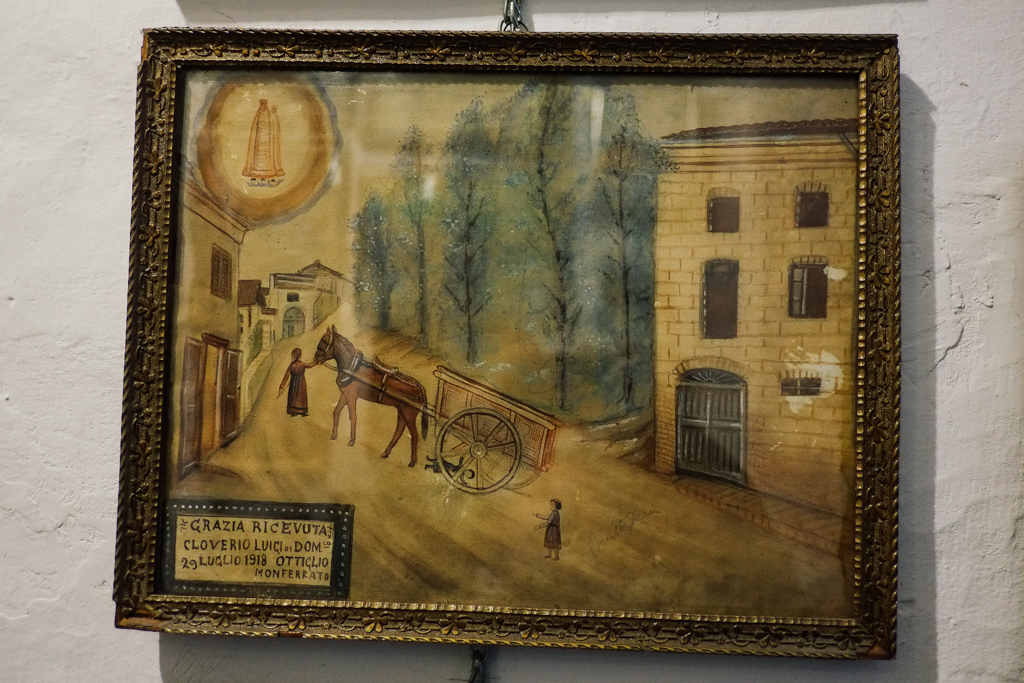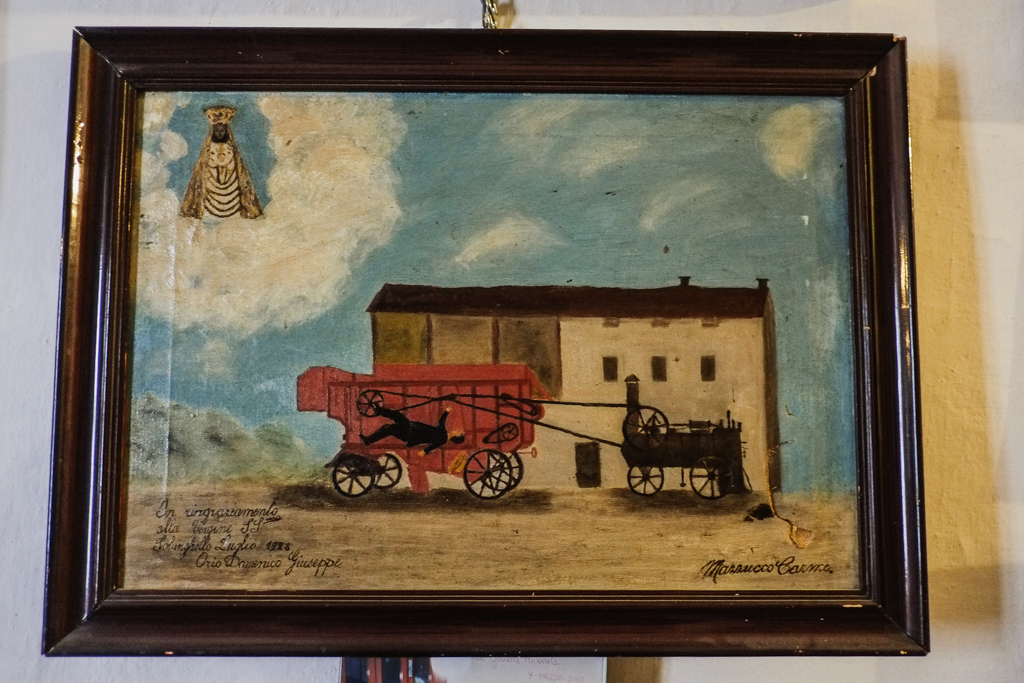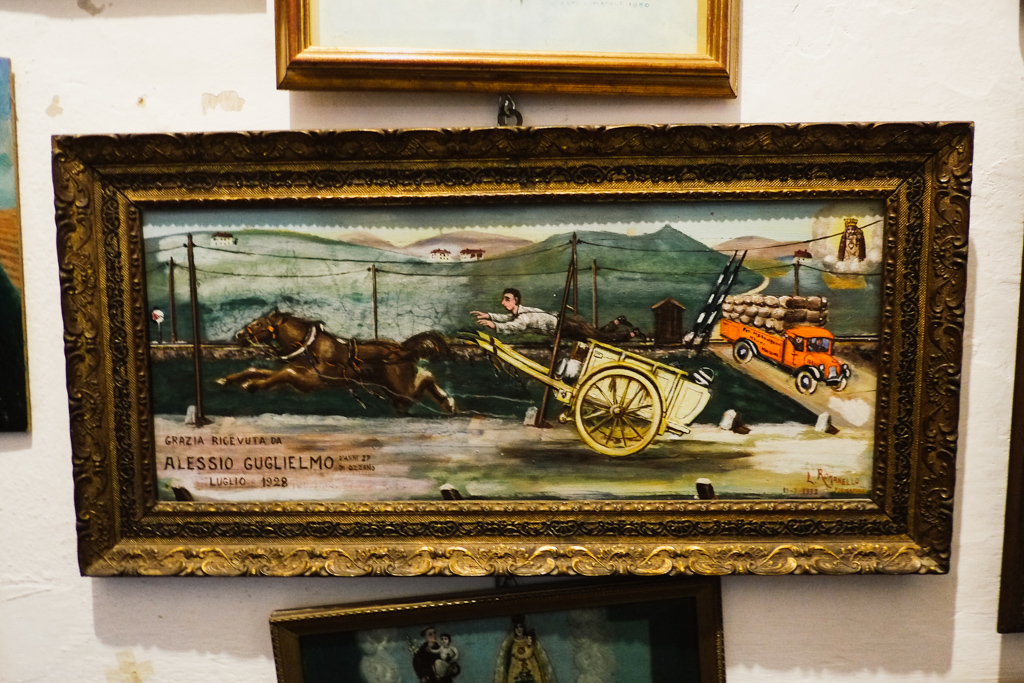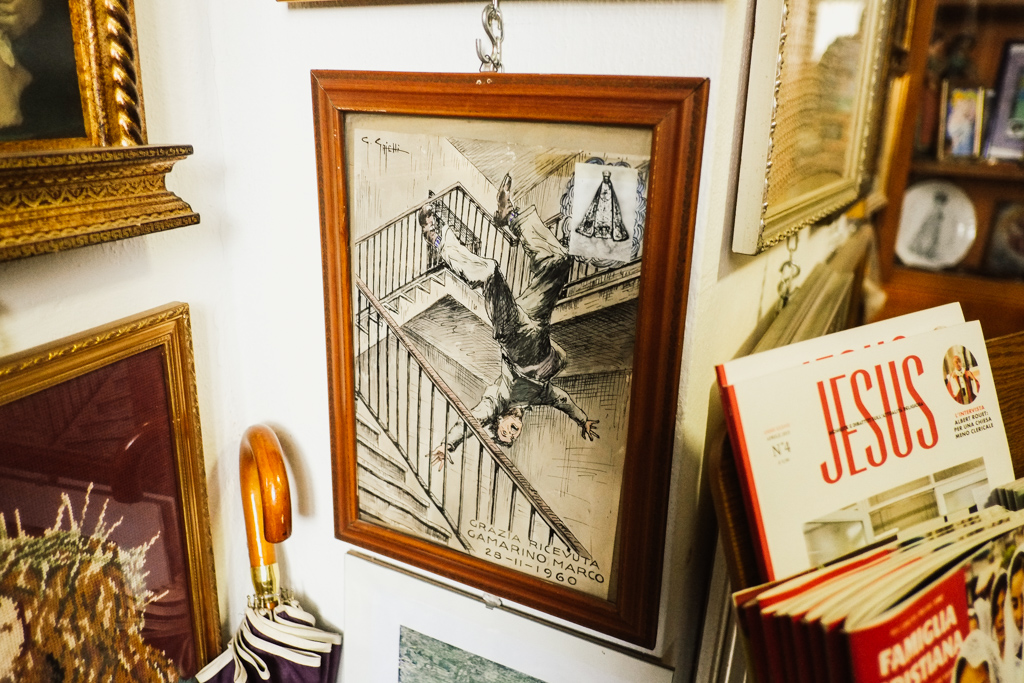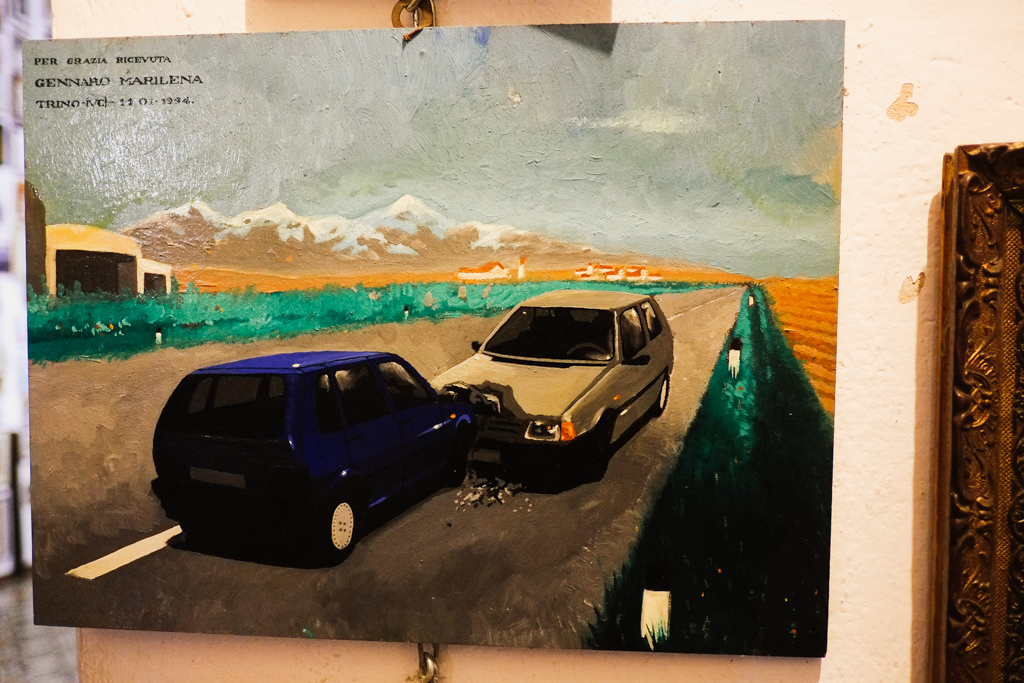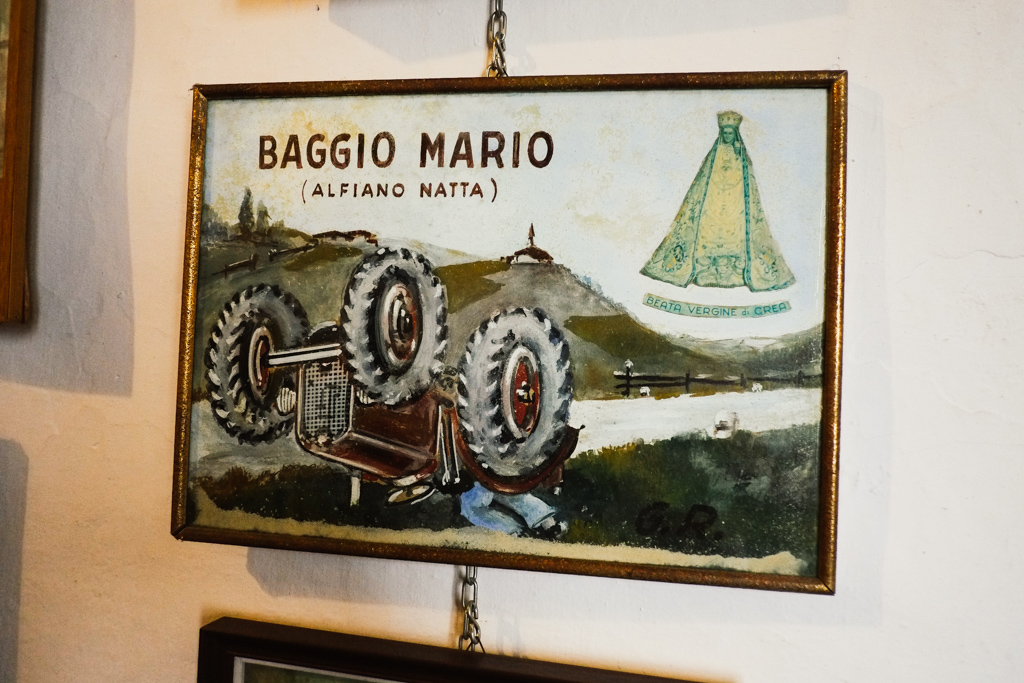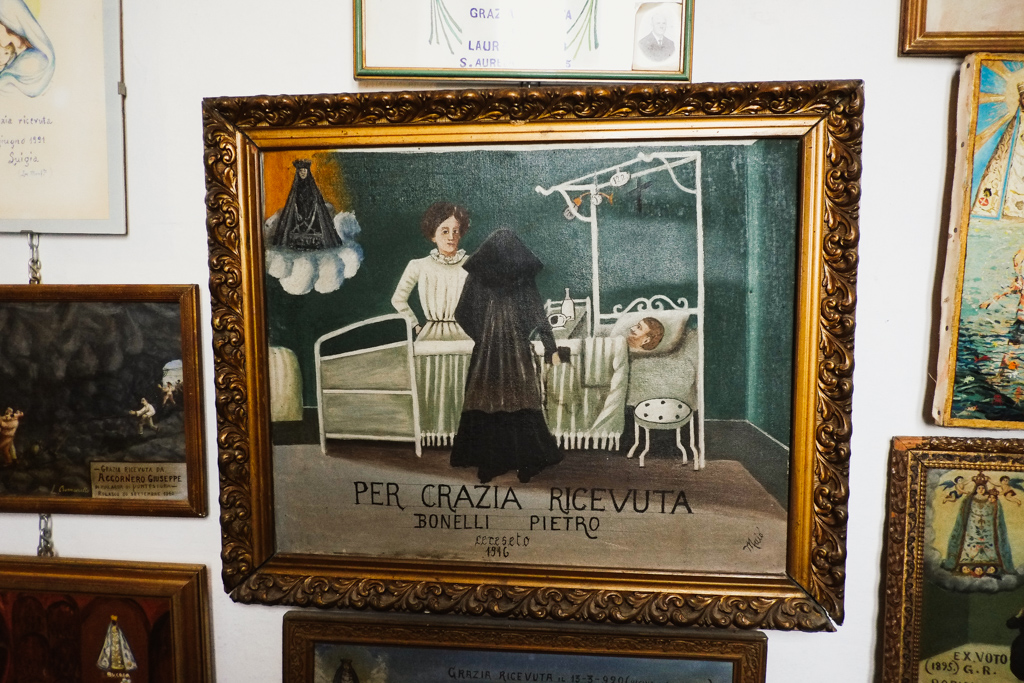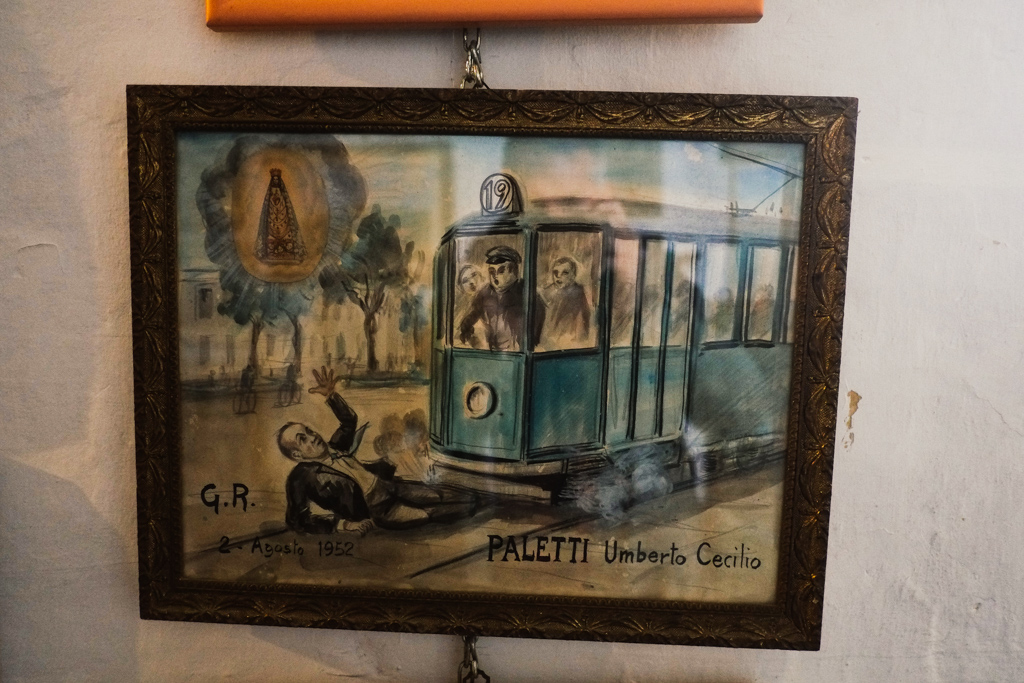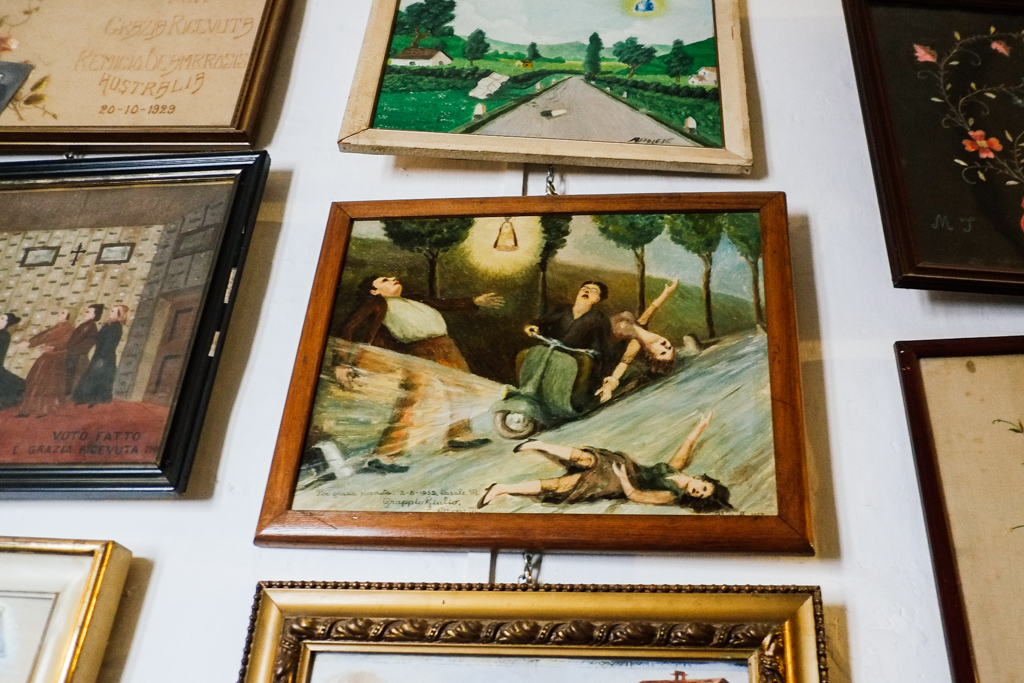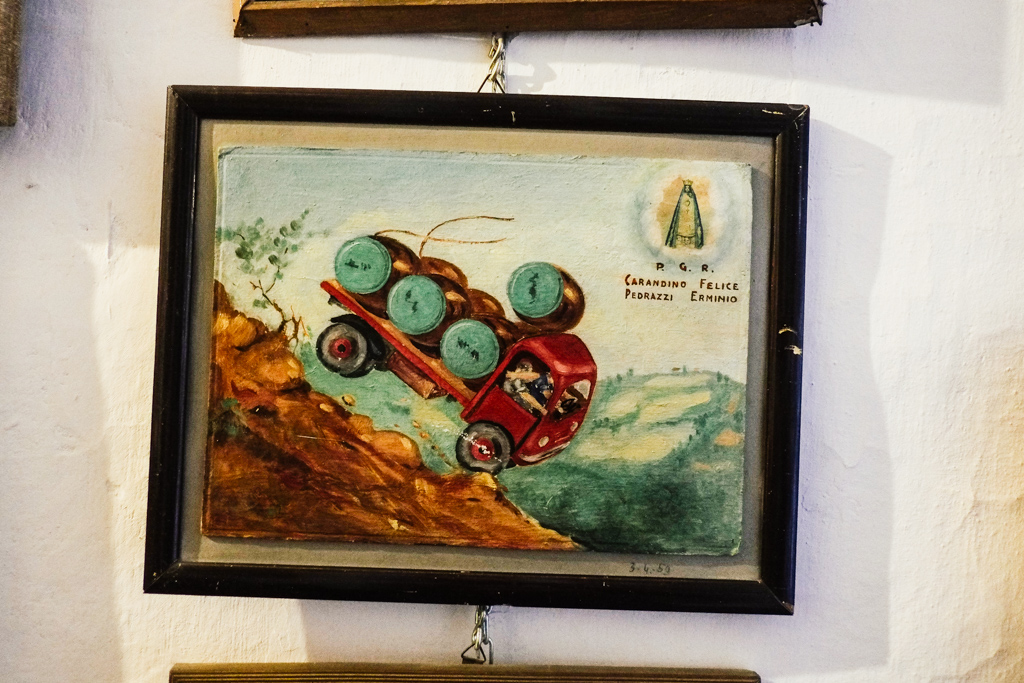 Near-death is usually thought of as intimate and personal, something to be quietly remembered and reflected on, usually alone. But at Sacro Monte di Crea, coming face-to-face with near death is unavoidable. For many people, just talking about death, well, it can be a little bit uncomfortable. However, there's no discomfort to viewing, examining, and discussing the display – because even though you're surrounded by hundreds of potentially haunting images, there is solace knowing that, due to a "miracle", everyone depicted in the artworks survived their horrific experiences. Well, probably survived.
click to see an interactive map showing the location of this article
And the thing is, a near-death-experience is, above all, just a really painful second chance. A reminder of just how short life is. An opportunity. And, I won't lie, I thought about using the near-death paintings at Sacro Monte di Crea as my own second chance – a simple, emotionally-charged plot device to wrap up this blog post with a nice little call to action.
I could have weaved a seamless narrative, encouraged you to travel, quit your job, or make a major life change. You wouldn't have even noticed the segue into an impassioned plea for you to never, ever, take your life for granted, because every day is a gift, and you never know what may happen tomorrow, yada yada yada… it all would have been so easy.
But, I won't tell you what to do. I gave up that habit in prison. One of the few constructive things I learned in the joint.
Actually, I learned that from the Rockford Files, but the point stands.
Nate
PS, for continuity – I visited Italy a couple of weeks back. I'm now in Eastern Europe.
PPS, want to read some more like this? I would suggest the Temple of Buddhist Hell in Sri Lanka. 
BTW, I would love to send you the next dispatch, posted from some-where random around this planet (and you'll soon find out why YOMADIC email followers are my favourite followers):