Putin and Obama Both Have Bars in This Central Asian City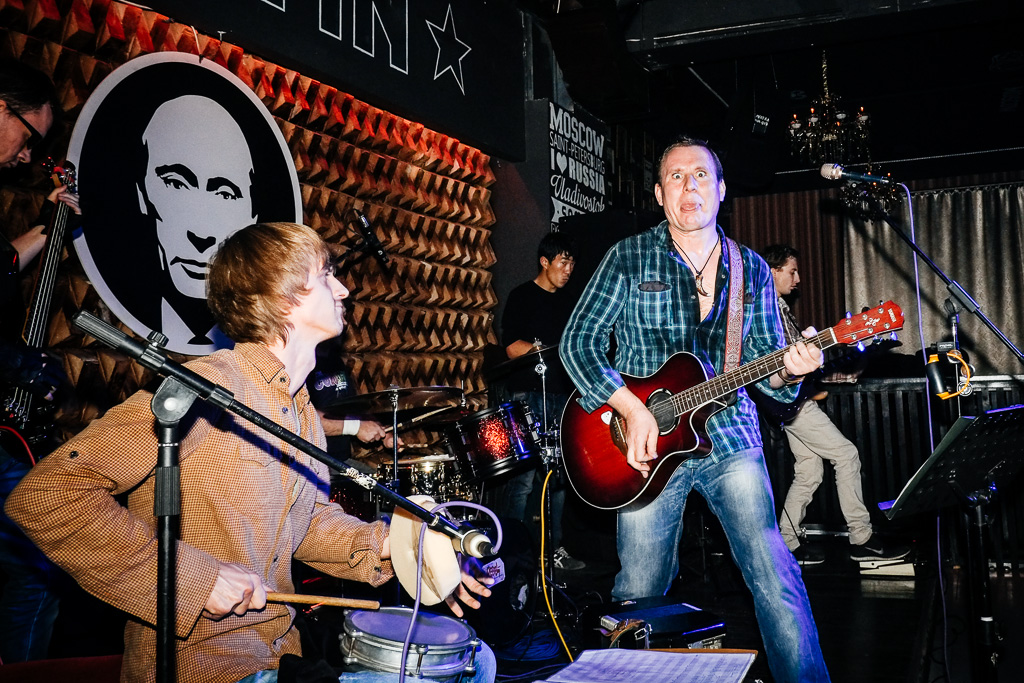 Formerly part of the Soviet empire, home of the plague, dead-goat-carcass-polo, and possibly cannabis, the 'burbs of Bishkek, Kyrgyzstan, is now home to Putin Pub – a very Vlad' themed bar. It's a bit like Cheers – a place where everyone knows your name. Russian secret service monitoring may have something to do with that, I'm really not sure, nor am I too inclined to investigate, the FSB really doesn't mess about.
In any case, after 821 days on the road, as I'm here in the unknown capital city of an unknown central Asian nation, I had to see Putin Pub for myself. So, I left my cell phone and identification papers back at the hotel, donned a fake mustache, filed away my fingerprints, and headed out for a cash-only night at Putin Pub. I figured that any hangovers could be cured by a visit to nearby Obama Bar and Grill, for a greasy American breakfast. Please keep in mind, I'm not making any of this up.
Kyrgyzstan is a country full of love for Putin. Recently, a poll revealed that 90 percent of Kyrgyz locals expressed either a "great deal" or a "fair amount" of confidence in the democratically elected Russian president. For geopolitical rival Obama, the result was only 26%. Fortunately, a result not low enough to prevent Obama Bar and Grill from doing a roaring trade in Bishkek, fanning the flames of a new cold-war… of alcohol and spicy Buffalo wings. In 2012, the Kyrgyzstan president, speaking of the "special love" his people have for the Russian leader, sponsored a bill to name a mountain after Putin. It's right next to Mount Boris Yeltzen. On a personal note, typing this paragraph is actually hurting my brain.
Politics aside, Putin Pub is a great bar. Beer is served in huge 900ml glass jars. Not those little faux-recycled jam jars from your local hipster joint, these are suitably serious alcohol servings, with a three litre option available for every beer. The presidential-themed bar has Vlad's face plastered on the jars, walls, ceiling, in the toilets, and behind the stage. On a Monday night, a perfectly 1980's-esque crowd, the type that only exists in the former Soviet nation, Eastern Europe, and re-runs of Fast Times at Ridgemont High, was cutting loose in a mesmerising blend of tight dresses and flannelette shirts, singing and dancing to the unique sounds of  "MaCho Band", a really good live band.
The cheekily named "Crimea is Ours" cocktail was flying off the Putin Pub shelves. I admired the interior design – non-surprisingly post-Soviet nouveau riche, dark, and full of Putin. Expats, zero, tourists, zero. Surrealness, off the scale. Hipsters of Berlin and Brooklyn take note, you've been well and truly upstaged in the ironic stakes.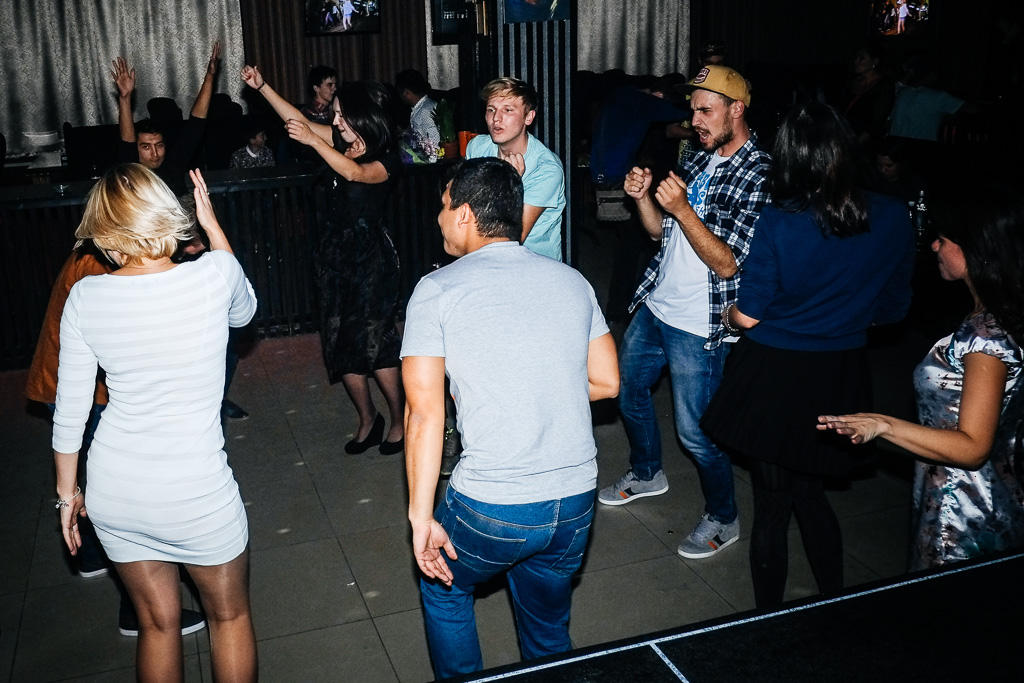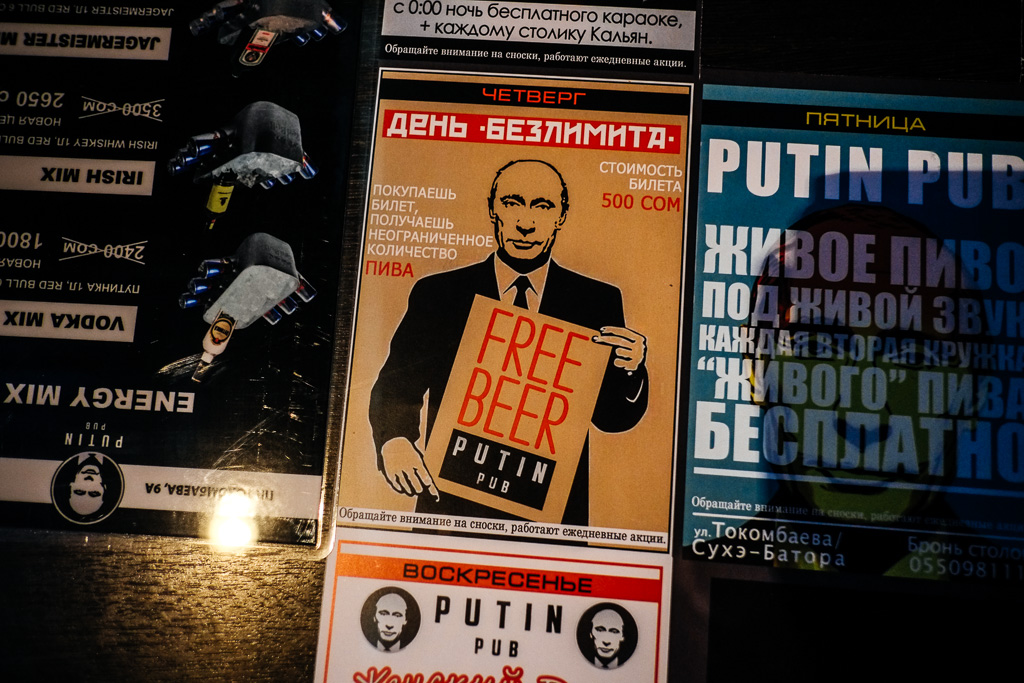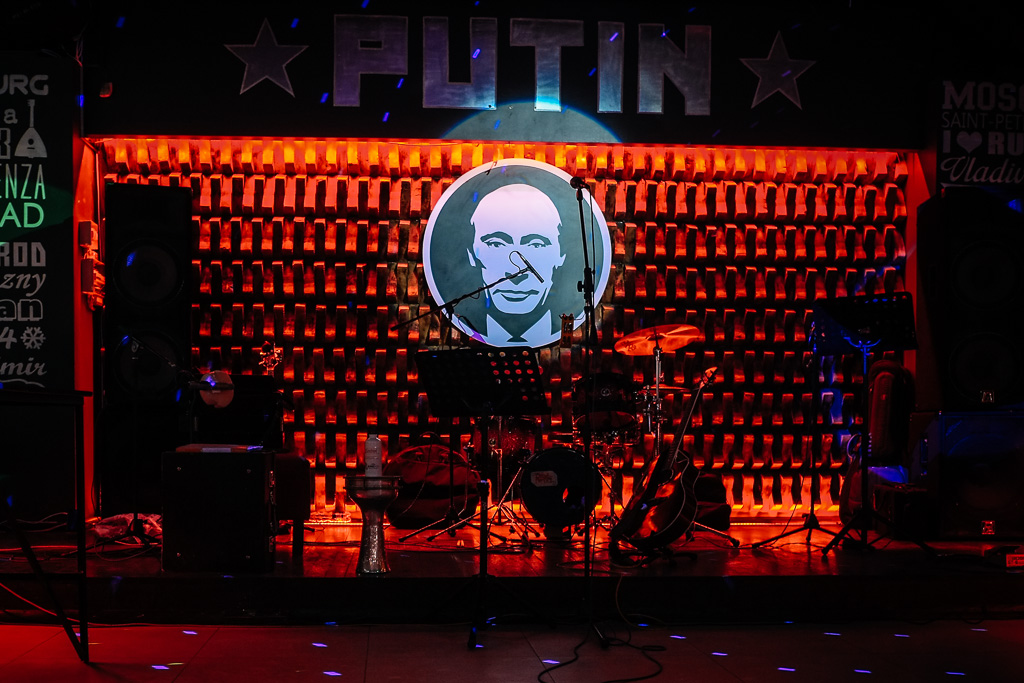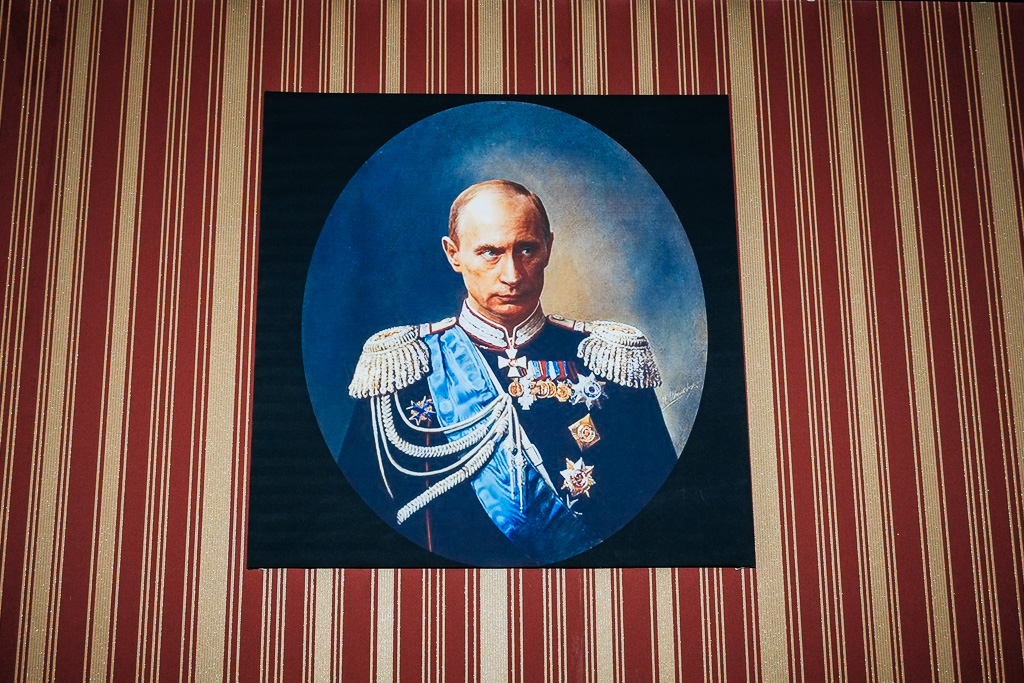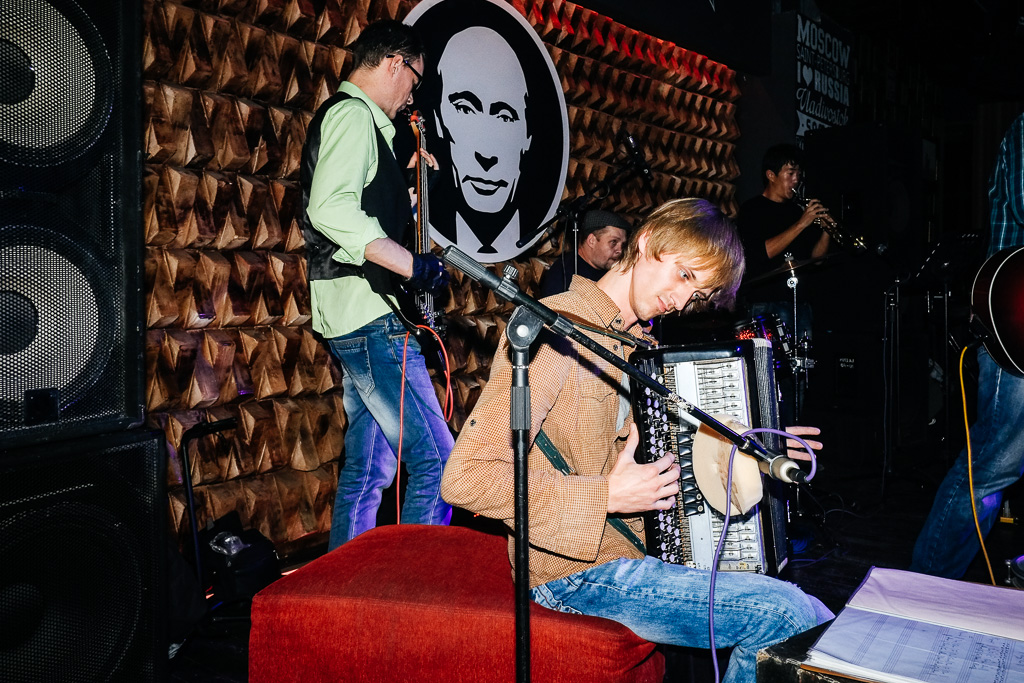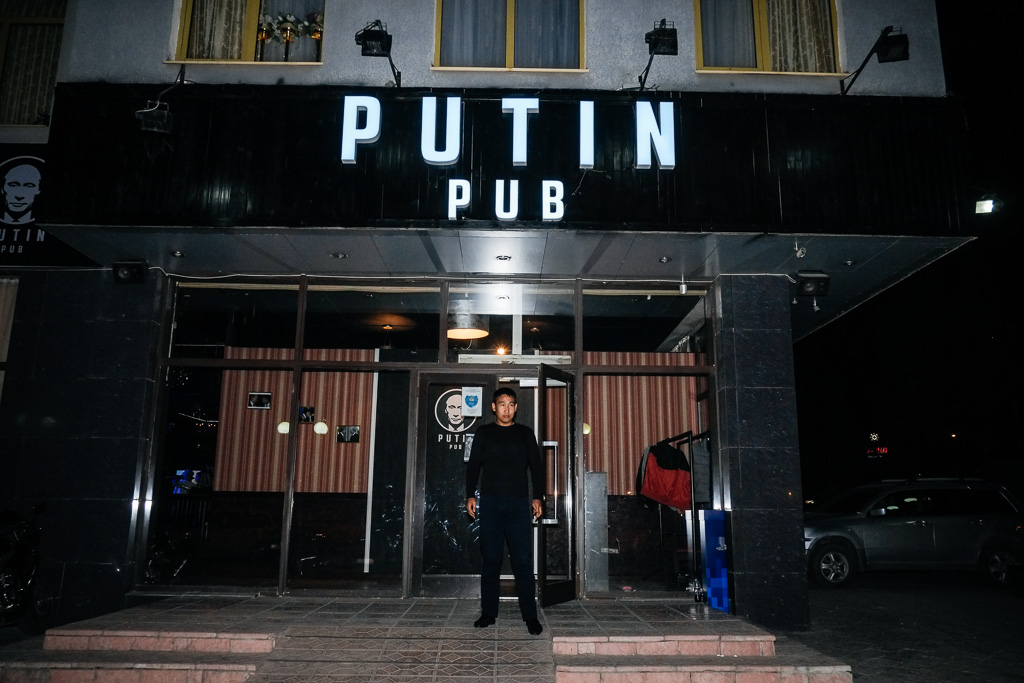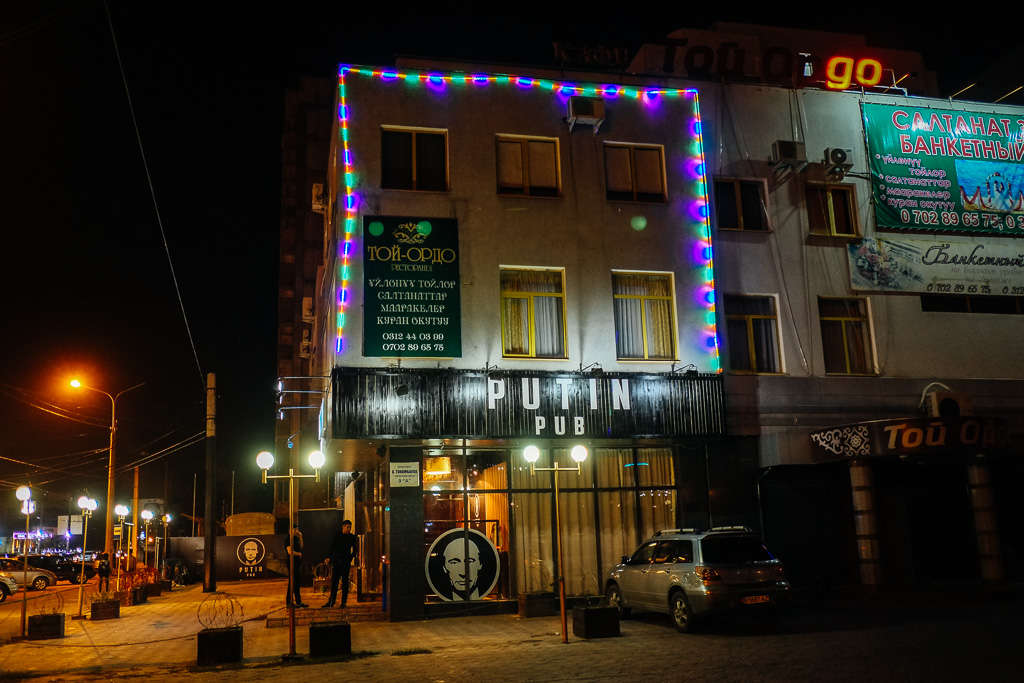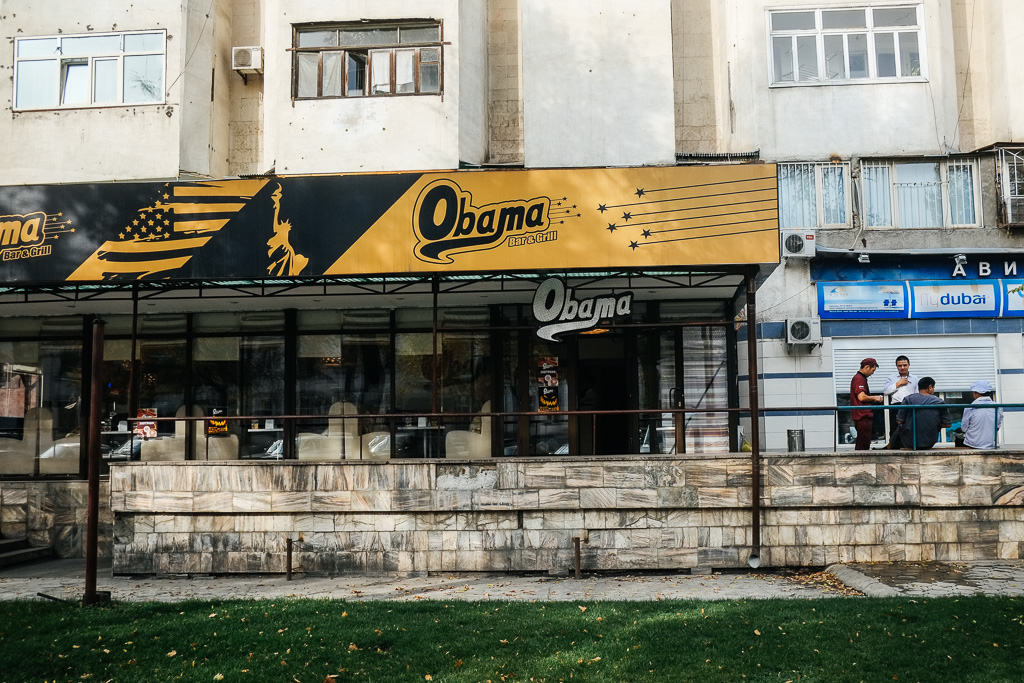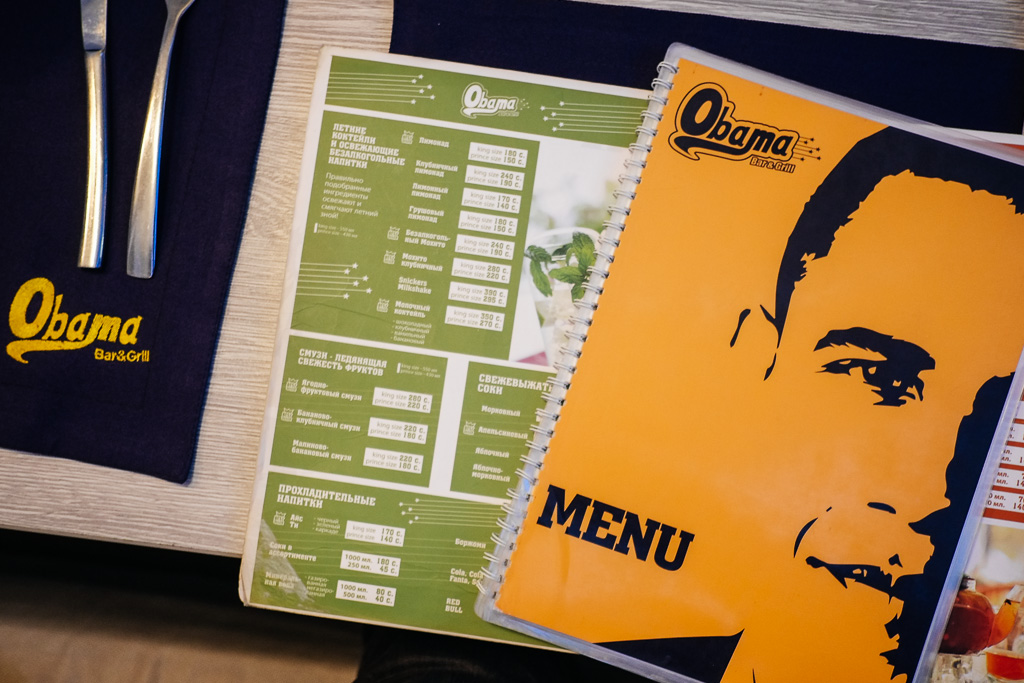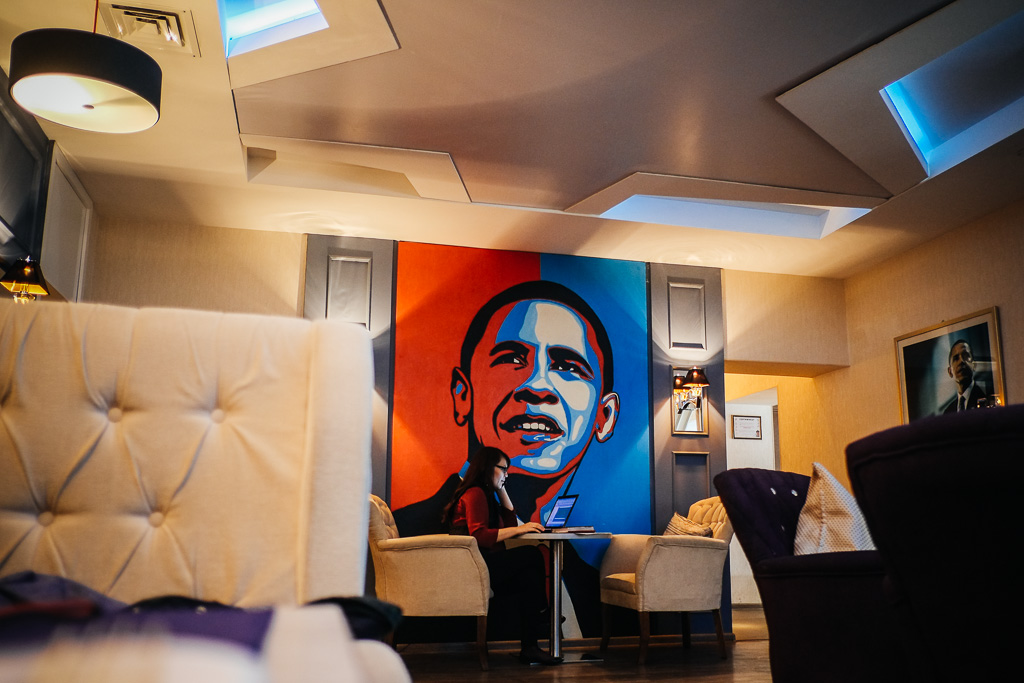 click to see an interactive map showing the location of this article
The mysterious Putin Pub owner has said he's not a "Putinist", and backing this up, the bar is easier to see as satire, rather than praise. Drinks on the menu, apart from the Crimea is Ours and a wide selection of Vodka, included a concoction named after Alina Kabaeva, Russian Olympic gymnast and rumored number-one Putin squeeze. Well known oligarch, mathematician, stamp collector, and Putin political foe Boris Berzovsky has his own namesake drink. However, Boris is now deceased. In somewhat unexplained circumstances. Yes, I was shocked too. But, Boris's name lives on in cocktail form, for as long as Putin Pub remains open. For various reasons, the longevity of the establishment is not guaranteed.
Not everyone is happy about the Putin Pub. Russia's Ambassador to Kyrgyzstan has promised to do "everything in my power" to "force the end" of Putin Pub, and "liquidate" the bar and it's owners. My Russian language skills aren't great, so perhaps take that with a grain of salt. Naturally, there's a few wowsers who appear to be angry about infringement of copyright, and the unauthorized use of a likeness of Putin. This, in a city that already has a KFC ( Kyrgyz Fried Chicken), a Burger KiИg, and the aforementioned Obama Bar and Grill. Large billboards featuring Putin's caricature, advertising the opening of Putin Bar, have been officially removed from Bishkek's city streets. With particularly dark strategy, the billboard featuring Putin was located on downtown "Kiev Street". Too soon? Yes. Hello Ukraine, thanks for reading.
Like everyone else, including my American drinking buddy, I had a great night at Putin Pub. As planned, the next morning I headed down to Obama Bar and Grill. First order – a Tex Mex styled burrito, a satirical Russian beer or two, and a pack of Camel's. Notably, smoking is not only permitted at Obama Bar and Grill, it's encouraged – with low low prices for all your favourite brands, listed right on the menu next to the burrito's and buffalo wings. However, despite my optimism, things took a turn for the worse. I tried my best to like Obama, and the experience did begin with so much hope and promise. But ultimately, Obama ended up leaving me disappointed. I felt a little ripped off.
Putin Pub may be dark, a little bit crazy, and slightly unpredictable.
But at least I got drunk and had a good time.
None of this article is metaphorical.
Nate
PS, Bishkek, Kyrgyzstan is unlike any place I have ever seen. I've taken more photo's here than any country since visiting Iran.
BTW, I would love to send you the next dispatch, posted from some-where random around this planet (and you'll soon find out why YOMADIC email followers are my favourite followers):